News
Fresh Faculty: Mekhola Gomes
Mekhola S. Gomes is an assistant professor of history and Asian languages and civilizations. She received a bachelor's degree with honors in history from St. Stephen's College at the University of Delhi, and her master's degrees and Ph.D. from Jawaharlal Nehru University.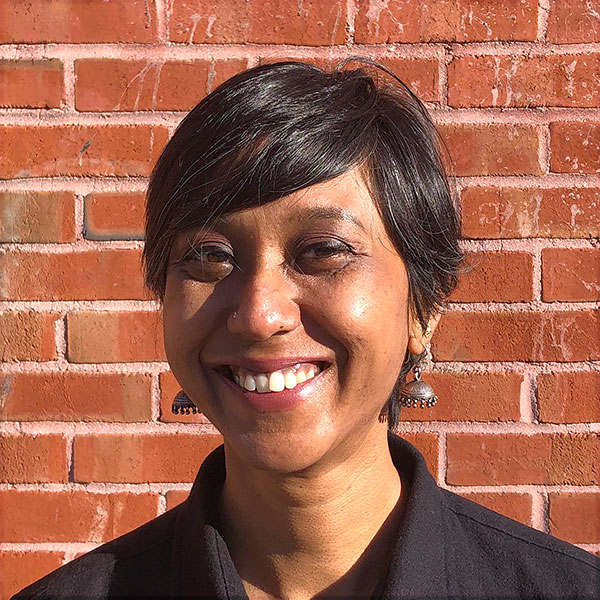 Mekhola S. Gomes is an assistant professor of history and Asian languages and civilizations. She received a bachelor's degree with honors in history from St. Stephen's College at the University of Delhi, and her master's degree, master of philosophy degree, and Ph.D. from Jawaharlal Nehru University.
Q: This past semester was your first semester at Amherst. How would you say it went?
A: I think it went great. I was a little apprehensive about moving to the U.S., because I was teaching at Durham University in the U.K. before this, … but [despite] all of the complexities that moving and teaching involved in a pandemic, it was actually a wonderful experience to teach, meet, and interact with [students].
I taught two courses this past semester. One [course, "Ramayanas in History, Ramayanas as History,"] was on one of the oldest and [most] preeminent epic tales from South and Southeast Asia, called the Ramayana. [We focused on] tracing the history of South Asia through a close reading of this text, and seeing how the story has traveled and changed over time. The other course was an upper level seminar [called] "The Indian Ocean World," which in many ways speaks to my recent research interests. Having been trained in South Asian history — and specifically Indian history — as a postcolonial citizen, my scholarly training was restricted more to study of the nation-state of India. But as I began finishing my dissertation and thinking about future research, … I began to be interested in connections across places, especially across the Indian Ocean. So to that end, my new research is now looking at these connections across the eastern Indian Ocean [and] across places like Malaysia, Indonesia, and India. These are the two courses that I taught — I really enjoyed teaching them and I hope that students enjoyed being in my classroom.
Q: How did you begin studying South and Southeast Asian history?
A: I have studied South Asian history — and more specifically Indian history — my entire life. I did my undergraduate education at Delhi University, and then I did my Ph.D. at Jawaharlal Nehru University, which is one of the premier large research universities in India. Throughout my education I have studied and received a very robust training in South Asian history, especially social and economic history. And I chose to specialize in premodern history.
Q: Are you currently doing any research?
A: [My current research] is building upon the work that I did for my Ph.D., and I'm working on a book, provisionally titled "Rule Through Blood." It looks at the ways in which gender, kinship — and by that I mean birth and marriage — [and] land intersect with techniques of domination and power in premodern South Asia … before the 10th century. I am … reading texts, particularly inscriptional texts, [which are] permanent writing on plates of copper [and] large stone surfaces, including pillars. These texts are written in a range of premodern languages, including Sanskrit, Prakrit, and old Javanese.
Q: What are you teaching this semester?
A: This semester, I'm teaching a course titled "South Asia in the World." This introduces students to the history of premodern South Asia, but [we're] not looking at South Asia as this static place located outside of time, or in isolation, divorced from the history of the premodern world at large. [Instead, we are] demonstrating that people have always traveled across time, that people have always been mobile, and that things have always been connected. I think the challenge of this course is to try and understand the history of premodern South Asia as part of critical premodern history, and to see what happens when we study the premodern world [while] placing South Asia at its center, rather than placing Europe, for example, at the center of our frame of reference.
The other course that I'm teaching is called "Sex, Gender, and the Body in South Asian History." That traces the history of South Asia up until the contemporary times, looking at it through the lens of categories [such as] sex, gender, and the body, while at the same time historicizing these categories.
Q: What do you hope students take away from your classes?  
A: One of the main takeaways that I would like students to come away with is a sense of the dynamism of the history of South Asia, and also to understand and recognize the importance of premodern history at large. A lot of contemporary exclusionary political claims — for example, those coming from various kinds of exclusionary nationalism — are based on dubious and spurious histories. Many of these dubious claims are based on deliberate misunderstandings, often of the premodern past. So I would like students to understand the ways in which the past informs the present, and continues to be a part of who we are today.
Q: You said you were previously teaching at a university in the U.K. — what drew you to Amherst?
A: It's been a wonderful opportunity to be here at Amherst, and to be part of a liberal arts college like Amherst, because I really appreciate the opportunity to engage with students and be part of this open curriculum. That is one of the things that drew me to Amherst. Also, the diversity in the student body, and the ability to have students from a range of backgrounds in my classroom with different perspectives, having these exciting conversations — all of these things brought me here from the U.K.
Q: When you're not teaching or researching, what are some things you enjoy doing?
A: I really enjoy running. I love hiking, which is another reason I really enjoy Amherst — there are lots of opportunities to do these activities. I also really enjoy practicing my music. I recently resumed my training in Hindustani classical singing. That was an interest that I had kind of neglected for a while as I was finishing my Ph.D.
Q: If the pandemic was over today, what would you do?
A: I would definitely love to see my friends more often, who are unfortunately located all over the world because of work. It was wonderful to be able to visit my parents in India after two and a half years, so I'm looking forward to being able to visit friends and family a lot more.