Homecoming
From Intern to the Top: An MLB Scout's Journey — Alumni Profile, Joe Katuska '03
Joe Katuska '03 and his journey to the peak of the scouting world embodies the hard work and dedication it takes to make it in professional baseball.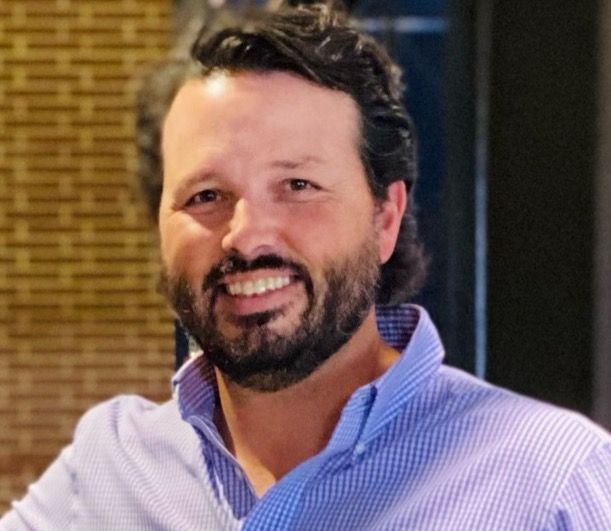 Every year, hundreds of young men's dreams of playing professional baseball come true when they hear their name called in the MLB First-Year Player Draft, but the intensive behind-the-scenes process leading up to the actual selections is mostly unknown to the general public. For Joe Katuska '03, though, the process is no mystery. In fact, it's his livelihood.
Over his 17 years with the Cincinnati Reds, Katuska has traversed all parts of the country on a mission to identify baseball diamonds in the rough — and ensure that they end up in Cincinnati. Beginning in an arduous entry-level internship role and working his way up through grueling scouting positions, his efforts have paid off. Having risen through the organization's ranks, Katuska was named the Reds' Director of Amateur Scouting in 2021 and now holds the most responsibility in the department.

What Eddie Did
Katuska took a unique path to Amherst. Already young for his grade, Katuska only applied to four highly selective colleges during his senior year of high school, with the idea that if he didn't get in anywhere, he would take the year off to work before going through the process again. When this came to pass, he did just that, working for a newspaper and in a bookstore while also playing baseball.
The second time around, Katuska went a perfect six-for-six on his applications but chose to attend Amherst, where he was recruited for baseball. It was the only college he reapplied to from his first cohort of schools. Growing up just outside of Boston, Amherst was close enough to home but provided an appropriate amount of separation and, as Katuska describes, was "the right fit for everything that I wanted to do — it was really the right spot for me."
Upon arriving at Amherst, Katuska planned on going to medical school, but realized "a couple courses into the chemistry requirements … that wasn't going to happen." Katuska instead turned to American studies, where "the flexibility and the breadth of what you could study was appealing to me."
In his spare time, Katuska was also an active member of The Student, occupying essentially every role in the sports section. Initially a staff reporter, he later became a columnist, managing sports editor, and eventually "senior sports consultant" in his final year. His column, "What Eddie Heard," showcased both his love for sports and his analytical mind for baseball. Some of his articles are still accessible online today, including a full breakdown of the 2001 World Series and Katuska's thoughts on a potential contraction of MLB teams.
The column's title is an homage to Katuska's nickname, given to him by seniors on his baseball team when he was a first-year. "I'm the oldest of six kids, my mother's one of 10 — very big family," Katuska explained. "So, [the seniors] started quizzing me on names in the family, and there wasn't an Eddie. And they said, 'Any family that big has to have an Eddie.' So — I became Eddie."
The nickname was "much to the chagrin" of a player actually named Eddie who joined the team in a subsequent year. "He couldn't be Eddie anymore," Katuska said with a laugh.
It was at Amherst that Katuska met his future wife, Abby Ouimet '03. Katuska described her as the "achiever of the group," and for good reason — Ouimet was a three-sport athlete and five-time all-American, twice in field hockey and three times in lacrosse while at Amherst. Ouimet is also the all-time leading points scorer for the women's lacrosse team and powered the 2003 squad to a National Championship. Katuska proposed to Ouimet in front of Jenkins, then known as B-Dorm, on the common space that is now occupied by Beneski Hall.

Amherst's MLB Pipeline
Though his plans for medical school faded, Katuska never lost his love for baseball. He still remembers going to Red Sox games at Fenway Park as a kid and falling in love with the sport, and as he progressed through college, he decided he wanted to keep that love in his life. However, Katuska recognized that he needed to hang up the cleats in order for that to happen.
"I figured out pretty early on that no one was going to pay me to play, so I wanted to find a way to stay in the game," he said, chuckling. "And Amherst was really the perfect spot for that."
Katuska started pursuing summer internships in the MLB during his sophomore year rather than playing opportunities. He credits the strength of Amherst baseball's strong alumni network, which he says fostered connections between groups of players who never overlapped and was instrumental in aiding in his introduction into the professional baseball world.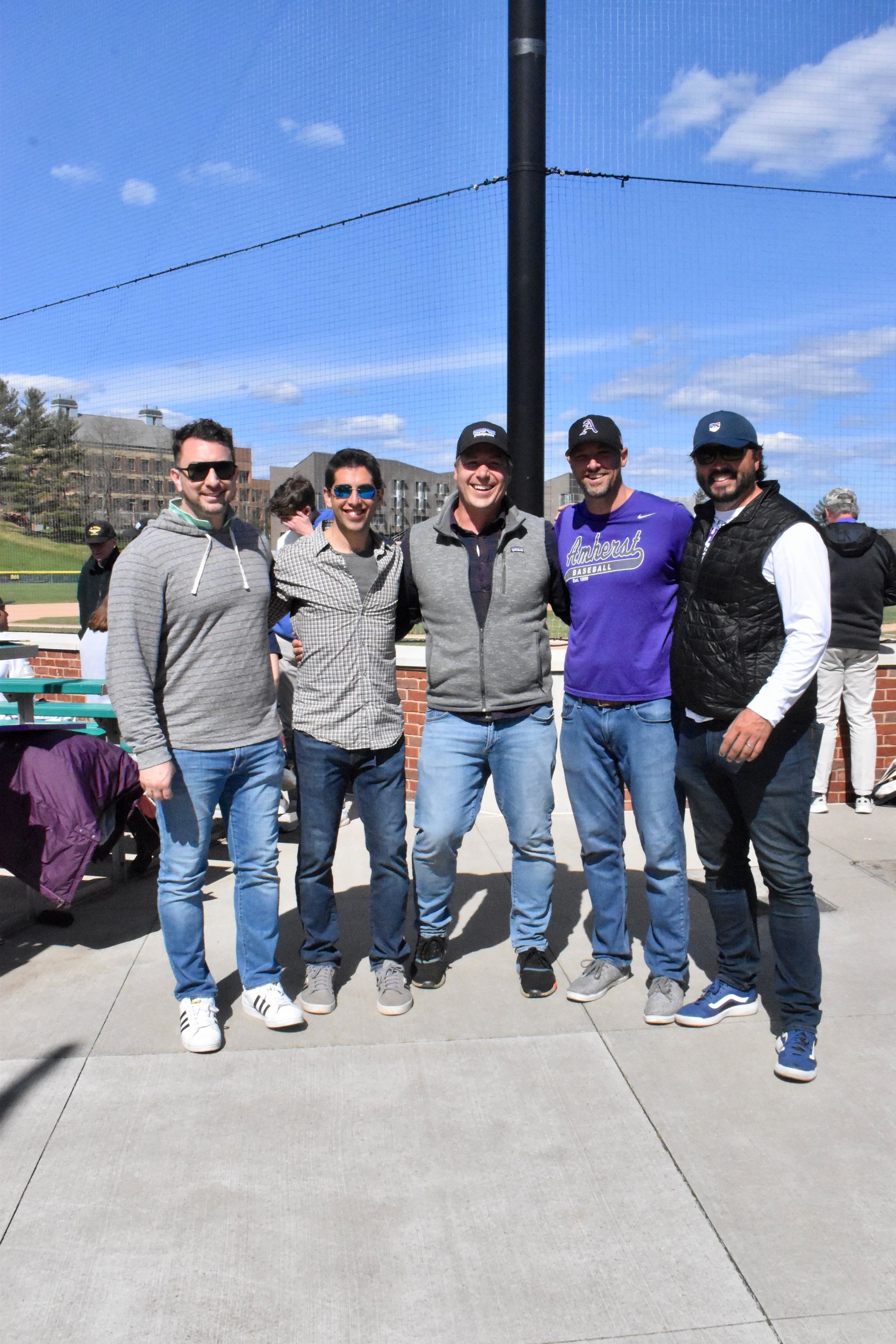 Amherst has a long track record of producing successful professionals in the MLB — Dan Duquette '80, Neal Huntington '91, and Ben Cherington '96 are three alumni who have served as general managers — and a strong network of alumni permeate through various levels of MLB front offices in a variety of roles. In fact, many of these former players — Katuska included — were coached by the same man, the legendary Bill Thurston, who led the baseball team for an incredible 44 years.
Katuska and Thurston had a great relationship, so Thurston gave Katuska an open invitation to return to the baseball program in a coaching role if or when he thought it would help his career. After graduating from Amherst and spending a year doing home improvement work while simultaneously trying to get into baseball anyway he could — which included sending out hundreds of resumes to teams and going to the MLB Winter Meetings, where he tried to "corner people [who] didn't really have any interest in getting cornered" — Katuska took Thurston up on his offer, returning to Amherst as an assistant coach for the 2005 season. It was at this time, however, that he received the break he was looking for — the Cincinnati Reds had offered him an internship for that summer.
"It worked nicely from a calendar perspective," Katuska said. "I was able to come back [to Amherst] and coach, and then go out to Cincinnati and move on to the next chapter."

The Next Chapter
Katuska's first position with the Reds was as a "Baseball Operations Intern," which entailed charting major league games using video and compiling clips for the team to use in preparation for upcoming games. As time went on and Katuska was able to prove himself, his responsibilities grew to include writing advanced scouting components to pair with the videos he produced.
During his second year in that position, Katuska was given the opportunity to go to Scout School, a now-defunct MLB-run program. It involved spending two weeks in Arizona watching various levels of baseball, from high school to the major leagues, and learning from members of the league's Scouting Bureau. It was there that Katuska picked up the important skills a scout needs in their toolbox, like how to write a scouting report and how to conduct oneself professionally. "I think [a lot of people] think that we just watch baseball games, and there's a lot more to it than that," Katuska said.
Because most Amherst alumni have gone into player development or front-office roles, scouting was not the path that Katuska originally imagined for himself. Thinking back to his decision to pursue scouting, Katuska remembers important advice that Duquette had given him while at Amherst: To make it in baseball, you need to be able to evaluate talent for yourself, or you need to have a right-hand man who will always be there to evaluate it for you. Wanting to maximize his prospects by adding this skill to his resume, Katuska jumped at the opportunity and officially became a scouting supervisor (area scout) for the Reds in 2007.

Embracing the Grind
Over the next 14 years, Katuska gradually ascended the ranks of the Reds' amateur scouting department, proving his commitment and value to the organization. After spending eight years covering Kentucky, Tennessee, and Arkansas, he was promoted to regional crosschecker for the entirety of the Midwest, where he spent two years. Katuska then became national crosschecker before finally earning the role of Director of Amateur Scouting in 2021. As director, Katuska heads the entire amateur scouting department and has final say on who the Reds actually draft each summer.
Katuska's rise to the head of the table is emblematic of what many Amherst alumni had told him years ago: You have to pay your dues. "A lot of people want to work in the game, and that supply [and] demand equation means you're not going to get rich off your first job," Katuska said.
In his original intern position, Katuska remembers working over 100 hours for about 30 dollars per week. In scouting roles, travel responsibilities are absurd — for parts of the year, Katuska says scouts are "on the road six, if not seven, days a week for months on end" — and can be taxing on families in the industry. Katuska, who has four children, says that maintaining a healthy work-life balance is crucial to not burning out.
"I need to be able to flip the switch when I come home and just be a dad, and backburner some of the work stuff," he said.
Now, as the head of the department, Katuska has obtained more power within the organization than ever before — and, of course, greater responsibility, too. He is in charge of using the detailed information and multitude of opinions provided by scouts to make the final call on draft day. In explaining his success, Katuska credits his continuity within the Reds organization.
"Knowing the people and knowing everyone's strengths and weaknesses — I've worked with this group, some of them, for the entire time that I've been here with the Reds since '05 — is really beneficial," he said. "We build our department from the ground up so that everyone's voice is heard. There isn't one super scout who makes the decision."
Ultimately, however, it is up to Katuska to make the pick, something he did for the first time on July 17, during the 2022 MLB Draft. He relishes this opportunity — for him, the pressure is "certainly part of what makes it fun."
"There's no formula," he added. "You have to weigh things differently for different types of players."
Katuska took Cam Collier, a 17-year-old junior-college star and the youngest player to ever participate in the prestigious Cape Cod League, 18th overall with the Reds' first pick in 2022. Collier joins a slew of other top-100 prospects in the Reds' farm system, ranked fourth overall by MLB.com during the 2022 season's midpoint, who will look to take the team, which hasn't finished better than third in the NL Central in a decade, to the next level.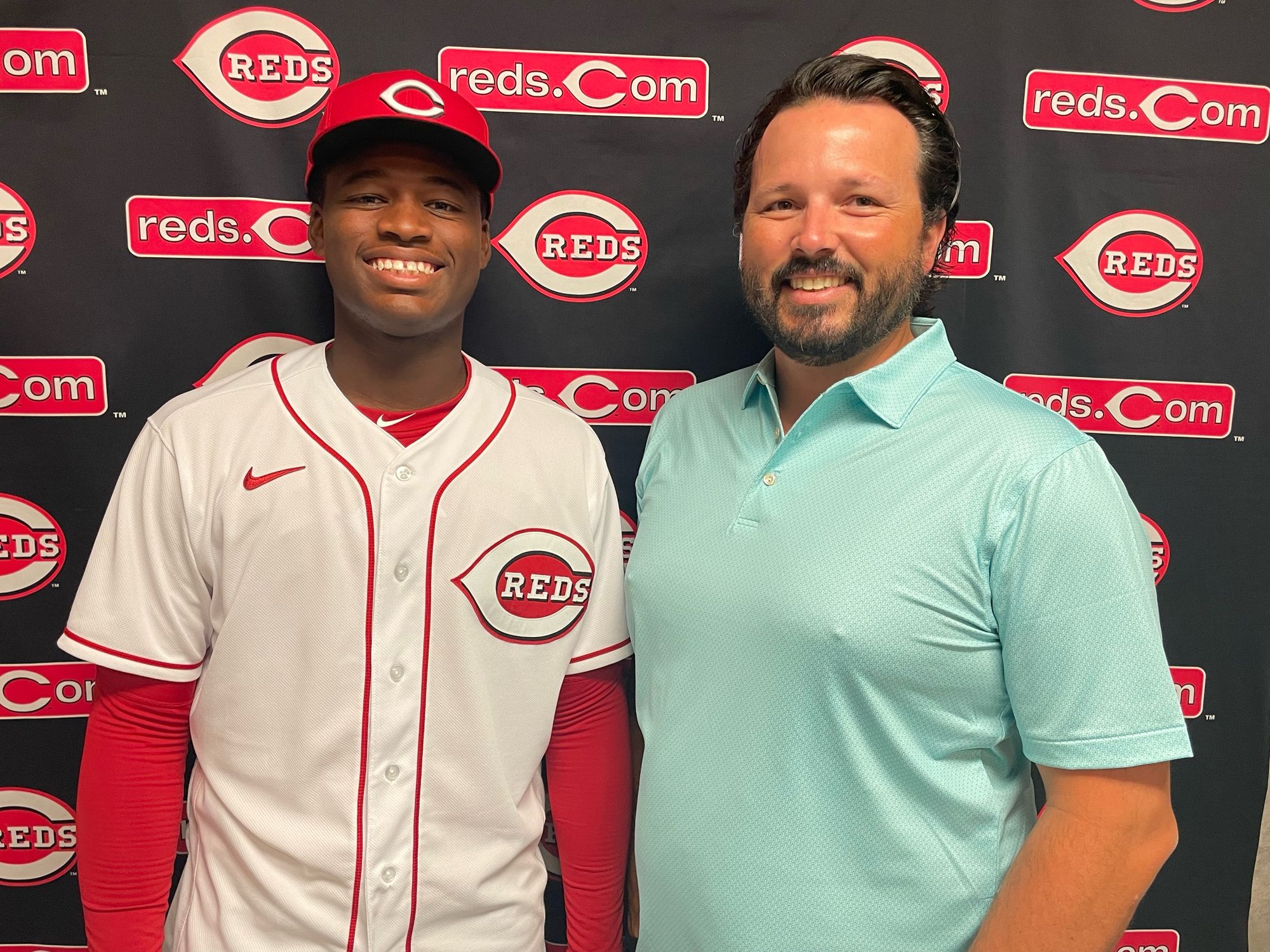 Katuska is optimistic about the team's future. "Obviously, we have had a couple tough years, but [we] hopefully [are] seeing the light at the end of the tunnel and can turn things around," he said. "And I'd definitely like to be a part of that."