Features
From Milliken Dorm to the Tribune Tower — Alumni Profile, Blair Kamin '79
For 28 years as The Chicago Tribune's architecture critic, Blair Kamin '79 examined the "forces that shape the built world." Known on campus as the author of Amherst's architecture tour guide, his columns earned him a Pulitzer Prize and once ignited a feud with Donald Trump.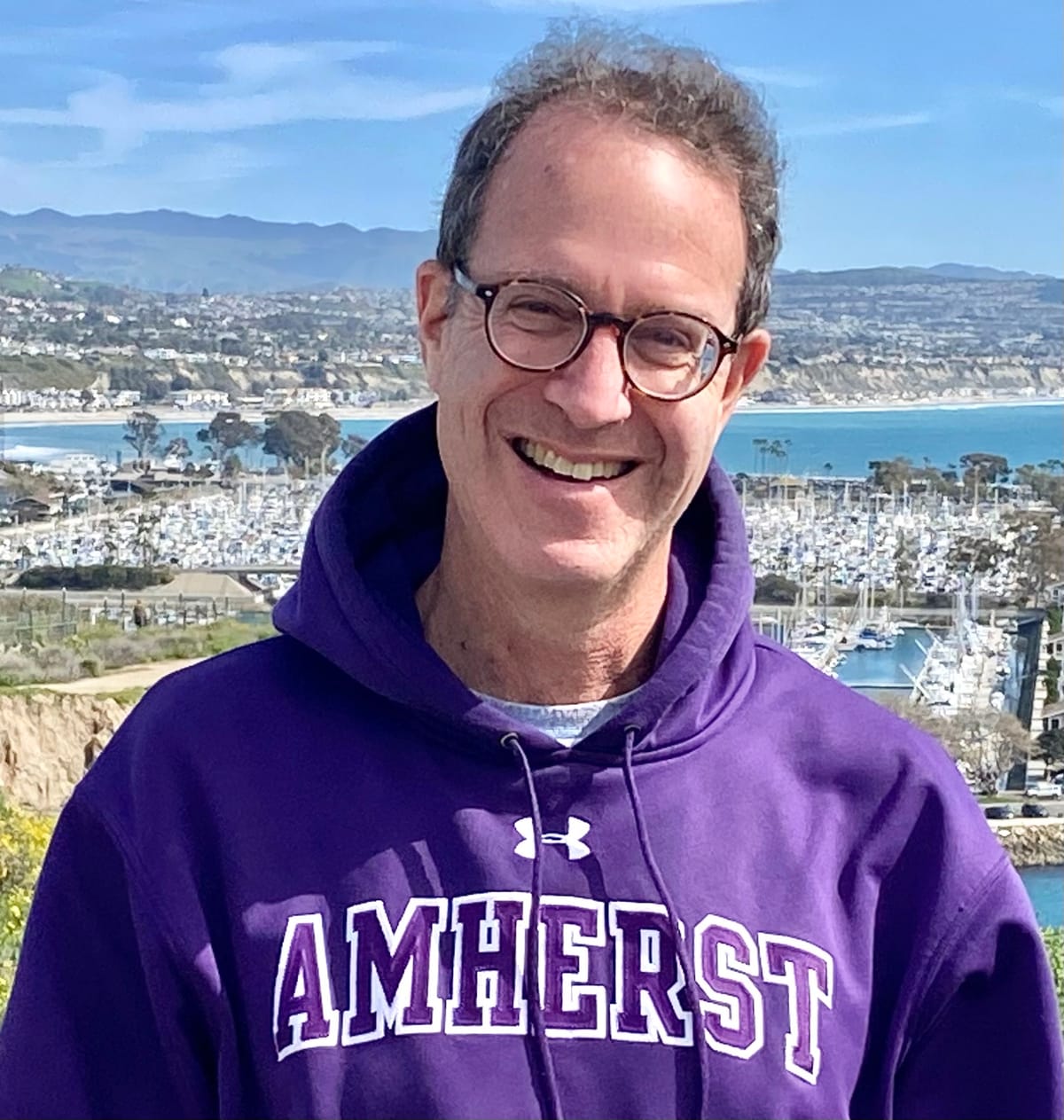 (Leo Kamin and Blair Kamin are not, so far as either of them know, related to each other.)
"Sorry sucker, as usual you lose again," wrote Donald J. Trump in a Nov. 14, 2014, tweet directed at the Pulitzer Prize-winning architecture critic Blair Kamin '79. "You couldn't work for me for 10 seconds."
Kamin quickly replied to the future 45th president of the United States.
"Hey Donny Bankrupt, I would never WANT to work for comb-over vulgarian like you," he wrote.
The incident was part of a broader feud between the two men touched off by Kamin's criticism in The Chicago Tribune of the nearly 3,000-square-foot "TRUMP" sign overlooking the Chicago River. The controversy earned Kamin a feature on "The Daily Show," where Jon Stewart comedically took his side. For better or worse, Kamin said, the feud will likely be included in his obituary.
Although Kamin was more likely to make himself heard in his columns than on Twitter or late-night television during his 28 years as The Tribune's architecture critic, his run-in with Trump spoke to his commitment to using his platform at one of the nation's top newspapers to do more than simply pass aesthetic judgments.
In a 1998 column, Kamin asserted his commitment to "activist criticism." He wrote that "architecture critics proceed at their peril if they ignore the underlying forces that shape the built world or restrict themselves to 'high style' buildings like an art museum."
At the Tribune, Kamin's columns highlighted the ways power imbalances impact the world of architecture, from a 2020 piece featuring efforts to preserve Emmit Till's Chicago Home and condemning "the slipshod manner with which Chicago often treats its African American landmarks" to a six-part series in 1998 that examined the history of the city's lakefront and the inequalities between shorefront amenities on the North and South Sides.
The lakefront series, along with a group of other columns from that year, won Kamin the 1999 Pulitzer Prize for Criticism.
The path to the Pulitzer, and to getting called "sucker" by a future commander-in-chief, began in earnest during Kamin's sophomore year.
"Amherst changed my life," he said. The decisive moment was when Kamin, an American studies major, found himself in a class on French gothic architecture and literature.
Then Professor of Art History Joel Upton "not only illuminated the soaring spaces of these cathedrals, but also the cultural forces that built them," Kamin said.
Kamin had some previous interest in architecture. After his father's local newspaper building in Fair Haven, New Jersey, burned down in the early 1970s, he tagged along on a nationwide tour of "modern, architecturally distinguished newspaper buildings."
It was Upton's class, though, that determined his future career. "Once I took that course," he said, "it was really a matter of figuring out how I would pursue my passion for architecture."
The path became somewhat more clear after Kamin earned a "gentleman's C-minus" in calculus. "I think I came to realize that being an architect probably wasn't in the cards," he said.
After graduating and working two entry-level architecture jobs in San Francisco, Kamin returned to the East Coast to pursue a Master of Environmental Design at Yale, a program that focuses more on the "socio-political influences that shape spatial environments" than the nuts and bolts of building buildings.
From there, he worked for three years as a reporter at The Des Moines Register in Iowa before joining The Tribune in 1987. He became the architecture critic there in 1992, and held the position for 28 years, until 2021. Kamin once described this position as "a little bit like being a sports writer and covering Michael Jordan." Home to architectural giants like Frank Lloyd Wright, Louis Sullivan, and Ludwig Mies van der Rohe, Chicago is often described as the architecture capital of America.
In what he described as another "serendipitous" arc in his career, Kamin's first American studies course was about Chicago in the 1890s.
"It was all about the decade when Chicago hosted the World's Columbian Exposition and had the Pullman strike and had skyscrapers going up and was just this booming, fascinating, conflict-ridden place," he said. "Amherst introduced me not only to architecture, but really to the city."
Outside the classroom, Kamin found the college at a fraught, transitional moment. The class of 1979 was the last open only to males, though it and previous classes included female transfer students. The first cohort of female first-years arrived on campus in the fall of Kamin's freshman year.
Though the college was making steps toward coeducation, Kamin encountered a social scene "like something out of old Amherst," with frat parties and Smith and Mount Holyoke students taking buses into campus. "It was a strange time," he said. "A transitional time."
The changes were also political. In the wake of the tumultuous Vietnam War years, the campus mellowed out. "Our class was sort of viewed by the faculty as being kind of boring because we weren't activists," he said.
Though he attended Amherst at an unsettled moment, Kamin added that "it was also an amazing time because of the great faculty."
Of course, Upton sparked his interest in architecture, and others, like then Professor of American Studies and English Leo Marx, taught Kamin the importance of "intellectual honesty."
At Amherst, the future architecture critic lived in three buildings that no longer exist. He spent his freshman year in the previous iteration of James Hall, a barracks-like building constructed on a low budget in the 1940s. "They were spartan compared to the dorms that are there now," he said of the pre-renovation James and Stearns.
He then lived in Moore Hall in its first year as a residence hall after being converted from a chemistry building. He spent his junior year in the now-dismantled Milliken Dorm, above what was then the college health center. His senior year, he lived in Coolidge, one of the social dorms.
It was there in long-since-demolished Milliken, above the college infirmary, and in the wake of a "bad room draw" that Kamin said he met a group of lifelong friends.
"There's just no substitute for those friendships," he said. "We don't talk every week or anything, but at any given crucial time in my life I know that they'll be there."
Kamin has maintained his connections to the college in other ways, too. The oldest of his two sons, Will Kamin '15, also attended Amherst and is now a law professor at The Catholic University of America.
And, of course, Kamin is the author of "Amherst College: An Architectural Tour," for which he is perhaps best known by current students. The book has been handed out to first-years at orientation and can be found in many rooms across campus.
(The book's ubiquity has also fostered the pervasive misconception that I am Kamin's son. I am not.)
Kamin saw the book as his opportunity to "give back" to the college. He said the book was "a lot of work, but a really gratifying project."
Though Amherst will always be an important place for Kamin, Chicago has truly become his home.
It was in Chicago, at The Tribune's former offices in the iconic neo-Gothic Tribune Tower, that Kamin met his wife, Barbara Mahany, who was then a reporter. She is now an author of five books and, according to Kamin, "by far the best writer in our house."
Though he no longer works at The Tribune, Kamin has nonetheless kept himself busy. He currently serves on the design committee for the forthcoming Fallen Journalists Memorial on the National Mall in Washington.
He has also recently begun training for triathlons, which often involve open-water swimming. He said that, from his days as a kid body surfing on the Jersey Shore to his award-winning series of columns on the Chicago Lakefront, he has always felt a connection to the water. His senior thesis at Amherst was about "American attitudes toward the sea, 1620 to 1920."
In the summers, Kamin has been swimming in Lake Michigan, with an "enormous sky" to one side of him and the Chicago skyline on the other.