News
Fueling Accomplishments with Passion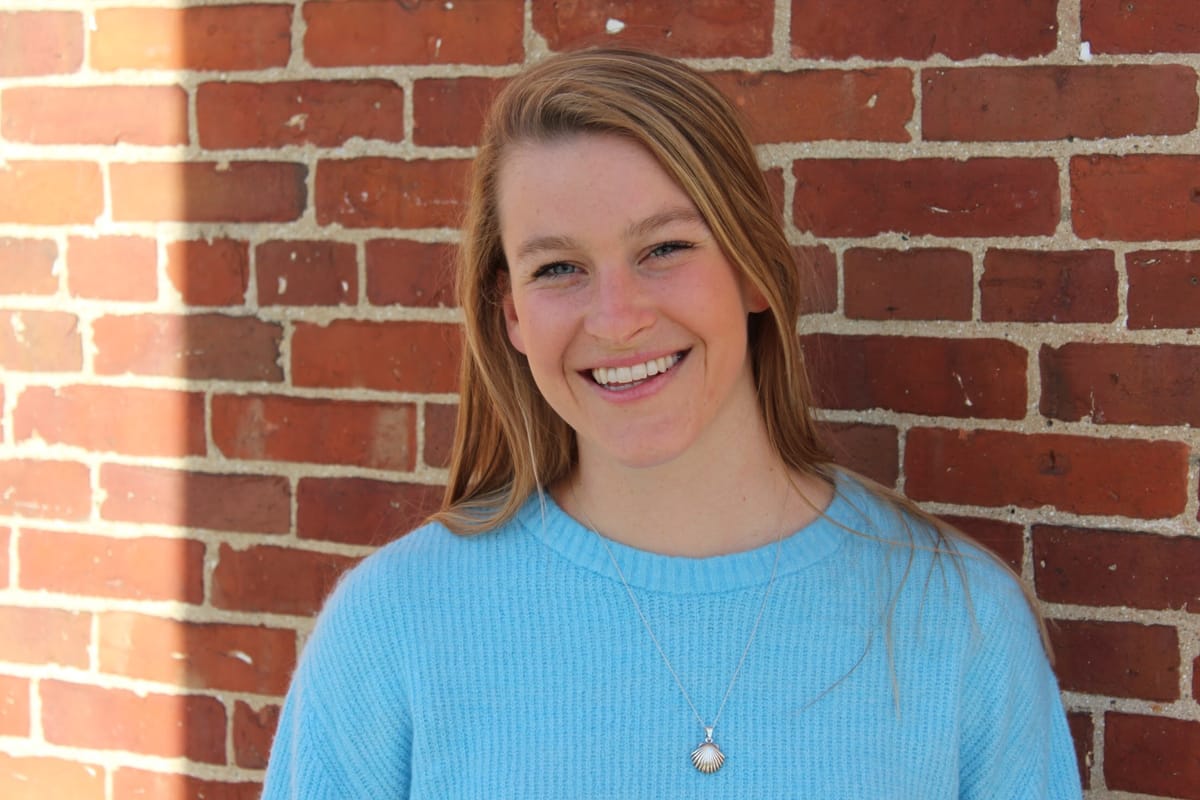 Maeve McNamara '19 is anything but ordinary. As a two-sport varsity captain, double major in film and media studies (FAMS) and biology and proud director/producer/writer of a short film thesis, her resume and accomplishments are lengthy.
Behind the curtain of achievement lies a confident, funny and selfless young woman who has worked hard to get to where she is today.
Early Love for Sports It is no surprise to see McNamara's natural athleticism, as it runs in her blood. McNamara was born into a family where you simply "cannot dislike sports." She is the oldest of three, with two younger brothers whom she credits with having pushed her to be better in everything she does.
Family is a core value to McNamara: her mom, one of nine children, and her dad, one of five children, provided with McNamara with opportunities to grow closer to her many cousins throughout her childhood.
It was also as a child that McNamara discovered her passion for both the humanities and the sciences. She "likes to think that she got something from [each of her parents] in terms of interest," as her mother is an artist and her father is a businessman with a strong interest in science. She remembers often exploring various museums with her family during her childhood in her hometown of Arlington, Massachusetts.
Leading up to her time at Amherst, McNamara attended a private preparatory high school.
"Coming from a small prep school, I didn't really think I wanted a NESCAC school … because I thought it was going to be the same, homogeneous group of people," she said. "But Amherst was really the best of both worlds. It's far enough away from home, but close enough from home that my parents could come to my games. I liked how it was totally different from the urban environment I grew up in."
Playing both soccer and basketball, which she has done since her childhood, was an additional deciding factor in where to go to school. Amherst's open curriculum, she said, was particularly enticing in that it allowed her to fully and rigorously pursue her passions in the humanities and sciences while being a high-level student-athlete.
However, once at Amherst, her extroverted and excited personality led to meeting new people of diverse backgrounds, which pushed her past the immaturities of high school and ultimately helped her make the transition to college that so many struggle with.
An Athletic Community At five foot, seven inches, McNamara isn't the height of the average collegiate-level soccer and basketball player. However, she compensates with her drive, work ethic, positivity and perseverance.
Soccer has been a part of McNamara's life since she was in kindergarten. Some of her best friends were made at town travel soccer games, and she shares the experience with her younger brothers, who also played soccer when they were little.
Her love for sports led her to even dabble in baseball: "I was that tomboy that played baseball until I was 12 and absolutely refused to play softball. I remember pitching an All-Star game and being the only girl in the league!"
Her introduction to basketball was slightly less conventional. "My parents and brothers tried to introduce me to [basketball] when I was little, but I showed up to Bitty Basketball League, and I was the only girl there and cried and went home," she said.
On top of serving as a two-sport captain, McNamara conducted research in biology, produced a 127-page thesis and wrote, directed and shot her own short film. Next year, she will take her skills to the Sinclair Lab at Harvard Medical School to study the effects of aging. Photo courtesy of Maeve McNamara '19.
Three years later, she returned to it and grew serious about the sport. She played on an Amateur Athletic Union basketball team and absolutely loved it.
Her natural leadership skills translated well when she became a double-captain for both soccer and basketball in her senior year at Amherst. Amherst's varsity soccer coach Jen Hughes says, "When there was a lull of energy in practice, Maeve recognized when she needed to be a spark and she excited that. She single-handedly could and did change the complexion of practice at times."
"Similarly, in a game or in practice, if the team needed to be motivated in some way, Maeve always said just the right thing at the right time to get people going," Hughes added. "Every time she spoke it was just so poignant and articulated in a good way."
Finding Her Language Whether it's on or off the court, field, lab or class, McNamara shows initiative in everything she does, which has helped her take advantage of the numerous opportunities offered at Amherst. Her love of problem solving and finding ways to tell a story led her to the biology and FAMS double major, whether that be "in a language of numbers and figures" or in "cinematically captivating sounds and images."
Although the field of science is vast, McNamara says that "learning more that there are millions and billions of cells controlling our actions" fascinated her. She spent her summers before college working at a home for elderly people and doing research in ALS, which also sparked her passion.
"There is a certain creativity in science that is not always enunciated that I've always been drawn to," she said. This creativity, in essence, overlaps with her studies in film.
She has even done research with Professor of Biology Michael Hood to look at a host pathogen system that is endemic to the Italian Alps. She remembers chasing butterflies on the trip, which she and her friends still laugh about to this day.
Even with these unique accomplishments and perspectives, McNamara was also like any typical child growing up: she loved movies. She says that one could even make a timeline of her childhood based on what films she and her siblings were watching. Film gives her a sense of community, and she's thankful she has found a community at Amherst with which to share her fondness for film.
She credits her production film class junior year as a life-changer: "There's something really empowering about actualizing your own idea … seeing something from beginning to end. I've always been drawn to narratives. There's something exciting about film and its collaborative nature."
Sparked in her interest, McNamara pursued extensive research in the film and media studies field, launching her into a thesis and short film in the subject. Her 127-page thesis studies coming-of-age narratives in films directed by and written by women.
If that was not enough work, McNamara also wrote, directed and shot a short film in which she creates an intergenerational practice of feminism by interviewing elderly women at a local senior citizen home.
Professor of English and FAMS Amelie Hastie, who taught McNamara as a first year in "Film and Writing," became her mentor throughout her four years and advised her thesis. She describes McNamara as "driven, organized and enthusiastic."
"She really raises the bar; she thrives on the level of activity she pursues," Hastie said. "I do think she's been increasingly conscious of her own position on campus, identity, her interest in working beyond her own identity … That to me is what makes her a model, … being able to be conscious of her role [in society] and being able to push herself beyond it."
"Over four years, I've seen her grow tremendously into such a committed intellectual and feminist, and that's been glorious," Hastie added.
Strength of Character McNamara's attention to detail made her a student who went above and beyond. McNamara executed the intricate balance of a being an extraordinary and diligent student-researcher and a high-level athlete. And she still made time to show care for others.
However, the demands of balancing class, homework, extra research, film projects, labs and practice every day has not been without struggle for McNamara. "There are really hard moments where I'm exhausted and calling my mom crying," she said. "The resume doesn't come without its shortcomings. But, I'm a firm believer in finding time for things you are passionate about."
McNamara noted the importance of surrounding herself with people who make her excited to do what she does — it's what fueled her drive over her years at Amherst. And that's her advice for students: surround yourself with the people who are positive and bring out the best of you, and take time to develop the relationships with people that are waiting to happen.
One of her favorite Amherst memories is competing and winning her second national championships with her basketball team. Although she didn't play every important minute of the game, she remembers her parents being there and her mom even cutting a piece of the basketball net after the team won.
It's clear that Maeve McNamara has left no small impact on Amherst's campus, and it will remain so after she leaves. After Amherst, she'll begin working 35 hours a week at the Sinclair Lab at Harvard Medical School, studying the effects of aging and how to reverse them.
However, she hopes to continue writing and directing films in her free time and is considering a possible career in medicine or neurology. While her future may be uncertain for now, one thing that is certain is that McNamara will continue to inspire far beyond her college years.