Arts & Living
Getting Creative in Val: Recipes from Iron Chef Competition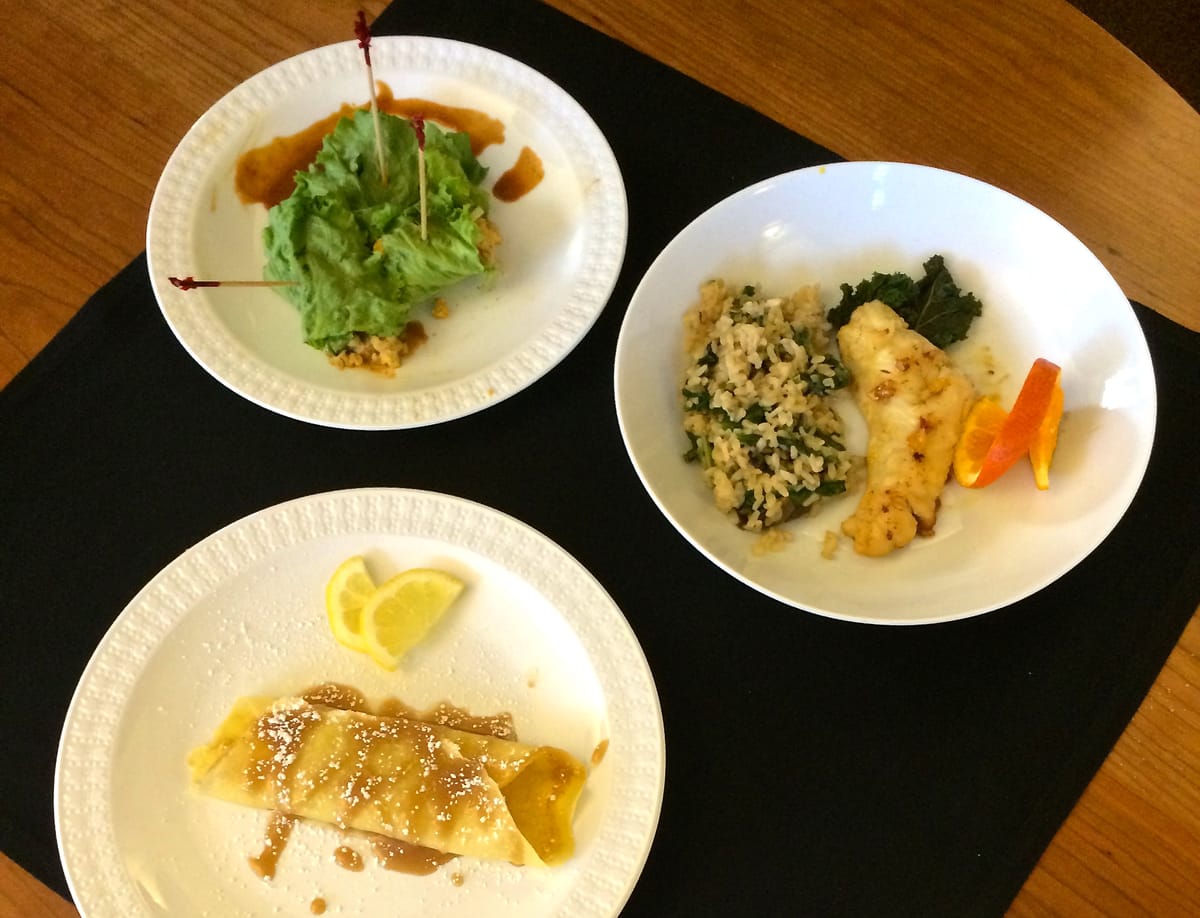 Last week, Amherst hosted the annual Iron Chef competition in Valentine. I, along with three of my amazingly talented track teammates, had the chance to compete. The competition consisted of six teams of four who had been chosen at random from the many who entered. The competition grants each team one hour to prepare three courses to present to the panel of judges, who then sample and rate each dish. The team with the greatest overall score determines which team wins the grand prize. The secret basket of ingredients this year (each marked by an asterisk below in the recipes) consisted of spring onions, black sea bass, a blood orange, fiddlehead ferns and gooseberries. The competitors are required to use at least one of these ingredients in each dish, and beyond that, they also have their choice of any ingredients in the Valentine servery. Because not all of the following dishes are entirely possible to make in Val due to the secret ingredients, below are recipes that can still be whipped up using what is readily available in the dining hall. However, with summer break rapidly approaching, each course would also be a great meal to try at home!
Appetizer Round: Pad Thai Inspired Lettuce Wraps with *Spring Onion
2 lemon slices (we used blood orange)
1 piece of chicken
4 slices of cucumbers
6 baby carrots
1 spring onion
4 leaves of basil
2 eggs
1 tbsp butter
¼ cup of milk
Salt and pepper
"Spicy Sriracha Peanut Sauce" (see
recipe from the last article!)
Instructions: Follow previous article's ingredients to make the spicy Sriracha peanut sauce. Mix milk, eggs, salt and pepper in a bowl and whisk until fluffy. Melt the tablespoon of butter in a medium heated saute pan, then pour in the egg mixture and cook until no liquid egg remains. Set aside. Julienne the cucumbers, carrots, spring onion and basil. Slice chicken lengthwise and lightly drizzle with lemon juice. Layer the vegetables, eggs and chicken in the middle of a piece of lettuce and spoon on the spicy peanut sauce. Roll up and enjoy!
Main Course: *Blood Orange Glazed *Black Sea Bass with a *Fiddlehead Fern, Spinach & Mushroom Risotto
For the Risotto:
3 cups chicken broth from Val's chicken noodle soup
½ cup white wine (don't bring this into Val … but use it when you're home!)
½ cup mushrooms
1 small bowl spinach
1 cup fiddlehead ferns
2 cups brown rice
½ cup parmesan
2 tbsp butter
3 tbsp olive oil
Salt and pepper
Instructions: Heat 1 tablespoon of oil in a saute pan over medium heat. Add mushrooms, fiddlehead ferns, spinach and butter. Saute for three to five minutes until lightly browned, then season with salt, pepper and garlic powder. Remove from heat and set aside. Add the rice, then stir in wine and cook until it is nearly all evaporated. Now, add one cup of the chicken broth and cook, stirring, until the rice has absorbed the liquid. Add the remaining broth, one cup at a time. Continue to cook and stir, allowing the rice to absorb each addition of broth before adding more. Transfer the ferns, mushrooms and spinach to the rice mixture. Stir in Parmesan cheese, then cook briefly until melted.
Dessert Round: Homemade Crepes with a Tangy *Gooseberry, *Blood Orange Compote, Topped with a Butterscotch Sauce
For the Butterscotch Sauce:
4 tablespoons unsalted butter
1 cup of tightly packed dark brown sugar
¾ cup half-and-half (by the coffee station)
1 tablespoon vanilla flavoring (also by the coffee station)
1 teaspoon salt
Instructions: In a saucepan, melt butter over low to medium heat. Just before butter is melted, add all dark brown sugar at once and stir until sugar is uniformly wet. Stir infrequently until mixture goes from looking grainy to molten lava for about three to five minutes. Lower the heat, add the half-and-half and vanilla flavoring, and whisk with a fork. When the sugar and half-and-half is uniform, turn heat back to medium and whisk for another five minutes. Add salt to taste.