Arts & Living
Ghostlight's Double Feature: Double the Comedy, Double the Talent
The Ghostlight Double Feature premiered this weekend with the student-written plays "Meteoric" and "BY You." The shows were full of comedy and showcased the skills of Amherst's playwrights, actors, and stage crew.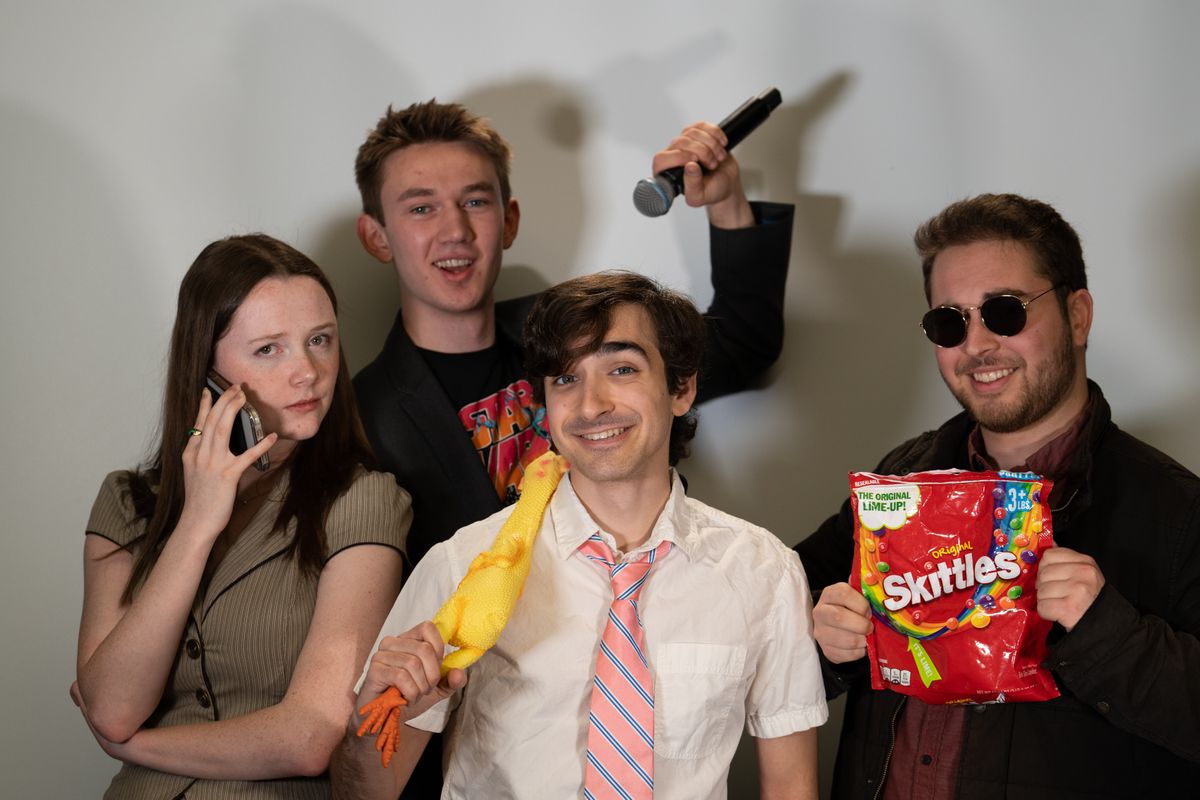 The student theater organization Ghostlight showcased a double feature on March 31 and April 2: "Meteoric," written and directed by Luke Herzog '24, and "BY You," written by Shay Hernandez '23. Ghostlight began last September to showcase aspects of student theater beyond acting, such as long-form plays written by students. This weekend's double feature is the group's first production of the semester.
"Meteoric"
"Meteoric" begins with Will (Slate Taylor '25) fidgeting on a couch at the backstage of a comedy club. Silhouetted on the white curtain behind him is Ankor (Matt Vitelli '24), a comedian performing a set about the biblical plagues of Egypt with self-satisfied smirks seeping through each punchline. After his set, he goes backstage and complains to Will about the audience, but Will doesn't indulge him. He keeps quiet while Ankor goads him into going out to celebrate by yelling, inexplicably, into a rubber chicken. This is the first glimpse of the play's real genius: the earnest conversations mixed with complete absurdities that somehow make sense for the situation.
They begin to argue, with Will claiming that Ankor stole his joke and Ankor saying that Will is just jealous. Their shared agent, Shannon, played by Eleanor Walsh '25, enters talking on her phone. She pays them no mind: She is clearly used to this. Their argument grows in fervor, and Ankor pauses for a moment to storm off stage in search of a bathroom.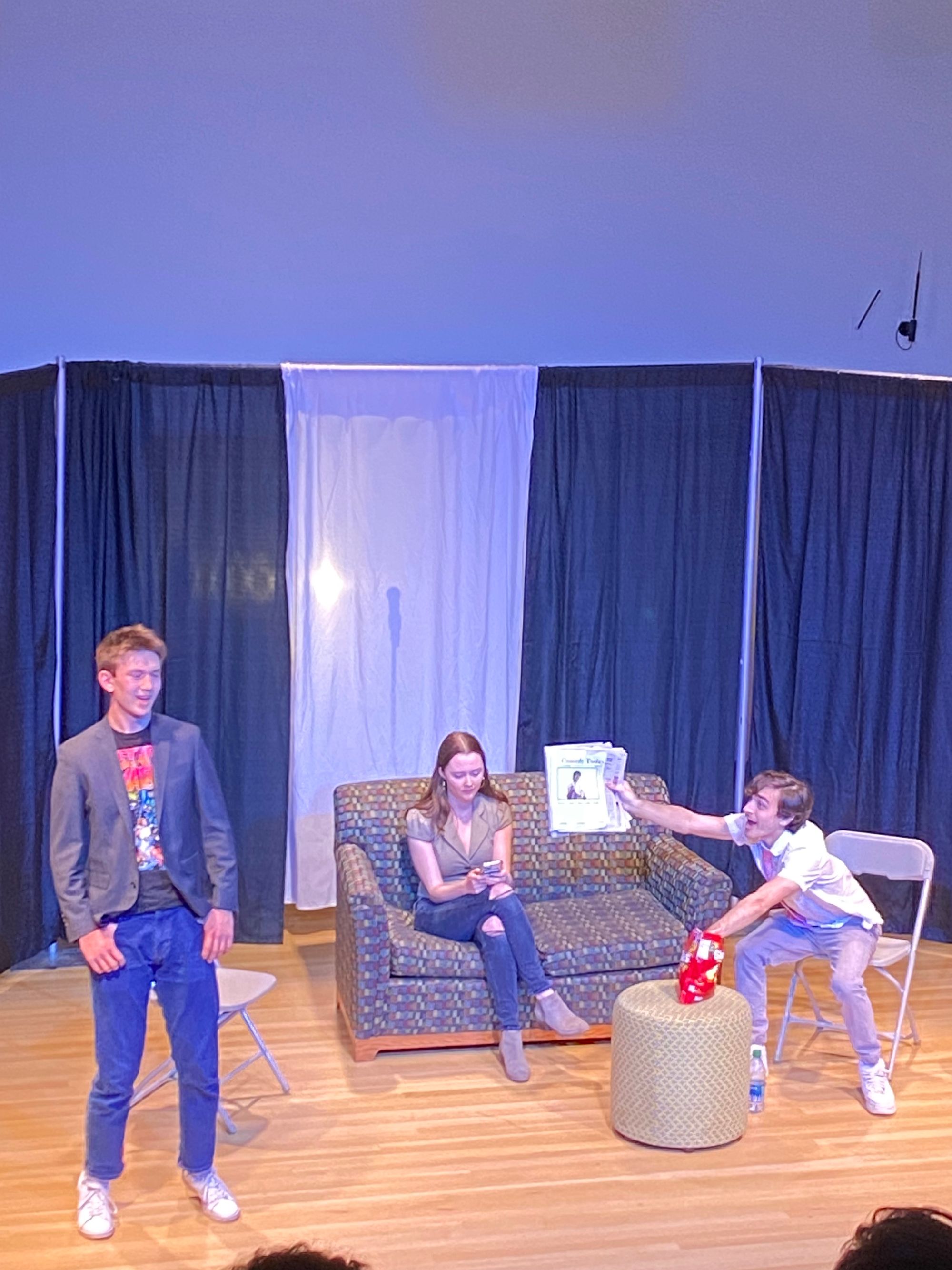 Will joins Shannon on the couch and they commiserate about Ankor's cocky attitude. Will tries to comfort her and explains a type of philosophy to her through Skittles. He has her guess the weight of individual Skittles, and when he drops the full bag on her palm, she laughs: The natural conclusion, he says, of a large rock dropping after so many small ones. They gaze into each other's eyes and smile.
Ankor bursts in and tries out a joke about urinal cakes. Neither Will nor Shannon laugh, and Ankor again begins to insult Will. While Will is certainly upset with him, Ankor is almost crazed. Taylor and Vitelli balanced out each other's performances by leaving room for both to turn vicious in their own way.
Shannon interrupts them and shows them her phone: There is a meteor headed to Earth, and it will kill all humans in 10 minutes. The absurdity of this situation made the audience start laughing, just like Will, who breaks down in a hysterical fit of laughter. He says that the philosophical treatise has been proven: A big rock is coming, and he is indeed laughing.
The three are overwhelmed by the audience's ignorance of the situation — they do not have their phones and are sitting contentedly for an encore. The three of them debate whether to tell the audience, but they wonder whether the audience would even want to know. Isn't the point of comedy to forget? Ankor, with a raspy voice, refuses to go onstage and admits that Will is funnier than him. He insults Will one last time, and Shannon slaps him before giving Will a kiss. He goes to perform Ankor's encore and asks if, hypothetically, the audience would want to know if a meteor was headed to Earth. The audience laughs, and the show ends with Will saying, "Why do they call them urinal cakes, anyway?" and finally stealing a joke from Ankor.
The play worked particularly well in its use of tension. It seems ambling until it doesn't, and every step the characters take suddenly has much more meaning than it did a second before. The chemistry between the three characters was notable, and the quick relationship between Will and Shannon didn't seem random, nor did the erupting screaming match between Will and Ankor.
Herzog wrote "Meteoric" during his gap year between his freshman and sophomore years, he told The Student. He noted that "it's entirely possible that the play's apocalyptic twist was inspired by that particularly dire period," referencing the beginning of the Covid lockdowns. He was also inspired by learning that some comedy clubs confiscate phones during performances. This was not "Meteoric's" first performance — the play was selected for a reading at Newburyport's New Works Festival in January, and it won the Honnegger Prize for Best One-Act Play.
Vitelli, who is president of Ghostlight as well as an actor in the play, emphasized the involvement of Herzog in its staging. "Luke would always start off any rehearsal with a stand up bit, which we would watch to get into the mood for the show." He said that the cast had a ton of fun during rehearsals and that working with Walsh and Taylor, as well as the stage crew, was a great experience.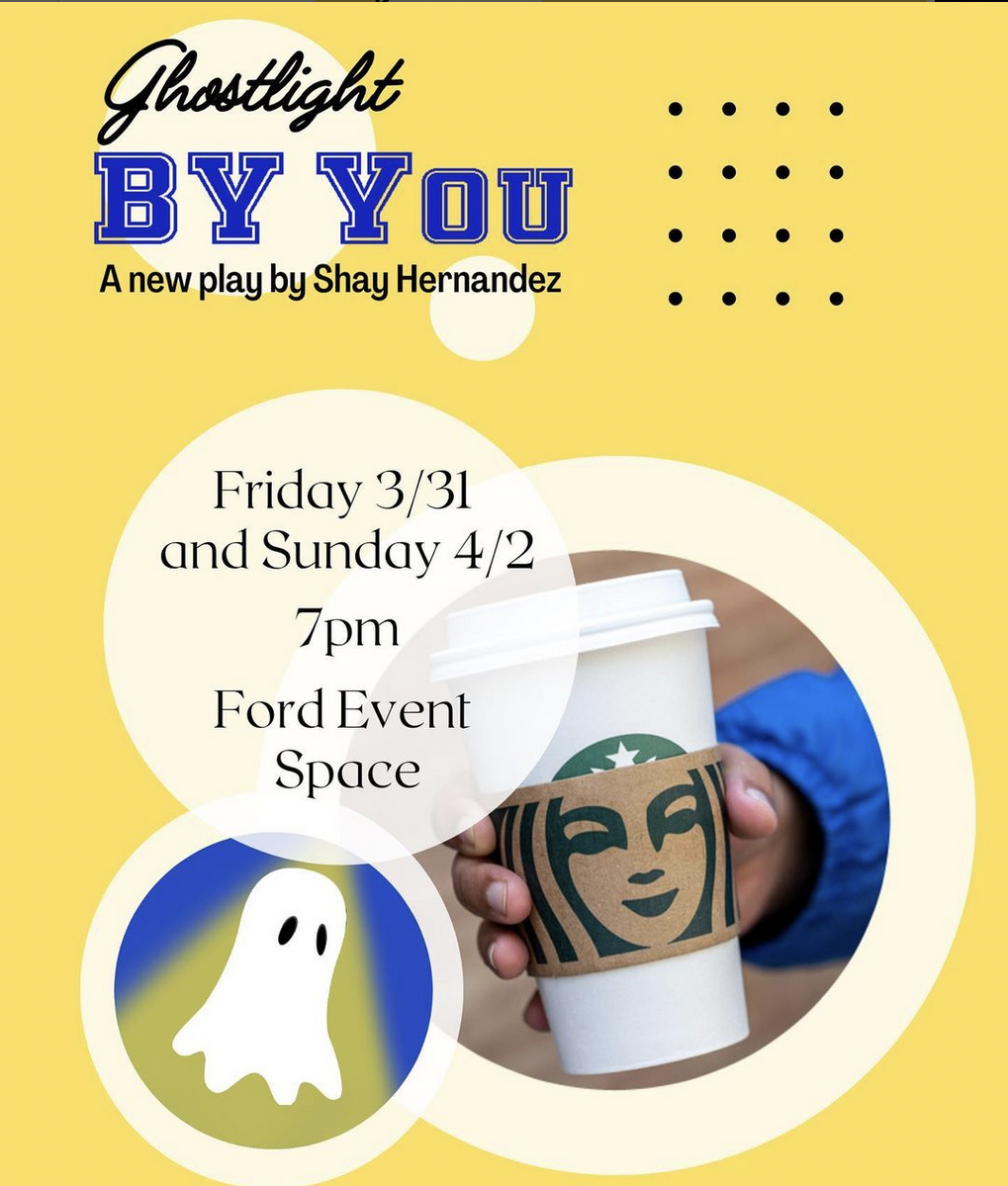 "BY You"
After an intermission, "BY You" began. It was significantly longer, with multiple set changes and a larger cast. Playwright Shay Hernandez '23 came onstage to introduce the play and noted that he submitted it for his playwriting class last semester which, he said, was "insane." As the play began, it was obvious why: This was a script filled with sexual references and criticism of Mormonism.
The play starred Patrick Spoor '23 as Spencer, a naïve student at Brigham Young University who is shocked when his friend Eli (Dylan Schor '25) describes the sexual antics of their friends Cameron and Eliza (Sarah Boyle '26 and Cailin Plunkett '23, respectively). Eli explains in vivid detail what they did, justifying it as "not real sex" before jumping into his seat as their professor, Dr. Monomon (Hernandez), interrupts to begin their theology lesson.
The scene changed quite abruptly to Spencer ordering a dirty chai in a Starbucks, whispering to the barista in shame, since Mormons are not allowed to drink caffeinated beverages. Unfortunately for him, Alma from his theology class (Ella Rose '23) catches him and whispers, "I know what you are." She is a rebel, dressed in leather pants to contrast Spencer's conservative outfit, and tempts him to drink the dirty chai after he lies about ordering it. Spencer enjoys the drink and Alma leaves, dropping a note telling him to meet her after class the next day.
Later that day, Spencer and Eli play golf with Eliza and Cameron, they affectionately touch each other and pretend to make out. Eli makes many sexual innuendos about them, all of which Spencer is vehemently uncomfortable with. Eli also hints that he is gay, indirectly asking whether Spencer is as well. Spencer doesn't understand but gushes that he likes an unnamed person, who the audience knows to be Alma. Eli exclaims, "The human equivalent of an unsalted saltine cracker met a girl!" Unfortunately, Spencer says they can't be together because their mission is coming up, but Eli says it is just an excuse and encourages Spencer to pursue her.
In class, Dr. Monomon teaches about the dangers of lust, causing both himself and Spencer to cry. He holds Spencer back after class, warning him about being with his daughter, Alma. Spencer was as shocked as the gasping audience. Alma admits that her father is their theology professor and invites him to her home, where it is revealed that Dr. Monomon has three wives, although polygamy was outlawed in the Church of Latter-Day Saints in 1890. Everyone's imperfect, although they might try to act differently — that's why, Alma says, she is resentful of his holier-than-thou attitude. She wants to teach him a lesson, and she needs Spencer's help sabotaging him.
On the day of their theology test, Spencer distracts Dr. Monomon by showing him lewd drawings that he's found, while Alma switches his bottle of unsweetened lemonade for a cappuccino. Though the professor runs out of the room in caffeine-fueled horror, Spencer, ever the star student, continues taking the exam.
"BY You" ends with Alma and Spencer going on a date at Starbucks. Alma hypes him up, screaming that he can order a pistachio latte, and they enjoy their time together with their caffeinated beverages. They then see Eli walking with Cameron, the guy he had spread rumors about in the first scene. The sexual details Eli gave Spencer at the beginning of the play were just a cover story, and Eli admits, after having to explain homosexuality to Spencer, that he's gay. Spencer says that he will try to unlearn his biases, and the play ends with a kiss between Spencer and Alma.
This production was certainly enjoyable to watch, but I do feel that it may have relied a bit too heavily on its criticism of Mormonism. At times, the jokes felt like they were making fun of Mormonism as a religion, rather than critiquing the system it upholds, and some of them fell flat for me, although the script's wit made it an enjoyable production. The acting, as in "Meteoric," was natural, and the actors all had great comedic timing. Spoor portrayed their character with overarching innocence, but they retained some depth to his emotions and desires, and the other actors gave personality in each line.
Hernandez said that his playwriting class discussed the concept of a "meet-cute," which sparked the idea for the play. "I was thinking, 'What is the worst possible meet-cute that I could make? How can I ruin this?' And then I had this idea of this coffee shop, and this public embarrassment scene," he explained. The play evolved past that, and he said that the play wasn't specifically about Mormonism — Mormonism is a stand-in for any repressive organization. "It could be applied to a politician, if [someone] just blindly believed in [them]." He noted that Ghostlight was a fantastic organization to work with, especially as a writer or director: "If any student wants to put on theater that they wrote, that's the best place to do it."