Sports
Indoor Track and Field Athletes Compete Well at Nationals
Nine track athletes competed at the Division III National Championships during the first weekend of spring break, representing their school across a diverse set of events.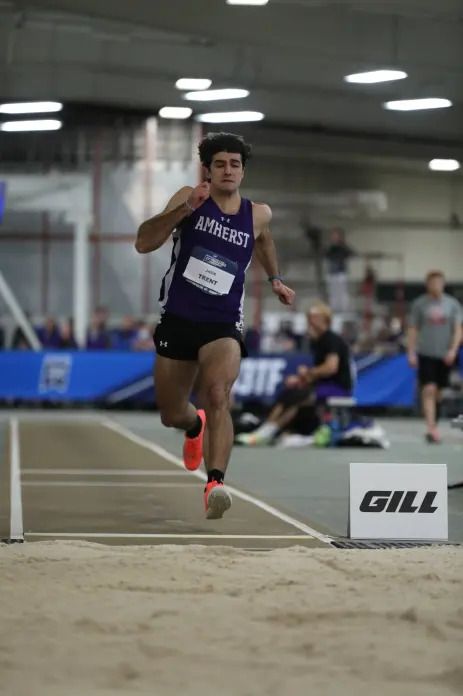 Nine Mammoths made the trip to Winston-Salem, North Carolina, for the Division III Indoor Track & Field Championships during the first weekend of spring break, on March 11 and 12. The nationals squad included four first-years: Casie Eifrig '25 as a member of the 4x400 relay team, New England Champion Eliza Cardwell '25 in the 60m hurdles, Julia Zacher '25 in the high jump, and Sidnie Kulik '25 in the 3,000m.
Anna Madden '22, Juanita Jaramillo ' 22, and Katie Lingen '22 joined Eifrig in the 4x4. Sophia Wolmer '23 qualified in the 5,000 meters, her second qualification but first time competing at nationals, after the 2020 championships were canceled due to Covid.
Heptathlete Troy Colleran '22 qualified for nationals during the regular season, but an injury forced him to withdraw. The next-best score in the nation thus moved into the top 20 nationals qualifying spots, and, perhaps as some minor cosmic justice for Colleran's brutal misfortune, the 21st best score in the nation just happened to belong to fellow Mammoth Jack Trent '23. He traveled to North Carolina to round out the squad.
Trent put up an admiral performance in place of his teammate. A last-minute qualifier, he nonetheless ended the weekend in 12th place. In the 60m hurdles, Cardwell missed out on a trip to the finals by the finest of margins. Finishing in ninth place — four milliseconds behind her closest competitor — she landed just outside the top eight qualifiers who advanced to the finals. She nevertheless finished in the top half of the field and ended her rookie season as the New England Champion.
The 4x400 team narrowly missed out on a finals berth as well; across the nearly four-minute race, they finished just a second outside the qualifying spots. They hit the track less than an hour after Wolmer, who came in 19th in the 5,000.
Zacher and Kulik's events fell on the final day, as Trent finished out the heptathlon. Zacher tied for 13th in the high-jump, clearing 1.61 meters. Kulik got under the 10-minute mark in the 3,000, finishing in 12th place with a 9:58.10.
One season is over for Amherst track and field, but another one is about to begin. As the weather warms up, the team will venture out of the Cage and into the outdoor season, which begins on Sunday, April 3.