News
At the Intersection of Economics and Medicine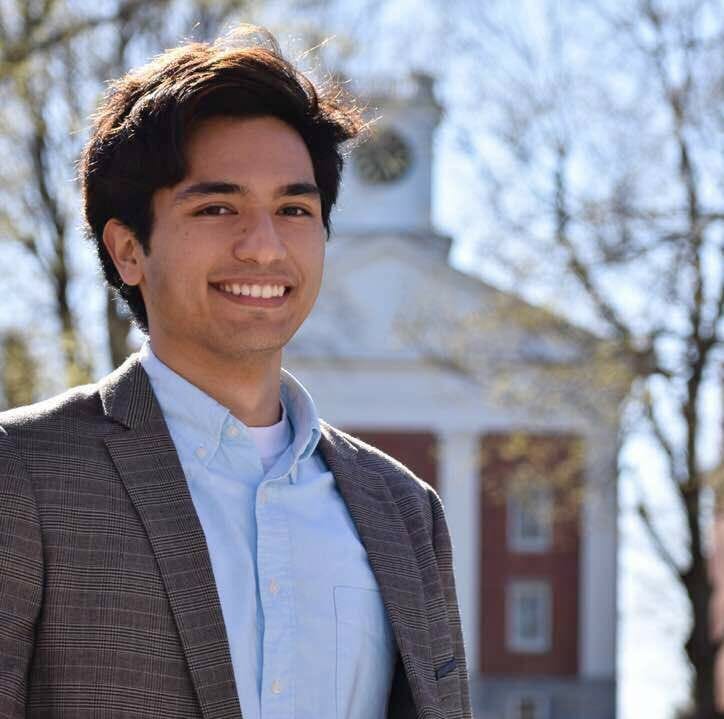 Rashid 'Chico' Kosber has always been committed to helping people in need, and this quality is evident to everyone who meets him. No matter where Kosber is, whether at an intense late-night study session in Merrill or just walking around campus, he is always there with a genuine smile.
An economics major on the pre-med track, Kosber has channeled his passion for resolving real-world conflicts through combining social science and medical science. Kosber also served as a senator for the Association of Amherst Students (AAS) and trained musically, taking solo voice lessons and singing in Glee Club. An aspiring doctor, Kosber hopes to become a physician who promotes economic mobility.
When asked to describe Kosber, his friend Minjee Kim '17 praised his devotion to learning about healthcare equality and environmental issues. Kosber, Kim said, is "one of the most dedicated and hardworking people I know."
Gaining a Global Perspective
Born and raised in Cairo, Egypt to a Korean mother and Egyptian father, family was everything to Kosber. Growing up in such a multiethnic household shaped Kosber's worldview in a nuanced way.
"My cultural heritage has deeply influenced the way I see and interact with the world," Kosber said. "It's made me braver, in some ways, to venture out and make as many friends from different backgrounds as possible."
Since his parents were both international students, he heard a lot about their experiences even before arriving at Amherst. Indeed, Kosber was surrounded by people of many different backgrounds. He attended the International School of Choueifat, where he took classes in English and made friends with students all across the international spectrum, including those from countries experiencing political and economic strife.
One of Kosber's main high school activities, which prompted his social justice awakening, was working with Seeds of Peace, an international conflict resolution camp. He traveled to this camp along with other teens from countries such as his native Egypt, Israel, Palestine and Jordan. The discussions in this camp were centered around political issues, such as the Israel-Palestine conflict, and how they affect the campers' daily lives. It was through this experience that Kosber first visited the United States. Among the many things he learned in this camp, Kosber gained a particular understanding of the complexities of economic thought and mobility, as well as a compassion that would later guide him through his time at Amherst.
"It was an opportunity to listen to how Palestinian voices and Israeli teens spoke about the conflict and their experiences," Kosber said. "It was very eye-opening for me."
Through Seeds of Peace, Kosber not only made cherished friends, but also developed a deeply personal connection to conflict and tragedy. In this way, Kosber's high school years were not simply academic. They were also socially and internationally aware.
Unplanned Amherst
Kosber had not originally planned to attend Amherst — the college was simply one more school on his list. "I forgot I applied to this school, actually!" he joked. "When I applied here, I was like, 'What is this school? Oh wow, it's pretty good!' That's a favorite story for me to tell alums!"
After being accepted and visiting the campus, Kosber immediately fell in love. He made many friends during orientation and was taken in by other students' willingness to discuss issues centered around both marginalized communities' social movements and medicine. In his first year, Kosber found his place among other scientifically-inclined people and those committed to advancing justice through policy.
"I remember being really intimidated by how talented and smart a lot of people were," Kosber recalled. "But I learned from them how to push myself more to understand their insights and skills, while getting insight into my own abilities and having confidence in that, and then the confidence to admit when I didn't know something so I could learn." Kosber has also applied this mentality to the range of activities on campus in which he is involved.
Selfless Academics
At Amherst, Kosber wasted no time and immediately enrolled in economics and chemistry classes. One of those classes, "History of Economic Thought" taught by Professor of Economics Daniel Barbezat, was "one of the most impactful classes I've taken," Kosber said. In this course, he learned about the nature of self-interest through the lens of political science and public health and about how certain constraints led to different types of behavior. This philosophical insight gave Kosber better guidance on how to pursue his dream of going into medicine.
"It was an eye-opening class," Kosber said. "The way [Barbezat] talked about economics and the way he spoke, he gave me a lot of insight into my own behavior and the behavior of others, and economics was a good way of studying that behavior … [I]t made me question my own assumptions about human behavior."
As a pre-health student, Kosber also engaged thoughtfully with the sciences at Amherst, becoming a chemistry teaching assistant and helping students in the intensive sections of both general and organic chemistry.
"The science community at Amherst has been incredibly warm and welcoming," Kosber said, "And I've learned so much from my professors and friends that I'm sad to be saying goodbye to all of that."
A Musical Leader
As Kosber was developing his skills in these academic areas, he sought to practice leadership through active participation in the AAS, Amherst College's student government body. As a sophomore, Kosber was elected vice president of AAS. He treasured his time in this position, as it gave him indispensable collaborative skills through working with senators on their projects.
Kosber remained involved with AAS after his tenure as vice president, serving on the Committee on Educational Policy, which helped him look at ways to improve the way students learn and build bridges between seemingly disparate subjects.
"It's been a wonderful experience, and it's taught me a lot about Amherst and helped me connect with people I would not have been able to [otherwise]," Kosber said.
Kosber's passion for working with others does not stop at politics. Although he is not a music major, he has loved music since elementary school and is well known in the music department for his solo voice performances and as a member of the all-men's choir, Glee Club.
"I took Music 111 in my first year, and I've been taking voice lessons every semester since I got here," Kosber recalled. "It's been one of the best experiences since I've had at Amherst College — to go from not being able to sing at all … to being part of an ensemble and working with other people to learning more about chord structure and the joy that comes with making music with other people."
Kosber was one of the few male students under the tutelage of Junko Watanabe, a renowned sopranoist, and he brought charm to every recital with his uniquely upbeat classical tenor solos. Before Amherst, he had never thought he would be able to join a classical ensemble, but under the guidance of choral society director Mallorie Chernin, he emerged as both a warm presence during rehearsals and a leader in the tenor section.
An Intersectional Thesis
Kosber wrote his senior thesis on the Arab Spring and its effects on children's health, which was a passionate but painstaking culmination of the driving force behind his studies. The idea for the thesis originated in junior year with Kosber's advisor, Professor of Economics Prakarsh Singh, when he pointed Kosber to a few data sets that displayed statistics about the Arab Spring. These statistics displayed the intersection of development, conflict and health economics: the great overlap of Kosber's passions.
"My thesis investigated the effects of the series of 2011 civil uprisings in Egypt on child health," Kosber said. "And so I looked at civil uprising exposure in utero on later child health and weight. So it was a great experience — learning how to take broad social phenomena and say something meaningful."
It was a highly collaborative experience, as Kosber continually sought feedback from his advisor and thoroughly revised large portions of it many times in order to accurately document such a critical health event in his country.
"That was something I didn't think I would do, but it was a capstone to my entire Amherst experience and something I'm interested in pursuing more," he said.
The data proved difficult to organize, as Kosber had to parse recent health data from an entire country as well as masses of information about the most important social movement to take place there in recent times.
"Professor Singh had directed me to a few sets, and so I followed the chain of that to Egypt," Kosber said. "In terms of organizing, it took forever! The first semester was spent cleaning my data, organizing it, and choosing what model I was going to use."
The Future
In his post-Amherst endeavors, Kosber aspires to become a physician in underserved communities. Still as passionate about health and economics as ever, he hopes to take what he learned from Amherst into the real world.
And just like those years spent with Seeds for Peace, Kosber remains a cheerful and fervent advocate for collaboration and friendship as a means of reaching one's goals.