Arts & Living
An Introduction to the Metropolitan Opera: Live in HD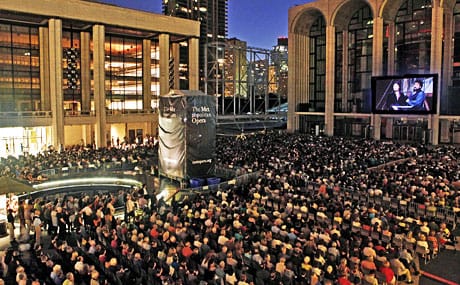 Have you ever seen an opera before? For me — and, I'm sure, a good portion of our student body — the answer would be no. The time and money required to go see an opera are quite considerable, not to mention that opera is not an art form that many young people have been routinely exposed to. This season of The Met: Live in HD, however, the Metropolitan Opera's award-winning series of live transmissions of world-renowned operas to movie theaters around the world, will change my answer from no to yes.
There are many reasons why opera, as an art form, is so removed from the general population. The primary reason is that it is difficult to access and understand. We are not exposed to opera through popular culture. The plot of operas is less relatable, the language foreign and the music so incredibly different from popular music that it would take multiple listens to appreciate fully. This in and of itself lessens the chance that a college student who has no previous love of opera would spend time and money to watch an opera at the Metropolitan Opera.
However, The Met: Live in HD, however, makes opera so accessible that it would be foolish not to take advantage of it. Most opera companies are very protective of their content and do not allow any access to their operas other than through live performances. The Metropolitan Opera, on the other hand, is expanding its worldwide distribution of opera transmissions to 1,600 theaters in 54 countries this year — a tremendous feat and the largest global audience the initiative has ever reached. The Metropolitan Opera Company is one of the most famous opera companies in the world, and the fact that they are willing to put in the significant effort and incredible amounts of resources to spread their material in high definition is not something that should be considered lightly.
As freshman and opera lover Owen Marschall explains, "Whatever exclusive, elitist aura there is or was about going to the Met and seeing an opera, they completely destroyed it by putting it out to this degree. Yet people still go to see live performances and fill up the house multiple times a day. It's a huge testament to the quality of their art." This is a good thing. There are people who disagree, however -people who argue that putting an opera on the movie screen destroys its mystique and shows it in a way that it, as an art form, is not meant to be shown.
These people are absurd. Yes, watching an opera onstage is different from watching an opera in a movie theater. But this merely means that technology will not be able to replace opera houses; live performances will always be one unreachable step beyond videotapes, but that fact in no way diminished the importance and necessity of The Met's broadcasts. Traditionally, only wealthy upper-class elites could afford to go to operas. Even today, opera is viewed by many youths as an art form that is only appreciated by critics and snobbish people of the older generation. Incorporating technology to make an underappreciated art form more accessible to the general public, and to syndicate that art widely, is absolutely praiseworthy.
The 2011-12 Live in HD season features 11 works, a full list of which can be found on the Metropolitan Opera's official website. Included in the lineup are "La Traviata," "Don Giovanni" and "Faust," among many other masterpieces. As the Metropolitan Opera announced on their website, the operas chosen are meant to appeal to both opera lovers and those who are new to opera. According to the Met's website, "The productions are chosen to represent a variety of styles and the full range of Met repertoire and artists. They all feature great storytelling, great singing, and extraordinary production values. Many people tell us that it is a perfect, low-risk way to introduce a reluctant opera goer to the art form."
Also, a noteworthy difference about this season is that Fabio Luisi, previously the principal guest director, will be the Met's Principal Conductor instead of James Levine, who underwent emergency surgery recently and is still recovering. He will replace Levine for most of the fall performances, conducting the new productions of "Don Giovanni" (premiering October 13) and "Siegfried" (premiering October 27). As Peter Gelb, general manager of the Met says:"Having Fabio available to do these productions provides a good and strong hand with the orchestra at a time when we need one."
So, why not take advantage of this opportunity and go watch an opera at Hampshire Mall when the season begins?