Sports
Jack Betts '24E: The King of Division III NIL
In just over eight months, Mammoths wide receiver Jack Betts '24E has accumulated over 35 NIL deals, causing many to proclaim his as the King of DIII NIL. Managing Sports Editor Alex Noga '23 sits down with Betts to learn about his NIL journey.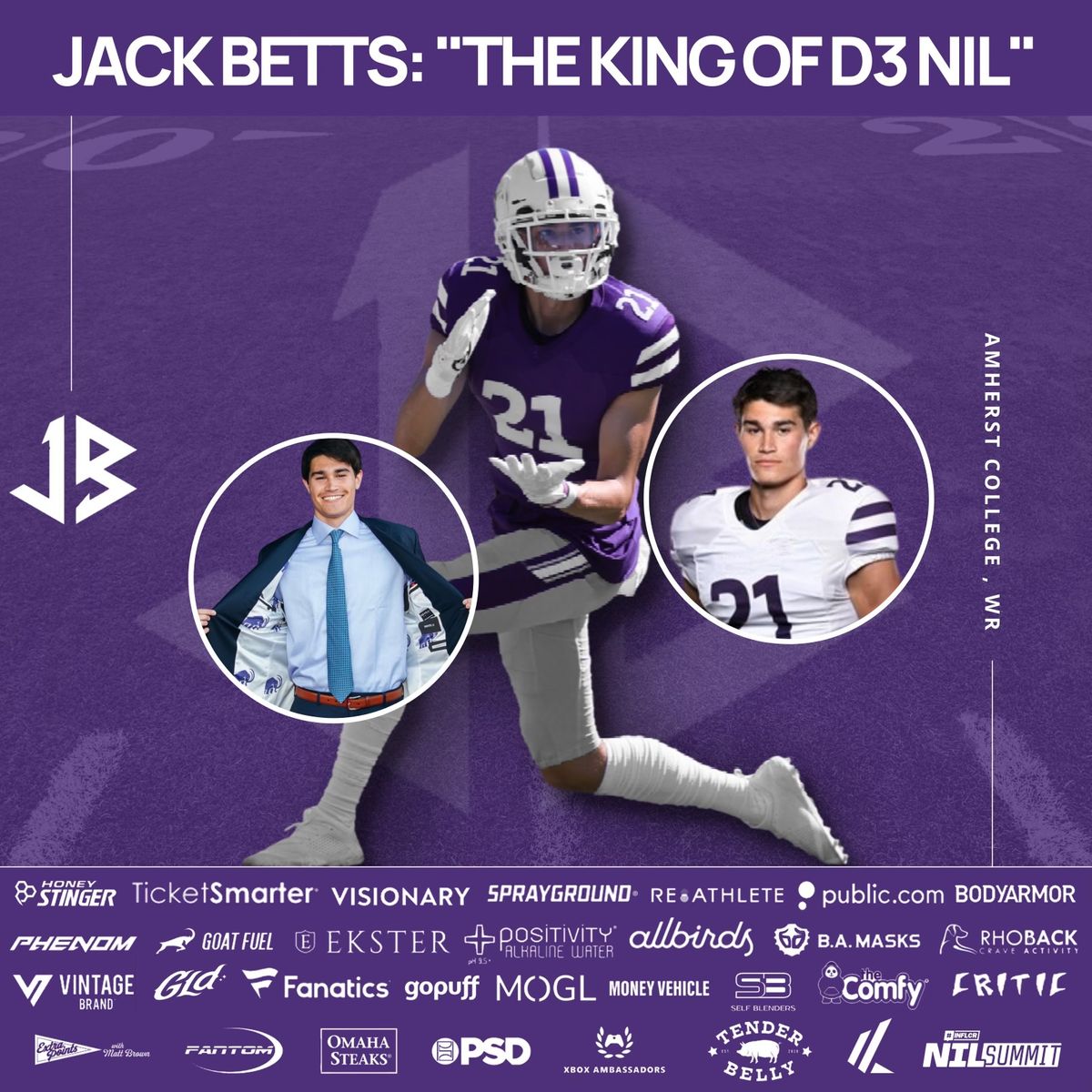 Last year's decision by the NCAA to allow college athletes to financially benefit from their name, image, and likeness (NIL) set off a tidal wave of endorsement deals for some of the country's premier collegiate talents. While the bulk of deals have gone to athletes at high-visibility Division I schools in revenue-generating sports like football and basketball, the policy has also opened the door for Division III (DIII) athletes to profit in a similar way. And perhaps no one has taken more advantage of this change than Amherst's own Jack Betts '24E, who has been proclaimed the King of DIII NIL.
Hailing from Dallas, Texas, Betts, a wide receiver on the football team, has inked over 35 NIL endorsement deals totaling around $7,500 in cash and free merchandise. He is partnered with brands like AllBirds and Omaha Steaks, has been featured in publications like Business Insider, and traveled to Atlanta this past June to attend the inaugural NIL Summit.
Off the field, Betts, who is of Cherokee heritage, is an English major also working toward a certificate from the Five College Native American and Indigenous Program. Betts is a member of the Native and Indigenous Students Association (NISA) and an e-board member of the Council of Amherst College Student Athletes of Color (CACSAC).
The Student sat down with Betts to gain insight into his unique journey through the NIL space.
The Start of His Reign
Betts remembers exactly where he was on July 1, 2022, the day that the NCAA reversed its NIL policy: with his family in Colorado on their annual Fourth of July trip. Though he felt immediate excitement at the prospect of partnering with local businesses in Amherst and the potential to expand to the national level, the feeling was fleeting.
"The reality kind of set in that I am a Division III athlete in the middle of Western Massachusetts," Betts said. "The likelihood of me getting [a deal] is close to zero, right?"
As a result, Betts did not act immediately. In fact, it wasn't until half a year later, after Betts made the decision to take the second semester of his junior year off to be able to use his extra year of NCAA eligibility at Amherst, that Betts broke into the NIL scene.
His opportunity came by chance, via an Instagram direct message from LifeStyle Bands in early January this year asking Betts to be a brand ambassador for the bracelet company. After thinking it over with his parents, who are both lawyers and, according to Betts, very practical thinkers, he accepted the offer, earning $50 from sales and $75 in merchandise (he was wearing one of the bracelets he received when he sat down for this interview).
While the compensation was certainly gratifying, Betts's most important realization from his first deal was that brands are indeed interested in reaching out to DIII athletes. After researching how he could acquire more deals, Betts decided to dedicate his semester off to growing his brand, reaching out to various companies for potential partnerships. His second deal came soon after in late January, and by early April, he had hit the 20-deal mark.
It was around this time that Betts earned his signature nickname: While reviewing Betts's past work with other brands, a representative from a company proclaimed that Betts had become the King of DIII NIL. Betts, liking the moniker, chose to make it his own.
Crafting the Pitch ('Applying' for NIL)  
Though his portfolio has grown both by reaching out to brands and through companies contacting him, Betts concedes that "in reality, I did take it upon myself to take that initiative and … become an entrepreneur of sorts" in the early stages of his journey. He meticulously crafted his pitch to companies, complete with a resume and individualized cover letter for each brand — almost akin to applying to a job. Betts has since created his own website to display his past experiences and accomplishments.
"The process at first was really grueling," Betts said. "I think my approach has been tailored and reconstructed close to 30 times — it's all about learning from mistakes, because obviously I got denied and ghosted a lot. But I didn't let those instances dissuade me from trying to find success as well."
Even with some of his unsuccessful ventures, Betts says he has received a great deal of positive feedback from companies complimenting his organization and the professional demeanor he possesses at such a young age. Once the deals started to pile up and Betts began establishing a name for himself around early March, he began connecting with other student-athletes who had a presence in the NIL space, growing his network and finding new ventures to enter into.
This rapid growth continued with his attendance at the first-ever NIL Summit in June, a three-day event in Atlanta, Georgia, attended by hundreds of collegiate athletes and including keynote speakers like Tim Tebow. Betts, having learned about the event through social media, reached out to Amherst head football coach E.J. Mills for a nomination, who Betts said was enthusiastically on board.
Arriving in Atlanta and being surrounded by so many like-minded individuals, Betts describes himself as having been "actually speechless."
"Having the opportunity to go to the inaugural NIL Summit is an honor in itself, but the [real] honor was being surrounded by so many brilliant entrepreneurial athletes of all ages," he said. "I met so many incredible people, but I also got myself into the minds of a lot of people, and so many people reached out to me afterwards."
Betts says his network grew "exponentially," as he met people like Chase Griffin, a quarterback at UCLA, and Rayquan Smith, a running back at Norfolk State University who Betts has since become close friends with and describes as the true King of NIL.
While it was primarily DI athletes in attendance, Betts relished the moments when he could teach others about NIL opportunities at the DIII level. Being a DIII athlete in what is a predominantly DI space, Betts said, "I use that as motivation to find my niche and to find and create … my own pathway to success."
"I kind of wanted to be the one who breaks down that wall," he continued. "I wanted to be that source of inspiration for somebody else who might need that extra … jolt to make them take the leap."
Make Your Own Legacy
As Betts started accumulating deals and building his reputation, he began to hear from other student-athletes, particularly in lower divisions, looking for advice to break into the NIL scene. The messages arrived at a high volume — at a certain point, Betts said that he received multiple DMs per day — and it was at this time that Betts really felt he was making an impact.
"If folks are reaching out to me, asking for advice on the stuff that I'm doing, I think that really reinforces the notion that the work I'm doing is being noticed," Betts said.
During his semester off from school, he had the opportunity to help virtually every single person who reached out to him. However, he had an idea that would help even more people do as he had done: a formalized mentorship program for collegiate athletes.
What began as an idea to distinguish himself from other athletes has since evolved into an approach that Betts can share with other athletes looking to break into the NIL scene. Betts initially wanted to help other Indigenous athletes secure NIL deals, and reached out to NDNSports.com — which he describes as "ESPN for Indigenous athletics" — to connect with other Native American athletes and leverage their NIL potential. He began with a series of Zoom sessions with around five to six Indigenous athletes, which he describes as being very successful, but he still had thoughts of expanding.
And expand he did. In August, Betts officially launched the Make Your Own Legacy (MYOL) Academy, an NIL education program with an inaugural class of 21 other athletes — the same number he wears on the football field as an homage to Deion Sanders. The name of the program is a reference to Betts's mantra, one that he has written on his wrist tape, along with the names of his family members, before football games since his junior year of high school.
With this cohort of collegiate athletes, who play a wide variety of sports from schools all across the country, Betts has helped connect individuals with a wide range of companies, at times writing quasi-letters of recommendation. The overwhelming majority have already closed multiple deals, which motivates Betts to continue leveraging his platform to help others achieve success.
"It's that type of impact and those types of results that keep pushing me to continue to do the work," Betts said. "Personal success is great, but I was always brought up [being taught that] whatever you have, you want to ensure that you help other people."
This desire to give back is perhaps even more admirable than Betts's work ethic and entrepreneurial spirit.
When asked about any advice he would give to a hopeful student athlete looking to break into the NIL scene, Betts gave a simple answer: Don't be afraid of being uncomfortable.
"Being comfortable with the uncomfortable is applicable in all stages of life," Betts said. "Taking the leap is really the best advice I can give."