Arts & Living
Jai Paul's Newest Album Asserts Ownership of His Art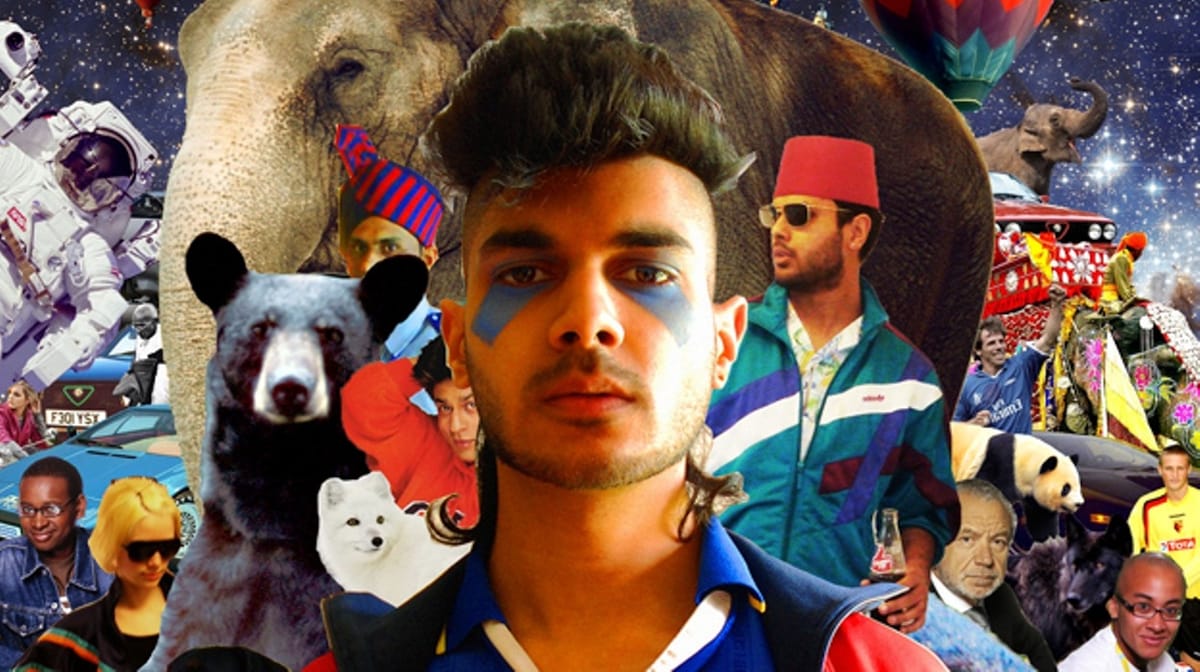 This summer, one of my friends sent me a review he had found of Jai Paul's album "Leak 04-13 (Bait Ones)."
The first thing I noticed even before I listened to any of the songs was the album cover, which features the British producer and artist himself, wearing an electric blue rugby jersey underneath a neon Adidas red track jacket and donning blue face paint.
The rest of the cover explodes around him with other colors and images: bears, astronauts and coyotes with pixelated faces are meshed with hot air balloons and sports cars.
What I realized after listening to the album was that the eclectic cover mirrors Paul's musical and artistic style — a controlled chaos and indulgence that stimulates the senses.
"Bait Ones" is genre-defying, able to be classified as alternative due to its content and Paul's singing style, but also maintaining the tempo and feel of modern pop.
The first song on the album, "Str8 Outta Mumbai," is a fusion of old and new — the traditional Indian tabla drum opening melts into a crooning chorus about Paul's anxieties as he longs to talk to a girl he likes ("And she wants to talk to you but you don't know what to say / and you don't know what to do").
The song is filled with an unexpected and incredible collection of 80s synths, layered over a sample from Vani Jairam's "Bala Main Bairagan Hoongi." Paul embraces his heritage by sampling sounds from traditional Indian music on his album.
Other highlights include "Crush," Paul's cover of Jennifer Paige's 90s chart-topper of the same name, "Jasmine," one of Paul's first officially released synth-pop singles under the XL Recordings label and "Genevieve," an energetic homage to a lost lover.
One aspect of the album that a first-time listener might find strange is the presence of parenthetical descriptors, such as (Unfinished) and (Demo) after almost every song name. Even the name of the album is visually unappealing — "Leak 04-13" (Bait Ones)" doesn't exactly roll off the tongue.
The reasoning behind the naming schema is the most important aspect of Paul's work — one which raises questions about the nature of property and the illusion of artistic control in the digital world. "Bait Ones" was actually leaked in 2013 on a website called BandCamp. The source of the leak is still unknown, and is not really important. Paul's mental and physical health reportedly deteriorated as a result of the betrayal, and he went into hiding.
This album is his first official release since the leak, and it has been a joy for fans to see him back on his feet — but one has to wonder what could have been.
Whoever leaked the album robbed us of six years of Paul's music-making prime. This is not mere speculation — many artists have used Paul's beats, the most famous of which was Drake's sampling of the intro of Paul's "BTSTU" in his song "4pm in Calabasas."
The benefits and harmful aspects of the digital era affect classes of artists differently. Established artists need to keep their music under lock and key until the official release date.
Otherwise, they could potentially lose millions of dollars due to the malfeasance of an adversary or even the sloppiness of a friend or assistant. These leaks can not only cause financial harm but also, as in the case of Paul, emotional damage.
It is encouraging that Paul was able to regain some semblance of control over his own music by re-releasing and likely profiting off of the album.
However, other artists might not be so lucky or have the support system that enabled Paul to take six years off of music and seek treatment while avoiding financial stress.
Paul had ample time to edit and master the tracks that comprise the album. However, he chose to keep them in their original form — to make the point that he still presides over his music.
The harsh reality is that just like many other artists, he does not have total control. We live in a world where bank hacks are a daily occurrence, and obtaining someone's personal information is as simple as a dark web search.Musicians whose work resides on a hard drive should take the necessary measures to secure the precious fruits of their labor.
Paul has learned his lesson, and we are all lucky that he officially released this gem of an album. This unique, well-produced work is definitely worth a listen.