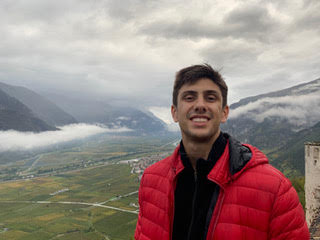 To the naked eye, a star is a beacon of hope, used by many as a guiding light in the sky. The amazement some feel when stargazing is rooted in the idea that stars burn brightly enough to bring joy to those millions of miles away. The radiance of a star, however, can sometimes blind us from finding its individual planets in orbit. With a closer look, stars might be hiding worlds with new resources, life and talents.  
The Mammoths who have spent time in an astronomy research lab, on the baseball field or simply enjoying a Val-sit with Joe Palmo will tell you that their first impression of Joe is the star-like warmth he brings to those around him. Teammate Kai Terada-Herzer '21 raves about Palmo's care for others, applauding the "great energy" he emits and calling him "one of the nicest people" he knows. Upon first impression, many people at Amherst see Joe Palmo as a bright star because of his energy, kindness and humility he brings to each interaction. What his closest friends, coaches and professors will tell you is that if you zoom in on the telescope and look a little closer, you'll find a series of unbelievable accomplishments orbiting around him that he'd only tell you about if you asked twice. 
A Star is Born
Before arriving at Amherst, Joe grew up in Austin, Texas; it was during those early days when his family molded him into the kind-hearted individual he is today. "Big shout-out to my parents: they instilled in me a respect and kindness for everyone around me," said Palmo. Picking up his first baseball bat and basketball around six years old, Joe quickly fell in love with sports. "I was always a competitive kid," Palmo noted. By the summer before his senior year at Westlake High School, Joe knew he wanted to play competitive baseball in college. "I wanted to go to a place I could play," remarked Palmo, "but also wanted to do everything I wanted to do academically." Joe knew that he wanted to "study something STEM-related, like chemistry or physics."
Luckily for Amherst, Joe chose to visit the campus that summer and quickly fell in love. Palmo liked how he didn't sacrifice depth in his pursuits of strong baseball and academics. "I was attracted to Amherst because of the history of the baseball program, the small school environment, the professors I met on my visit and the science center I saw being built," he recalled. 
Memorial Field Supernova
On the field, Palmo quickly established himself not just as a force to be reckoned with, but a player who led the way through quiet, humble work ethic. As a freshman, Joe chose to cure any college adjustment nerves with baseball. "My dorm was a 10-second walk to the field. Tyler Marshall '21 and I went down to hit and practice all the time. It was a good break from studying."
Hard work paid off for Joe that year, as the Amherst baseball team marched all the way to the NESCAC Championship against Tufts University. In his first year, Palmo made an immediate impact, playing in 36 games as an outfielder and posting an elite batting average of .314. A starter in the championship game, Joe registered a hit, and Amherst came out on top to win the conference. In typical fashion, when asked about how it felt to start as a freshman on that team, Joe focused on the relationships he developed, and not the accomplishments he piled up. "I looked up to all of the seniors so much. We had some great leadership."
Now, Palmo has racked up a 2018 NESCAC Championship win, a 2019 All-NESCAC First 1st team award and multiple NESCAC all-academic team selections as an elite outfielder for the Mammoths. Palmo's achievements came in a career with a major coaching change and a pandemic-canceled 2020 season. Much to the credit of Head Coach J.P. Pyne, the Amherst administration and the NESCAC, the baseball team was able to compete in a shortened 2021 campaign, but still faced serious roster concerns, as only 19 players had returned to campus, ten of whom were freshmen. The biggest challenge for the Mammoths was that none of the team's catchers were available, a position that requires a unique skillset, strong leadership and high baseball IQ. In a move that surprised all except those who know Joe well, he left his outfield glory behind to suit up at catcher for Amherst. "Without Joe volunteering to catch for us," remarked Coach Pyne, "I have no idea what our season looks like. During my three years with Joe there have been countless times where he has made a decision to put the team ahead of his own interests." As team captain, his senior leadership helped instill confidence and work ethic in the younger Mammoths, driving the squad to yet another championship contest with Tufts. Joe launched a key home run and won NESCAC co-player of the week for his efforts that series, as Amherst yet again climbed to the top of the conference, this time in dominant fashion.
While one might anticipate that players and coaches would rave about his quick bat and rocket arm, most consider those qualities secondary to his star-like energy in all interactions. Terada-Herzer sees Joe's unwavering positivity as an uplifting force: "He's always been a guy that roots for his friends and classmates regardless if we're up or down." Coach Pyne summed up Joe's true star power: "Between his work ethic, his demeanor, his ability to connect with people and his intelligence, he is an amazing young man and I am proud that he will forever be associated with the baseball program at Amherst College."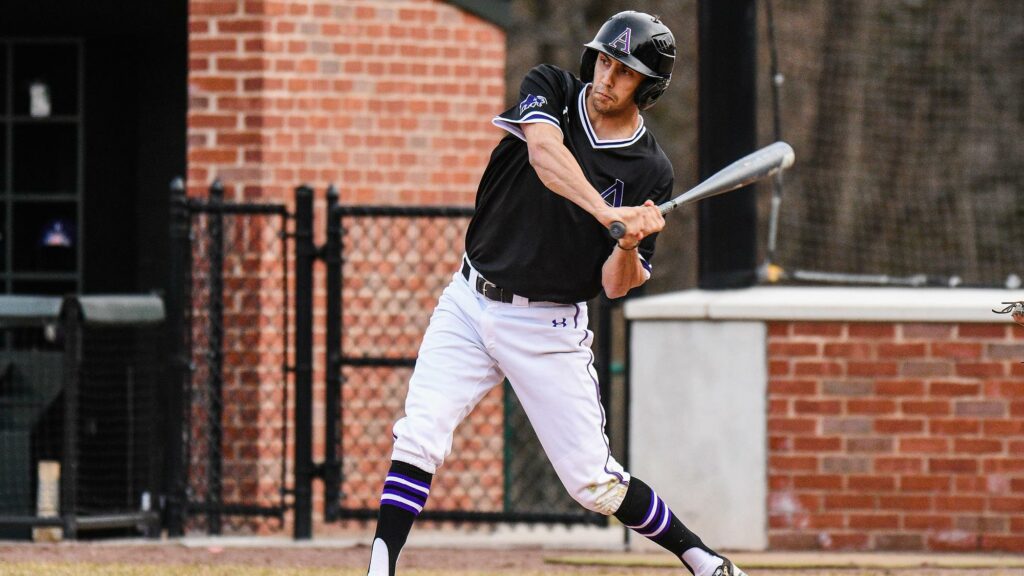 Data Science Meets Outer Space 
One might think the time commitment it takes to be an all-NESCAC athlete might be too much to achieve at a similar level academically. Of course, this was not the case for Palmo, as he ended up completing a double major, a difficult internship and even a successfully defended thesis in his four years at Amherst.
Palmo's path as a STEM-driven student began at Westlake High School, catalyzed by some "really, really good physics teachers." His journey sped up at Amherst upon arrival, when he was assigned Professor Friedman of the Physics Department as his academic advisor, who convinced Joe to take "Modern Physics" as a freshman. While the work was challenging, Palmo viewed completing the class as an accomplishment that inspired him to dig deeper: "Having that trial by fire was big. I learned to start problem sets early, and I felt that, after that experience, I'd got to finish the major." Palmo then took a sophomore year elective that would alter his academic and professional trajectory, "Introduction to Astrophysics" with Professor of Astronomy Kate Follete.
That summer, through the Summer Undergraduate Research Fellowship (SURF), Joe worked in Follette's lab, where they searched for undiscovered planets orbiting stars. Because of the distance measured in light-years and the blinding luminosity of stars, those planets are hard to see. Joe helped build models of stars with Python code, then subtracted those models from images of stars to find visible exoplanets. While his technical skills helped Follette make contributions to the scientific community, it was Joe's appreciation of the broader implications of each experiment that made his contributions so valuable. "Joe has an exceedingly rare ability to see quickly how specific physical concepts fit together into the 'big picture' of a phenomenon," lauded Professor Follette, "and to draw intuition from these relationships."
Those advanced research skills landed Joe a junior summer internship at NASA. Palmo's research assignment focused on columns of air in the atmosphere. Under Dr. Donald Blake from UC Irvine, Palmo helped visualize air plumes through airborne plane data. Using that information, Joe was able to pinpoint the sources of those plumes to the ground, which was a key finding in the realm of atmospheric chemistry as air plumes can be analyzed to generate insights on air quality and pollution.
After one summer studying planets orbiting stars at Amherst and another visualizing atmospheric air data at NASA, Joe was ready to spearhead his own research and write his thesis. Using similar techniques to his past research, Palmo simulated observations of a specific star formation process. "I wanted to learn more about the uncertainty surrounding the process, and how accurate our observations are today," said Palmo. His simulation can be used for planning observations in the future, and also to learn more about the formation mechanisms of stars. According to Follette, "His thesis is among the best that I've supervised, and is both an impressive intellectual achievement and an important contribution to the field of understanding how stars and planets form."
Perhaps his largest academic contribution to Amherst has been the warm personality he brings to the library, research lab, and classroom. According to Joe's peer Lena Treiber '23E, "Even in the face of endless problem sets and exams, among other commitments, Joe can both work hard and maintain a kind and positive presence." Students in the physics and astronomy majors even have a running joke about studying with Joe. "Work sessions often went for hours," said Treiber, "despite him having quick intuition for physics and data analysis. He would always start and entertain random conversations, stories or insist on doing something 'fun' like drawing a perfect representation of an electromagnetic wave." 
The Next Frontier
 Palmo's next destination can be derived from an interest that spawned in high school, but flourished at Amherst: climate change and air quality. "I was always interested in climate change in high school, and I soon became aware of how big of a problem it was," reflected Palmo. After interning at NASA, where he conducted climate science through atmospheric chemistry, Joe was "completely convinced of how important the problem is, and how we really needed to act on it." Joe will be applying his analysis and research skills as a data science intern this summer at QuantAQ, a Boston startup that builds and deploys low cost air quality sensors; the job couldn't be a better fit, as it combines Joe's quantitative skills with his desire to improve the others' quality of life.
Stargazing 
When I mentioned his athletic accomplishments to those who knew Palmo from astrophysics circles or his astrophysics accomplishments to his teammates on the baseball diamond, the interviewee typically displayed surprise, but followed with an honest, "Well … That's Joe."As a star at Amherst College, Joe's warmth, energy and humility can initially blind those he interacts with from the all-NESCAC baseball awards and NASA internships orbiting around him.
Joe's wisdom for incoming Amherst students, besides trying Chicken Bacon Ranch pizza at Antonio's, is to branch out and dive into opportunities. "Don't be afraid to put yourself out there and work hard to achieve your goals," advises Palmo, "Because there are plenty of people who are happy to help you at Amherst." When asked about his own Amherst goals and successes, Joe went in depth about the strengths of his mentors, including Professor Follette, Coach Pyne, and Coach Odenwaelder.
It's this constant, energetic uplifting of others through praise or through a smile that makes Joe a star. And while his orbiting exoplanets, from an All-NESCAC baseball swing to NASA-level research skills, are significant, the vibrant light of his character will shine most brightly on Amherst College for years to come.