News
John Kasich Calls for Unity in Talk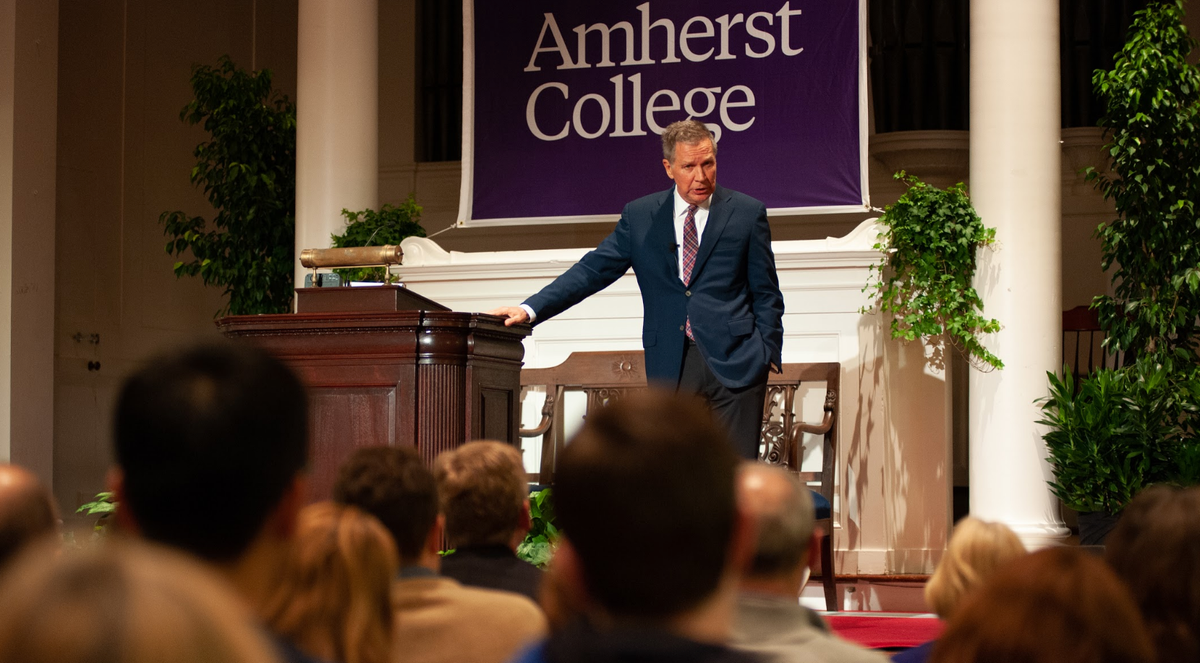 Barely a month out of public office, former Ohio governor and 2016 presidential candidate John Kasich arrived at the college to give a talk on Feb. 7. His visit began with a small classroom discussion with a randomly selected group of students, followed by dinner at President Biddy Martin's house with students involved in politics-related studies and his sold-out talk in Johnson Chapel.
Kasich walked on stage charismatic and smiling and was able to spin a politically incorrect faux pas (calling his six-foot-nine Ohio State University president "the epitome of what a college president should look like") into a comedic moment. He began his talk with a story of how he found himself spending 20 minutes in the Oval Office with President Richard Nixon at the age of 18. The secret: ask until they tell you no. It's a strategy that has clearly taken him far, leading Kasich to boast an extensive CV that includes 18 years in the House of Representatives where he was chairman of the House Budget Committee for six years, eight years as the Ohio governor, two presidential runs, eight years as a Fox News personality and the authorship of four books.
In his talk, Kasich touched on some of the less flashy formative experiences that led to his lengthy list of accomplishments, describing his upbringing in a small Pennsylvania town with a mailman father and a coal miner grandfather. After attending Ohio State University, Kasich worked for his Ohio state senator, who connected him with the world and people of politics, including Ronald Reagan during his first presidential campaign. He also spoke about the value of his early work with Democrats despite not aligning himself with many of their policies. From this he learned to "keep your mind open" and exhorted students to do the same.
The former governor's differing politics were not met without a challenge. He posed the question to students, "Does it really matter to you what the president of the United States does?", responding that, really, what affects students are classes, roommates and friends. Later in the talk, however, he noted that "presidents matter" when praising the accomplishments of Nelson Mandela.
This comment in particular seemed to strike a chord with students, as many of the individuals queued for questioning referenced this line. One comment in particular came from Harith Khawaja '19, who said that as an international student from Pakistan, President Donald Trump's original travel ban, which barred citizens from seven predominantly Muslim countries from entering the U.S., does matter to him — it struck deep fear that Pakistan would be next on the list and that he wouldn't be able to come back to school.
Other students touched on his stance and actions surrounding gay marriage, climate change policy, disabilities and prison reform during the Q&A session. Rojas Oliva '19 listed Kasich's track record when it came to privatizing prisons and incarcerating individuals and used it as an opportunity to promote the Direct Action Coordinating Committee's (DACC) coinciding event, a weekly letter write-in to imprisoned people that became the de facto boycott event to Kasich's talk.
"We held an alternative event to affirm the fact that to invite politicians like Kasich reinforces the power of his politics, and that to offer material solidarity to incarcerated people … is an act of reclaiming power. So, basically, this wasn't really about Kasich, but about the power formations that made his event possible, and about long-term organizing strategies which disrupt those formations," the group said in a statement.
Though many students attended the talk with the goal of learning from new, and perhaps opposing, perspectives, DACC felt that "this is not about dialogue or hearing new perspectives. This is about people's lives, it's about power — unequal power … Ideas have consequences. We need to shift to affirm that it's not about dialogue, not about ideas, but about power and consequences."
However, students at the small dinner found opportunities to connect with and learn from the former governor, even if their perspectives did not align. "'Politics' were only brought up a couple of times, and though people at the table disagreed with Kasich's views, they often found common ground to discuss instead. He is definitely a storyteller as we saw from his speech, and spent a good part of the dinner simply jumping from one story to the next during his governorship," Silvia Sotolongo '19, president of the Association of Amherst Students and an attendee at the dinner, said in an email interview.
Multiple students interviewed by The Student felt that Kasich's relative discomfort to being directly called out on his conservative policies and actions stood in contrast to another core message that he promoted: the importance of putting ourselves in one another's shoes. "We're all in the same rowboat," Kasich said during his talk, expressing that he loved being on the campaign trail and the ability it gave him to "slow down, talk to people." He said that on the campaign trail, "I don't care about issues. I care about where [the people's] heart is." However, as students' emotional explanations of how their identities fit into politics proved, the line between hearts and issues is becoming increasingly blurred. And it raises the question of whether a more moderate conservative, like Kasich, is an endangered species in today's political ecosystem.
Kasich's distance from the Trumpian image of his Republican party, he said, gives him perspective on the polarization of our politics, which seems to be something all could learn from. "Can we all get out of our silos?" he asked. "Can we stop absorbing [only news that] we already agree with?" He left students with a message of restoring the soul and hopefulness, not just to politics, but to America.