Arts & Living
"Last Chance U" Considers Complex Personal Narratives in College Football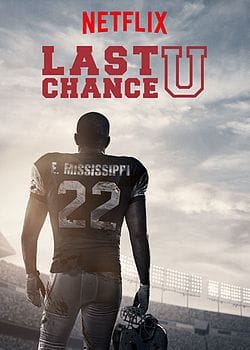 Most sports documentaries tend to be full of tired clichés and repetitive themes that can leave much to be desired for a viewer. Television shows such as "Friday Night Lights" and HBO's "HardKnocks" seek to provide an inside look into the lives and struggles that those associated with the world of football endure. While the human drama that ensues in both shows proves that football doesn't always provide a fairy tale ending, the viewer is slightly influenced to believe that everything just might turn out okay. Enter the Netflix Original Series "Last Chance U," released this past summer on July 29. The series follows the 2015 season of the East Mississippi Community College Lions, a junior college powerhouse located in the diminutive settlement of Scooba, Mississippi. While junior colleges are typically a place where football players choose to play in order to further their exposure to high-level programs, EMCC has taken on a much more polarizing identity. As the title of the series supposes, EMCC is for the vast majority of players the last chance at Division I football aspirations, and thus, professional dreams.
The series picks up at the beginning of the season while the team is in the midst of a 24-game win streak, a product of the incredible talent that head coach Buddy Stephens began to recruit when he took the helm in 2008. However talented his players may be, Stephens' recruiting tactics paved the way for problems of varying degrees to pervade through his roster. From dealing with abandonment issues and mental health concerns to pure self-doubt, the players of "Last Chance U" demonstrate that while opportunities may be unevenly distributed, not all blame can be placed on external forces.
One of the notable players at EMCC is Dacorius "DJ" Law, a running back who the coaches refer to as the best player in junior college football. As is the case for many of the players on the Lions' roster, Law is the victim of poor academic performance that disqualified him from college eligibility. However, Law's failing grades in high school don't come from a lack of intelligence, as he proves by making up 18 missed quizzes in one day. Coming from a family ruined by crime and hindered by the pressures of being a teenage father, Law simply could not keep up with the constant hurdles of life. The team's academic advisor Brittany Wagner (who takes on a Sandra Bullock-esque role a la "The Blindside" combined with Tami Taylor of "Friday Night Lights") makes Law the focus of her attention for much of the show due to his massive potential. The in-depth look that the cameras give the viewer shows just how at odds players like Law are with themselves. The players are frequently filmed skipping class and blowing off assignments, well aware that their eligibility is on the line.
One of the main points of interest in the series can be seen in the battle for the starting quarterback position between Wyatt Roberts and John Franklin III. While any quarterback controversy is sure to lead to drama, this particular matchup could not be more intense. In one corner stands Roberts, an undersized yet effective passer. Roberts' situation is very unique compared to those of his teammates. Standing no taller than six feet tall, he was cast off as too short to play Division I football and he seems to accept that reality. He constantly refers to becoming a regular student at Mississippi State after his two years at EMCC, despite pressures to walk on to their football program. In the other corner stands Franklin, a former highly-touted recruit from Florida State with rare athletic ability. Franklin unlike many of his teammates, has played at the Division I level, even though he elected to leave FSU due to their acceptance of Notre Dame transfer Everett Golson. Throughout the series, Franklin acts as if he is above the team. He expresses his attitude through his nonchalance towards his superiors and the camera crew. Even so, Franklin does not earn the starting position until Roberts gets injured midway through the season. And despite starting the majority of the games, Roberts' situation presents the unfairness of life. After only one half of his first game starting, Franklin receives a scholarship to Auburn University, while Roberts is left to enroll at MSU as a student.
What separates "Last Chance U" from other sports documentaries is the incredible emotional attachment that I felt towards each player. Whether its defensive tackle Ronald Ollie using book money to buy headphones from the school store or DJ Law refusing to answer Brittany Wagner's phone calls, I could not keep myself from becoming enraged, seeing so much potential wasted through what initially seemed like pure laziness and insubordination. The series reinforces that viewers of college sports can easily judge and make quick assumptions about players based on the publicized mistakes they make. However, to make such quick assumptions would be unwise. "Last Chance U" calls such assumptions into question as it follows many players that are no older than 20 years old and come from backgrounds and family situations that are unfathomable to the general public.
Due to its incredibly positive reception (90 percent on Rotten Tomatoes), "Last Chance U" was recently renewed for another season to be released some time in the summer of 2017.