Sports
Mammoths Take Home a Win and a Tie After Pair of NESCAC Matchups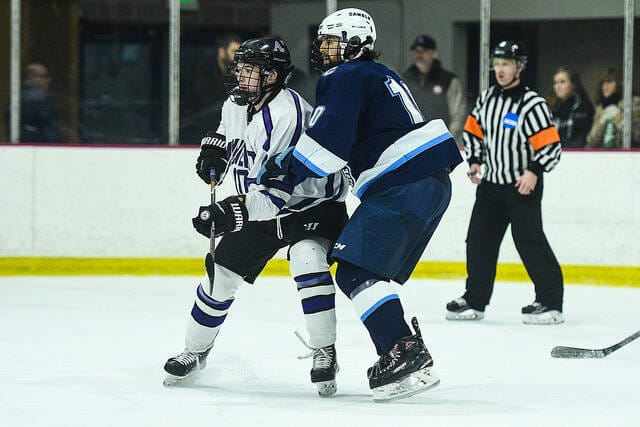 The men's hockey team has much to be excited about after going 1-0-1 on a weekend of NESCAC matchups, with games against Wesleyan and Trinity.
On Friday evening, the Mammoths faced off against Little Three rival Wesleyan. The first period was full of back-and-forth play, but neither team could capitalize on its opportunities and it took until ten minutes into the second period for Jack Lloyd '21 to find the back of the net for his second goal of the season. Pieter von Steinbergs '21 and P.J. Conlon '20 both got credit for assists on the play that gave Amherst the slim one-goal advantage.
With less than a minute remaining in the game, however, Sean Ross evened the score for the Cardinals on a power play goal. During the overtime period, neither team was able to find a golden-goal and the contest ended in a 1-1 tie. In net for the Mammoths, Michael Cullen '21 had 32 saves, while his Wesleyan counterpart ended the game with 34, as Amherst out-shot the Cardinals 35-33.
After a quick turnaround, the Mammoths traveled to Hartford, Connecticut to meet NESCAC foe Trinity in a Saturday evening matchup. Eager to take an early lead, captain Jack Fitzgerald '19 opened the scoring just 18 seconds into the game, when he hammered a rebound past the Trinity goalkeeper off an initial shot from Lloyd.
Seven minutes later, the Bantams tied the game up after a shot just barely beat Amherst goalie Giancarlo Ventre '20. Determined to regain a lead, Fitzgerald again found the back of the net with just over six minutes to play in the opening period. Skating up the ice with Steven Mallory '19, the senior duo executed a beautiful give-and-go sequence that resulted in Fitzgerald firing a rocket top-shelf to retake the lead.
Boasting a 2-1 advantage heading into the second period, Amherst was hungry for more. Just 5:33 into the second, Sean Wrenn '22 scored his first goal as a Mammoth, with a backhanded shot over the Trinity goaltender's pad off of a pass from A.J. Klein '20.
Like the first period, Trinity was quick to respond, as Devin Moore capitalized on an odd-man rush to snipe a shot inside Amherst's near post to cut the lead to 3-2 heading into the last period of play.
Although the third period saw several power play opportunities for both teams, neither could take advantage and Amherst secured its first conference victory of the year despite being out-shot 39-33.
Ventre stood tall in net with 37 saves for the Mammoths.
Amherst will try to build on the Trinity win this coming weekend, as the Mammoths will hit the road to take on Williams and Middlebury.