commencement
Manuel Rodriguez: A Cultural Scholar With a Knack for Building Community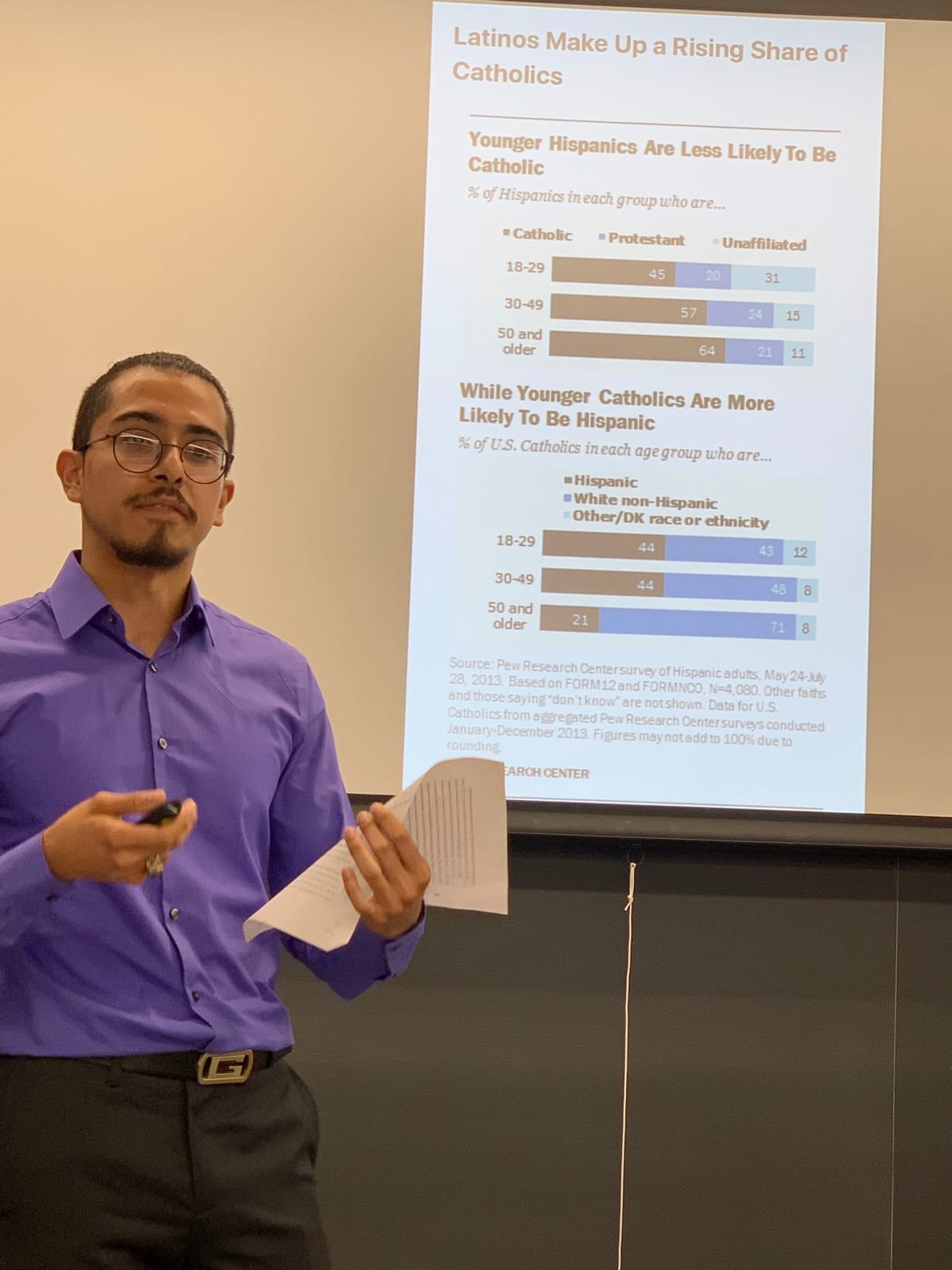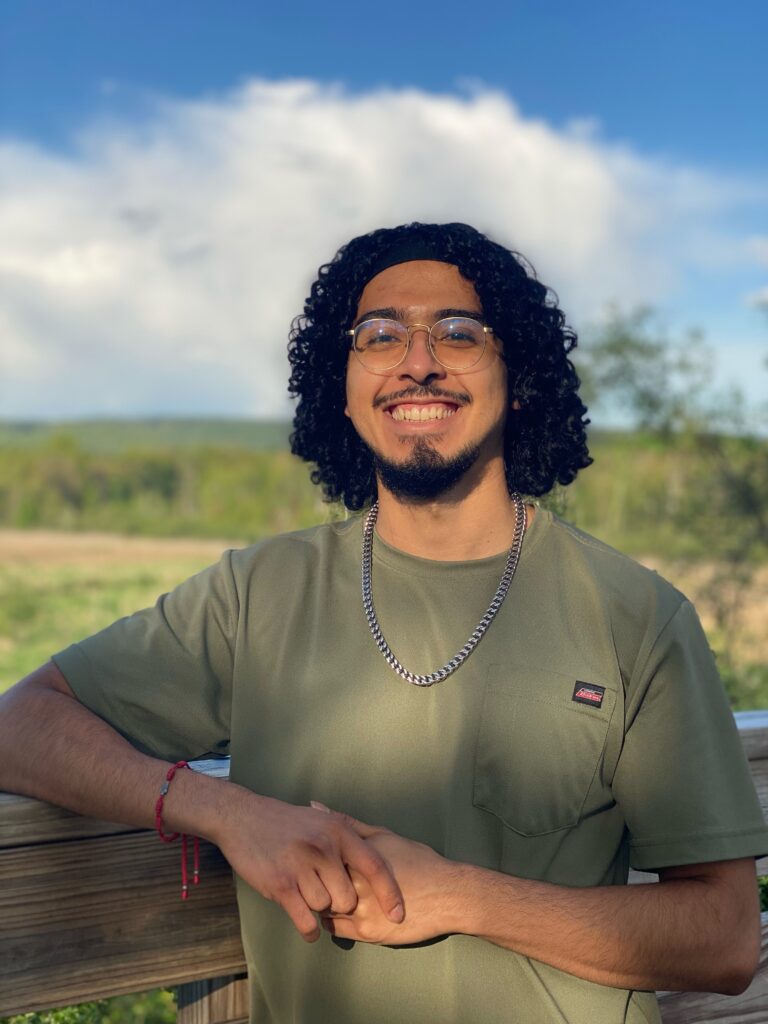 Manuel Rodriguez '21 has an incredible capacity to make those around him feel at ease. I know this from experience, having spent a sunny hour on the Valentine Quad chatting with Rodriguez about his four years at Amherst. Whenever Rodriguez speaks to others, his frequent smile and welcome affirmations relay an air of open-mindedness and an overwhelming sense of warmth.
An easy-going nature belies Rodriguez' intellectual acuity, which emerges when he is engaged on his academic specialties — like his research into the role of religion in the identity formation of Latinx communities in the United States. His eyes sharpen as he explains the intricacies of this topic, which has consumed his past two summers, culminating in a recently completed thesis.
Given that Rodriguez seems to possess the rare combination of both social and academic mastery, one would never guess that he has struggled with "impostor syndrome" — a persistent feeling of self-doubt despite his concrete successes. Only by taking advantage of Amherst resources — like the writing and quantitative centers — and by building bonds with professors and peers, particularly those who are also part of the first-generation, low-income (FLI) community at Amherst, has Rodriguez been able to realize his vast potential.
Path to Amherst
Hailing from San Angelo, Texas, a town of around 100,000 residents located in West Texas, Rodriguez — from a first-generation, low-income background — has had a rather improbable journey to Amherst College. Up until his senior year, Rodriguez hadn't heard of Amherst and had not considered attending college out of state. It was only after he received an email inviting him to apply to Amhert's Diversity Open House (DIVOH) — now called Access to Amherst — that he considered the possibility of studying further from his home. Nevertheless, the financial burden of paying for an elite education — especially one with a sticker price as high as Amherst's — weighed on Rodriguez's mind.
"I remember I was a little skeptical at first because I had never heard of a school like Amherst, and seeing how expensive it was, I was like, 'OK, there's no way I can afford to go to this school,'" Rodriguez said. After he was accepted to DIVOH, which allows prospective students from underrepresented backgrounds to visit the campus, Rodriguez's visit to the college allayed his concerns and cemented his desire to apply to Amherst. "It was a really great experience, just being able to see the school, learn about its open curriculum [and] learn about need-based financial aid. I think that was most critical for me … because my family didn't have the financial resources to be able to help me, so I knew I was going to be mostly on my own," Rodriguez recalled.
Rodriguez was accepted during the regular decision round and decided that the value of the liberal arts education was worth the toll of traveling across the country. The significant distance meant that Rodriguez's family could only accompany him to the airport in Austin, Texas. From there, he was on his own. With just two luggage bags in tow (supplemented upon arrival by visits to Target and Walmart), Rodriguez moved into the Amherst campus by himself — but he wouldn't stay alone for long.
Making the Transition
When he started out at Amherst, Rodriguez struggled to build a sense of comfort in his new environment. "For me, it was weird because I came from a public high school that was a little bit low-resource, and it didn't really provide the proper training for a school like Amherst."
Rodriguez credits the Summer Bridge Program — which provides three weeks of academic programming, in addition to other resources, to incoming FLI students — with helping to smooth his transition to Amherst. "That three-week program, where I got to meet other first-gen, low-income students, really helped me feel a little bit more community on campus," Rodriguez said.
Allyah Pimentel Landestoy '21, now a close friend of Rodriguez', met him in Summer Bridge before their first year even began. She characterized Rodriguez as impressively disciplined, noting that he often wakes up at 6 a.m. to hit the gym. Pimentel Landestoy also remarked that Rodriguez has a rather eccentric personality. "The other day he was so invested in this cop chase [on TikTok], and he was just watching it for 30 minutes until he realized that it was actually on loop, and he had been rewatching it," she said between laughs.
During his first semesters, Rodriguez mostly constrained himself to math-based classes, in which he had excelled throughout high school. He harbored doubts, however, about his ability to succeed in classes that emphasized writing. The now-Latinx and Latin American Studies (LLAS) major credits the influence of Professor of Sociology Leah Schmalzbauer — who has been his advisor, professor and research supervisor — as crucial in building both his academic skill set and self-confidence.
Schmalzbauer lauds Rodriguez's diligence as a student as well as his capacity to care for those around him. "Since I've known him, he has been the person and the student who's taken advantage of every opportunity that has come his way, and I've always appreciated that about him," she said.
Schmalzbauer also noted that Rodriguez has been an "important leader" for younger students in his classes. She recalled a time when she intentionally placed a first-year who seemed reluctant to speak in a group with Rodriguez because of his ability to encourage others.
Despite his early successes, Rodriguez informed me that he endured a "sophomore slump" after he realized that he wanted to pursue LLAS and sociology, as he still had to finish courses in math and economics that were no longer engaging to him, while also dealing with difficulties back home. He was able to make it through this period by leaning on his family, friends and communities for support.
A Distinguished Scholar
Having overcome early roadblocks, Rodriguez was soon able to find his academic niche and achieve impressive success as a student. During his sophomore year, Rodriguez was selected as a Mellon Mays Undergraduate Fellow — a program that seeks to benefit students from underrepresented backgrounds who are interested in pursuing a career in academia. Rodriguez told me that his time as a Mellon Mays Fellow has been incredibly valuable to his longtime goal of becoming a professor. "The program has been very impactful because it has given me the cultural knowledge needed to enter those spaces, learn how to navigate those spaces and feel more confident," Rodriguez said.
As a Mellon Mays Fellow, Rodriguez explored research areas of personal interest that would later become his senior thesis. Rodriguez comes from a Mexican-American background and describes himself as "culturally Catholic." From his individual experience, Rodriguez was able to identify an under-investigated research topic: the role that religion plays in Latinx identity formation. For his thesis, Rodriguez localized that topic by investigating how religion influences the identities of Mexican-American students at Amherst College.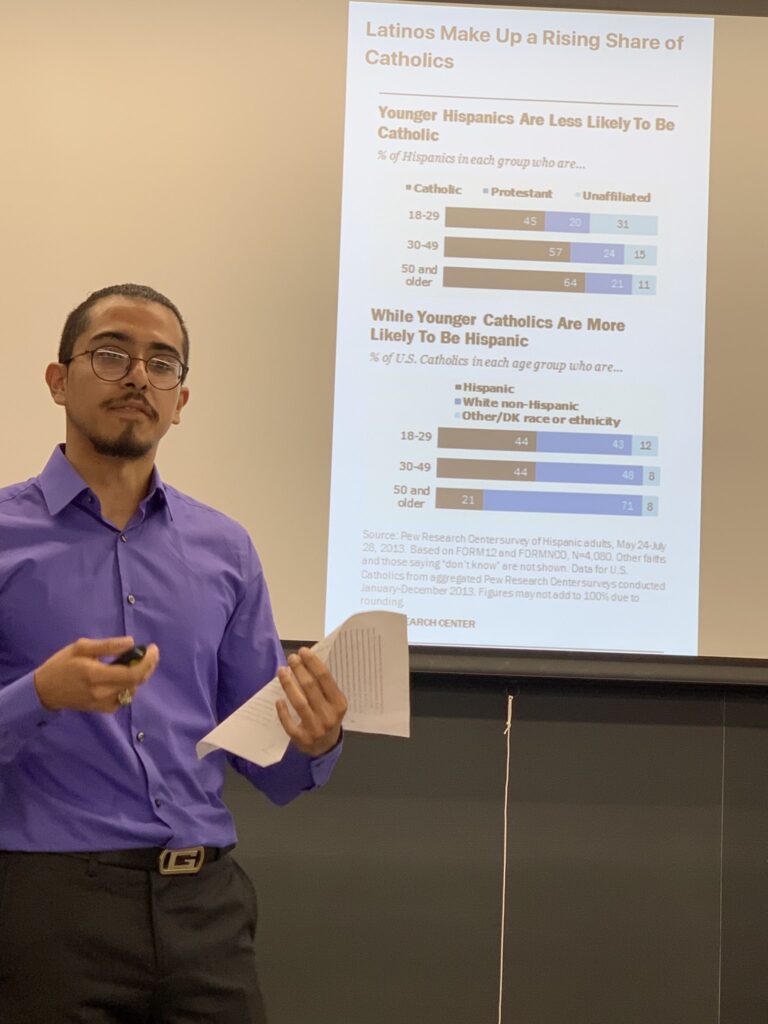 From January to March of 2020, Rodriguez was able to study abroad at Universidad Autónoma de Yucatán in Mexico — an experience which allowed him to understand the country of his heritage in a new way. Rodriguez's parents are from Durango, which is in Central Mexico, while Yucatán is in the southeast.
Rodriguez expressed appreciation that he was able to learn about the "cultural history" of the region and some of Mexico's most "pressing issues."Although his time abroad was cut short due to the Covid-19 pandemic, Rodriguez found the experience valuable in his development as a scholar.
Having long wanted to become an educator, Rodriguez will utilize the academic expertise he has gained at Amherst as he enters the sociology Ph.D. program (with an emphasis on Latin American studies) at the University of Notre Dame.
To secure a spot in his Ph.D. program, Rodriguez had to undergo the strange experience of applying during a global pandemic. Some schools weren't even accepting Ph.D. applicants because of Covid-19, and Rodriguez was off campus during the fall semester, taking classes from his computer. Nevertheless, with the help of his mentors, Rodriguez was able to compile a list of schools and gather the necessary materials to send in his applications. In total, Rodriguez applied to 14 schools and was accepted to six — a particularly impressive achievement given the competitiveness of this past admissions cycle.
Building Community
While Rodriguez has excelled as a student, perhaps his most impressive achievements emerge from his ability to bring people together. During his freshman year, Rodriguez applied and was selected to be a Diversity Outreach Intern — a student who works with the Office of Admissions to reach out to potential students from different backgrounds. Rodriguez values the connections he was able to make with prospective students as a result of this program.
"Some of them are students who do end up [attending] and so it's always nice to see them, and some reach out to me and say, 'The conversations I had with you really impacted me and influenced my decision to come to Amherst,'" Rodriguez remarked.
During his sophomore and junior years, Rodriguez was president of La Casa — Amherst's Latinx culture house. His desire to help build a community for Latinx students motivated his decision to take on the leadership role. Rodriguez remarked that having the support of a group with a shared background was particularly valuable when his schoolwork was getting heavy.
Rodriguez has also contributed to the Amherst community through his musical talents. Having played bass clarinet and saxophone since middle school, Rodriguez has been a member of the Symphony Orchestra and Jazz Ensemble. For him, music is both a form of self-expression and source of connection with other musicians. He recalled an open-ended jam session that Jazz Ensemble put on for first-years soon after he arrived on campus, which provided an ideal opportunity for bonding.
Beyond Amherst
After he graduates from Amherst, Rodriguez will pursue a Ph.D. in sociology, focusing on Latin American studies, at the University of Notre Dame. His eventual goal is to become a professor in the field of Latin American studies.
As an educator, Rodriguez hopes to develop the next generation of first-generation and low-income students, crediting his own professors as inspiration. "I think the big motivational factor is the professors and mentors I've had in my time at Amherst. … Being first-gen and low-income, coming from an underrepresented background, sometimes I've been told, 'Yeah, you are exceptional,' but I want to get to a point where people like me that have those success stories aren't rare or an exception."
As a cloud drifted in front of the sun over the Val Quad and our conversation approached a close, Rodriguez imparted the following advice based on his time at Amherst: "As important as academics are in terms of your future, I recommend that you also be involved with your community and make the most of the time that you have with your close friends."
Armed with the knowledge and relationships he has gained in his time at Amherst, Rodriguez will leave a lasting impact in the college community. He will go on to foster enriching cultural and academic communities at Notre Dame — just as he has done at Amherst.