Arts & Living
The Mead's Newest Show Questions What Makes a House a Home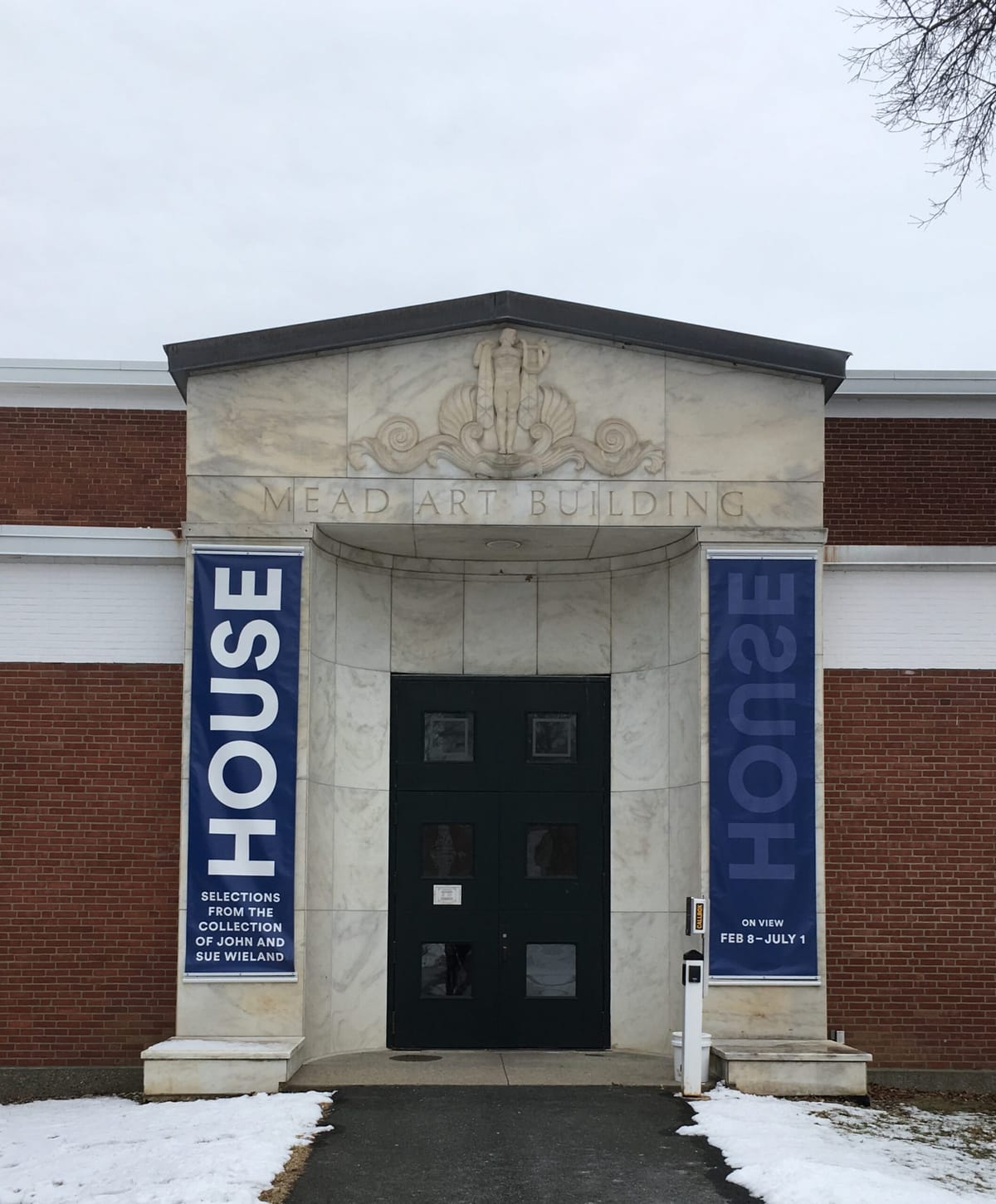 On Feb. 8, "HOUSE," the Mead Art Museum's main exhibition for the spring and summer, will open to the public. The exhibition features 58 pieces of art that vary in media, size and country of origin, but are unified in subject matter. All of the works come from the collection of John Wieland '58 and his wife, Sue Wieland, who began collecting art together over 50 years ago.
The couple started specifically collecting pieces featuring houses as a result of John's career as a developer in Atlanta, which sparked his fascination with the various ways to visually represent houses and homes.
Jocelyn Edens, the assistant museum educator for the Mead, notes that the concept of a "house" was interesting to her because "it's a deceptively simple theme. Everyone can recognize what a house is, but there are actually a lot of layers — a house is a shelter, but also a place where one builds a home. It can be both scary and comforting; it can represent an American dream to aspire to or a dream that will never be reached."
Edens stated that the Mead wanted to use "HOUSE" to explore how houses demonstrate the vulnerability of humans — specifically relating to our hierarchy of needs, which puts shelter above needs such as love and belonging.
Further, Edens noted that the curators of the exhibition chose to capitalize the title in order to "underscore the idea of the house as a major factor in the way the world is organized and a key filter through which we see the world."
Some of the highlights of the exhibition include the contemporary Icelandic-Danish photographer Olafur Eliasson's 2012 "hut series" — a collection of 56 framed photographs of rescue shelters across deserted areas of Iceland that dominate a wall in the Mead's Fairchild gallery. The brightly colored huts contrast the desolate, sparse landscapes surrounding these vulnerable outposts of humanity. In arranging these huts next to each other in a grid, like an urban map, Eliasson creates an illusion of closeness and community, beckoning us closer.
A few steps away from this installation sits "House Crate," a radically different interpretation of a house created by American sculptor Richard Artschwager. This comically small and simple depiction of a house made out of a wooden shipping crate simultaneously conjures up memories of childhood crayon drawings and lends itself to more bleak interpretations — an empty shell with no entrances or exits, or a diminutive home made for modern urban life.
This diversity in media, era, nationality and style is exactly what the curators of "HOUSE" were intending when selecting pieces from Wieland's collection to bring to the Mead. Although both of these creations embody in some way the iconic symbol of a house — a square with a triangle on top — they also force us to question what truly makes a home. Would we consider a rescue shelter a home? What about something created from a shipping crate?
Edens selected Robert Gober's "Half Stone House" as her favorite piece in this collection. Gober's sculpture is featured centrally in the museum's Rotherwas Room and draws viewers thanks to its resemblance to a playful dollhouse. This resemblance is not accidental as "Half Stone House" is one of series of dollhouses Gober made in hopes of making money for rent in the years before he considered himself an artist. To create this piece, Gober used found objects such as pebbles from Coney Island for the bottom of the house's exterior and scraps of paper for the wallpaper. Through his work on these dollhouses, he slowly began to consider himself an artist. Edens noted that the piece is interesting to her in the way that Gober, a gay man, explored the gender roles of the 1980s. Gober grew up in the house that his father built — making the act of building a house a male pursuit. However, dollhouses, unlike actual houses, are meant to teach young girls how to be home-makers, raising the question of under which gender does the act of building a dollhouse fall?
"Half Stone House" is especially fascinating in contrast with the other dollhouse-esque piece in the exhibition, Hans Op de Beeck's "A House by the Sea." While "Half Stone House" reminded me of the toys of my childhood, Beeck's piece reminded me of my childhood nightmares. Filling up the entire Arms gallery of the Museum (even the specific grey paint color on the room's walls is part of the piece), the work's central focus is the immense model house, painted entirely in shades of grey. The house, which is over seven feet tall, contains several tiny, intricately-created and startling scenes within its rooms, all illuminated by a few miniature light fixtures. In the dining room, under the warm glow of a minuscule chandelier, chairs have been knocked to the floor and wine glasses lie shattered on the table. In the bedroom, an iron bed-frame and crib seem suspiciously empty without mattress or sheets, and the door is ajar, as if someone left in a hurry. Although Beeck's piece is similar to a dollhouse in many regards, he specifically chose to include model furniture but leave out the most important part of any house — its inhabitants. Without the people there, we are only left to wonder what disaster occurred inside the house and what caused its residents to flee.
Like many of its exhibitions, the Meade makes "HOUSE" accessible to a wide range of people beyond just members of the Amherst College community. As Edens excitedly told me how the Mead plans to bring in more local K-12 groups to experience "HOUSE," I could imagine my elementary school-self loving the bright colors in the "hut series" and pouring over the intricate details Gober included in "Half Stone House." However, the exhibit is in no way childish and proved truly thought-provoking for me, a first-year student who is living away from home for the first time, even leading me to question what exactly makes a "house" a "home." "HOUSE," is also a great opportunity to see the works of famous artists such as Roy Lichtenstein and Alex Katz. Edens hopes that "HOUSE" will instill in visitors "an interest in moving through different ideas and pulling out resonant themes … encouraging people to linger at each work and think about what the house is doing: is it a window into a bigger idea or a mirror to an experience?" "HOUSE" forces us to consider whether things we always assumed were straightforward and simple contain complexities we were never aware of.
"HOUSE" will be on view from Feb. 8 until July 1 at the Mead. On Feb. 8, there will be a conversation with John Wieland and chief curator David E. Little from 5-6 p.m. in Stirn Auditorium, followed by an opening reception in the Mead from 6-7:30.