Homecoming
Meeting Challenges in the Name of the Law — Alumni Profile, Lisa Chang '82
Lisa Chang '82 has led a life with a willingness to adapt, something that has brought her from political science to the Office of Civil Rights.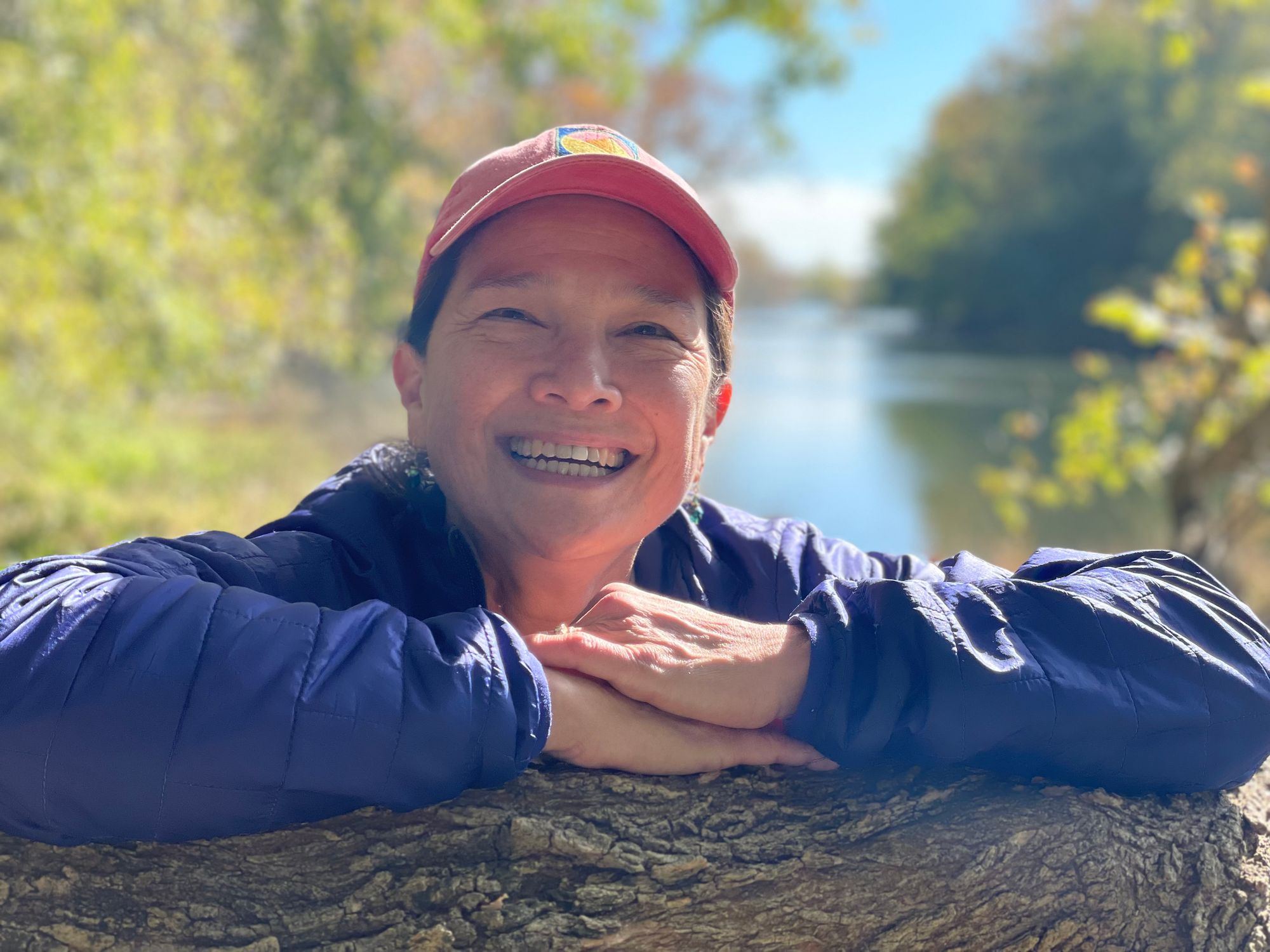 Growing up with three brothers and a sister on New York's Upper West Side, Lisa Chang '82 had never heard of Amherst College. But during one long weekend spent visiting her friend at Hampshire College, Chang visited Amherst and was instantly enamored. The fall splendor of campus, with leaves carpeting the quad that opens out to gold-soaked mountains, was the most beautiful sight she had ever seen. "Immediately," she said, she knew she belonged here.
And it wasn't just the vistas that made Amherst the best place for Chang to thrive.
There is an experience Chang remembers happening many times over the course of her college career: once in a while, class discussions across departments would start to resonate with one another. The themes and ideas being discussed in apparently-disparate class environments would "vibrate or feed into each other," and Chang had the opportunity to "see synthesis occur, to see ideas echoing" across classes from political science to women's studies or Chinese history.
This sort of interdisciplinary synthesis of new and varied information would form the backbone of Chang's academic career, and inform how she would approach life at large, from law school to practice to her current overseeing position with the Office of Civil Rights.
A sweater is a sweater is an art piece
At Amherst, Chang's primary extracurricular was her work at the college theater's costume department. Her sewing skills served her well, and she gained experience there that she posits as a metaphor for the college experience as a whole.
Assigned to make costumes from character boards made by a visiting designer from New York, the crew had not much more than sweaters, normal garments. The task of constructing costumes purely from old sweaters seemed impossible, because a sweater is a sweater — it unravels when it is cut and therefore cannot be made into a new shape.
Not so, Chang found! "In truth, you can cut it, shape it, sew it, do whatever you want to the sweater and make something completely different." So by deconstruction and reformation of those seemingly-immutable garments, the crew realized an artistic vision.
There was a magic to that creation of something completely new out of the apparently inapplicable old — a process Chang found reflected in her classes as old information and lived experience became fodder for the creation of new ideas, of new forms of learning.
It was a synthesis of sorts, inspiring a commitment to new information that expressed itself from college life to the present.
Exploring the unfamiliar
Chang pursued a political science major at Amherst, with an undeclared major in Chinese language — that is, she fulfilled the course requirements of a Chinese language major without making it official. The combination of political science and Chinese turned out to be complements, as her senior thesis explored U.S. Foreign Policy in East Asia, compelling her to study closely the nature of especially Chinese-American and Japanese-American relations. It was a chance to synthesize her two closest areas of study, and so turned out to be a really fun project.
That sense of exploration and discovery that characterized Chang's time at Amherst stayed with her after graduation — Chang thought she "should explore some other areas that I was not familiar with" before settling on law school or a career path. So explore other areas she did.
After a few short stints with companies inspired by econ-major friends, Chang decided she was uninterested in the world of business. Except for a time spent at a consulting firm, business was entirely devoid of what she loved best about college: intense research and writing papers based on that information.
After her business foray, Chang found herself drawn again to law, and so spent time as a paralegal at a position with a fellow Amherst alum, allowing her to get a feel for the practice of law before she committed to school. Paralegal work turned out to be fascinating, leading Chang to law school and more of the academic rigor that she loved in her undergraduate years.
Finals season especially in law school was "very intense but very good fun," she said, a chance to bring all that she had been learning through her semesters together into one puzzle, fitting bits of information together to create a new and cohesive whole: a synthesis of previous knowledge, the reformation of a sweater.
The real world, then, became the pure application of what Chang loved most about school. She wanted to explore, to learn and apply, and so she did.
Abnormally for a recent graduate, Chang tried transactional corporate law first because she liked the idea of getting things done through the law. Very quickly, though, she found that corporate law didn't fit her at all — her personality could not stand the practice of that kind of environment. It was time to pivot.
"Generally," Chang said about litigation, "people move out because they don't like to fight." That explained what she called the "typical law school path from litigation to corporate." But Chang went in the inverse direction. Her personality and interests fit litigation perfectly.
As she moved around large corporate law firms, she found that it was difficult to get practical experience, so again she changed her situation and she found a litigation boutique full of amazing people and hands-on experience.
Her life was thenceforth set: successful lawyer at a small-scale firm in New York City, married and fulfilled by work that allowed her to utilize methods directly from the best parts of collegiate academia. But, as always, circumstances changed.
A new set of changes
A set of fortuitous occurrences: the advent of a first child, and then her husband's move to  teaching law. The first event set Chang looking for a path with a little more work-life balance, perhaps in city government, while the second brought the family to Atlanta, Ga.
Chang described the Atlanta law market as "much more contained" than New York's, allowing her to much more easily make her mark. It was in Atlanta that Chang became active in a new Asian bar association after having founded one herself in New York, leading her to become president of the national Asian Pacific American Bar Association.
Chang's life became an amalgam of experiences, from law firm to leadership management alongside her experiences in bar associations. That set her up perfectly for selection for DeKalb County Attorney, a position she held from 2009 to 2013. There yet again she was exposed to new ideas and a new chance to find learning in her work.
Her positions in Atlanta from litigation to local government were rooted deeply in her Amherst experience.
She talks about her visits to China, something that seemed impossible in her childhood when her family in China was completely cut off from her American relatives. The speed of development in China, from utter darkness in 1980 to massive two-level highway systems developed in under a decade as car use exploded from almost nothing to the largest car market in the world. That level of organized public-works project was simply impossible in Atlanta, as bureaucratic disagreement made relatively simple projects complicated — worthwhile for the say Atlanta's people were given, but a much slower process. It is that contrast that made local government in the U.S. so fascinating — it drew on Chang's college experience even as it required an entirely new set of skills.But even that could not last forever — Chang's husband got a position as faculty at Georgetown, so she began to search for a position in the new city. Currently, Chang works with the Office for Civil Rights (OCR) in a position very different from anything she's held before. She oversees the regional offices of the Office, each of which investigate complaints of alleged civil rights violations.
"Litigation," Chang said, "is always one side or the other." But the OCR is a neutral position, and so requires her to take on a new kind of third-person view, and a new kind of challenge.
The excitement of challenge
Challenge more than anything else has formed a throughline for Chang's life. Rather than an individual passion or a job Chang has lived for the very uprooting of those things. Rather than stick with something she was good at, she would move to find something new, something different and therefore difficult.
She doesn't "want to ever keep doing something just because it is easy," because keeping on with something for the sake of it is stagnation. It breeds a complacency that is antithetical to the driving force behind Chang's life: the absorption and synthesis of new information with the old. "I like the challenge of change," Chang said — ideally, every work experience should be like those law school finals, with all of their intensity and their puzzle-piece satisfaction.
Talking with Chang is inspiring in this way. It feels like the pursuit of education, of new information, is of the highest order, and that fulfillment will certainly be ours if only we approach our lives like Amherst approaches learning: in search of resonances in ideas, in the creation of something entirely new from the old and seemingly immutable.
Just as one creates a costume out of an old sweater, or finds resonances across classes from seemingly-oppositional departments, so Chang says Amherst students should approach their education. The lessons learned here, the work and writing and people, formed the basis for the rest of Chang's life. Her husband went here, after all, and here is where she learned the true iterative nature of the writing process, a skill that, more than any other, has allowed her to succeed outside of college.
And that success is from a basically very simple philosophy: "Don't be afraid of change! Changing things up is always a good thing." While it's more work in the short term, Chang said, "Anything that gives you great reward takes a lot of work. If you just carry through that work, through the end of finals periods and postgraduate life, you have a truly deeper understanding."