Sports
Men's Basketball Back to Back Wins Secure Home Court Advantage at NESCACS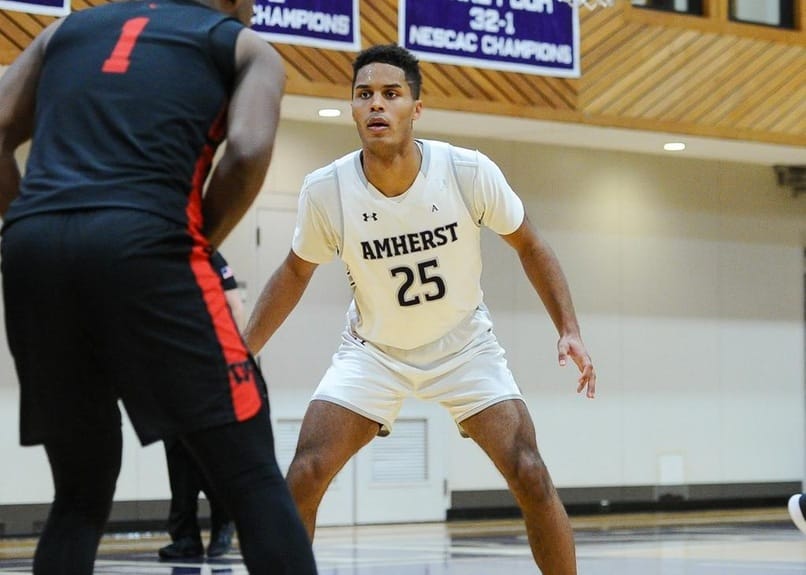 The Amherst men's basketball team spent the past weekend in Maine, beating Bowdoin on Friday and following it up with a Saturday victory over Colby.
In Brunswick, the Mammoths jumped out to an early lead, scoring the first seven points of the game. It was all Mammoths for the rest of the game, eventually beating the Polar Bears 91-80. Both Tim McCarthy '21 and Josh Cherry '20 led the team with seven rebounds. Garrett Day '22, the leading scorer for the Mammoths, racked up 25 points on a stellar performance from beyond the arc, shooting 6-10 from the three-point range.
Day followed up his big performance in Brunswick by leading the Mammoths in scoring once again against Colby the following day. Behind Day's 16 points, Fru Che's '21 ten rebounds and Grant Robinson's '21 six assists, Amherst won handily, 87-69. Amherst's spot-on shooting paved the way to a win; the Mammoths ended the night shooting 58.9 percent from the field.
As playoffs are on the horizon, some might expect growing intensity at practices, but junior big-man Jack Harlan '21 says that practice intensity has been a constant key to success starting from day one: "The intensity has been pretty balanced throughout the whole season when it comes to how we act in practice. We compete at a very high level every day in practice." Harlan makes it clear that the team isn't setting its vision directly at a NESCAC championship quite yet: "We try not to focus too far ahead on playoffs. It's a very one-game-at-at-time focus."
That said, with back-to-back wins in Maine, the Mammoths are now 6-2 in NESCAC play. They currently sit in third place in the conference, two games behind Tufts and a half-game behind Colby, but the win over Colby has secured the tie-breaker if Colby and Amherst end the season tied for second in the NESCAC. Amherst finishes the regular season this weekend at home. Taking on Trinity on Friday and Connecticut College on Saturday. The Mammoths, in control of their own destiny, lock up the two-seed and home court advantage throughout the first two rounds of the NESCAC tournament if they win twice this weekend.