Sports
Men's Basketball Continues Perfect Streak with Pair of Road Victories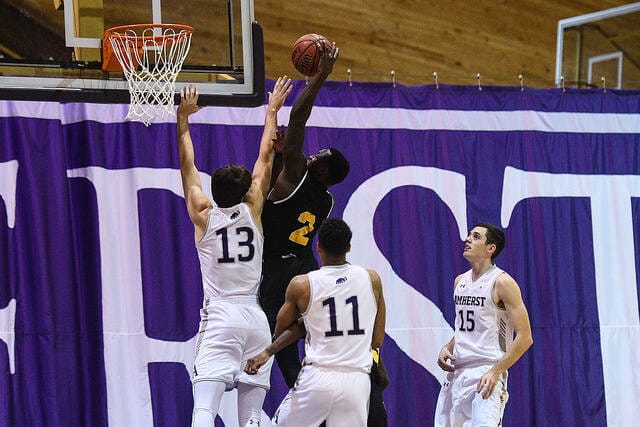 Amherst men's basketball continued its hot start to the season last week, winning both of its games by an average of 31.5 points. The victories improved the Mammoths' record to 5-0, the ninth year in a row that they've hit that mark to start the season.
The team traveled to Paxton, Massachusetts on Wednesday to play Anna Maria College.
Amherst set the tone early, nailing six three-pointers in the opening 20 minutes to race out to a 50-21 lead at the intermission.
The second half was more of the same for both teams, as Amherst held Anna Maria to 34.4 percent shooting on field goals in the period, a mark nearly nearly identical to the hosts' 33.9 percent over the entire game.
The Mammoths never felt serious pressure and walked away with an easy 98-58 victory.
Sophomore Garrett Day had an outstanding game, scoring a career-high 21 points off the bench. He shot 8-12 including 4-7 from behind the arc, and added three rebounds and two assists. Joseph Schneider '19 had a solid effort as he contributed 12 points on just seven shots. Eric Sellew '20 lead Amherst in rebounding as he hauled in 10 while also scoring six points. Grant Robinson '21 was the only other Mammoth in double figures with 11 points.
Amherst returned home on Saturday to square off against Emerson College. The contest against the Lions was the first time this season that Amherst shot below 50 percent over an entire game — it wound up shooting 41.3 percent from the floor.
However, the Mammoths were able to out-rebound the Lions 46-36 and their bench outscored Emerson's bench, 24-7. Day had another very impressive night off of the bench, tallying 11 of his 14 points in the first half, while also grabbing five boards. Josh Chery '20 recorded a double-double with 13 points on 5-12 shooting and 10 rebounds while Fru Che '21 went 3-6 from downtown to total 11 points.
The player of the game for Amherst was undoubtedly Robinson, who had the hot hand all night.He missed two shots in the first half and only one shot in the second half as he went 8-11 from the field, including 3-4 on three-pointers, to register a season-high 23 points.
The excellent all-around performance led to a comfortable 85-62 win and a 5-0 mark to start the year.
Robinson and Day have dispelled notions of a sophomore slump, as they are the Mammoths' top two scorers at 16.0 and 12.2 points per game, respectively.
Che, another sophomore, ranks fourth with 9.2 per game while Chery and Schneider round out the top five with 9.6 and 7.8 per game.
Amherst will close out its semester with home games against Babson College on Thursday and Lasell College on Saturday, before taking a brief hiatus for finals.