Sports
Men's Basketball Defeats Tufts, Bates and Wesleyan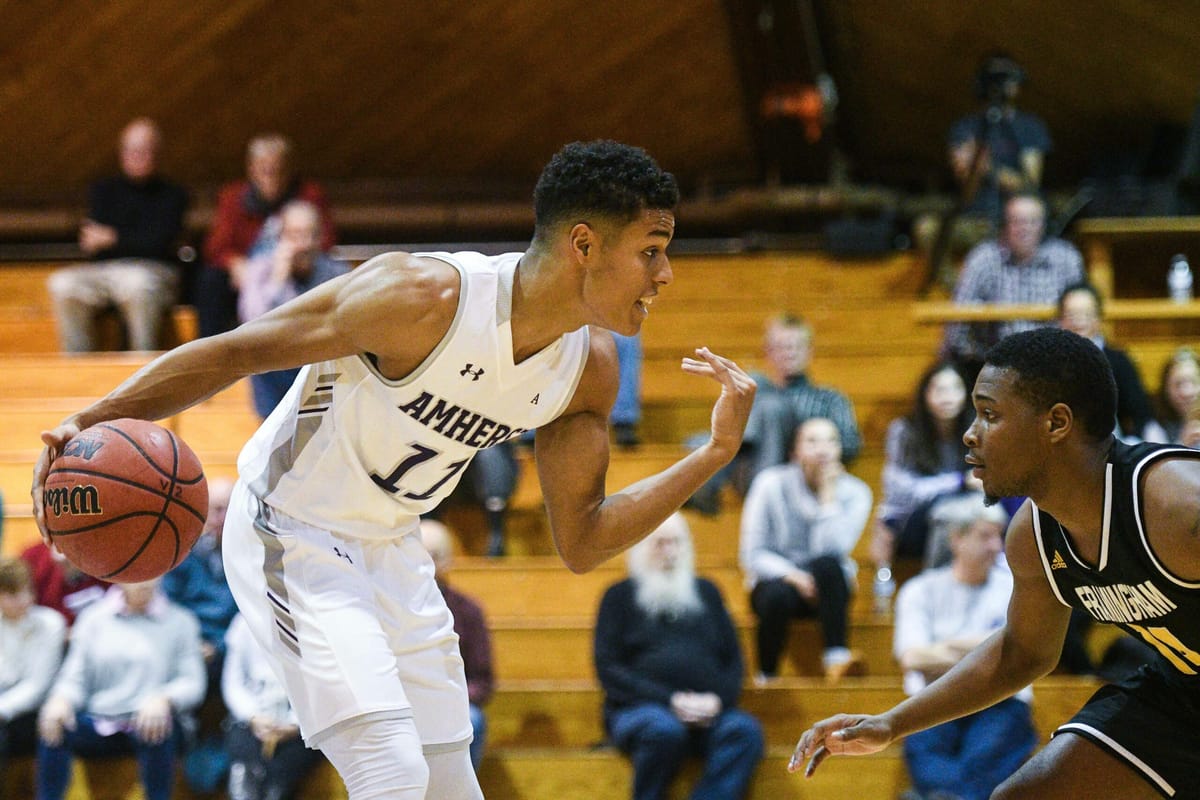 The men's basketball team, ranked 23rd in DIII, won both of its matchups last weekend in LeFrak Gymnasium. They easily cruised to a 30-point victory over Tufts on Friday night before winning a competitive match-up the next day against Bates on Senior Day.
Amherst kicked off the homestand on Friday against NESCAC opponent Tufts by scoring the first nine points of the game. The Jumbos never brought the deficit to within four. Amherst carried a 44-26 lead into the half by shooting 50 percent from the field and holding Tufts to just 28.1 percent from the floor. Eric Sellew '20 went a perfect 4-4 from the field en route to nine points and seven rebounds. The second half was more of the same for the Mammoths as they outscored Tufts 41-29 during the rest of the game to clinch the 85-55 victory. Joseph Schneider '19 paced the Mammoths with 15 points on 6-8 shooting while Garrett Day '21 chipped in 14 points and Grant Robinson '21 knocked down three three pointers. The win improved Amherst to 16-3 on the season while dropping Tufts to 10-11.
Amherst followed up Friday's win with another on Saturday, this time against Bates. Three seniors, C.J. Bachmann, Dylan Groff and Schneider, started for the Mammoths alongside Robinson and Day. Amherst was up only one point at the half, but pulled away in the second part of the game as the Mammoths held on for a 75-64 victory. Amherst's bench proved instrumental in the victory, scoring 44 points, while the starters only contributed 12 in the second half of the game.
The Mammoths then faced off against Wesleyan on Tuesday evening, pulling out a hard-fought 61-60 victory. Sellew was instrumental in the victory, scoring a team-high 19 points. Amherst found itself down by two points at halftime, but the team was able to rally and pull out the victory in the final minutes.
Next up, the Mammoths will travel to Williamstown to face Williams on Friday, Feb. 8 at 7 p.m.