Sports
Men's Basketball Starts Season With Three Dominant Home Wins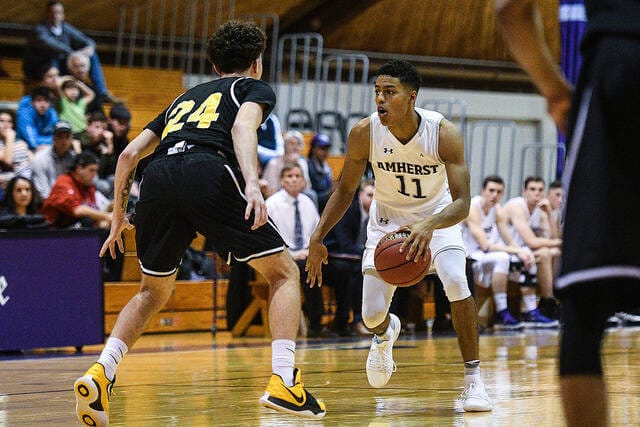 Following an up-and-down 2017-18 season that ended with the Mammoths falling to Wesleyan in the semifinals of the NESCAC tournament, the Amherst men's basketball team was determined to come out of the gates quickly this campaign.
The Mammoths certainly met these expectations, winning their first three games of the year by an average of more than 44 points, while clinching an 18th-consecutive Ken Wright '52 Invitational Championship.
The Mammoths kicked off the season against Framingham State University in the semifinals of the Ken Wright Invitational. The Amherst offense fired on all cylinders, shooting 58.1 percent from the field in the first half to take a 55-29 lead into the locker room.
Everyone on the Mammoths' roster scored at least one point, as Amherst cruised to an easy 96-62 victory.
Grant Robinson '21 led the way with 20 points while also chipping in four rebounds and three assists. Junior Josh Chery added 13 points and five boards in only 17 minutes of playing time.
The invitational's championship game proved to be more of the same, as Amherst turned a 14-point halftime lead into a 101-52 victory against Kean University. After a relatively slow first half, the Mammoths caught fire in the second half, shooting 65.7 percent from the field, including 68.8 percent (11-16) from beyond the arc in the second half.
Dylan Groff '19 tallied up a team-leading 12 points and contributed six rebounds. Joseph Schneider '19 made the most of his 14 minutes of action, going 5-6 from the field and 1-1 from the free throw line to record 11 points.
Robinson tallied a game-high six assists in addition to six points and three boards en route to winning tournament MVP honors.
In Amherst's last game before Thanksgiving break, the Mammoths faced off against their toughest opponent so far, Westfield State University.
The Mammoths made twice as many three-pointers as the visitors — 10 to the Owls' five — and their stout defense caused the Owls to shoot just 36.2 percent from the field. Robinson once again paced Amherst with 20 points while Schneider recorded a career-high seven blocks.
Junior Eric Sellew pitched in 10 points, nine rebounds, five assists and three steals and Fru Che '21 registered 15 points.
Through three games, the Mammoths have been very impressive on offense, averaging 99.3 points per game while topping the century mark twice. Amherst has shown to be an excellent shooting team, with a 52.4 percent mark on field goals and 40 percent mark from three-point range.
Although the team lost its two leading scorers from last year's campaign, Johnny McCarthy '18 and Michael Riopel '18, this season Amherst has shown impressive depth, with 10 players currently averaging at least five points per game.
The Mammoths' next game will be Wednesday, Nov. 28 at 7 p.m. when they travel to Paxton, Massachusetts to play Anna Maria College.