Sports
Men's Soccer Downs Wesleyan to Advance to Semis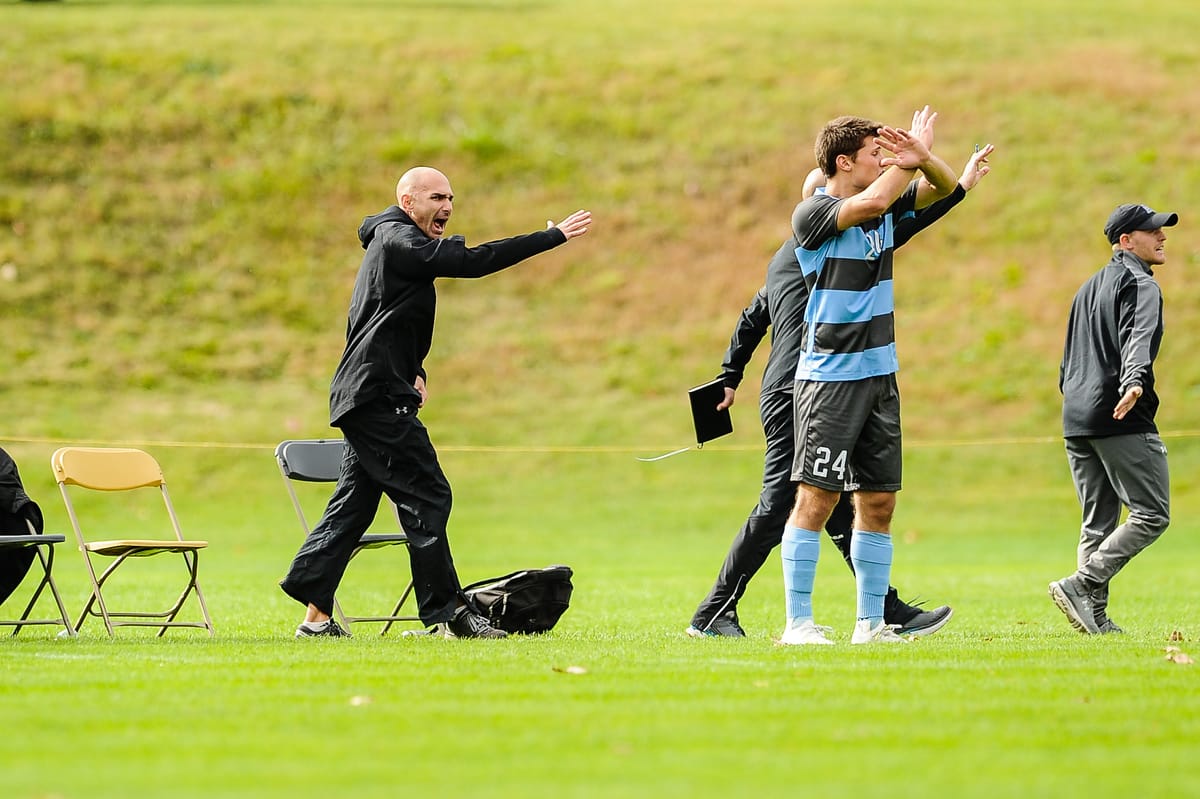 Entering Saturday's NESCAC quarterfinal matchup with eighth-seeded Wesleyan, Amherst had every reason to look past the Cardinals. While the Mammoths tout No. 1 overall rankings in the NESCAC and DIII soccer, they stay grounded and focus on one game at a time.
"We just want to win the next game, which is a key philosophy for our program," head coach Justin Serpone said.
Amherst did just that, trouncing Wesleyan 2-0. Continuing their offensive onslaught, the Mammoths launched 21 shots, including 12 on goal and two scores from forward Dane Lind '20.
After a choppy first five minutes, the field began to open up for Amherst. In the eleventh minute, forward Ada Okorogheye '23 split two Cardinals with a spinning through-ball in the direction of the dangerous German Giammattei '22, only to have the pass cleared by a sliding Wesleyan center back.
The Mammoths kept knocking on the door: in the 24th minute, a long defensive clearance suddenly became a breakaway for Giammattei, who ran on to it and hit a volley that flew just over the crossbar. Three minutes later, Lind crushed a curling shot on goal, which was parried by Wesleyan goalkeeper Liam Devanny.
The Mammoths finally found the back of the net in the 31st minute; after a flip-throw into the box from Bryce Johnson '21, Lind pounced onto a poor clearance and smashed a volley off of a Wesleyan defender and into the goal.
Lind put the icing on the cake for the Mammoths in the 53rd minute when he ran onto a picture-perfect pass from Giammattei. Lind calmly slotted the ball into the bottom right corner of the goal, making the score 2-0 Amherst. The California native's brace upped his career goal total to 14 and point total to 52.
Amherst dominated possession for the last 20 minutes, anchored by stalwart centerbacks Felix Wu '21 and Kyle Kelly '21. Goalie Bernie White '22 commanded his box with authority for all 90 minutes, adding yet another shutout and lowering his average-goals-allowed-per-game mark to 0.46.
The win thrusts the Mammoths into a semifinal clash with Middlebury, them responsible for one of Amherst's two ties this season. The Panthers are coming off of a double-overtime victory against Connecticut College, when, after 110 minutes of scoreless soccer, Middlebury came out on top in penalty kicks, 4-3.
Amherst takes on Middlebury at 11 a.m. on Saturday, Nov. 9 at Hitchcock Field. The victor will play in the NESCAC championship on Sunday, Nov. 10, against whichever team wins in the Williams vs. Tufts game Saturday.