Sports
Men's Soccer Falls to Williams After Last-Minute PK Miss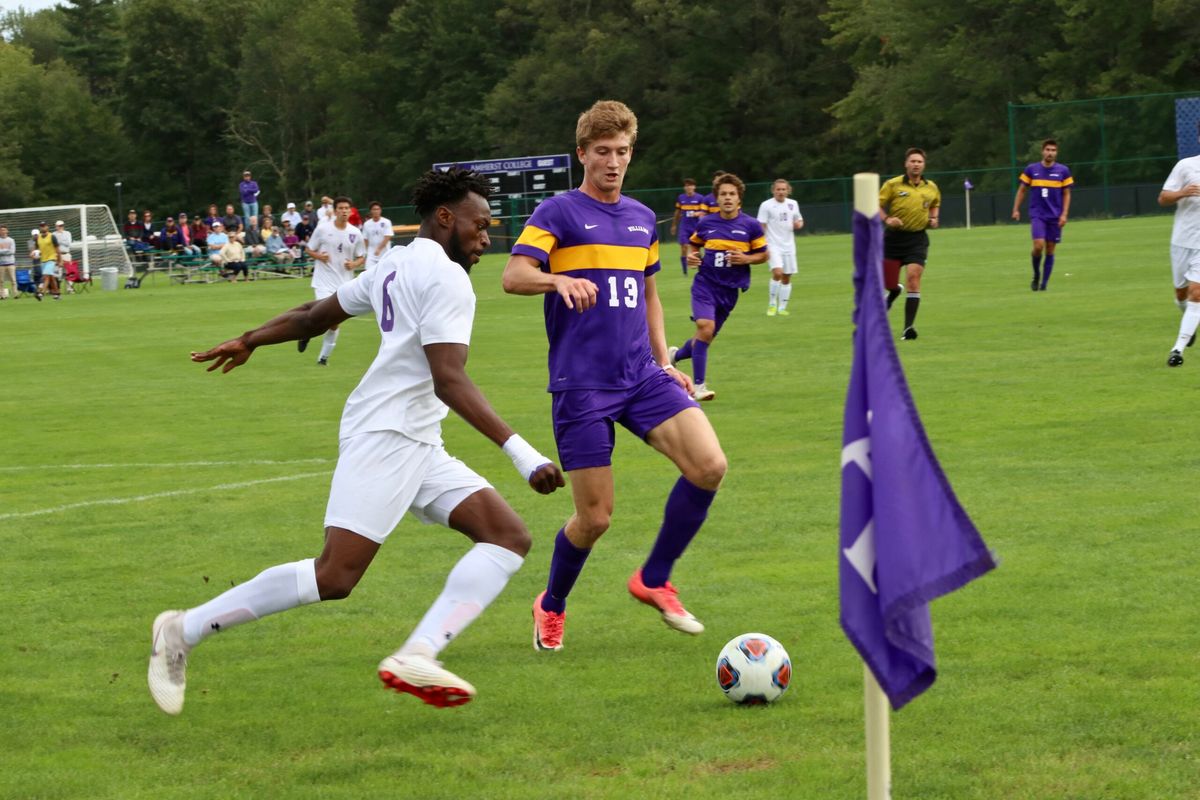 A tough loss to Williams at home didn't stop the Amherst men's soccer team from coming back and winning its non-conference matchup against Gordon College in a rainy, mid-week matchup.
The one win, one loss week puts the Mammoths at 3-2 on the year overall, with a 1-2 NESCAC record.
After going down 2-0 early in the match against the Ephs, the Mammoths used a late goal by sophomore Sebastian Derby to attempt a rally, but Amherst's 18 shot attempts in the second half weren't enough to take the match against Little Three rival.
The first score of the matchup came unassisted from Gregory Andreou of Williams in the 57th minute.
Just minites later, Williams came back with another goal off of a long shot from Chris Fleischer to put the Ephs up 2-0 on the Mammoths.
Williams managed to hold their lead until the 85th minute, when Derby scored on a cross from Dane Lind '20.
Using the momentum to Amherst's advantage, senior Sean Fitzgerald tried to tie it up with a header that nearly found net, but was ultimately saved by the Ephs' keeper.
Three minutes later, the Mammoths had another chance to tie the game when Williams conceded a penalty kick.
However, the Williams goal keeper got in front of the attempt, holding the Ephs one point lead despite the late drama.
Amherst keeper Michael Stone '21 and Williams keeper Aaron Schein each finished with six saves on the day.
The rivalry matchup was physical, as always, with a total of 29 combined infractions from Amherst and Williams.
Amherst also only notched three corner kicks on the day, but utilized sophomore Bryce Johnson's long throw-in skills at every opportunity to get the ball into the box.
The Mammoths returned to action on Tuesday, Sept. 25 in a similarly physical matchup in the rain on Gooding Field at home.
The team jumped on Gordon early, the first goal coming for the Mammoths in the 11th minute from junior Cutler Coleman. Although the teams fired off equal shots in the first half at five apiece, Amherst came out strong again in the second half looking to build on its 1-0 lead.
The Mammoths shot 11 times in the second half, three of which were on target, and one finally found the net in the 73rd minute off the foot of junior Jimmy McMillian.
Amherst committed eight fouls over the course of the match.
Stone once again stood on his head, finishing the game with six total saves to keep the Mammoths out of trouble.
Now 3-2 on the season, the Mammoths return to action looking for a win against undefeated NESCAC rival Tufts University on Saturday Sept. 29 at 2:30 p.m.
The Mammoths play at Tufts on Saturday before returning home for a Sunday matchup against another NESCAC foe, Bates, at 2:30 p.m.