Sports
Men's Soccer Seeks National Championship Redemption
Almost two years removed from a National Championship Game loss, men's soccer returned to play on Sept. 7 with a 2-1 win at Norwich University. Despite a new-look roster, the team hopes to compete for a NESCAC championship and an NCAA title.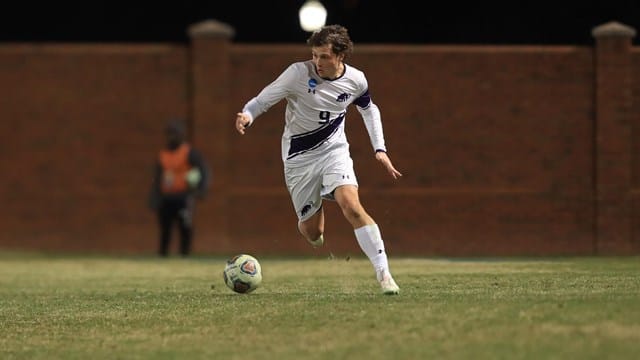 The men's soccer team kicked off its season on Sept. 7 with a 2-1 victory over Norwich University in Northfield, Vermont. This was the team's first time back on the field in almost two full years, the last time being at the 2019 Division III (DIII) National Championship Game, where they lost 2-0 to Tufts University.  
While last year's National Championship loss was heartbreaking for the team, their prospects for this season look promising. Led by a slew of returning talent, including DIII Player of the Year German Giammattei '23, the team looks to build on the promise of its 2019 regular season, during which the team posted the best regular season record in the NESCAC, and end the 2021 season with the national trophy that eluded it two years ago.
Amherst also finds itself ranked as the number two DIII men's soccer team in the country by United Soccer Coaches (the foremost DIII ranking body), behind only 2019 championship opponent Tufts, who also held exactly the same regular season record as Amherst (19-2-2) in 2019. The significance of this NESCAC matchup should figure to be a compelling storyline when the teams face off on Oct. 16.
Despite their championship-level expectations, players and coaches inside the program are taking the season one step at a time. Head Coach Justin Serpone remarked, "We're really just focused on winning whatever game is next. The first thing we need to do is compile enough points to qualify for the NESCAC tournament and we know how difficult that is to do in this league."
Felix Wu '22E echoed his coach's commitment to a short-term focus. "All the teams on our schedule this year are top quality, so we are going into each and every practice and game focused on ourselves, bringing energy, getting the details right, working hard and improving every day," Wu said.
The team features seven fifth-year seniors, who took time off from school in order to be able to play in the team's return from its Covid hiatus. Among these players are both of Amherst's 2019 leaders in minutes played, Kyle Kelly '22E and Bryce Johnson '22E, respectively. Serpone emphasized the importance of this veteran leadership, suggesting that the team will "lean on [the fifth-year seniors] heavily this season."
While the team features a number of experienced players, there are 12 new players recruited over the last two years who Serpone says have been "getting up to speed as quickly as possible." The mix of experience levels makes for an interesting dynamic as the team attempts to establish its on-field identity early in the season.
Regarding the difficulties of a season still mired by the ongoing pandemic, Serpone said, "Every season comes with it's own set of challenges, but it feels like there is some uniqueness to 2021.  Certainly we'll have to be adaptable with all of the Covid regulations that could interrupt our routines."
While fall sports teams are allowed to play despite Covid, there remain restrictions imposed by the college, such as a mandated 50 percent locker room capacity and limited access to training rooms.
Despite the extended time off and the persisting presence of Covid, the men's soccer team is happy to be back on the field. "We're just grateful to be back together, surrounded by people we love, playing the sport that we're all so passionate about. So many people work so many long hours to give us the chance to compete and we're thankful to every one of them," Serpone said.
The team's schedule kicks into high gear this weekend, when the Mammoths will travel to Brunswick, Maine to take on conference foe Bowdoin College on Saturday, Sept. 11 at 2:30 p.m.