Sports
Men's Soccer Starts Season with Perfect Record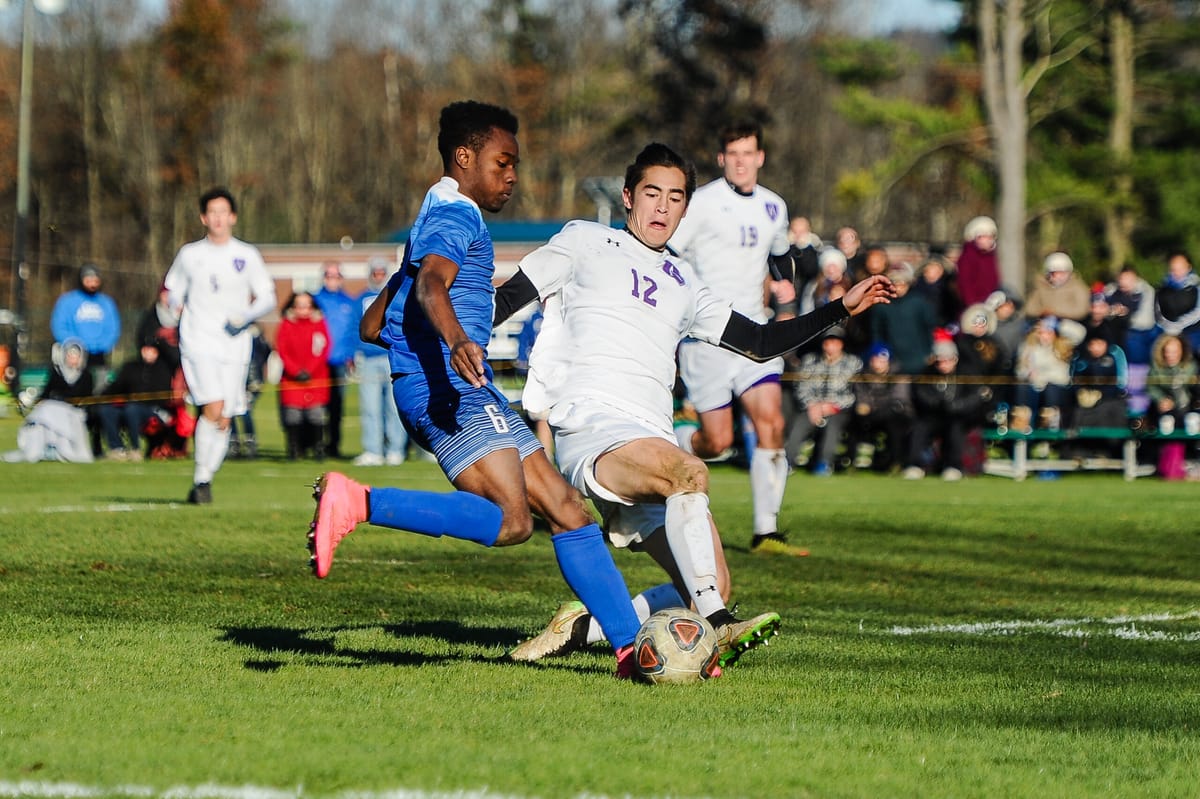 Following three successive campaigns ending in the NCAA DIII Tournament Sweet 16, men's soccer kicked off the 2019 season with dominant wins over Nichols and NESCAC foe Bowdoin.
Ranked 13th in the nation heading into the year, the Mammoths blended stellar offensive play with a stalwart defensive performance to knock off Nichols 2-0 on Wednesday.
Amherst was held scoreless in the first half, but with shots favoring the Mammoths 15-2, it was only a matter of time before they broke through.
German Giammattei '22 opened the scoring in the 66th minute after doing a nice job beating his defender to free up space.
Dane Lind '20 doubled Amherst's lead in the 83rd minute on a set piece thanks to a lovely pass from first year Iganacio Cubeddu.
When the final whistle blew, the Mammoths walked off with a 2-0 victory, their first of the season.
The second game for Amherst, on Saturday against Bowdoin, was very similar to their opener. This time, however, the Mammoths struck in the first half on an excellent shot by first year Ada Okorogheye.
15 minutes later, junior Gabe Gitler blasted home the second goal off of a strike following a Bowdoin clearance attempt from just inside the box.
Giammattei picked up his second of the year in the 64th minute after a nice pass from junior Sebastian Derby.
Sophomore goalkeeper Bernie White made two saves and backup Kofi Hope-Gund '21 came on in relief for the final 10 minutes to complete the clean sheet and secure the 3-0 win.
After the game, junior centerbacks Kyle Kelly and Felix Wu sat down with The Student to talk about the victories and the season ahead.
"Probably the biggest thing against a team like Bowdoin is bringing the right amount of pressure, which I think we did. Our organization was very good and our mentality of keeping the foot on the gas pedal was key to victory," said Kelly, who has already started more games this season than he did all of last year. Kelly was hampered by injuries, appearing only four times last season, and his presence in the lineup should go a long way towards his lofty goals for the season.
"Personally, I want to stay healthy," Kelly said. "As a team, I think we've really come together and we're forming our own identity, so anything less than a championship will be a failure."
The Mammoths will square off against Babson at home on Tuesday before traveling to New York on Saturday to take on another NESCAC rival, Hamilton. Wu knows that Amherst will need to bring the same enthusiasm against the Continentals in order to pick up another big win.
"It's a road game, and historically we haven't been great on the road, so we'll need to keep the energy from home games and make sure we're mentally tuned it," he said.