Sports
Men's Swim Finishes Third at NESCACs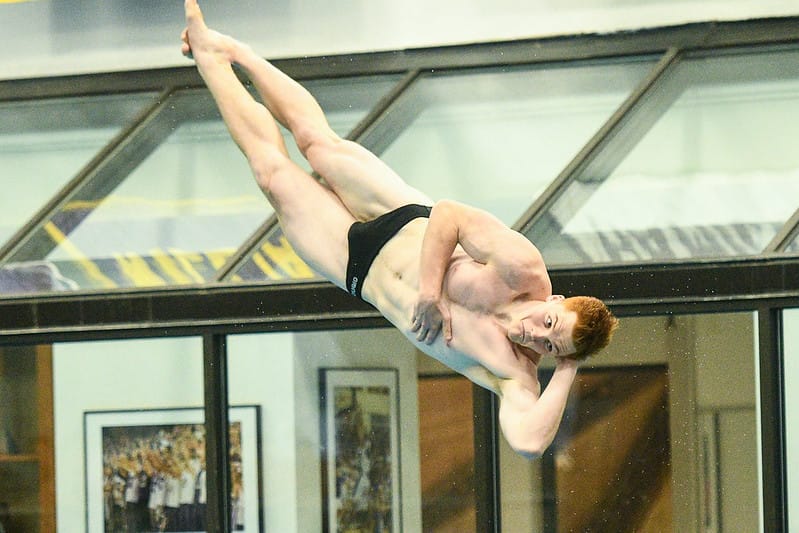 The men's swim and dive team travelled to Williamstown this weekend to compete in the NESCAC Championship. The Mammoths finished the weekend with a bronze medal, placing third out of the 11 NESCAC colleges behind only Williams and Tufts.
Bennett Fagan '20 achieved a sweep of the diving events at the competition, taking home the gold in both the three meter and one meter dive. Fagan, the recipient of the NESCAC 4-year High Point Diver and the NESCAC Diver of the Year awards, became the eighth diver in NESCAC history to win both awards.
The Mammoths' other two divers also finished the weekend with strong performances. Tom Amsbry '22 placed second in the one meter dive and third in the three meter dive. Kalama Flagg '23, in his first year ever diving, placed sixth out of fourteenth in the one meter dive.
Kai Robinson, the coach of the Mammoths' divers, came away from the championship with the NESCAC Diving Coach of the Year Award. Robinson is the third Amherst coach to ever receive the award.
Craig Smith '20 set a pool record of the 200 yard backstroke (1:46.88) in the preliminaries and followed it up with another stellar performance to sieze the NESCAC title with a time of 1:47.63. While Smith and Fagan were the only Mammoths to take home gold medals in their respective events, Amherst captured second place finishes in eight of the tournament's 24 events.
The Mammoths won silver medals in four relays, the 800-yard freestyle, 400-yard freestyle, 50-yard butterfly and 400-yard medley.
Sean Mebust '20 and Scott Romeyn '22 competed in both the 400-yard medley and the 400-yard freestyle; Eric Wong '20 swam in the 800-yard freestyle and the 400-yard freestyle; and Jack Koravos '20 participated in the 400-yard medley, 400-yard freestyle and 50-yard butterfly. Amherst's other silver medals came from Romeyn's performance in both the 50 and 100-meter freestyle, as well as Mebust's showing in the 200-yard breastroke.