News
Missed the Town Hall? Here's What You Need to Know
On Monday, the Association of Amherst Students held a virtual town hall with several members of the administration. Topics discussed included long wait times at Val, staffing shortages and Covid enforcement policies.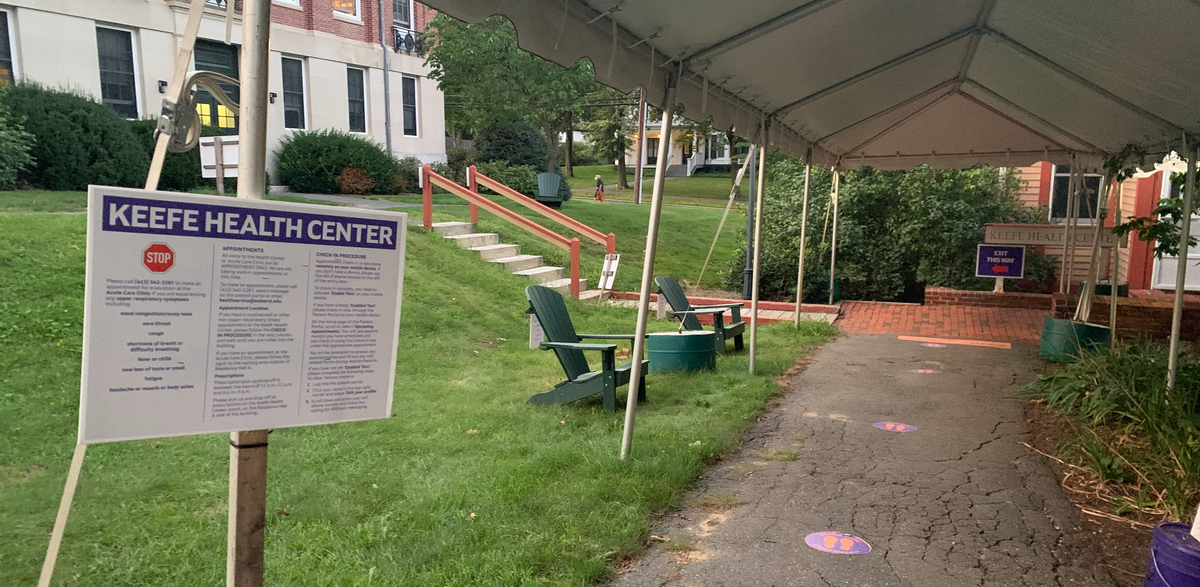 After 400 students signed an open letter to the administration protesting the escalation of Covid protocols on campus, the Association of Amherst Students (AAS) hosted President Biddy Martin, Dean of Students and Interim Chief Student Affairs Officer Liz Agosto, Chief of Campus Operations Jim Brassord and Director of Dining Services Joe Flueckiger at an hour-long virtual town hall on Monday. Students raised questions about a variety of aspects of the current campus experience, from long lines at Val to masking mandates to understaffing and over-enrollment.
Agosto followed up the town hall with an email on Aug. 31 with a summary of the most updated Covid protocols, a submission form for questions from the community and an announcement that KN95 masks had been delivered to all students' mailboxes.
Below is a recap of the topics covered in the town hall.
Long Lunch Lines
After shutting its indoor seating to students for the last three semesters, Valentine Dining Hall (Val) was slated to reopen with a reduced capacity of 50 percent. However, now that the college has changed its protocol, all students must retrieve meals to-go and will eat in tents outdoors. Campus dining will not be available to faculty and staff for the first few weeks of the semester.
For food pick-up, students can get meals at the main service area of Val, the Lewis-Sebring dining location and "grab-and-go" self-service in Keefe Campus Center Monday through Friday from 11 a.m. to 2:30 p.m. Unlike the previous, restricted semesters, students will have the option of purchasing takeout food from local restaurants and having it delivered in a contactless manner to the door of their residence hall.
For many students, the prospect of Val reopening — even at a reduced capacity — was exciting. Liam Loveless '24 had yet to fully experience eating in Val. He said, "I only got to experience Val on my recruiting trip to Amherst in 2019, but it was a lot of fun eating with the swim team then so I'm sure me and my friends will enjoy being able to go to Val everyday."
Others were skeptical of Valentine's reopening. "As for Val, it'll be a disaster. The college is very overenrolled this year, and Val is already tight in normal years at full capacity," Ella Vacchi '23 stated.
Vacchi's prediction seems to have rung true for the first few days of having everyone back on campus. AAS senator Cole Graber-Mitchell '22 recounted at the town hall that he had waited in a 43-minute lunch line on Monday — an unsustainable wait time for many students who need to eat in between classes. Flueckiger responded, "I'm not going to make any excuses for what happened today." He explained that Grab-n-Go is often not a well-known option at the start of any school year, which leads to frontloading traffic in Val. Even with the lines, Flueckiger noted that 96 percent of the student body got lunch that day compared to the 80 percent that is usually seen in the first two weeks of school.
Flueckiger explained that traffic tends to dissipate over the course of the first couple weeks of the semester. "I do expect that this will abate to some extent over the course of the next seven to 10 days, as students begin to better appreciate how much time they have between classes, which meal they prefer … I think people will just get used to approaching lunch in a way that actually meets their needs," he said.
Staffing Shortage
Flueckiger acknowledged that the combination of an overenrolled student body and a widespread staffing crisis has contributed to the recent dining slowness. "Even for full-time positions, it's been a struggle to find qualified applicants or any applicants for that matter," he said.
To incentivize hiring, the college launched a couple of initiatives. Throughout the summer, the college was offering bonuses of $1,000 to any employee who referred a prospective staff member to an "advertised, open vacancy in a casual, full- or part-time" position in Dining Services or as a Community Safety Assistant (CSA).
Additionally, on Tuesday, Dining Services put out an announcement in the Daily Mammoth that "Val Needs You!" The announcement provides details on the hours and available positions for students, and notes the $15 hourly wage and a $500 sign-on bonus. Non-student entry-level positions will receive a $750 sign-on bonus. Current staff members across the college have also seen a seven percent increase in their wages.
Besides queue delays, the staffing shortage has also contributed to fewer food options, including for those with food allergies, and it has postponed the start of the popular late-night dining options from last year. Though Val currently has an allergen-free menu, Flueckiger was open to adding specific items that students may want, with the caveat that he "can't promise you when that's going to happen," due to the hiring struggles. Late-night Val has also been delayed because there are not enough people to work the shifts.
Without adequate staffing power, Dining Services has also struggled to retrieve the green reusable to-go containers from their designated collection boxes inside residence halls. Even last semester, with around 1200 students on campus, two Dining Service employees would have to work an eight-hour shift to collect all the green containers. With 800 more students on campus this semester, "It's that much more difficult," Flueckiger said.
"We just don't have the people to offer the product to you during that time period. I desperately want to offer all these services to you," he continued.
So You Got Caught Breaking a Rule, What Now?
Amid ever-changing Covid protocols, students found themselves wondering what actually happens in the case of rule violations.
Last year, the consequence of rule violation was often removal from campus,but without any remote learning offerings, the college will now address Covod protocol infringements using the typical process for Code of Conduct violations. The repercussions will thus be judged on a case-by-case basis depending on the severity of the violation.
Agosto said, "Our focus this year is less on repercussions and more on community education."
Breaking the Bubble
Students are no longer allowed to go outside the town of Amherst without special permission, which is stricter than the original boundaries of Hampshire County. Further, the college is only permitting visits to the town for matters of "conducting business" like picking up prescriptions or managing a bank account.
Agosto said that perimeter would be reconsidered after Sept. 13 with the hopes of expansion. She encourages students to communicate with the administration to find ways to safely extend that perimeter. Factors that will influence whether the college eases the restriction include the Covid testing results over the next few weeks. So far, five students, eight staff members and one faculty member have tested positive.
What happens if you test positive?
Without remote learning options this semester, Zoom is no longer the standard backup plan for those who must quarantine or isolate due to a positive Covid test. Students thus raised concerns as to what would happen to their academics if they were forced into quarantine. At a faculty meeting on Sunday Aug. 29, faculty brought up similar issues. On this topic, Martin mentioned that the Committee of Six had met to discuss how to handle such situations. The verdict appeared to be that faculty would be granted latitude in these circumstances to decide how to teach an absent student.
"It will depend on the faculty member whether they try to do something that is hybrid or whether they do something a little short of that, partly because not everybody is set up to do real hybrid class," Martin said. Provost and Dean of the Faculty Catherine Epstein was not at the town hall to address the policy for these particular extenuating circumstances.
Agosto added that class deans would be involved in ensuring that students who test positive do not fall behind in class.
More Mask Mandates
Much of the student upset about the tightened Covid protocols came from the new masking policy where community members are required to either wear a KN95 mask or double up on standard pleated masks when indoors. Notably, this policy is not an explicit CDC recommendation, raising student questions as to how this masking mandate was decided.
When asked for rationale behind this policy, Martin said, "The guidance just keeps changing about that." Still, she recognized that the CDC hasn't suggested double-masking.
Martin then went back on the universal double-masking policy saying that, "We're not quite sure what to do with the double-masking policy." She recommended that students ask the preferences of their professors since some may choose to wear a single-mask so that they are audible to their class.
"The whole double-masking idea may have to go by the wayside," Martin continued, "But we haven't withdrawn it yet."
Ultimately, Martin explained, the questions of double-masking become moot once KN95 masks are available, which they have been since Aug. 31.