Opinion
My Vision for a New and Restructured AAS
Contributing Writer Shane Dillon '26 shares his hopes for the Association of Amherst Students as its newly-elected vice president, including a plan to "rewrite the reputation of the senate."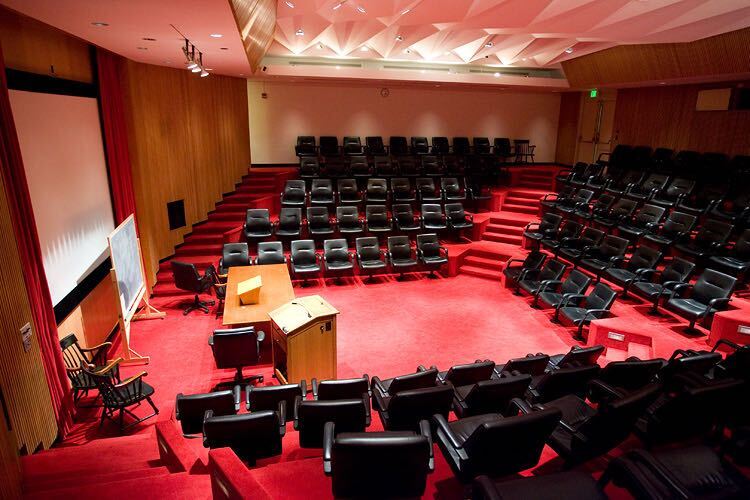 Hello, Amherst family! If we have not had the opportunity to meet, my name is Shane, and I am your newly elected, soon to be sworn in, Association of Amherst Students (AAS) vice president (VP). My term will begin in the fall. I want to take an opportunity to introduce myself beyond what everyone already knows about me, outline some of the reasons I ran for VP, and tell you what my goals are for the next academic year. I am a low-income, queer student from Springfield, Massachusetts — so, relatively close. In my time on the AAS, I have served on the Budgetary Committee, Appointments Board, and Public Relations Committee. I was also a part of a group of senators who were working to help increase transparency from the Board of Trustees. Our efforts resulted in the board beginning to publish a publicly available summary of their quarterly meetings.
If I have learned anything from my past two semesters on senate, it is that we need to restructure our process. The senate does have productive conversations, but turning those conversations into an action plan can be difficult. Conversations can seem long, without an end goal in sight, and sometimes we have nothing on the agenda at all. I believe that we need to change that. The current constitution is very outdated, and even has typos. As outgoing AAS President Sirus Wheaton '23 said in his "State of the College" address, "this [current] senate has created precedent for the unprecedented." If we want every Amherst senate after us to function effectively and serve the campus community as best they can, we need to rethink how we "do" the senate.
I have many new ideas I want to bring to the AAS. In our first few sessions, I plan to propose to the senate a slew of different initiatives, and implement the structure to execute them. At the core of these goals, I want the senate to discuss, establish, and enshrine new debate rules to facilitate better discussion. We need to make sure that every senator has the opportunity to speak their truth in our meetings, and ensure that division is not sown through those debates and discussions. As the agenda-setter for our meetings, I plan to have fun, but keep a tight schedule and make sure that we are diligent in our discussions. I will also consider using the constitutional powers of the vice president to appoint a parliamentarian — someone well versed in Robert's Rules of Order who will help me understand how we can establish these debate rules. It will also be easier to have more structured discussions if we have a clearly outlined goal for every senate meeting. Rather than play telephone with different administration departments, I plan to discuss with the senate a "master list" of initiatives, and present it to President Michael Elliott and Dean of Students Angie Tissi-Gassoway at the beginning of the year so that we know which goals are actually attainable.
I also plan to utilize committees more effectively. One way to do this is to have committees review certain ideas and topics and then present them to the senate. If we trust senators to serve faithfully on their committees, we should have them do the work.
Currently, I am also working with another senator on new anti-racism training for the student body, and new training for Registered Student Organizations (RSO) on how to interact with the Budgetary Committee. As I have already discussed with students and senate members alike, we need a change in the way our campus community interacts with one another and the AAS. . We can and should capitalize on the strides the AAS has already been making strides to better its relationship with the student body.
As the vice president of the senate, I promise that although I will play a more "behind the scenes" role, I will do everything that I can to rewrite the reputation of the senate, from within the senate. When former Vice President Jaden Richards '25 left the senate, citing tension with other e-board members, he warned senators that the dysfunction of the senate only works in the interest of the college's administration, not the student body. He was right. If we are not fully functional, we let go of a critical "check" on the power of the administration. While I have an extremely productive working relationship with President Elliott and Dean Tissi-Gassoway, it is important for everyone to know that I work for all of you. I will always prioritize the students on this campus. I am currently in the early stages of developing new, fun community engagement activities across the campus to increase engagement among students. I also plan to work with other members of the e-board and senate to find a way to poll the student body for their ideas. As long as I am a student of Amherst College, every one of you can find an ally in me. That is my promise.
I am very excited to go forward and see what next year has in store for all of us. We need civic engagement, more community, less division, and more damn fun. We have the resources, we have the drive, and we have the power, together. As next year comes around, I will be making myself more available. This is also a learning experience for me, so I will be taking the rest of this semester to learn the ropes of how to be a fully-functional VP, but I am here for everyone. Come next year, I plan to have my own office hours, and send out bi-weekly updates to the student body.
Lastly, I want to congratulate the other members of our newly elected e-board, beginning with our president-elect, Lori Alarcon '24. Lori and I both share a love of public service and giving back to the communities that give to us, so I am very excited to be vice president under her leadership. I want to congratulate Min Ji Kim '25 on her win as treasurer. I have been working with Min Ji on the Budgetary Committee the past two semesters, and I know she will be a bold and compassionate leader. Last but not least, I want to congratulate my fellow class of 2026 members, Hedley Lawrence-Apfelbaum '26 and Jaimie Han '26, on their successful bids for secretary and Judiciary Council chair, respectively. I know they are just as eager to get to work as I am.
I hope everyone enjoys the rest of their semester. Soak in the beautiful weather, do something adventurous, go out with your friends, and breathe it all in. We are fortunate to be here, at this place that many of us call our second home, and we will make it better, together.