News
Elliott Outlines Priorities, Wheaton Reflects on Tenure at State of College
College President Michael Elliott and the Association of Amherst Students President Sirus Wheaton '23 delivered "State of the College" addresses on Sunday, April 2. Wheaton reflected on his impeachment, and Elliott emphasized labor reform, community-building, and civic duty as college priorities.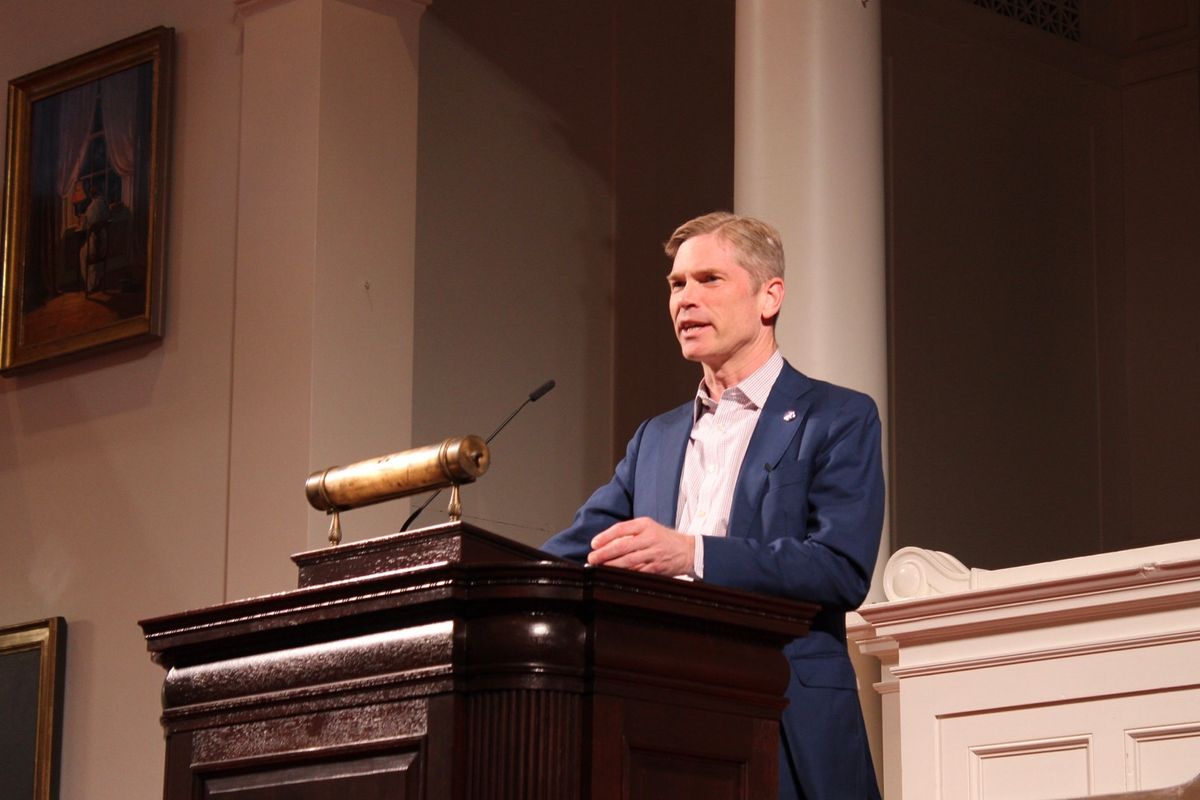 College President Michael Elliott and the Association of Amherst Students (AAS) President Sirus Wheaton '23 delivered "State of the College" addresses on Sunday, April 2.
Though both began their roles in the fall of 2022, Wheaton, who is reaching the end of his one-year term, reflected on the past, while Elliott, who has only just begun his tenure, looked toward the future. Wheaton reflected on his impeachment last semester and his takeaways from his time as president more generally. Elliott gave his assessment of the biggest issues facing the college, and outlined, in broad strokes, his priorities going forward.
Wheaton structured his speech around a claim that last semester's impeachment trial — in which AAS Vice President Ankit Sayed '24 unsuccessfully tried to remove Wheaton — "saved senate" by energizing senators and shining light on the AAS' issues.
Elliott built his address around the "three umbrellas" of issues that he would focus on across the next few years: making Amherst a better place to work, fostering a greater sense of belonging among the student body, and ensuring that the college "owns its civic responsibility."
The event, which was held in Johnson Chapel for the first time in a number of years, was not widely promoted, so the two presidents spoke to a sparse crowd that included just a handful of non-senators. Elliott said that he hoped that the State of College would see greater turnout in the future.
Wheaton, who rose first, conceded that his claim that his impeachment had been good for the AAS was "the hot take," but he nevertheless argued that the impeachment improved the AAS in four ways: by focusing the student body's attention on the senate and therefore increasing transparency; by highlighting the problem of "senator complacency"; by forcing senators to affirmatively "stand up for what they believed"; and by ensuring that the senate "learned way more than any other senate ever has," in the process of consulting the AAS bylaws to determine out how to conduct an impeachment trial.
Wheaton then went on to detail a number of projects that he and various senators have engaged in across the past year. He pointed to his work connecting the college community to  town of Amherst's reparations efforts, to the creation of a newsletter and Instagram page to keep students informed about the AAS' proceedings, to the establishment of a new committee bringing together affinity group leaders to improve inter-group communication and cooperation, and to the reestablishment of the student-town advisory board.
He additionally referenced a forthcoming statement from the AAS to the campus community "describing how Amherst has fallen short on its anti-racism plan and has commercialized the Amherst Uprising."
Following Wheaton's 10-minute address, Elliott commended him as a "trusted counselor and somebody that I've learned a lot from over the course of the year."
Elliott went on to reference the impeachment and declare that "Sirus handled that better than some other figures on the national stage."
Elliott structured his address around his "year of learning" since he became president in August of last year.
Elliott rejected the blind optimism that most American Presidents bring to their State of the Union addresses. "If we were in Washington, I would say that the college is strong and half of you would get up and cheer and the other half would boo."
"I'm going to say something a little more subtle," he said. "If I had to summarize the state of the college in one word, I would use the word 'recovering.'"
He said that, as a small residential college, Amherst was hit especially hard by the pandemic. Institutions, traditions, and institutional knowledge had been weakened by the pandemic, he said, while the college continues to suffer from its economic fallout. While the pandemic had a clear, obvious beginning, he added, the transition into the college's phase of post-pandemic normality would be much more gradual.
The heart of Elliott's address detailed the three general areas that he would devote outsized attention to across the next few years. Along the way, he argued that a college president cannot solve every problem alone, and he continually emphasized that "students collectively, especially on a campus of this size, often have more power than they realize."
Elliott's first area of focus would be labor issues, he said. "We need to make Amherst a better place to work for everybody who works here — the staff, the employees, the students who work here as well."
He credited the Amherst Labor Alliance and reporting in The Student on the aftermath of dorm damage for bringing attention to the issue. "We have real work to do in terms of management, in terms of pay equity, in terms of effective and transparent process," he said.
Pointing to incidents of dorm damage, Elliott additionally argued that more respectful behavior on the part of students could also play a role in making Amherst a better place to work.
Elliott said that his second goal was to increase student belonging. "We need to foster a student culture in which every student experiences themselves as belonging to a college-like community," he said.
Elliott went on to say that he had "heard frustration about the way that the social life of this campus is organized," and that the administration could do more to "supply scaffolding and support" for student life.
But Elliott also argued that there was only so much the administration could do."This question of how to build a community-wide student culture is one where student vision and imagination will have a greater impact than the actions of the administration," he said.
Elliott's final area of focus will be ensuring that "Amherst owns its civic responsibility." Echoing his convocation address in September, Elliott said that the college needed to do more to fulfill its commitment to the public good.
He said that this would include promoting more engagement on the local level and providing more resources for social impact careers, but also ensuring that Amherst students are able to "engage with one another in civic, civil, and principled argument on issues that you all care about." Following his speech, Elliott answered a few questions from senators, promised to look into reinstating the room draw lip sync contest, then stepped down from the Johnson Chapel stage.