News
AAS Senate Votes Not To Impeach President
The Association of Amherst Students (AAS) held an impeachment trial of AAS President Sirus Wheaton '23 on Monday night. The Senate voted not to impeach Wheaton by a 19-12 vote. The hearing drew a massive student turnout and laid bare the tensions within AAS.

The Association of Amherst Students (AAS) held an impeachment trial of President Sirus Wheaton '23 on the night of Monday, Dec. 5. Senators voted 19-12 against impeachment, with one abstention, well short of the 21 votes required for his removal.
The impeachment hearing, widely believed to be the first in the AAS' history, was initiated after Ankit Sayed '24, who just two days before had won a tightly contested election to become AAS vice president, filed a removal petition with the AAS Judiciary Council.
Sayed claimed that Wheaton was guilty of "gross negligence" for shirking some of his duties as president and of "malfeasance" for what Sayed saw as disrespectful conduct towards a senator earlier in the semester.
The hearing, which started at around 9:30 p.m. and concluded around 1 a.m., drew a massive turnout of students, who packed the seats, floor, and stairways of Converse Hall's Red Room, and took on something of a carnival atmosphere at times.
Some students, anticipating fireworks, brought popcorn. Others reported "pre-gaming" the impeachment trial. A student in a fake powdered wig at one point rose to give a spoof, 18th-century style speech before being shouted down and asked to leave. The AAS' Instagram livestream of the hearing drew more than 200 viewers at one point; the live chat had to be shut down after anonymous accounts began leaving offensive comments. During the Senate's deliberations, a spectator interjected in response to a senator's comment — saying, "Isn't that hearsay?" — drawing massive applause from the audience and a subsequent reprimand for the interruption.
Nevertheless, Sayed and Wheaton remained serious and professional throughout the trial, and multiple attendees who spoke with The Student commended Alex Jabor '23, chair of the AAS' Judiciary Council, for his performance presiding over the hearing and moving the proceedings along.
The hearing was structured like a court trial, with Sayed and Wheaton each giving opening statements, calling witnesses, and conducting cross-examinations.
Sayed began by explaining his decision to bring the removal petition. Pointing to high turnover on the AAS, issues of property damage on campus, and "immense campus apathy," Sayed asked the audience whether they felt that the AAS in general, and the president, in particular, were effectively representing the student body and its concerns.
"I would feel that the president of the student body has not done his job in these regards," he said, before laying out his specific charges.
The first charge was negligence. Sayed claimed that Wheaton failed to execute some of the duties of the president outlined in the AAS bylaws. He argued that Wheaton failed to fulfill specific obligations, such as giving a speech at the beginning of the semester, holding an all-campus meeting, serving on the College Council, and setting the agenda for Executive Branch meetings, while also failing generally to serve as "the official representative and spokesperson" of the student body.
Sayed also pointed to Wheaton's treatment of former AAS Vice President Jaden Richards '25, who resigned last month citing a dispute with Wheaton. "Sirus neglected to do the bare minimum in acknowledging the resignation of his immediate subordinate; to foster a good working relationship; to, honestly, do his job — and instead defaulted to putting that onto Jaden's shoulders," Sayed said.
Addressing the potential counterargument that his claims were minor, Sayed stated, "that's that apathy speaking."
"If you vote 'yes' to this impeachment, you are making a vote that we can have a different kind of Senate, a different kind of e-board, and a different campus culture at large," said Sayed.
Sayed then called Richards to testify. Richards elaborated on his relationship with Wheaton, testifying to what he saw as the president's poor communication and tardiness to events, and claimed that he ended up taking over some of the duties of the president, such as organizing e-board meetings, in the absence of direction from Wheaton.
Richards recalled a series of text exchanges with Wheaton that he found particularly frustrating, as Richards attempted to prepare for the coming semester. Richards claimed that Wheaton was unresponsive to Richards' messages, and when Wheaton did respond, the result was unfulfilled promises. "I suggest a time… he's like, 'that's not going to work. I will message you.' He doesn't," Richards said.
After Richards, AAS Secretary Jeffrey Ma '24 took the stand and echoed his testimony.
AAS Senator Taha Ahmad '24 then testified to what he saw as Wheaton's failure to publicize Senate office hours, which provide other opportunities for dialogue between the student body and the AAS.
Sayed concluded his case by highlighting text messages sent by Wheaton to an anonymous senator after the senator declined to be on the AAS' Title IX committee. Sayed said that Wheaton had also previously confronted the senator in person following an AAS meeting, creating what Sayed said was a pattern of inappropriate contact.
Wheaton texted the senator, "Why did u [sic] say no to title 9 [sic]." The senator did not have Wheaton's number saved and responded, "Who is this?," to which Wheaton responded, "No way."
Sayed said that senators have the right to say no to being on committees. He then argued that, given the "power dynamic" at play in the exchange, it could rise to the level of malfeasance.
Sayed offered a brief closing statement before resting his case.
Wheaton then offered his case. He began by characterizing the "three main arguments" against him as either containing "half-truths" or being "written in bad faith."
Wheaton said the claim that he failed to hold weekly e-board meetings was "not an accurate description of events."
"I will concede that I wasn't aware of this presidential duty; this is my fault," he said. "But I also want to highlight that no description or responsibility of the job was ever told to me by the previous president."
"Jaden voluntarily led these meetings and it was never an issue," he said. "There was no discussion of me not fulfilling my duty."
In response to the second claim — that he failed to attend College Council meetings — Wheaton provided evidence from an email from Dean of Students Liz Agosto, later corroborated by senators, that he was never included on the email chains for those meetings.
Wheaton described the third claim, that he did not give a speech at the beginning of the year as "the weakest of three incredibly weak claims."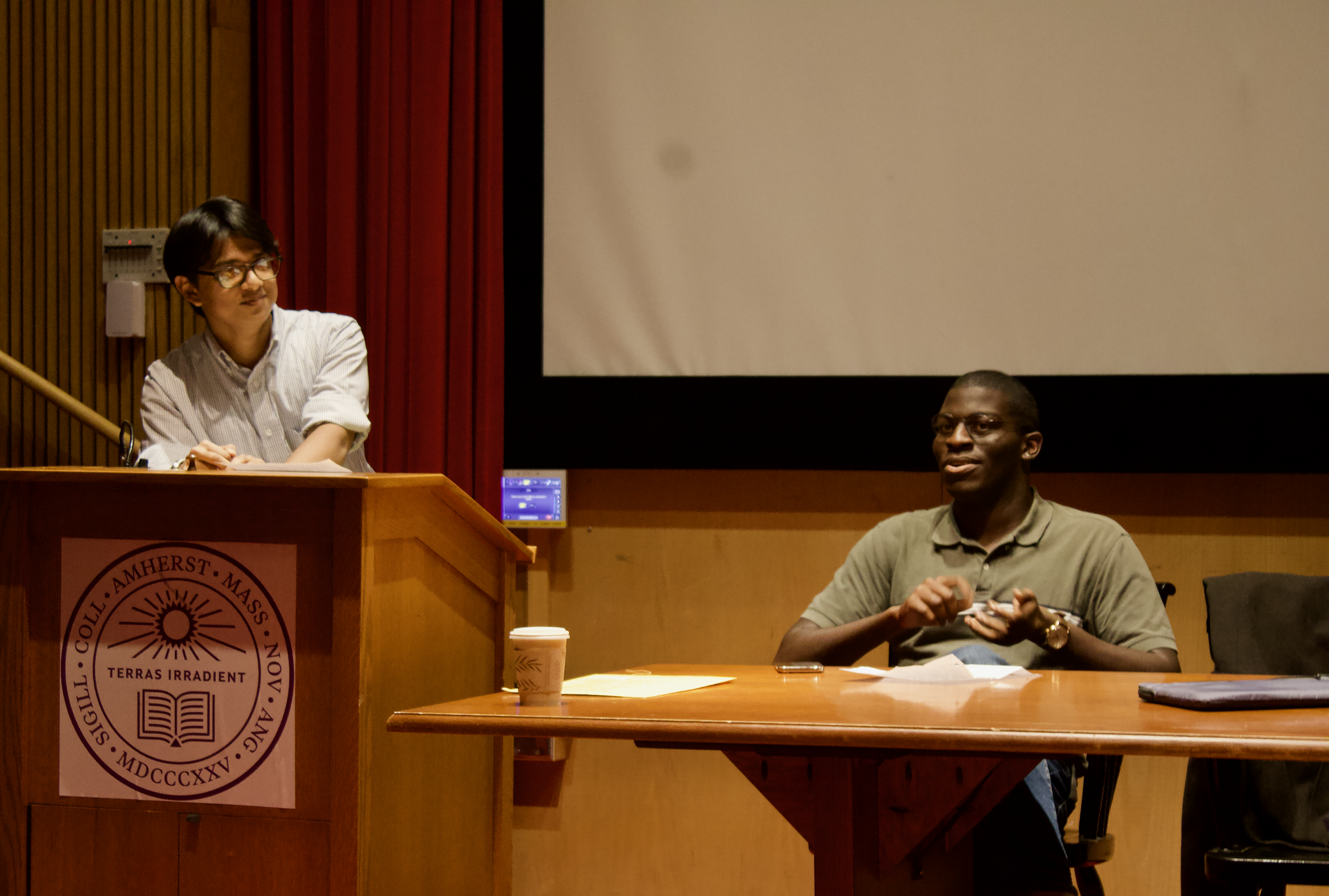 He recounted that the speech was not given by the last two presidents, who both began their tenures amid heavy Covid restrictions. "Perhaps a loss of the speech was due to the fact that I have not started a Senate year not on Zoom," said Wheaton.
Wheaton then interrogated Sayed's motives. "I have questioned how much this impeachment claim is truly about my lack to fulfill [sic] my presidential duties, and rather if the newly elected vice president and others have a personal dislike of me," he said.
He went on to defend his text messages to the senator. "There's nothing wrong with asking someone whose number I have had for over a year because of our shared extracurricular why they turned down a Title IX nomination," he said. "That simple question came after a public Senate discussion where we talked about how men repeatedly are leaving the work of sexual assault and harassment committees to women," he said, insinuating that the anonymous senator is male.
Wheaton expressed frustration with the fact that Richards' concerns were never communicated to him before Richards' resignation.
"This whole trial is setting a horrible precedent for the impeachment process, as no senator or president or e-board member should enter this process over incredibly small mistakes like this," he said.
He stated that he was just 21 years old and "the first president out of Covid."
"Trying to impeach me during my first semester as president allows me no room to grow," he said.
Wheaton then displayed a screenshot from his laptop showing texts between him and Richards. Wheaton claimed that, contrary to Richards' claims, no effort was made to plan for the upcoming semester.  "It is untrue … that he was repeatedly hitting me up and trying to have this [meeting]."
Following the impeachment trial, Richards reached out to The Student claiming that Wheaton had "lied." Because he had left the meeting following Sayed's initial address, Richards was unable to dispute Wheaton's claims at the trial. Richards sent The Student screenshots of texts between him and Wheaton from Aug. 23-31, including the messages discussed in the impeachment trial, in which, in at least one case, Richards attempted to set up meetings with Wheaton.
In a follow-up interview, Wheaton defended his statement. When shown the screenshots, Wheaton said, "there is no way I would have deleted any of these photos." He claimed that the photos "didn't show" on his computer, suggesting that when he had screenshotted the conversations they hadn't appeared.
Wheaton also suggested that the new evidence was irrelevant, considering the texts' temporal proximity to the new school year. He argued that the difference between Aug. 23 and Sept. 19 was negligible, saying, "That's still when school starts."
In a statement to The Student, Richards wrote that it was "just too coincidental that a conversation demonstrating his inability to meet me halfway is missing as he argues that we did not communicate over the summer."
"Even if it was missing," Richards wrote, "one doesn't just forget the existence of such a conversation."
During the trial, after defending his busy summer schedule, Wheaton called his first witness, senator Mia Griffin '24, who addressed the claims that Wheaton failed to represent the student body. She argued that office hours were not an effective program and that formal channels of communication between representatives and constituents were less important at a small college.
Griffin testified that Wheaton was deeply involved in the community, including by supporting the Reproductive Justice Alliance's Spring 2022 walkout and by being an active member of the Black Students Union and a diversity intern for the admissions department. She also said that "Sirus has consistently been one of the only male senators who volunteered for [sexual assault-related] committees."
Next to testify was Senator Lily Popoli '23, who provided more context for the texts about the Title IX committee, explaining that AAS had issues getting senators to serve on committees that did not directly affect them or the identities they held.
Sayed then asked on cross-examination whether senators were required to explain their decisions regarding committee assignments.
"No," Popoli responded. "But [Wheaton] didn't force [the senator to repeat it]; he just asked."
The final witness was AAS Senator Gent Malushaga '25. He confirmed that office hours were not a successful initiative and argued that Wheaton's personality made him an effective bridge between the student body and the AAS. "He is incredibly communicative and incredibly social," Malushaga said. "If you go to Amherst you know who Sirus is."
He then outlined a number of projects that Wheaton had worked on over the past year, including investigating the college's ties to slavery, looking into expanding library hours, and bringing free laundry detergent to campus through his work with the brand Generation Conscious.
After a brief cross-examination, Wheaton rested his case.
As the hearing dragged on deep into its second hour, the temperature in the packed room climbed and the crowd thinned. Students fanned themselves with notebooks and folders and got up to stretch their legs between breaks in the action.
The AAS then entered deliberations that ultimately lasted more than an hour. The first group of senators to speak addressed what one described as Sayed's "conflict of interest" in "running for vice president and simultaneously trying to impeach the president." The vice president serves as the interim president until a new president is elected by special election.
Malushaga went so far as to say that it was "not a coincidence that [Sayed] ran for vice president and then filed a complaint."
In response, Jabor told the Senate that "you can share whatever you want to share" but cautioned that the JC had recently met regarding claims "tangentially related" before the hearing and had decided that "parts of the complaint that specifically refer to something that has been brought up in this trial are not valid as part of the complaint on the [special] election [for Vice President]."
For his part, Sayed told The Student that he filed the impeachment petition before he decided to run for vice president. He also said that, had Wheaton been removed, he "would have worked with the election committee to get a new president elected as soon as possible."
Sayed affirmed that he "submitted this petition as a student who cared." He said that he brought the petition because "nobody's doing anything about the problems on campus, which the student government should be addressing."
Other senators, such as Mollie Hartenstein '23 and Henry Pallesen '25, admonished the body to focus on the merits of the accusations against Wheaton, not on the person who brought them.
"I think the way that [the] Senate needs to think about it is, 'What are the claims of unconstitutionality? And what can we vote on?'," Hartenstein said. "Because technically we can't vote on anything else."
On the merits, many senators seemed to agree with Isabella Malmqvist '25. "I think there's a difference between not being an ideal president and impeachably  [sic] being grossly negligent," she said. "While I would prefer someone that's more proactive when it comes to this case, I really think about what's significant enough to be impeachable."
Some other senators, though, said they were convinced by the case.
As deliberations wore on, they became a sounding board for senators expressing their dismay at the state of the AAS in general.
Lori Alarcon '24 said that the fall semester had been the most dysfunctional she had seen the AAS. "This is my third year here," she said. "This year is the most inactive in the sense of progression towards certain issues."
"I'm so very sad for the first-years, who came to [the] Senate with all this energy that was not directed anywhere," said Yvette Kiptoo '23.
First-year Hedley Lawrence-Apfelbaum '26 said that the first-year senators "work together pretty well."
"We're frankly a bit baffled by the personalism of this all," he said.
Phuong Doan '26 said that he ran for the Senate knowing it was dysfunctional. "But I think it's very sad that we reached a point in which we're like, at each other's throats, the fact that the student body came here for a theatrical performance," he said.
Following the deliberations, the senators voted via an anonymous Google Form, and the result was quickly announced.
For many students, the hearing confirmed their impression that the student government was in disarray.
"I was overall extremely disappointed with how unprofessional the trial was," wrote Francisco Reyes '24 in a message to The Student. "Although I completely understand both how people would think that the evidence was or was not grounds for impeachment, the arguments laid out by many of the senators [in favor of Sirus] were often just hearsay or unfounded and irrelevant character statements."
Olly Ajao '25, who also ran in the special election for vice president, agreed that the issues with the AAS ran deep and took issue with the impeachment petition. "I believe the charges against Sirus were not entirely based off of factual evidence [sic]," she wrote to The Student. "While he did fail to meet some of the standards that he should have upheld, I think the impeachment speaks to a much larger problem in the Amherst community: division and lack of trust."
"Rather than addressing the issues at its core, it seems that certain members of AAS (I don't believe everyone on AAS had a hand in this) tried to use their own personal vendettas against Sirus to look as if they were finally addressing the issues in Senate, when in reality they were using an ad hominem [attack] of sorts," she wrote.
Jackson Lee '24 was also unhappy with the way the trial played out, but for different reasons. "Several senators seemed to reach the conclusion that they should ultimately forgive Sirus' failure to perform his most basic duties because they, the Senate, as a whole were unable to perform their own," he wrote. "Moreover, several senators claimed to be unconvinced by the evidence presented, but never provided (nor, to my knowledge, were they given) any standard by which they should have evaluated the evidence."
"Was 'gross negligence' meant to be proved beyond a reasonable doubt?," he asked. "Or should it have simply been proved by a preponderance of the evidence?"
For his part, Wheaton said that the impeachment process had made him "pretty sad." He said that he had felt "hyper-visible" over the past week as the campus anticipated the hearing.
He said that he didn't think what he had done "was something to be impeached for, or even to have a trial for." He said that, even though he remained in office, "it just kind of leaves this negative taste with my name."
Wheaton said that he felt he and Sayed took two different approaches to the hearing. "Ankit really prepared like it was mock trial," he said. "I was just trying to talk to my peers."
He said that, going forward, there were "a lot of things" he wanted to do as president over the next semester. He cited an idea to have more non-business-related events for senators to build camaraderie, as well as a proposal for a "Senate orientation." Wheaton also said that he's working with Agosto on a project to address the lack of communication between AAS and the student body and mentioned the idea for an AAS newsletter.
At the same time, Wheaton argued that it was not entirely on him to fix the issues with AAS, because the vice president is the person "directly in charge of the Senate."
For his part, Sayed said that it had never really crossed his mind that his motives would be questioned during the deliberations. "I had too much faith in the Senate that they wouldn't make ad hominem attacks."
Sayed said that he hoped that the attention garnered by the trial would lead to higher turnout during the public comment period of AAS meetings in the future.
In regards to the possibility of working with Wheaton as vice president in the future, Sayed stated, "I want Sirus to be a good president."
"I want us to have a good working partnership," he said. "As I said before, I have nothing against him. I think he's a good guy."