News
Pastor Brings Together Faith and Community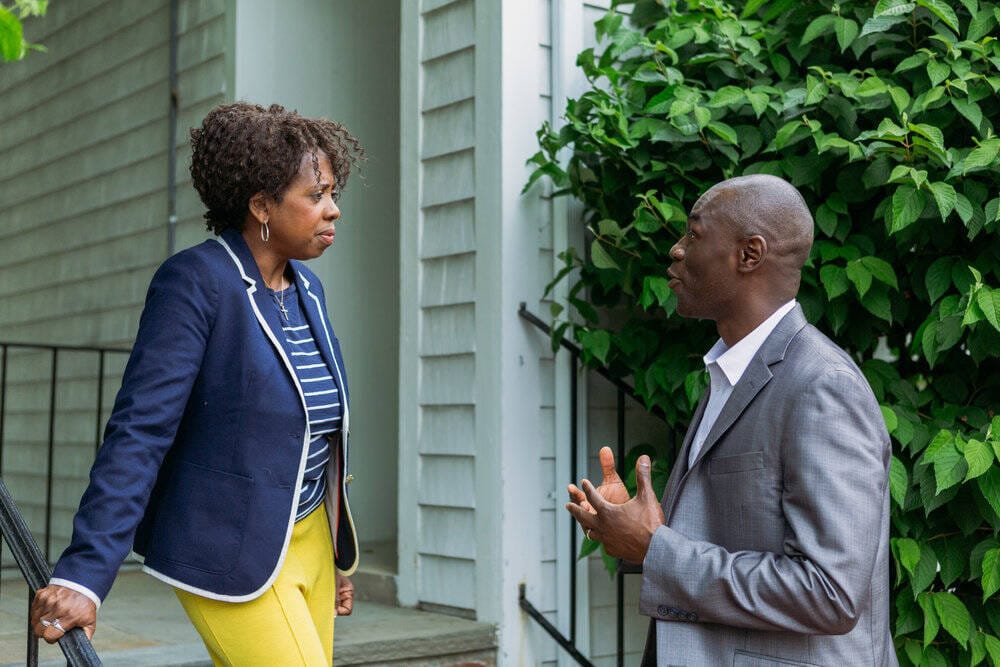 In my first semester at Amherst, a friend invited me to the college's Hermina Gardner Bi-Semester Service, a Christian worship service held in the African-American tradition. Though I had grown up attending church, I hesitantly accepted the invitation, not knowing what to expect. My apprehension about the service disappeared when I was immediately confronted with friendly faces and upbeat music. While there were several memorable aspects of the service, from the gospel choir's harmonious singing to the soul food reception afterwards, the sermon, delivered in a charismatic yet convincing manner, resonated with me most.
The man who gave that sermon was Jean-Luc Charles '94.
"It's really been a gift in my life," Charles said about the opportunity to come back to Amherst for Bi-Semester. Though Charles has dipped his toes in a variety of professions, ranging from advertising to publishing to healthcare, his Christian faith has always remained at the heart of his values. An organizational development consultant during the week and a pastor at the First Free Haitian Methodist Church in Stamford, Connecticut on Sundays, Charles directs his focus toward the intersection of faith and justice.
Building Identity at Amherst
Though Charles was inspired by one of his high school teachers to apply to Amherst, it was thanks to the college's open curriculum that was a driving factor in his decision to attend. "I'm a terrible math and science student," he said with a laugh.
Charles double-majored in English and black studies, two interests that he started to develop prior to his time at Amherst. His passion for literature began as a child when his family would read the Bible together. As a pastor's son, he gained a unique perspective on how to interpret scripture that would carry into his college years and beyond.
His connection with Amherst professors, particularly Professor of English and Black Studies Rhonda Cobham-Sanders, helped him bridge the connection between his Christian background and love for literature. "I think Rhonda understood that, and helped me connect with literature more broadly and expand my textual interpretation."
Charles' interest in black studies began later, during his senior year of high school. For the first time, Charles began to question his identity as a black person in America, particularly since he as a Haitian immigrant. "Everything around me said that being black in America was a negative, terrible thing that happens to you," he said. "I began to think that wasn't the whole story."
Stumbling across the black studies department at Amherst sparked an intellectual journey.
"Once I got to Amherst, reading and learning about the ways to think about blackness not just in America but broadly … I just ate it up," he said.
Aside from his academics, Charles found community in a variety of activities and organizations. He was on the track team, served as president of Black Students Union, sang in gospel choir and was involved with the Amherst Christian Fellowship, just to name a few.
Through these experiences, both inside and outside of the classroom, Charles formed an appreciation for the ways that Amherst influenced his character. "What I loved about Amherst was the sense that once you got there, it was about developing capacity," Charles said.
Uncertainty in the Post-Grad World
As a first-generation college student, Charles was unsure of what steps to take once he graduated from Amherst. "I had all the raw skills, but nothing else," he explained.
After trying out a year at the advertising firm Saatchi & Saatchi in New York, he decided to pursue ministry and became a campus leader with InterVarsity Christian Fellowship at Brooklyn College and Medgar Evers College in Brooklyn, New York. At those two colleges, Charles was able to work with students who were excluded and marginalized and he sought to foster conversation on what that meant.
"I was helping people to make sense of all of that," he said. "Interpret it, interact with it, be interacted with and figure out how to have a dialogic relationship rather than a monologic relationship."
Meanwhile at Medgar Evers, Charles mostly interacted with adults who were coming back to school after not having been in a classroom setting in decades. Charles found the sacrifices that these students made to redirect their lives inspiring.
"It was incredible to see the resilience and [ability] to build yourself up after trauma," he said.
From there, Charles' career path took several twists and turns. After getting degrees from Duke Divinity School and the Harvard Graduate School of Education, Charles pastored for a couple years before working in the healthcare field.
While healthcare seems like an outlier considering the rest of his resume, Charles' role at Steward Health Care and CenterLight Health System involved the community engagement skills he developed in previous roles.
"I looked at the hospital system thinking about its social benefits," he said, adding that the American healthcare system has social considerations beyond those that are visible at the surface. Specifically, his job examined the ways that for-profit healthcare companies could better interact with the communities it supports. For Charles, working in healthcare was simply putting into practice the core values of community he had formed over the years.
Finding Justice in Faith
Though the fields he's worked in hardly seem consistent, one aspect of Charles' professional career stands the test of time: his passion for community building through a faith-based approach. During his time as an InterVarsity campus leader, Charles confronted several questions concerning his faith that led him to apply to Duke Divinity School.
"How do you talk about your faith? In this dialogue, in this place that's full of an interchange of ideas, in this formation of what does [faith] mean to you — that led me to going to Duke," Charles said, adding that he himself had to confront the questions he brought to his students at InterVarsity.
Charles jokingly noted that he was a "much better student" at Duke than at Amherst but attributed his success at the former to the skills he had acquired in his undergraduate years. "What Amherst had given me was the capacity to read and to learn," he said.
At Duke, Charles was highly influenced by theologian Stanley Hauerwas, whose ideology centered around the concept of community in religious spaces. "We think we are these autonomous beings who form our own perspectives, when the reality is, we're formed and shaped by habits and most of those habits are social habits," he said. "Christianity is a social habit, so it already has a political vocabulary within the practices that made me a Christian."
Beyond setting the cornerstone for his beliefs, Hauerwas pushed Charles' thinking in ways he found unprecedented.
"What he challenged for me was that he caused me to interrogate the assumptions I walked out of Amherst with around that notion that there is a definition of justice" Charles said. "What does it mean to preach social justice as a preacher? Am I just receiving that from somewhere so that I'm just a foot soldier in somebody else's fight?"
Upon his graduation from Duke, Charles began working as an associate pastor at White Rock Baptist Church in Durham, North Carolina. There, Charles' passion for community engagement continued to grow, and he learned how the church could be used as a tool for justice and social good.
One project the church took up during Charles' time there was providing aid to New Orleans after Hurricane Katrina. The project, which was a five-year commitment, sent buses of volunteers to the area to provide those affected emotional and spiritual support.
"I saw how we as a church community could make an impact … and [asked], 'how do we need to change and transform because of this dialogue with the communities that we're working in?'" Charles said.
At the same time that Charles looked at the role of church in the greater community, he also took the time to examine its internal character. White Rock, which consists of a mostly black congregation, holds great historical significance — Dr. Martin Luther King Jr. preached there on several occasions.
"I looked to help the congregation figure out how to use that legacy, how to pivot from that, how to deal with a lot of the losses institutionally [from the economic decline in Durham] and how to re-engage the community around this," Charles said.
While the church had a significant impact on the community around him, Charles also recognized the impact it had on him individually. "It brought two parts of my life together that seemed really far apart — a deep commitment to my faith as a Christian, and a deep passion for people," he said.
His time at White Rock informed his decision to study leadership at Harvard Graduate School for Education, where he focused on "bringing these amazing leadership resources back into communities that were not going to go to Harvard."
Charles' year at Harvard forced him to make difficult decisions about his future. He had to ask himself, "how do I get paid doing [community work]?" Charles said. "I'm a minister who works with poor people, but that's not a path."
His role today seems to be the ultimate compromise: while supporting himself during the week as an organizational development consultant, in which he looks at the ways organizations can improve their leadership abilities, he pastors at the First Free Haitian Methodist Church in Stamford, Connecticut on the weekend.
"That's kind of my life now: married with two kids, pastoring and doing organizational development," he said.
In the midst of these accomplishments, Charles acknowledged the ways that Amherst guided him there.
"Amherst was a gift," he said. "This world needs people who are passionate and gifted and competent, and my experience at Amherst helped me develop confidence to go and make a difference in the world. That motto, terras irradient, means a lot."