Arts & Living
Poetry Festival Celebrates the Artistic Legacy of Emily Dickinson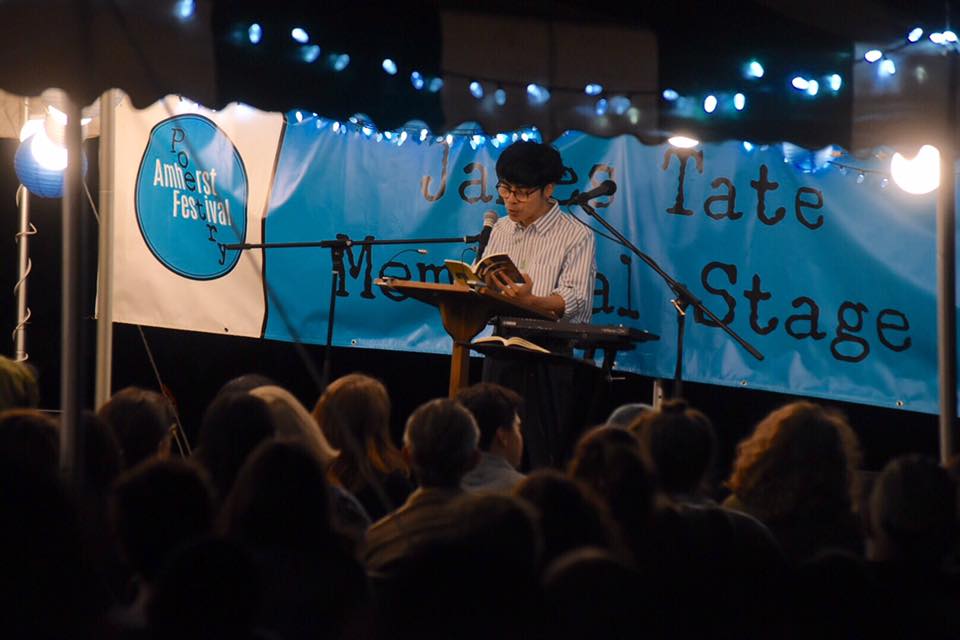 Typically quiet and deserted, the yard of Emily Dickinson's house surged to life on Saturday night, as students, professors and townspeople alike flocked to the historic site for an evening of poetry and music.
The Saturday evening event was part of the sixth annual Amherst Poetry Festival, which ran from Thursday, Sept. 20 through Sunday, Sept. 23. The event was the product of a collaboration between the Emily Dickinson Museum, Mass Poetry (a state-wide group that aims to make poetry more accessible), the Jones Library, Hope & Feathers (a local framing store and art gallery), Amherst Business Improvement District, UMass Amherst, Amherst College and poets from all across the country. The weekend's various programs catered to the diverse crowd of participants in the event. Poet Adam Grabowski hosted a workshop exclusively for students of Amherst Regional High School, while Mount Holyoke professor Chris Benfey hosted a discussion about Dickinson's bird poems for the more academically inclined. The museum itself hosted a movie screening of the film "Wild Nights with Emily" on Thursday night, as well as the festival's central event: a one-day poetry marathon reading of all 1,789 of Dickinson's poems on Saturday. The nature of the weekend-long festival, replete with a plethora of stand-alone events, allowed college students with packed schedules to still participate in the event.
"Our goal is simply to bring people together over poetry past and present," Brooke Steinhauser, the program director at the Emily Dickinson Museum, said. "To do this we aim to make sure there is something for everyone in our festival, whether that's a film screening, a writing master class, a story walk for kiddos, etc."
Running throughout the weekend was the theme of carrying on the legacy of past poets, especially Dickinson. Steinhauser sought to underscore this goal with the selection of the various presenters.
"I hope visitors can see how Dickinson's creative legacy — the legacy of a woman living outside societal expectations — continues to inspire artists and writers of different backgrounds," Steinhauser said. "I hope our programming can continue to surprise people and build connections between an extraordinary life lived so long ago and contemporary meaning."
The festival drew several local poets, including Eliza Gouverneur, Mark Hart and Jennifer Wallace, as well as internet-famous poets like Dorothea Lasky and Alex Dimitrov, who have gained public recognition through their joint Twitter account, @PoetAstrologers, that posts poetic horoscopes. Shayla Lawson, the writer-in-residence at Amherst College, and Ocean Vuong, an assistant professor in the UMass MFA Program for Poets and Writers, were also able to presented and lead workshops over the weekend.
For Jeremy Thomas '21, Vuong profoundly carried on Dickinson's legacy of giving voice to experiences of living outside societal expectations. "He does this marvelous job of completely translating the plain of how exclusionary being othered can feel, but because his poetry is so intensely, indesputably beautiful, he also captures why it's wonderful as well," Thomas said. "He holds both, the pain and the beauty, at the same time, and it's remarkable. It motivates me to make my own work such that it doesn't neglect the entirety of the experience of living as a black, gay man."
In addition to the countless poets and creators of literary art, the festival embraced visual and musical artists, fully illustrating the diverse nature of Dickinson's legacy. On Saturday evening, Lawson and Vuong's reading concluded with music from Kimaya Diggs, a musician whose work centers around her Joni Mitchell-esque voice. Readings at the Herter Gallery on the UMass campus paired pieces of visual art with poems, focusing on questions of how visual art and poetry can work together to help better understand the world around us.
While some displays asked similar questions that aimed to reach deeper realizations, most of the festival's events had far simpler intentions: to bring together a community of many ages, backgrounds and occupations around a shared love for the art of poetry.