News
President Elliott Speaks on College Response to Israel/Gaza Conflict
President Michael Elliott discussed takeaways from students, outlined administrative steps to support them, and provided advice to navigate the Israel/Palestine conflict at a weekly meeting before the Association of Amherst Students.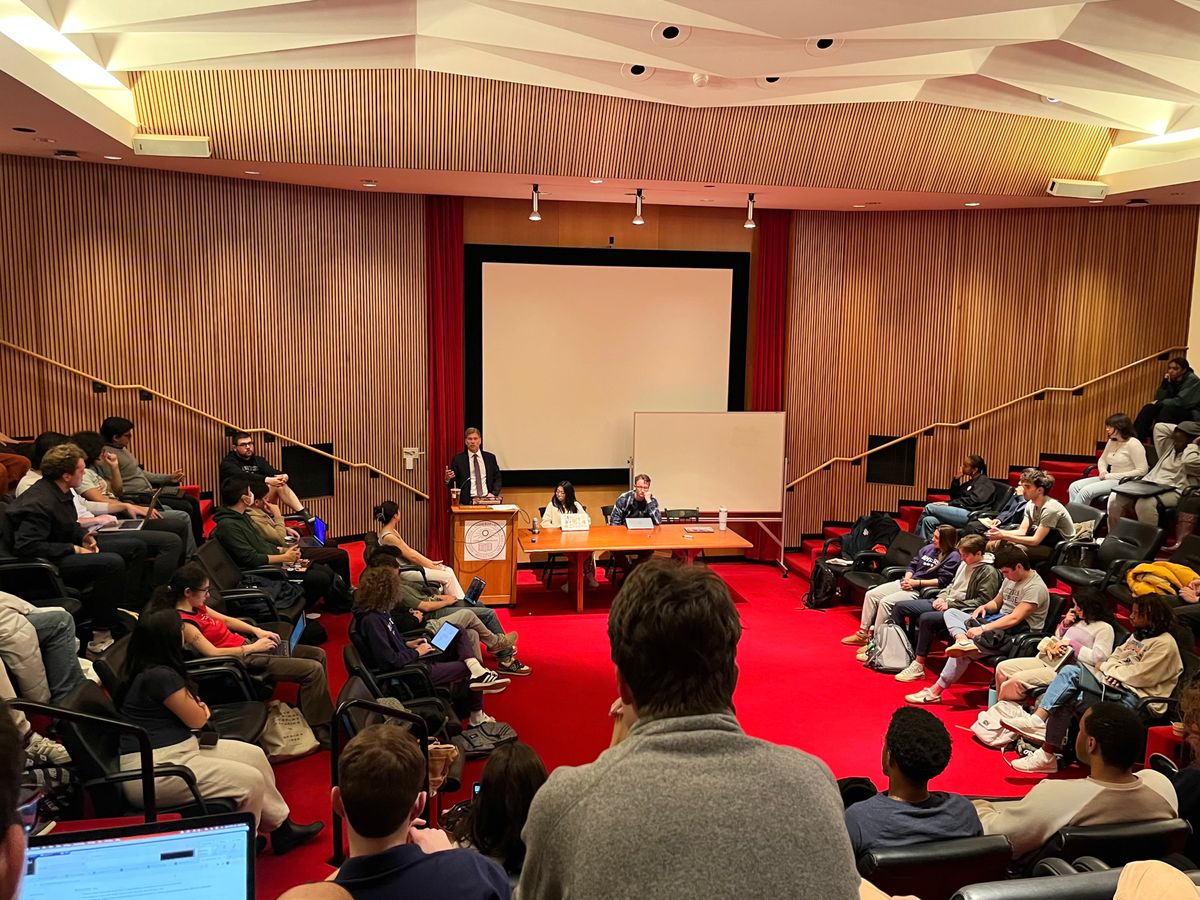 President Michael Elliott delivered remarks on the ongoing violence in Israel/Palestine before the Association of Amherst Students on the night of Monday, Oct. 30, during its weekly meeting. The speech came amid news of an Israeli ground invasion of Gaza and recent calls from some students and faculty for the college to do more to condemn the violence and put its weight behind calls for a ceasefire.
Before a crowd in Converse Hall's Red Room, Elliott spoke about his takeaways from a number of conversations with students who are connected to the issue, outlined what steps the administration is taking to support students on campus, and provided three pieces of advice to students navigating the issue, which divides college campuses like few other issues do.
Elliott said that the administration was working to provide spaces for students to engage in the issue both intellectually and emotionally. Multiple events are in the works, he said, from a speaker series intended to help students better understand the issue, to a vigil to mourn the lives lost on both sides.
In the wake of calls for the administration to release a statement on the more than 8,000 Palestinians who have died since Oct. 7, Elliott said he regretted that his original statement to the college community did not speak to all students' pain. In an Oct. 11 email, Elliott expressed "outrage" for the Hamas attack in Israel and said he was "anxious about the potential for further loss of life of Israelis and Palestinians"
"One of the things that I've heard from students is that my own communication . . . didn't fully acknowledge the pain and suffering of those who are identifying with the Palestinians," he said on Monday. "That's a fair criticism."
Nevertheless, Elliott said he was not planning to release any further community-wide communications on the issue.
"This is a time of tremendous fear and anxiety," Elliott began. He said he had talked to students who feared for the safety of loved ones in the region and had heard community members on both sides of the issue concerned about the social and economic consequences of speaking their minds.
He was also concerned, he said, about increased incidents of antisemitic and Islamophobic statements and violence across the country.
"I think we can be a community that is both supportive of free expression and free of bigotry," Elliott said.
He also specifically addressed concerns about students who were doxxed and blacklisted for pro-Palestine speech.
"Amherst, and I as president, would never condone the intimidation of somebody for exercising their rights," he said. "We will not condone doxxing or rescinding job offers because somebody engages in the First Amendment right to free speech."
Elliott went on to offer his "reading" of the situation.
"Palestinians and Israelis are suffering right now as the result of a long history of failure to adjudicate competing claims through nonviolent means and therefore a failure to recognize common humanity," he said.
Students at Amherst may not be able to solve the problem themselves, he said, but they could work to recognize that "common humanity" in each other.
To that point, he offered three pieces of advice. Students should critically examine media sources, give themselves grace in dealing with the painful situation, and be "kind and patient" with each other.
"If we can engage in that kind of recognition, I think we will be achieving something that will be actually truly meaningful," he said.
The event was followed by a Q&A session. Many senators and students pushed back on elements of Elliott's address and other parts of the college's response to the conflict. However, multiple students also began their questions by expressing their appreciation for his commitment to candidly speaking on the issue.
In a response to a question about potential pressure from alumni on the issue, Elliott said that though every statement he makes is bound to draw some criticism from alumni, Amherst is not seeing the kind of backlash as institutions like the University of Pennsylvania.
In response to a question about harmful statements on Fizz, Elliott said that he was hoping the anonymous social media app would "fizz out." He also made clear, however, that he did not feel it would be right for him to interfere with the platform.
Some students who attended the speech said they wished Elliott had had more to say about tangible actions the college could take to push for an end to the violence in Gaza.
"I found it frustrating that everything that he said was so inward looking, when there are concrete steps that Amherst College could take and that he has the power to do," said Bela Achaibar '25.