News
Presidential Scholar Carol Anderson Discusses History of Voter Suppression
At a keynote address in Johnson Chapel, Emory University historian Carol Anderson used powerful storytelling to outline the history of voter suppression, from the Reconstruction period to the present day.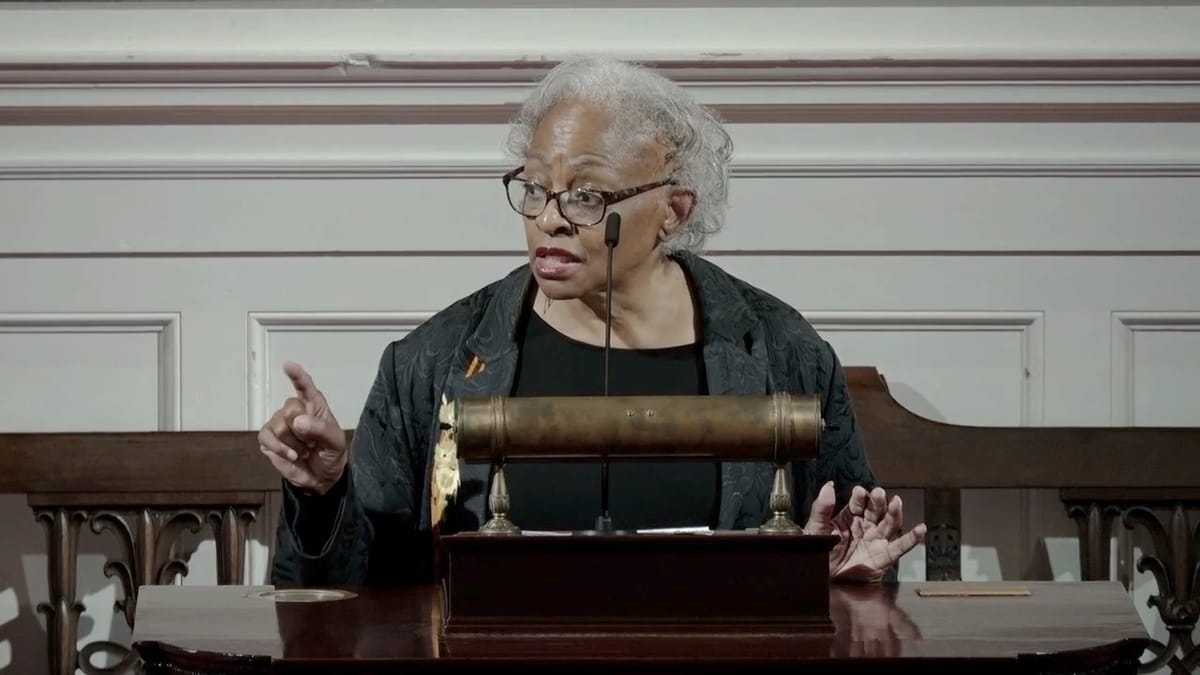 World War II veteran Maceo Snipes was shot outside his home by a firing squad for being a Black man who dared to vote in Taylor County, Georgia, in 1946. After his mother brought him to a white-only hospital, he was refused treatment and left bleeding in a closet.
"It took him seven days to die," Carol Anderson, the college's latest Presidential Scholar, said to a stunned audience in Johnson Chapel.
Anderson, a historian, professor of African American studies at Emory University, and self-professed "storyteller," gave a talk called "Democracy Under Attack: Voting Rights and Voter Suppression" in Johnson Chapel on Oct. 12 as part of her three-day visit to the college.
In a melange of humorous anecdotes and harrowing statistics, Anderson took attendees on a journey through the history of voter suppression in the United States. She focused specifically on the "bureaucratic violence" that most often takes the form of laws that apparently intend to protect democracy but in actuality seek only to suppress the power of the Black vote.
The history lesson started with the introduction of the infamous poll tax and literacy test requirements that originated in Mississippi following the election of 1890, when state officials realized that registered Black voters outnumbered white voters for the first time.
"The Mississippi Plan was lethal," Anderson said. "In 1890, there were 190,000 Black men registered to vote in Mississippi. By 1892, there were 8,600."
These laws would lay the groundwork for Jim Crow-era voter suppression laws that were adopted across the South and upheld by the United States Supreme Court.
The Voting Rights Act of 1965 was a turning point in voting rights, Anderson said, "a sweet beast." The act's preclearance provision gave the Department of Justice the right to approve or reject all proposed state laws concerning elections.
"Before 1965, fewer than six percent of age eligible African Americans were registered to vote in this city. Two years later, it was almost 60 percent," Anderson said. "That is the power of the Voting Rights Act. So as you can imagine, there were some folks who hated it."
The 2008 election of Barack Obama was another turning point in the history of voter suppression, according to Anderson. A majority of white voters did not vote for Obama, she explained.
"So you have to ask yourself, 'then how did Obama win?'" Anderson said. "He won by having an incredible grassroots ground game. He brought in millions of voters who are overwhelmingly African-American, Latino, Asian-American, young, and poor."
Those five groups became the targets of future regulations aimed at suppressing votes.
A 2013 Supreme Court decision gutted the Voting Rights Act's preclearance provision, using the election of a Black president as an argument for retiring the provision that had once been necessary due to racism and the legacy of slavery.
This change enabled Texas and Alabama to implement laws that required voters to present government photo identification in order to vote. The types of accepted identification were chosen selectively, however, with a clear aim to suppress minority votes.
In Texas, for instance, the majority of students at public universities are people of color, while the majority of gun license holders are white. While gun licenses are valid forms of voter ID, student IDs from public universities are not.
Purging the names of registered voters from the list of those allowed to vote, curtailment of early voting, and felony disenfranchisement are also among the methods used to suppress minority voting power.
"I know this is uplifting," Anderson joked. She ended the talk on a positive note, discussing the victory of Democrat Doug Jones in a 2017 Alabama Senate race and reminding the audience that "people fight back."
Kadija Diallo '25 ultimately came away from the talk with "hope for the future."
"Even though there's so many obstacles against people, there are ways that it can be overcome," Diallo said.
"It was very enlightening that she set up a thread throughout American history," Uchenna Monplaisir '27 said. "These things have always been around American democracy … We're here fighting actively against [voter suppression], and the resistance is more publicized than ever before."