News
Presidential Scholar Hartman Satirizes Institutional Antiracism
Professor Saidiya Hartman, a prominent interdisciplinary scholar of Black history, spoke at Johnson Chapel Thursday, April 6 as part of the President's Colloquium on Race and Racism, where she previewed a piece of fiction that pokes fun at performative political speech.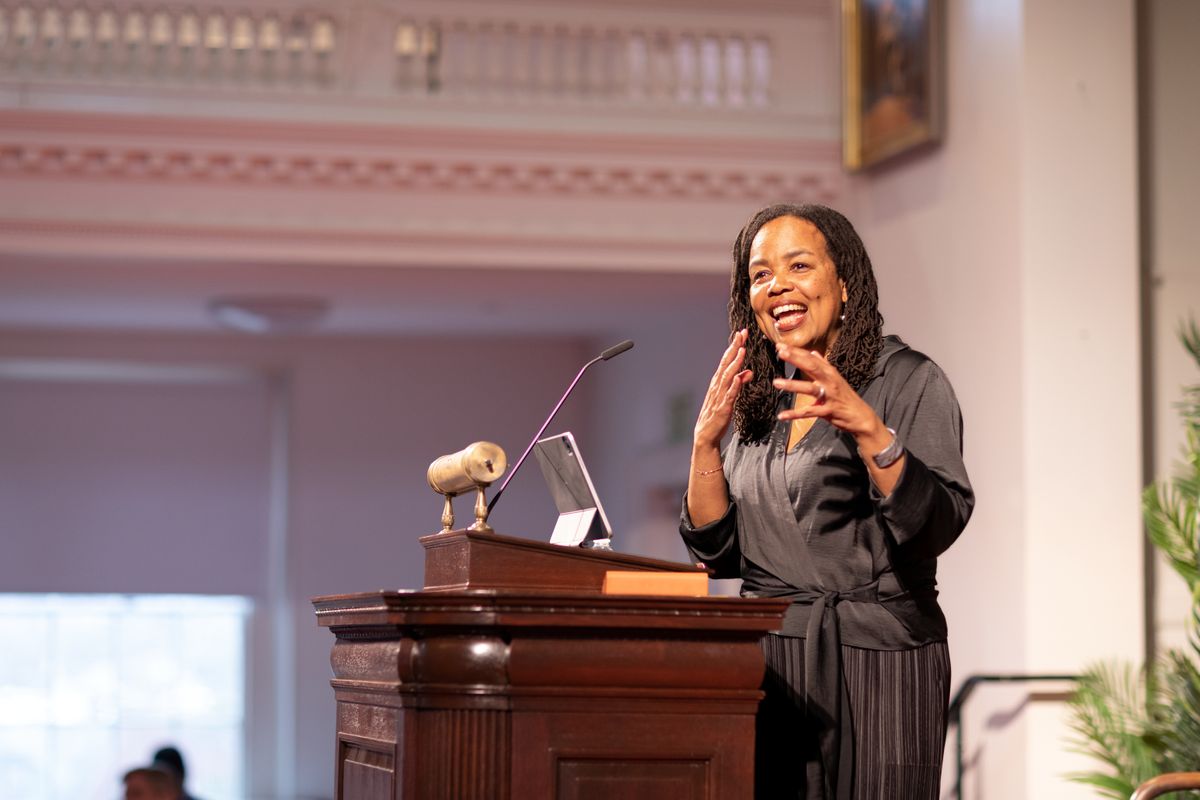 Presidential Scholar Saidiya Hartman, a professor of English and comparative literature at Columbia University, came to Johnson Chapel Thursday, April 6, as part of the President's Colloquium on Race and Racism and the Center for Humanistic Inquiry's "Black: Here and Now!" Symposium.
The event featured a reading of Hartman's work and an opportunity for students to ask critical questions surrounding the pitfalls of contemporary antiracism and institutional co-optation.
The recipient of a MacArthur "Genius Grant" and a Guggenheim Fellowship, among other awards, much of Hartman's prior work focuses on recovering the inner lives and agency of enslaved people and their descendants.
Hartman gave the audience a glimpse into an in-progress novel titled "The Crow Jane Chronicles," reading a segment titled "Crow Jane Makes a Modest Proposal to Improve Race Relations." The novel follows protagonist Crow Jane — whose name parodies the infamous Jim Crow — as she (unsuccessfully) attempts to combat racism through corporate talks and an emphasis on civility.
"I suppose I could apologize in advance for this raw, undisciplined writing," Hartman said in her opening remarks. "But I won't apologize. At least not here, on Nonotuck land, at Amherst College, with the tiresome and melancholy topic of race and racism."
Hartman describes the character of Crow Jane as an unrelenting pragmatist who fails to imagine possibilities beyond surface-level change.
"Reform and recalibration are promising words," she said, "unlike terms like abolition, or reparations, or sovereignty, which are guaranteed to stymy and derail the conversation every time."
Despite her work in the field of race relations, Crow Jane is one who, in the name of pragmatism, tacitly accepts the status quo.
"Crow Jane, like other realists, finds it easier to imagine the rapture than the end of the racial order," Hartman said.
Hartman's story expressed a sardonic skepticism to the bureaucratic platitudes of corporate antiracist work.
"[Crow Jane's] audience neither expects nor wants a real answer. So they leave, saying that she suggests, 'The most important thing is to establish a commission to study the problem, then produce a white paper, releasing the report with the requisite pomp and circumstance, detail the long course ahead, and what will be required of all of us, use the words pipeline and inclusion," Hartman droned to a laughing crowd, "assure everyone that reform is doable and within reach and that it won't be painful, or jeopardize anything."
Hartman repeatedly noted Crow Jane's eloquence and rhetorical skills, emphasizing that these disguise the true content of her message and the hollowness of her antiracism.
"When Crow Jane restates it, the plan for our obliteration sounds like a promise to do right by us," Hartman said.
During the question and answer segment, Hartman noted that her work was, in a certain sense, a message to both her and the audience — ironically, Crow Jane herself even attends a Presidential Scholars talk in the novel.
"I think it's about the failure of political speech as performative, and really thinking about that," she said. "So that's what I was trying to wrestle with as I was poking fun at everyone in this room."
The bold message and literary skill impressed the audience, who often nodded along or chimed in with support during Hartman's reading. Mel Arthur '25 was captivated by Hartman's engaging reading and presentation style.
"It was like a sermon. She has a very powerful voice, a very powerful way of speaking and bringing everyone in," Arthur said.
Arthur also appreciated the nuances of Hartman's analysis and her self-awareness that she was somewhat mirroring Crow Jane's institutional participation.
"She had a lot of complex ways of looking at it, a lot of meta-analysis," Arthur said, adding that the talk drew her into Hartman's conundrum of " thinking through what I could do to enact the change or how I can view these systems in a different way."
The event drew attendees from across the Five College Consortium. Mount Holyoke College student Alex Harbury '24 found Hartman's critical stance on institutional co-opting sorely needed.
"Just last week in class, we were talking about how institutionalization and diversity work is something that's at the core of keeping [institutions] going while co-opting the language of justice, without ever having to change," Harbury said. "It was really striking how Professor Hartman was bringing that to front and center — it felt really important being inside this institution and also in many ways despising the institution."
For Hartman, the most effective attitude for approaching racial injustice is not blind optimism nor nihilism, but one that prioritizes imagination in rethinking how the world is structured and rejecting defeatism.
"Imagination keeps us alive. I think imagination animates the Black struggle for freedom for hundreds of years," Hartman said. "For me, that's different than something like optimism and realism."