News
Protesters Pressure Cargill CEO and College Trustee to Extend Rainforest Protections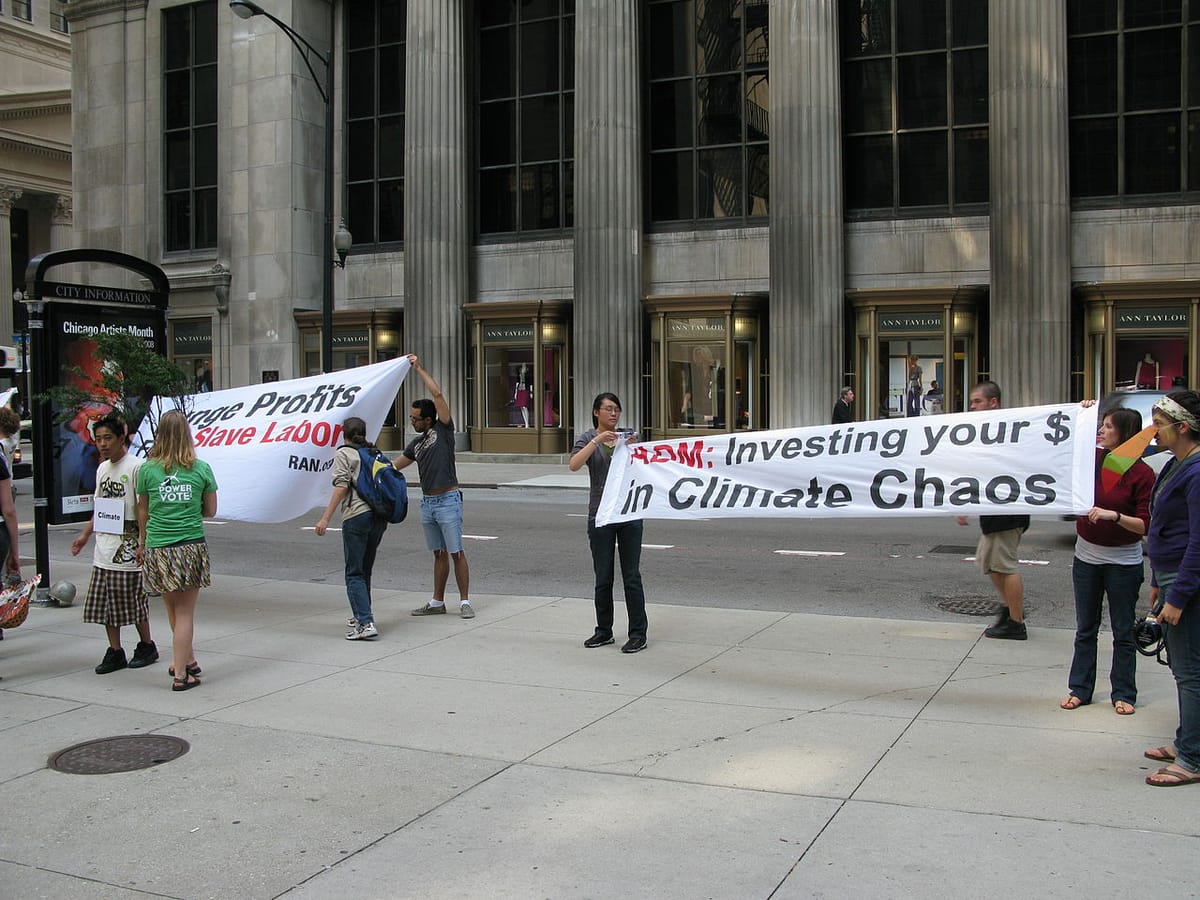 Dozens of students, led by the Food Justice Alliance (FJA), gathered in front of the Mead Art Museum on the evening of Oct. 18 to protest trustee and Cargill CEO David MacLennan '81 for his company's record of impact on the environment. Demonstrators stood outside of the museum while the board met inside from 6:15 to 7:30 p.m.
Cargill is a company that acts as an intermediary between farmers and food-based companies, trading grain and other agricultural commodities. In 2006, after it was revealed that soy production was fueling deforestation, Cargill committed to a moratorium on buying soy from farmers who were clear-cutting in the Brazilian Amazon. MacLennan has recently faced criticism, however, for not expanding that moratorium to other geographical areas, such as the Brazilian Cerrado.
According to Reuters, Cargill announced in June that it would not meet its pledged goal of eliminating deforestation by 2020. Cargill instead committed $30 million to find solutions to protect the Cerrado and native Brazilian vegetation. Organizations focused on protecting the environment, most prominently Mighty Earth, have criticized this plan for committing less money to protecting Brazilian forests than the amount Cargill spends on activities that contribute to deforestation.
A report by Mighty Earth, which describes itself as a "global campaign organization that works to protect the environment," reveals the extent of Cargill's abuses around the world. An interactive timeline on the Mighty Earth website displays a Cargill-involved incident nearly every year between 2000 and the present day. Included is a lawsuit in which the court ruled that former child slaves were justified in suing Cargill for its kidnap and abuse of children who were "forced to work on Ivory Coast cocoa plantations for up to 14 hours per day, six days per week … [and] given only scraps of food to eat and beaten and whipped with tree branches," according to a report by Mighty Earth.
FJA aligned its protest with Mighty Earth, which has continued to criticize Cargill for its environmental and human rights abuses. In July, Mighty Earth named Cargill "the worst company in the world."
Other environmental protection organizations such as Rainforest Network Action have reported on Cargill's links to violence and home demolition in Indonesia. Corporate Research Project, a nonprofit that assists labor and environmental organizations in analyzing companies, says Cargill has a "less than exemplary history of environmental compliance." SourceWatch, published by the Center of Media and Democracy, lists several health issues involving Cargill. One area in which Cargill has received the most criticism is its rejection of a Cerrado soy moratorium.
Protest organizer Annabelle Gary '20 noted that "our main demand is to stop deforestation in the Brazilian Cerrado."
"It is wrong for Amherst to promote carbon neutrality on its campus while maintaining ties with a company that causes ecological devastation and climate change," Gary said. "In the end, what we want the most is for Amherst to acknowledge that MacLennan's business practices go against the college's stance on climate change."
Pavan Nagaraj '21 is not a member of the FJA, but said he joined the protest when a friend informed him of MacLennan and Cargill's role in the Amazon. "We were so focused on propping up the posters," Nagaraj said about the protest. "Anytime the door would open we'd scream so the CEO of Cargill or any other board member could hear that and maybe understand the person who they're sitting next to is."
Grace Davenport '21 also attended the protest because a friend invited her. "I mostly attended the protest because I am passionate about food issues," Davenport said. "I did not know that much about MacLennan beforehand, but I am glad that I participated in the protest. The protest brought attention to a critical issue."
The Student first requested to speak with MacLennan through a letter left at his hotel. The Student next attempted to reach him through Cargill spokeswoman April Nelson. A reporter attempted to contact him through Chief Communications Officer Sandy Genelius, who then redirected him to Nelson. Nelson initially corresponded with the reporter, but after the reporter asked to speak with MacLennan directly, she stopped responding. A follow-up email did not receive a reply. The Student also called Cargill in an attempt to reach MacLennan, but was put on hold.
MacLennan did not respond by press time, but after Genelius referred Nelson to The Student's editor-in-chief, Nelson answered questions by email, noting that MacLennan is out of the country for "almost the entire month."
The Mighty Earth report "deeply mischaracterize[s]" Cargill's identity and operations, Nelson said. "Sustainability is not a 'nice to have' at Cargill but instead is woven into the fabric of our organization — in terms of our investment priorities, our organizational structure and resource allocation," Nelson said. "Under Dave MacLennan's leadership, Cargill has established a sustainability hub at the corporate level."
She proceeded to reference Cargill's $30 million fund and its trainings of 1.2 million farmers in sustainable agriculture practices. MacLennan's advocacy for carbon reduction at Amherst College is "fully consistent" with how he leads Cargill on sustainability, Nelson said.
On the point of a moratorium in the Cerrado, Nelson said the Cerrado is a "very different biome" from the Amazon. The company as a result does not believe a moratorium would address the issues there, she said. "Instead we have joined the Cerrado Working Group to find a solution that will work in the Cerrado and have formed a forest advisory panel of leading environmental experts to help us find the way forward to continue protecting the native vegetation in the Cerrado (it is not a forest area like the Amazon) while also allowing farmers to earn a living and feed their families," she said.
In a statement to The Student on behalf of the college, Genelius wrote that "Dave is a highly valued member of our board and has been a thoughtful and active supporter of the college's Climate Action Plan (CAP)."
Through the CAP, the college aims to achieve carbon neutrality by 2030 by switching to renewable energy and eliminating fossil fuel use on campus. Gary views MacLennan's position on the board as hypocritical considering the CAP's goals.
Professor of Environmental Studies Ashwin Ravikumar said that MacLennan's position on the board is not surprising.
"From MacLennan's perspective, being on the board of Amherst College is a good gesture for corporate social responsibility, supporting a higher academic institution with commitments to diversity and inclusion," Ravikumar said. "People that are in those positions often have access to fundraising networks that the college values."
Director of Sustainability Laura Draucker declined to comment on the Office of Environmental Sustainability's views on Cargill's environmental impact and MacLennan's position as a trustee.
The FJA protest organizers did not originally plan to meet with MacLennan before the trustees' meeting. Draucker and Director of Student Activities Paul Gallegos reached out, however, and met with Gary to make sure the protest was compliant with the college's protest policy. At the meeting, Draucker said MacLennan was offering to meet with the students, to which the protest organizers agreed. Later that day, MacLennan organized a meeting through a proxy. "We had the meeting within three hours of a conversation with Laura Draucker," Gary said.
During the meeting, which included President Biddy Martin and Board of Trustees Chair Andrew Nussbaum, MacLennan said he aimed to address student concerns. FJA was not allowed to record or take notes during the meeting, The Student confirmed with two students who sat in on the meeting.
In the meeting, Martin encouraged FJA to focus more on the implications of agribusiness industry instead of attacking Cargill and MacLennan.
Parker Richardson '21 said that during the conversation she told MacLennan, "We're just trying to wrap our minds around how you graduated from Amherst and claim to represent the values of Amherst, and your company has all these human rights abuses and environmental abuses."
MacLennan replied that he does uphold Amherst values and described Cargill as a principled company with established values, Richardson said. He also seemed defensive when faced with claims about Cargill's record in the Amazon and the Cerrado, according to Richardson. "His main point was that a lot of information we have was incorrect and really biased. Definitely, when I went in there, he made me feel that I was in the wrong," Richardson said.
Mighty Earth and Cargill initially shared an ongoing collaboration to address gaps in efforts to curb harm. The Mighty Earth report was developed out of these discussions, but after Mighty Earth shared a draft with Cargill, Cargill asked the organization to hold its release and give the company a chance to redress its wrongs. Mighty Earth held off for five months before publishing its findings.
"Unfortunately, David MacLennan's commitments didn't seem to translate into meaningful action by others in the company," former Rep. Henry A. Waxman, chairman of Mighty Earth, writes in the foreword to the report. "While Mr. MacLennan seems to want to do the right thing, he appears unable to decide between those who believe Cargill can do better and those who want to keep the bulldozers running."
Though MacLennan did not acknowledge Cargill's role in human rights and environmental abuses in the meeting, members of the FJA said that the meeting revealed the effectiveness of public pressure. MacLennan's meeting with the FJA may have been a way to avoid embarrassment, Gary said, but she saw that embarrassment as an instrument for change.
"I think that attacking him struck a nerve, especially because we are doing it in front of his colleagues, former classmates, in front of Biddy and other donors," Gary said. Reporters at the Mead did not identify an exit by MacLennan through the front of the museum.
Professor of Political Science Manuela Picq, who has written on the soy industry in Latin America, said that this type of pressure is necessary to hold companies accountable. She pointed out, however, that Cargill is just one of many companies doing business in Brazil and the Cerrado.
"It's not just an economic problem. If you focus on Cargill, Cargill is an economic actor so it would look like an economic predator," Picq said. "There are political predators. The problem is we have governments that are selling the land, that are selling water, that are selling nature. Can we even change the economic system of the commodification of nature if we do not change the political system?"
Picq added, however, that she supports the students' protest. MacLennan is an individual, but he represents an institution that makes billions, she said. "And, we are in an institution," she said. "So, in a way, it's almost an institutional conversation for accountability through pressure, and I think it's necessary. It's like 'we're watching you.' That's what the message means: we're watching you, we know what's happening, we're holding you accountable. Maybe we can't do anything else than protest, but you know that we know."
Despite their focus on Cargill, Richardson, Gary and protest organizer Sara Kaufman '21 all agreed that if Cargill left the industry, another agribusiness giant with worse climate policies would swoop in and take the company's territory in Brazil. The overall record of large agribusinesses on improving the agricultural capability of small farmers in particular "has been mixed at best," according to Ravikumar.
Though the protestors may not agree with Cargill's claims of social responsibility, they do acknowledge the far-reaching nature of Cargill's actions. "Cargill is a massive company, so anything they do — good or bad — has massive global ramifications. If we can push them to be even a little bit better, I think that's progress," Gary said.
MacLennan has offered to and intends to continue conversations with FJA, according to Nelson.
Update: Ravikumar has altered his position on MacLennan's role as trustee, writing to The Student that he does not know how board appointments are secured. On his quote about MacLennan and corporate social responsibility, he now says his original statement was too speculative. Rather, he believes "people that are in those positions often have access to fundraising and other networks that the college may value." This article was updated at 11:40 a.m. on Oct. 31.
Correction: An earlier version of the article misattributed a quote to Martin. She did not use the phrase "spread honey rather than vinegar" in her meeting with MacLennan and FJA. This article was updated on Oct. 30 at 12:14 p.m.