Arts & Living
"Queer Eye" Provides Inclusive, Feel-Good Entertainment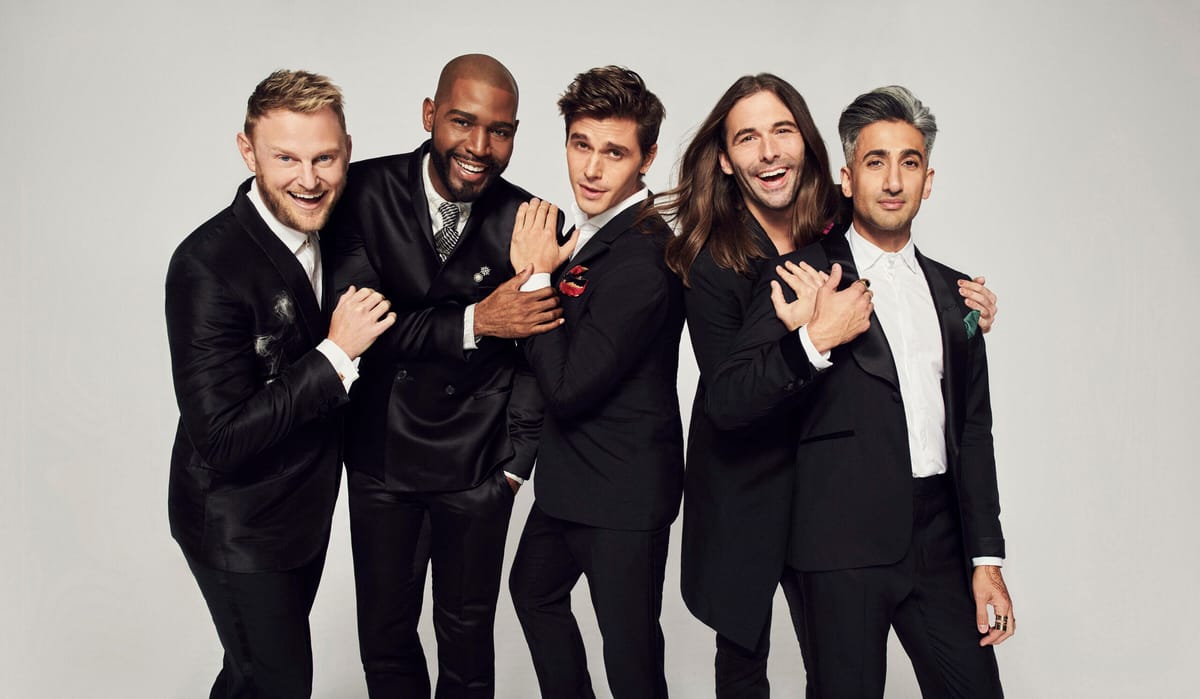 Netflix released the third season of "Queer Eye" on Friday, March 15. In this makeover reality show, a revival of the Bravo series "Queer Eye for the Straight Guy" from the early 2000s, the new Fab Five — Tan France, Jonathan Van Ness, Antoni Porowski, Bobby Berk and Karamo Brown — teach other people how to improve their lives in the categories of fashion, grooming, food and wine, interior design and culture, respectively.
Between the entertaining Fab Five team and their compelling clients, this series has had me hooked from the beginning. The 45' to 50' minute episodes of seasons one and two are certainly binge-worthy, and season three proves to be no exception.
The episodes revolve around different clients' journeys as the members of the Fab Five coach them based on their individual expertise. While every episode has the same premise, they are vastly different because of the clients, preventing the show from feeling repetitive. From firefighters and fathers to Burning Man enthusiasts, every episode feels fresh because each client has unique needs.
As we've seen in many makeover shows, superficial changes typically stir a deeper, positive change in each client, and although this notion is by no means new, it still translates in a touching and sincere way.
In particular, Brown's role as the "culture" expert, a purposely vague title, allows him to help clients process their emotions, make life-changing decisions and realize their full potential.
The Fab Five have helped a socially anxious man propose to his girlfriend; a closeted gay man to finally come out to his step-mother and a formerly overweight stand-up comedian to gain confidence and dress for his new body.
In the third season, the team helps Joey, a single father, settle down and create a home for his teenage son. By refining their lifestyles, clients are empowered to be their best selves, meet long-time goals and interact with the world in a more confident and open way.
Despite attracting positive feedback and adoring fans, the "Queer Eye" franchise has also received some criticism for perpetuating single-note stereotypes of gay men. Back in 2003, when "Queer Eye for the Straight Guy" was first released, the idea of flamboyantly gay hosts teaching clueless straight clients was groundbreaking, but like many other aspects of the early 2000s, this premise hasn't aged well.
It is simply inaccurate to assume that all gay men are inherently stylish, and that all straight men lack the ability to tastefully dress, cook and decorate their homes. Now "Queer Eye" is back with a chance to improve its formerly narrow-minded message.
Notably dropping the "for the straight guy" qualification from its title, the 2018 reboot of "Queer Eye" has made progress on this premise. The Fab Five are no longer in the business of helping only straight men. The Netflix version has made an effort to choose diverse clients of different races, sexual orientations and gender identities.
The reboot makes it possible for an audience of many backgrounds and identities to identify with the people they see on the show. In "Sky's the Limit," an episode from the second season, the Fab Five help Skyler, a transgender man recovering from top surgery, decorate his apartment and throw a party for the friends who have supported him through his journey.
Season three is off to a great start with episode one centered around Jody, who needs help transforming her style and home. The Fab Five road trip to Kansas to help Jody. As an avid hunter and gardener she is capable and self-reliant, but this confidence doesn't translate into her attitude toward her appearance.
The Fab Five help Jody, who is typically decked out in loose-fitting camo, strike a balance between her feminine and masculine style, in her home and in her wardrobe, helping her feel comfortable and beautiful.
One of the most attractive aspects of the show is the way the Fab Five tailor each makeover to the personality and preferences of the client. They are focused on helping Jody meet her own goals and adapt within her lifestyle rather than creating their own idea of who she should be.
The show also has an inspiring political perspective, often pointing out the way similarities between people outweigh their differences. In addition to discussing her wardrobe, Tan and Jody, who have vastly different backgrounds and opinions when it comes to guns, have an open discussion about gun regulations. In this open and respectful conversation, Tan and Jody realize they have common ground, agreeing that guns are currently too accessible and on the importance of gun safety education. Fostering this type of communication is another aspect of the way "Queer Eye" has become more inclusive.
Not only is "Queer Eye" entertaining, but this revival is making significant strides from the 2003 Bravo series by better reflecting the diverse audience who enjoys the show.