News
RC and EMT Brings Heart to Neuroscience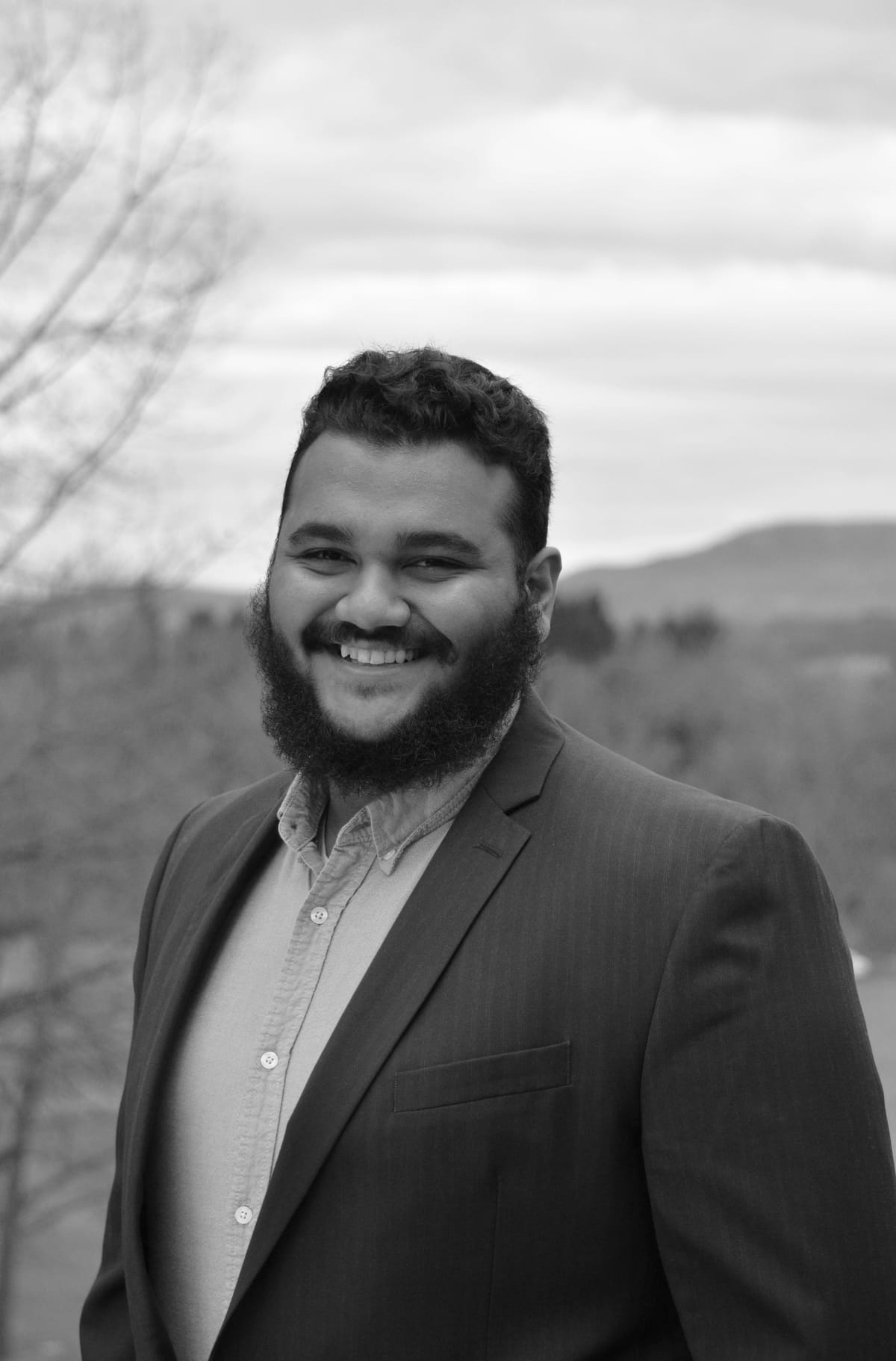 Amherst College Emergency Medical Services (ACEMS) superhero, Charles Pratt resident counselor (RC), neuroscientist, rat whisperer, writer and one of the funniest guys you'll ever meet, Ruben Valera stands tall at Amherst. The love people have for Valera is boundless, mainly because he has such a big heart and cares so deeply about all his friends as well as the groups he's joined while on campus.
Valera, like many students, has also struggled with his sense of belonging and self-doubt. However, it is his empathy that has made him a mentor for first years at Amherst and a comforting sight around campus for so many others.
Joining ACEMS
Since joining ACEMS in his first year, Valera has put his heart and soul into the team, which he views as an opportunity to give back to the community. After answering over 70 calls and saving two lives, Valera feels he has affected important change in ACEMS and ranks it as the most important part of his Amherst experience.
"Showing up on call and being able to help someone in a moment of need and work with someone through their difficulties has been the most amazing thing, because it's something where I feel 100 percent confident," Valera said. "I don't feel confident super often, but leading a call is somewhere where I feel in control and think yes, this is me."
The way he got into the group is a bit of a "Ruben-esque" saga, as he tells it. The application for the ACEMS EMT course was due on a Friday, and Valera started it Friday morning — procrastination, he said, is a vice he still struggles to kick. He finished the whole thing by 8 p.m. and went to turn the application into the ACEMS mailbox, only to arrive in the mailroom and realize the mailroom had already closed. He was initially not accepted into the class, but when someone else dropped out, the program offered Valera the spot — though he could not land the financial aid for the course.
Valera went to every family member, calling "everyone and their tía," ultimately scraping together enough money to get through the EMT course. Once in the program, though he, passed with flying colors.
"I personally don't think I deserved to be in that class," Valera said. "I should have probably waited a year and filled out my application on time, but I got lucky. And I worked my ass off, I worked so hard. I crushed every test and I worked really hard to be the best ACEMS member I could be."
He loves the community that ACEMS members have. They can be goofy and mess around, but ultimately, he said, they take their responsibility seriously because the stakes are so high.
"I don't pretend we're out here saving lives [every day]," he says, joking about how people complain they can't even give patients Tylenol. "But anytime you call, three people will show up, and they'll take your concerns seriously."
Valera, a neuroscience major, is also pre-med. Emergency medicine emerged in other parts of his life, as he spent the last year and a half volunteering in the emergency room at Springfield's Baystate Medical Center.
Valera calls himself a "people person" above all else, and face-to-face interaction with patients attracts him most to the medical profession. Valera's empathetic nature allows him to make meaningful connections with everyone he meets, whether it's his residents over the course of a year or ACEMS callers with whom he spends half an hour.
"I think RC and ACEMS have been my big identities that have helped me get through certain issues," Valera said. "It made me feel confident in who I am and what I can do. You know, I may suck at chemistry, but I am good at being ACEMS."
Coming to Amherst
Valera credits his high school biology teacher for seeing potential in him and mentoring him through the college application process. He also felt thankful toward his counselor for pushing him toward schools of a higher caliber. Valera went to a magnet high school in Orlando, Fla., where he was one of few students from a low socioeconomic background in the International Baccalaureate program. While there, he found out about Questbridge, an organization aimed at bringing low-income high-achieving students to elite colleges and universities that offer need-based financial aid, through friends.
Through Questbridge, he ultimately faced a decision between Amherst and University of Southern California. Valera's family, who originally encouraged him to just go to community college like his sister, didn't want him so far away, so he chose to stay on the East Coast.
Through the struggle of the college application process, where he again fell into the trap of starting things at the last minute, his biology teacher edited his essays. Ultimately, he was immensely proud of his main Common Application essay.
Becoming an RC
Valera's potential as an RC was seen by his own first-year RC before he even considered applying for the position. "I didn't want to be an RC," Valera said. "I didn't think I'd be good at it."
However, Daniel (Bunky) Merenich '15, a Charles Pratt RC at the time, approached him and told him he had to apply because he had already written a recommendation letter for him. Valera applied with three recommendation letters, two from his Pratt RCs and one from Doralinda (Dora) Puente, with whom he worked in Schwemm's Café. Valera became a Charles Pratt RC for the next two years and claims he now knows the ins and outs of that building better than anyone else — secret custodial closets and all.
Valera thought of his residents as his friends, but talked about the difficulty balancing life as an Amherst student and providing enough support for his residents. "Honestly, being an RC could be a full time position … because you're kind of like a friend, a helper, a mentor, a tutor," Valera said.
One of his former residents, Andrea Sanchez '18, praised Ruben's dedication as an RC. "Even though he was super busy, if you needed something he would always be there."
After becoming an RC in Lipton during his senior year, he realized how different being an RC to upperclassmen is. While he appreciated being able to relate to his residents asthey all went through the challenges of senior year together, he missed taking on mentorship role of a first-year RC.
"For upperclassmen, it's more like I'm a building nanny," he said. "Is the building on fire? No? OK … I was given a storage key and access to a budget. I don't find that fun. I'm not an event planner. I'm more of a people person."
On Thesis and Medical Research
When not in his residence halls, Merrill was Valera's home. He jokes about spending the past year living in a basement with rats as roommates while he worked on his neuroscience thesis. Valera studied rats' feeding behaviors through chemogenetic inhibition, which involved inserting brain receptors activated by drugs that he would inject into the rat's brain through a tube sticking out of their neck. He assured me that they didn't feel anything, as I visibly cringed at the idea of 52 rats with tubes sticking out of their necks.
When I asked if he thought he'd continue doing this type of research, he said he'd like to continue with research, but with real people.
"I spend a lot of time by myself down there, really wishing I was with people," Valera said. "Every time I'm at the hospital, I'm like, 'Oh, this is why I like doing research.' Because I get to interact with people. And I get to ask questions and do bigger things and help people. I wasn't helping the rats, really."
Family and Life After College
After graduation, Ruben will stay in New England for at least a year, conducting clinical research in neuroendocrinology. During this time, he'll also be applying to medical school. He hopes to attend a school in New England, "Unless I hate Boston, and then I'll go back down south."
His parents, who are from the Dominican Republic, have a harder time understanding why he's taking time off before medical school — as most aspiring medical students now do — but insist they will support him. His abuela, on the other hand, keeps sneakily comparing him to a cousin who graduated from community college in New Jersey with four honors, while he is only getting one. He laughed it off, though, and said, "Do you know all I did for this? I'll just be happy to get cum laude."
Despite having struggled with his sense of belonging, Valera has become a well-known figure on campus beloved by many. He said that he wrestles with the question, "Am I Amherst?" Ask anyone and the answer will be a strong and undeniable "yes."