Homecoming
Reconciling Queer Christianity Through Activism — Alumni Profile, Ophelia Hu Kinney '12
Ophelia Hu Kinney '12 is an accomplished activist, drawing on her personal experiences to inform intersectional discourse between her queer identity and Christian faith.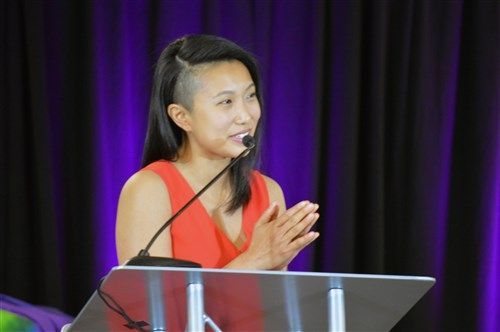 Ophelia Hu Kinney '12 has devoted her life to understanding others, through understanding herself. She is multitalented, and her work is diverse. She works for Reconciling Ministries Network, an United Methodist organization rooted in LGBTQ justice and inclusion, and HopeGateWay, a nondenominational church in Portland, Maine focused on inclusivity. She also serves on the board of the Equality Community Center, a queer and trans centered community hub in Portland, and writes on her blog and in a forthcoming novel. But through these professional and personal outlets, one thing is consistent — Hu Kinney works to reconcile Christian faith and queer identity, a cultural divide many perceive to be unbridgeable. She has devoted her life to understanding others' experiences with these identities, beginning by understanding her own.
Navigating Childhood
"Some of the things that when I was younger I thought were my greatest sources of weakness are some of the most unexamined and complex, and life-giving pieces of wisdom of who I am today," Hu Kinney remarked. Her early life was marked by being a child of two Chinese immigrants who moved around the United States frequently. Born in Chicago and raised in the city's west suburbs, she and her family later moved to Arizona, then to Oklahoma, until returning to the suburbs of Chicago for high school.
Hu Kinney is very close with her younger brother — a relationship her parents worked hard to build — but has struggled to connect with her parents themselves, especially because of a difference in language. Hu Kinney and her brother spoke English to their parents, while they responded only in Chinese.
And their miscommunications were based on more than just language: it was also their difference in expectations of what it means to lead a worthwhile life. This tension appeared strongly when Hu Kinney came out as queer to them at 14. "I think I had this kind of Hollywood sense of what a coming out story should look like. And I tried to play that out with parents that had really different ideas about family and really different values from what I saw on the screen, or stories that I'd read," she said.
Later in her life, she was able to reconcile these differences, largely by coming to terms with her parents' expectations and showing them that queer people lead safe and fulfilling lives.
Despite this, Hu Kinney says that her parents taught her the importance of moral obligations to others. "I think I was inculcated with this idea that I have a lot of rights given from the situation in which [my family and I] found ourselves, but also that I have a lot of responsibilities to my family and community and nation," she said.
The way she believed she could work to fulfill these obligations was through storytelling. Even during her early childhood, she was drawn to telling stories, especially because her family moved around a lot. She said that it helped her "to feel like there was some meaning to this otherwise sometimes random sequence of events" inherent to a childhood spent changing homes.
Finding Community at Amherst
After those years of frequent changes, she was able to set down roots at Amherst. It was a reason why she was drawn to apply: "I started to get this idea that I really wanted to be a part of a meaningful small community where I could know people and feel known." Of course, she also appreciated the financial aid package offered to her, which allowed her parents to send her to college knowing that they could better support her brother, who would also be pursuing a college education.
"But also to be totally honest," she admitted, "it was visiting campus and looking out over Memorial Hill. That incredible view made me feel like, 'Wow, this could really be a beautiful home for me for the next four years.'"
Hu Kinney loved her time at Amherst. She got along well with her first-year roommate — they shared a birthday — and quickly became involved with the Amherst Christian Fellowship (ACF). It was a group that facilitated novel and challenging discussions. "I felt I had a lot of freedom to ask questions that I didn't feel like I had the space to ask in the community where I had grown up," she said.
She also spoke glowingly about her academics at Amherst: "I was enamored with all my classmates and how much they knew. And my professors were brilliant." The most impactful class she took was "Haiti in Fact and Fiction," taught by Roberto Marquez, a visiting professor from Mount Holyoke College. "It was transformative to me because it told me that there were so many modes of storytelling that both had deep cultural roots and had so much to say to people who didn't necessarily belong to the culture that the stories come from," she said.
In addition, she noted ethnomusicology courses with Professor of Music Jeffers Engelhardt and environmental studies courses with Professor of History and Environmental Studies Edward Melillo as particularly formative. "They were challenging courses where I didn't feel academic pressure as much as I felt academic freedom to roam and to pull in so many other disciplines into what seems on the surface could just be two-dimensional disciplines."
Though her academics were invigorating, Hu Kinney's most important moments at Amherst ended up centering around the ACF. At an ACF mixer between under- and upper-classmen, she met her future wife (though she does not in fact remember the occasion). And, she told me that coming out to the group was bittersweet.
"When I came out, I didn't have to bear the brunt of losing lots of friends … But when my wife came out, she really did lose most of our community," she recalled. "I think it was just not a group that was able to hold space for either of us. But it was also a really meaningful place where I really learned how to invest in friendship."
Despite the lack of acceptance, her experiences with the group informed her post-collegiate work centered at the intersection of queer identity and Christian faith. "I got to understand better how a lot of different kinds of Christians from different perspectives and upbringings thought about their faith, and various theological hang-ups that prevent them from being celebratory about LGBTQ people."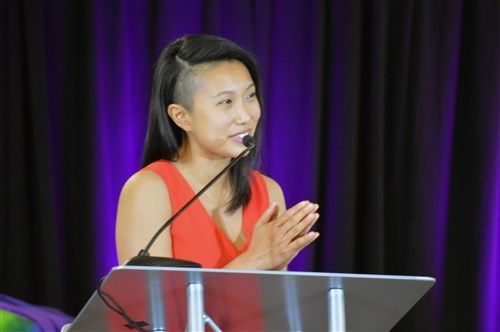 The Inherent Value of a Voice
Hu Kinney describes her work as "translating the experiences of being queer and the cases of queer and trans affirmation for those people who miss out on that intersection." These people who "miss out" have "cultural misconceptions or lack of interaction with queer and trans people," she says. To address these misconceptions, Hu Kinney works through storytelling, preaching and community engagement.
"There is not only a lot of inherent value in the voices of people who live marginalized experiences, but there is a lot that needs to take center stage from those experiences, so that people can draw from the inherent wisdom that we have, that we embody," she noted. By bringing her own intersectional identity into her faith, as a Chinese, immigrant-born, queer woman, she works to explain what it means to be queer in the context of all the things that make someone who they are, for people who might not understand.
It's not just about the intersection of identities, but also what she calls "the intersection of my longing and my anger." She motivates herself by imagining a world based in her longing, "one that decenters institutions of power, especially the ways in which Christian belief systems abuse power. The world that I imagined begins where the world that I feel anger about ends. The shores butt against each other."
This metaphor of two shores and the space between came up again when we discussed how her work relates to people of different identities and backgrounds than herself. "I can only occupy the boat that I'm sitting in, and ultimately we are all kind of riding the crest of the world to come." So, she acknowledges that "it would be foolish of me to speak on other people's behalf. But it would also be foolish of me to pretend that [my own story] is the only experience that matters."
As such, Hu Kinney rejects simple, succinct answers when nuanced, layered explanations are available. "That includes being really critical about ways in which both our movement and the church at large uphold and systems of oppression that aren't just about queer and trans people," she says.
Returning to her Roots
Her ambitions for the future are to get through a draft of her forthcoming novel and to see the MAPITA, the Maine Asian American Pacific Islander and Desi American Magazine, published, which she helped organize. She looks forward to seeing the magazine come to life for Asian American people in Maine. And at their root, her goals are grounded in the fulfillment of obligation — to others, and also to herself. "I guess I just want to do work that is meaningful and that I can feel proud of, and that I feel I honored my experience at Amherst and the people who poured their energy into me."
Finally, when asked about the advice she'd give to current students, Hu Kinney gave a response characteristic of her passion for community. "Be as open-hearted as you can bear to be. The times when I felt most like I could be a full part of my Amherst experience, those are the moments when I was most open-hearted: when I was willing to be corrected, or to make friends with people who proved me wrong."