News
Speaker Outlines Difficulties of Defining Antisemitism
Kenneth S. Stern, a lawyer and expert on hatred and antisemitism, spoke at the college on Wednesday, March 29. Stern discussed the relationship between antisemitism and hate in general, conspiratorial thinking, and the problem of defining antisemitism.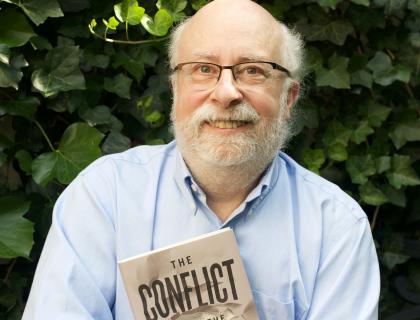 Kenneth S. Stern, a lawyer and expert on hatred and antisemitism, gave a talk titled "Antisemitism and Binary Thinking: Campus Culture and the Future of Democracy," at the college on Wednesday, March 29.
Stern, director of Bard College's Center for the Study of Hate, and author of "The Conflict over the Conflict: The Israel/Palestine Campus Debate," has argued before the Supreme Court and acted as lead director of what is now the International Holocaust Remembrance Alliance's (IHRA) International Working Definition of Antisemitism. During the talk, Stern argued that the definition has been used, counter to his intention, to unfairly suppress anti-Israel political speech.
Stern also discussed the relationship between antisemitism and hate in general, the danger of using a single definition for antisemitism, and the conspiratorial thinking that is present in manifestations of antisemitism.
Ahead of the talk, President Michael Elliott sent out an email to all students, faculty, and staff encouraging attendance.
"We must not underestimate the persistent problem of antisemitism and its profound impacts on our world," Elliott wrote.
At the talk, Stern said antisemitism was best understood as two things at its core.
"[The first component is that] it's a conspiracy theory, saying that Jews conspire to harm non-Jews," Stern said. "The second component is that the harm the Jews do explains what goes wrong in the world."
Stern noted that conspiratorial thinking has been present for a long time and manifests in the present day as hate crimes, both against Jews and against other groups.
"I'm a firm believer that to think about antisemitism, we have to have a wide lens about what's driving things like that as opposed to thinking only about what happens to Jews," Stern said. "What's the relationship between antisemitism and hate more broadly?"
Conspiratorial thinking has also recently become more prevalent in mainstream American politics, Stern added. As this thinking becomes mainstream, more individuals are drawn into what Stern described as a "funnel" into extreme antisemitic beliefs and actions.
"When we buy into a system of thought that makes us feel good because we're fighting for our clearly correct and virtuous in-group against an external threat, our thinking becomes increasingly binary, frequently passionate," Stern said.
As the lead drafter of the IHRA definition of antisemitism, Stern said he intended the definition to be used to categorize which crimes against Jews are antisemitic in nature, but he argued that it has come to be weaponized by pro-Israel advocates.
The definition has been used by some to cast any anti-Israeli occupation speech as antisemitic and, as a result, suppress that speech.
"I'm concerned about the threats to our democracy," Stern said. "If you demand free speech for yourself, as the people on the pro-Israel side do, you have to speak up for those whose ideas you find deplorable."
Threats to free expression come not only from the pro-Israel right, but also from the left, Stern added. He referred to incidents at the University of Vermont and SUNY New Paltz where sexual survivors' groups barred participation from Zionists. He added that Students for Justice in Palestine at Berkeley, along with nine other student groups at the college, agreed to prevent Zionist speakers from being hosted on campus.
"To me, it reflected something very similar to McCarthyism, that people felt so certain in their binaries," Stern said. "I find that deeply troubling."
Despite reports of recent increase in antisemitic behavior, Stern added that attitudes are generally much better now regarding antisemitism than in past generations.
Stern said in an interview that the talk was a good way to get the college to wrestle with potential issues.
"When senior staff at a college are dealing with a crisis in real time … it's not as good a response as if they have thought about these things before," Stern said.
In addition to his lecture, in his time on campus, Stern dined with Jewish students, had a two-hour workshop with senior staff about issues of academic freedom when talking about Israel and Palestine, and met more faculty over dinner at the president's house before giving the campus-wide talk.
Students' reactions to the lecture emphasized its connections to campus-wide incidents, but added that antisemitism is a complex issue without concrete solutions.
Griffin Postley '26 said it was "compelling that [Stern] had no answers" when it came to specific policies the school should adopt.
"There's antisemitism occurring … but it is ambiguous what institutions should do," Postley said. "The idea that people should adopt this universal definition is a bad idea … but it is unclear whether any definition would be good."
Sandor Weiss '25, who is active in the Amherst Jewish community as a treasurer for Hillel, said he attended the talk because of his commitment to fighting antisemitism.
"I care deeply about the idea of antisemitism and combating it as one of the 'isms' in the world," Weiss said. "There has been a lack of attention in recent years to antisemitism when it comes to [diversity, equity, and inclusion training]."
Weiss added that he still resonated with Stern's assessment of antisemitism, as a whole, on the decrease.
"I go to Amherst College and I'm a proud and open Jew," Weiss said, indicating the progress that Jews have made. "But some people forgot the lessons of the 20th century … We are not in the clear."
Weiss said that Stern could've talked more about Israel during the lecture.
"I wish he focused more about when anti-Israel speech becomes antisemitic."
Weiss added that the discussion about defining antisemitism resonated with him.
"We talked about it in [Jewish history] class and Stern talked about it: does a definition do more harm than good?" Weiss said. "One definition of antisemitism, especially if the definition allows for the curtailing of speech, is harmful. It's a very complicated issue."
Weiss said that the publication last semester of the article "In Defense of Hamas," in The Contra, an anonymous student publication, was a "wake-up call to everyone that there was a lot of ignorance surrounding Jewish issues and Israel."
"Anonymity is allowing people to publish stuff under bad faith. Fizz, [the college-specific social media platform that allows users to post anonymously,] escalated that. There is a potential for antisemitism to brew," Weiss said.
As a result, the administration spoke with Jewish students to address antisemitism and bolster the Jewish community in general, including the creation of a Jewish space on campus, Weiss added.
"Ignorance, not necessarily hatred, manifests in antisemitic tropes," Weiss said. "The word to highlight is ignorance, which is why the speaker came."
Stern said in an interview that he was impressed by how the group of students defaulted to education as a means to address antisemitism.
"At some campuses, the desire is to just stop a political opponent from speaking," Stern said. "Here, the idea was using the great resources of Amherst College and expanding that to wrestle with some of these issues."
Weiss said he appreciated Elliott's leadership in sending out a campus-wide email about the talk, which helped with the turnout.
He added that the event, which unlike many others, was sponsored by the school administration, and this also encouraged more people to attend.
Stern said he knew that the administration was concerned about how Jewish students felt.
"The invitation to me was in some ways influenced by the fact that some Jewish students felt like [the administration] could have done better [last semester,]" Stern said. "I'm very pleased with the idea that because they recognized that there was some angst here and concern that rather [than] just say[ing], 'Okay, this happened last semester, forget about it,' they decided to have a type of fluid discussion about  …  how we can build a better campus culture. That's where the leadership went to, and I applaud them for it."