News
Staff Members Describe Feeling Expendable, Replaceable as Covid-19 Presents Safety Concerns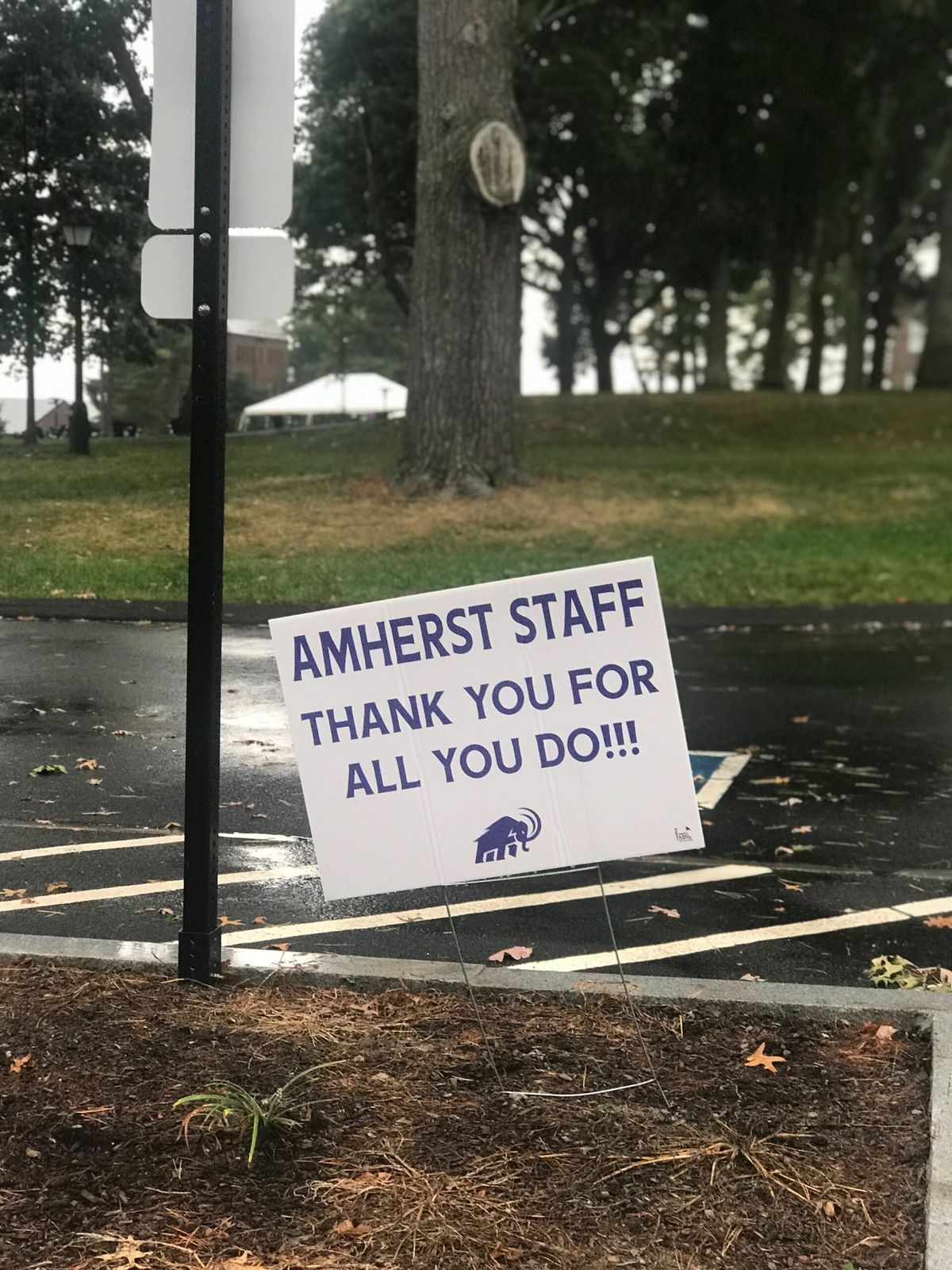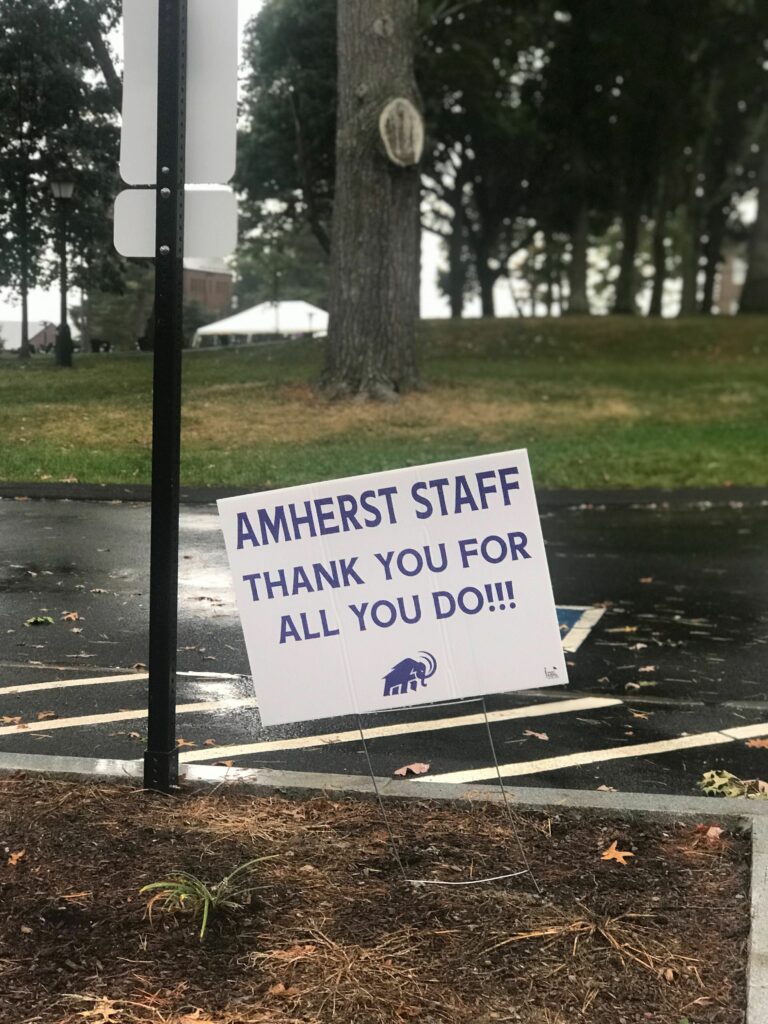 "There's generally a sense that we're totally expendable," one Amherst College staff member told The Student.
As Covid-19 clusters exploded on campuses across the country, critics of reopening plans denounced college administrators' apparent disregard for their community's health. According to one New York Times study, colleges and universities have contributed over 130,000 new coronavirus cases and 70 deaths since the start of the pandemic. The study, however, introduces one caveat: "Most of the deaths were reported in the spring and involved college employees, not students."
Staff members at colleges nationwide have been on the frontlines against college reopenings. In July, the University of Georgia had been found to have covered up the death of one of its custodial staff members from Covid-19. At the University of North Carolina, workers filed a lawsuit against the university, claiming that the university failed "to uphold a non-delegable duty to provide workers with a safe workplace amidst the Covid-19 pandemic." And more generally, college employees have expressed deep concern that on-campus learning would put their health at risk.
Amherst College is not an anomaly. The Student spoke to members of the college's staff about their concerns on health and safety, which ranged from tight workspaces to lack of in-depth training to students' lack of compliance with Covid guidelines. All staff members interviewed opted to speak anonymously, citing fear of retaliation for speaking out.
On Aug. 17, just two days after students began moving into their dorms, Chief of Police John Carter announced via email that the college had seen its first on-campus coronavirus case. Days later, the community received an email about a second case and shortly after, a third.
By the end of the first week of classes, at least four students were quarantined in Jenkins Residence Hall. Two had tested positive for Covid-19 with two others were identified as close contacts, according to Carter's Aug. 27 email. Though the numbers were in the single digits, the virus's presence on campus posed a cause for concern among members of the dining staff. At first, they expected to pick up dirty food containers or deliver food to the campus's grab-and-go dining locations, but soon the responsibility of delivering meals to quarantined students was added to the list.
Initially, dining staff dropped off meals in a Jenkins' common room for contactless delivery. But, "we were told that the students were unhappy, or somebody was unhappy, so we should actually go deliver to their door instead of the common room," one staff member said. The staff member explained that they viewed door-to-door delivery as unsafe, since common room drop-offs meant that staff did not have to walk through the same spaces as infected students. Some of the dining staff responsible for doorfront delivery, as a result, refused.
"The nature of the quarantine dorm is that that space will be secluded for somebody who has the virus, but we have to go in there. They're supposed to be confined to their rooms, but there isn't a bathroom [in their room] and they will still need to go into halls. And we're expected to drop off the food in front of their door," another staff member said. "And as more and more kids end up quarantine, they're now on multiple floors and we have to go to all of their doors [as opposed to the one common room]."
According to dining staff members interviewed, pushes for safer drop-off procedures were met with opposition from administrators, and these discussions had become the center of dispute in the department.
Quarantine drop-offs, however, are just one piece of the safety concerns staff members have observed. The college initially planned to have seven grab-and-go locations to evenly spread out traffic, but by the start of the semester, two of those locations were eliminated, as the number of enrolled on-campus students was lower than the initial expected total. Even with social distancing guidelines like protective barriers in place, some noted that they "literally see like 100 different people in close contact every day," either among their co-workers or with students and other community members. And in general, staff members noted that safety trainings have been slim: short videos on hand-washing and mask-wearing, with no specific information related to their positions.
"I feel like it's pretty much impossible to do the job that we do and have it be truly socially distant," another dining staff member said.
"We have to ride in vehicles together. We have to go through one room and there's a lot of vapor in the air. A lot of people work in [a] room [together]. Elevators have signs up that one person should be in there at a time. But no one is following that," said a third.
One staff member highlighted small break rooms as another example of the limits of social distancing; their coworkers had dubbed theirs as the "employee death lounge" due to its size and lack of proper ventilation.
A sense of complacency within the college has meant many feel that safety has been left on the wayside. With Covid-19 cases down and the college reporting zero cases within the past month, administrators have been more "relaxed," according to one staff member.
"I think the school has created this safety system," they said, referring to regular testing, restrictions on student activities and other social distancing guidelines. "And they think they can just stop there."
The "safety system" put into place has skewed largely towards students, focusing on restricting student actions to mitigate the spread of the virus. Prior to arriving on campus, students were required to sign a Statement of Shared Responsibility, pledging that they would remain on campus, avoid large gatherings and take other Covid-conscious precautions.
Yet, staff members demonstrated discomfort with their safety being contingent on student behavior. Many have observed students' lack of disregard for the college's rules firsthand: One described watching handfuls of students put on masks while leaving buildings, insinuating that they were not wearing masks inside; another saw students congregate in groups in dorm rooms when delivering Boxed Water during move-in. And many had reported seeing a large party on the lawn outside of Mayo Smith Dormitory during the weekend before classes.
Staff members' reports of student misconduct line up with the semester's police log. In the two week period between Sept. 7-21, the Amherst College Police Department reported multiple Covid violations: a large party on Book and Plow Farm, unauthorized townspeople roaming through campus and multiple incidents of students gathering in groups of 10 or more.
"There's a lot of things where they say, 'it's perfectly safe for you to be here, because we told the students these rules,' but we have no guarantee that people are actually following them," a staff member said.
Reporting students' behavior has proved futile. The college issued an anonymous Google Form to students, faculty and staff to report infractions, but efforts dampened without knowing the students' identities to include in form submissions.
"Some of these social changes for Amherst that are supposed to keep us safe are predicated on the good and cooperative behavior of students. And I don't think there is any way to enforce that," another staff member said.
Between meager working conditions and student behavior, the risk of catching Covid-19 on the job has remained palpable for many staff members. What has been left underrealized, however, has been the ripple effect Covid-19 poses on not only community health but on the college's daily operations that make it so that students have access to food, clean bathrooms and facilities. On Aug. 24, when the college first revealed that a member of the custodial staff had tested positive for the virus, the email announcement also wrote that eight other people had been in close contact with the diagnosed individual and were required to quarantine. During the time the nine individuals were in quarantine, one staff member said that custodial was "pressed" to make up for the staffing shortage.
"If one of us tests positive, it's really going to shut down the whole operation — probably quickly the school," they said, highlighting the ripple effect one positive result could have on the community. If one staff member interacts with their coworkers, and their coworkers with students, the chance for a campus-wide outbreak is probable, they added. Combined with increased hiring efforts on the staff level, some have felt that they were "replaceable" if they ultimately fell ill with Covid-19. "They are trying to hire a lot of people for that reason."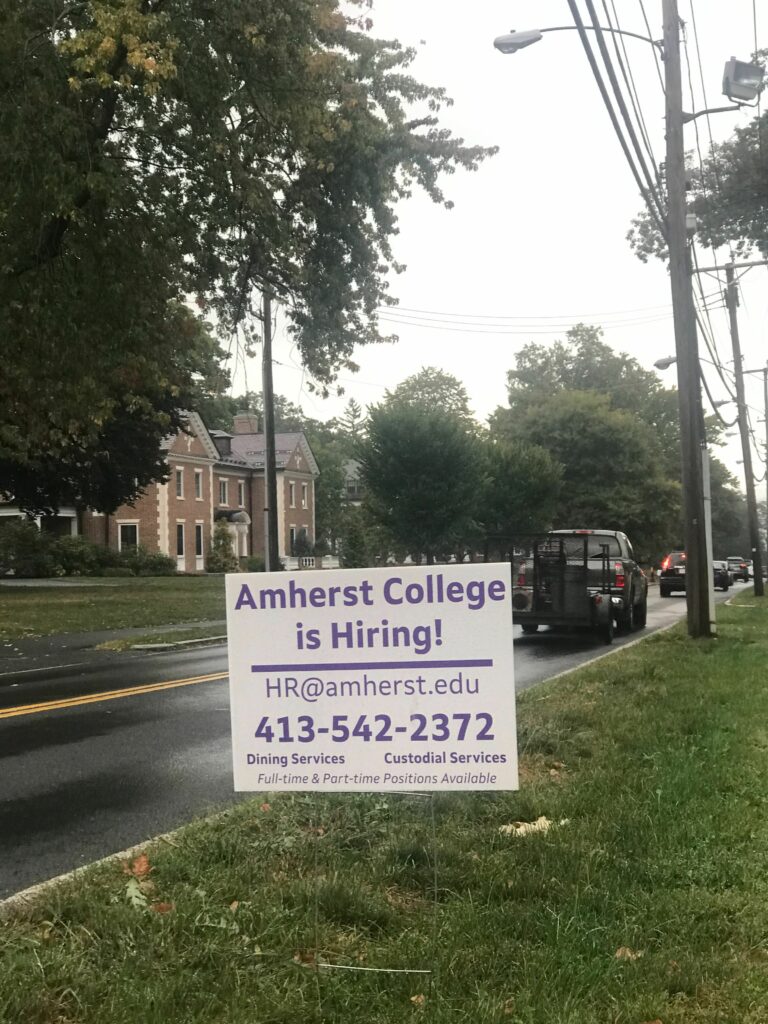 In the end, staff members described wanting more input on how to complete their jobs safely. "We don't want to argue about what our duties are. We just want to argue about how they're done," one staff member said.
In a statement to The Student, Director of Dining Services Joe Flueckiger wrote that "The college has enacted strict protocols for health and safety, and dining services staff are given clear direction on the process, precautions and locations for delivery of food to individuals in quarantine or isolation. Staff have been doing so since the spring. We have established a delivery location with proper distance and separation that ensures the staff's safety is taken into account. Staff are provided and are required to wear the PPE recommended by the CDC and medical professionals that are appropriate to these tasks." Chief Human Resources Officer Maria-Judith Rodriguez and Chief of Campus Operations Jim Brassord did not respond to The Student's request for comment.
Whether it was ultimately responsible for the college to open remains in question for staff members.
"If [the college] opens successfully, all the benefits and glory can go to management. If they open semi-successfully and a few of us pawns are swept off the board, that's a tragic loss that they can bravely sustain. And if it's a disaster, they're banking on it not being one," a staff member said. "From the numbers side, yes, it was wise to open Amherst. From an ethical perspective, from a workers' rights perspective, from a student experience perspective, I think we can answer it differently, that it was maybe not a great idea."
The grim reality still holds: "Ultimately, our safety is our own business and if we die, people will be sad at the funeral and that's it."
Ryan Yu contributed reporting to this article.
Correction: 9:30 p.m. October 4, 2020 In the original version of this article, it incorrectly stated that staff members exposed to the virus off campus would need to use their own paid leave time to quarantine away from work, while in fact, the college does not monitor where an employee thinks they were exposed. Additionally, the article incorrectly asserted that casual employees would need to use their own paid leave time in the event that they tested positive for the virus, which is incorrect. The Student deeply regrets this error.