News
Staff Spotlight: Emily Jones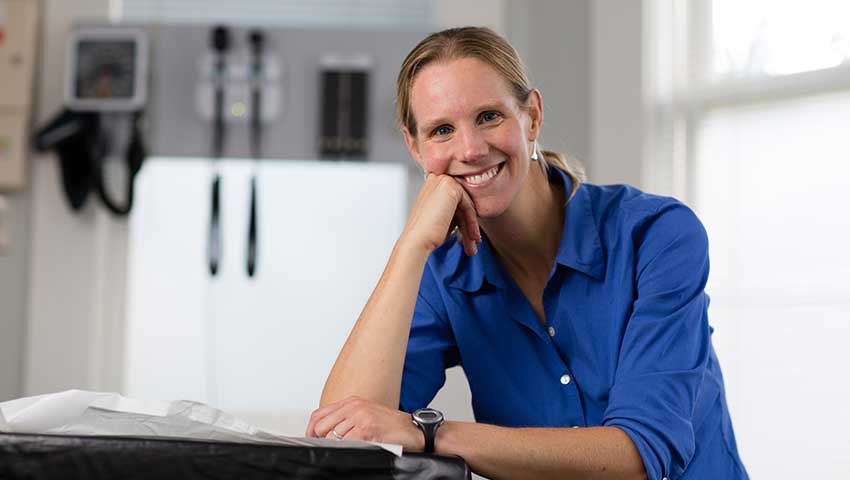 Emily Jones is the director of health services. In that role, she helps operate the health center, among other tasks.
Q: What did you do before you came to the college?
A: I'm starting my fifth year here at Amherst. I'm actually an Amherst native, so I decided to come home. But prior to this, I had spent about seven years in New Hampshire. There I was doing primary care at Primary Care Sports Medicine, some student health with St. Paul School and consulting with some of the local high schools and colleges. I knew I really loved student health, and the opportunity lined up to both return home and get to be the physician here at Amherst College.

Q: What are some of your responsibilities as the director of student health services?
A: One of my main responsibilities — especially currently — is to provide some medical consultation to all different parts of the campus, whether it's the overall public health approach or just medical input to the support of students from other departments within student affairs or within the faculty and academics. I also oversee the staff here and see a lot of students at the health center as a practicing physician, which is one part of my job I love the most. I'm primary care and sports medic trained, so I love working with the student-athletes and all of our athletic trainers as well.

Q: What does the typical day look like for you? And especially with everything that's happening now, how has your job changed this semester?
A: [In] a typical day prior to the pandemic, I really liked to try to protect the majority of my schedule to be available for student care at the health center. While I am a part of other meetings and committees in my advisory role, I have found over the last few months that I've had an increased role outside the health center because so much of what's been going on on campus has been so involved with public health and needs more of a medical input … so I'm trying to make sure as the year starts to still protect the time to be here. We've also adjusted to operating under best practices in a pandemic and have hired a couple new staff to help us out and changed some of our workflow. I definitely feel I've been doing more oversight and supervising, but hopefully, [I'll have] more in-person care to come.
Q: How is the health center balancing providing care and maintaining safety given the pandemic?
A: We value our face-to-face encounters in person with students, and we hope that students sense this too — but we've also tried to follow best practices that have shifted a little bit. We now offer certain appointment types as remote visits, and this has allowed us to provide continuity and care even for some students who are not on campus. In general, if this was a normal year, we'd see a lot of foot traffic going through the health center, whether it's folks sitting in the waiting room, picking up prescriptions or walking in to schedule appointments. Now we're trying to have things scheduled so students can call to make appointments unless it's an emergency, check in for their appointments remotely and pick up prescriptions at a window. We also converted a whole space to an acute care clinic where we can evaluate symptomatic students separately. Everyone there will have an elevated level of PPE protection and air ventilation and will serve one person at a time. It definitely feels a little lonelier and quieter inside the health center, but hopefully those changes will help the whole community and minimize unnecessary interactions and exposures to staff and students.

Q: Has this moment changed the role and practices of the Amherst College health center for the long term?
A: As optimistic as I am in where we are with a possible vaccine and potentially more available rapid testing, I think many would agree that the pandemic is probably with us for the foreseeable future, even in a much more muted, controllable fashion. I could see us for the rest of the year and next year potentially, keeping a separate acute care clinic, where we check and separate you from other patients if you have acute symptoms that could be consistent with covid or another contagious illness. I think we probably will continue to offer remote visits in certain instances. If we just need to talk to you about your medication, we can save you the trouble of having to trek down to the health center and instead meet over the phone or Zoom. We've thankfully been able to increase our staffing, knowing that we have a lot more need for medical personnel right now. I'm hoping we can maintain that moving forward so that we can continue to address all the different needs and not just the most pressing ones, keeping our mission of overall wellness and availability for routine medical concerns.

Q: Have you made any other changes to the health center during your time here that stand out to you?
A: In my time here over the last few years, I think we have acquired a really dedicated and caring staff of folks who have very varied areas of expertise, which has allowed us to provide pretty comprehensive primary care services for our students and go above and beyond in helping all aspects of wellness. I love the progress of the staff and their dedication to students at the college. I think our relationships with all the other departments on campus – whether it's with athletics, student affairs, or other partners – have made great strides in terms of the collaborations that support students as well as they can. I hear from most of the students that we see that there's a lot of trust in the health center and the providers here, and that means a lot as well.

Q: What do you enjoy most about working at the health center?
A: It's definitely talking with the students. I'm fascinated everyday by conversations that come up during whatever medical encounter we're having, whether it's hearing about what students are studying or where they're from or where they're travelling. I remember one student who went on and on about their math teachers — it was awesome, just to hear how passionate they were about what they're studying. I also love the variety of care we provide from a medical standpoint, whether it be a little E.R. or primary care for the students. I love the range of what I get to do here as a medical director of the student health services.

Q: How do you like to spend your time off?
A: I have three little kids who are wonderful and energetic so they take up most of my time when I'm not [working]. When we're not in a pandemic, they love to come to the dining hall and to sporting events and public-read papers. I'm also a big biographies reader, and I love every sport — running, swimming, you name it — and being outside in any capacity. So, between those things, they tend to keep me busy enough.

Q: Is there anything else you'd like to share with the Amherst community?
A: Just thank you to everyone in advance for their commitment to making the sacrifices to keep our community safe. I know it's going to be so hard for students to come to Amherst being so different in terms of the changes needed to keep it as safe as possible. I'm hopeful and thankful that our community will do its best and hopefully stay healthy through the craziness of the outside world.