News
Staff Spotlight: Victoria Wilson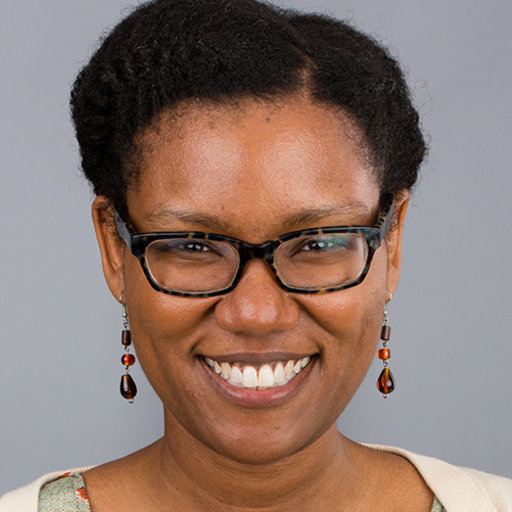 Victoria M. Wilson is the associate director for internship programs at the Loeb Center. She specializes in career exploration and coaching students through the internship applicant process. Before joining the Loeb Center, Wilson worked at Paul Quinn College as the special assistant to the president and then as the dean of the work program. She received a bachelor's degree in English from the University of North Carolina at Chapel Hill and a master's in public policy from Duke University.
Q: What do you do as the associate director for internship programs?
A: I have a couple of major responsibilities. One is that I oversee the Charles Hamilton Houston internship program. So I work with employers who are interested in partnering and offering internships to Amherst students through the program. And I also help with developing advising and programming for students in the program who are seeking out internship opportunities. A third leg to that is that I oversee the Loeb Center's internship fund for students that are seeking funding for unpaid or low-paying internships.

Q: What interested you in coaching students on how to apply and prepare for internships?
A: It broadly relates to why I got into career services period. One reason is more of a personal one. When I was in college, I did not have the best career advising experience. I wish that my college had offered more coaching around internships. That way, I could have explored the various options that were out there, instead of kind of waiting to go to the office my senior year.

But specifically why I'm interested in internships is because there are so many benefits to summer internships where you can dive in and test out a career that you're interested in, in a low-risk environment. Because it is short term — you're only there for eight to 10 weeks — you can figure out if you like the field or not, develop some skills, and create contacts for the future. So it's a great advising tool, but it's also just a great tool in terms of figuring out who you are as a person, as well.

Q: Do you work with any particular type of student (i.e., STEM or humanities students?)
A: Nope, I work across all industries and all class years. I also do pre-law advising with some seniors and alumni, but the bulk of my job is focused on first-years and juniors. This is largely because senior year is largely focused on helping students to get full-time jobs or to get into graduate school. I will always be here for seniors, and I commonly refer them to fellow career community advisors that I work with. I have amazing colleagues that can introduce full time job opportunities. For example, if there is a senior looking to get into science and tech, I will encourage them to go make an appointment with our science and tech advisor. But you know, at the end of the day, if a senior wants to meet with me to get started with their job search, I will never turn a student away.

Q: Has the pandemic made it more difficult for students to secure internships and find full-time jobs?
A: There definitely is some uncertainty, going into summer 2021, for employers right now. A common scenario is that employers aren't certain if they're going to be able to support summer interns. Many are still remote, or are facing struggles because of the economy. Mainly, workplaces do not feel like they can create a supportive environment for students. At this point, the [situation] is "wait and see". They would prefer to until late February and March, or even a little bit later in the spring to post opportunities. At this point, they are hoping they have more certainty and will have figured out a concrete plan.

But, having said that, particularly the Houston program is starting to see a pickup in partners that are posting. I have noticed trends in particular industries and don't think it would be a surprise for students to know that healthcare is functioning in an emergency situation. This means that somebody who wanted to do clinical shadowing in the hospital may have to take a backseat. The focus of healthcare providers is on Covid patients. They're not able to support students due to safety reasons. So, many opportunities in healthcare are unable to host internships.

But I don't want to spread panic! There are internships out there. I'm working with students who are securing internship opportunities. Keep in mind, though, that it is going to look different this year than in a normal year.

Q: What brought you to Amherst?
A: I worked previously at a liberal arts college in Texas, and I'm from the East Coast (originally from North Carolina). I knew that I wanted to move back to the east coast eventually, but also wanted to continue to work for a liberal arts college. I don't have a background in liberal arts, but having worked in these spaces, I love the model. I see the value in it.

So I knew that I wanted to continue my career in that environment. When I was searching, I found this open position at Amherst College, which had long been on my list of schools to watch. As soon as there was an opening that I was qualified for, I applied.

When I was going to the interview process, I had a chance to come on campus, and I had the chance to talk to students and interact with them. It really was the students who I met that sold me. They were incredibly talented, really smart, but also humble students who want to make an impact in the world. Amherst struck me as a special place, and those are the students that I love to work with. Also, Amherst is just a great college to work for.

Q: How has the Loeb Center changed since you started working there?
A: I don't want to take complete ownership over this, but I will say that in the four years that I've been here, there has been a change in a focus in the Loeb Center. Our focus has been on investment and beefing up our internship programming. When I first started, it was just me, but now we have a team that's devoted to internships.

Q: What is special about the Charles Hamilton Houston internship program?
A: There are a couple of things that benefit students. One is that our employer relations team, specifically, is vetting these employers. This provides assurance to students that get an internship through the program, that these are employers that Amherst has reached out to and talked to. The employers know about Amherst's open curriculum and educational model. They have bought in and are really keen to hire an Amherst student.

Another benefit is that all of the opportunities are paid. Employers through Houston will provide students with a stipend, or an hourly wage. If it is a no-pay internship, we provide students with a stipend. This means that you don't have to try to sit there and wonder "how am I going to support myself?" It's already been taken care of.

And thirdly, the program enables any student who wants an internship to get one. Come to the Loeb center and we can provide advice and help with programming, but through the Houston program, we can create even more opportunities.

Q: What do you like to do in your free time?
A: I'm an avid reader! Also, being on lockdown has led to me developing a love for baking. I have a cat here that I love playing with. But I also binge watch a lot of a lot of things on Netflix and Hulu and run quite a lot.

I ran before the pandemic from time to time, but after, I learned to appreciate being outdoors a lot more. Going for longer runs to get some fresh air has kept me sane.

Q: Do you have any quarantine movies, TV shows, or book recommendations for students?
A: I just finished binge watching "Bridgerton." Initially, I was not interested, but enough people told me that I should watch it, and so I turned on the first episode. After that, I ended up sitting down and watching the whole thing over like a Saturday. So, that was great.

Reading wise, I've read a couple of really good books lately. I finished reading Hilary Mantel's "Wolf Hall" — that's a really good one!