Arts & Living
Student Production "Medea" Reinterprets Greek Tragedy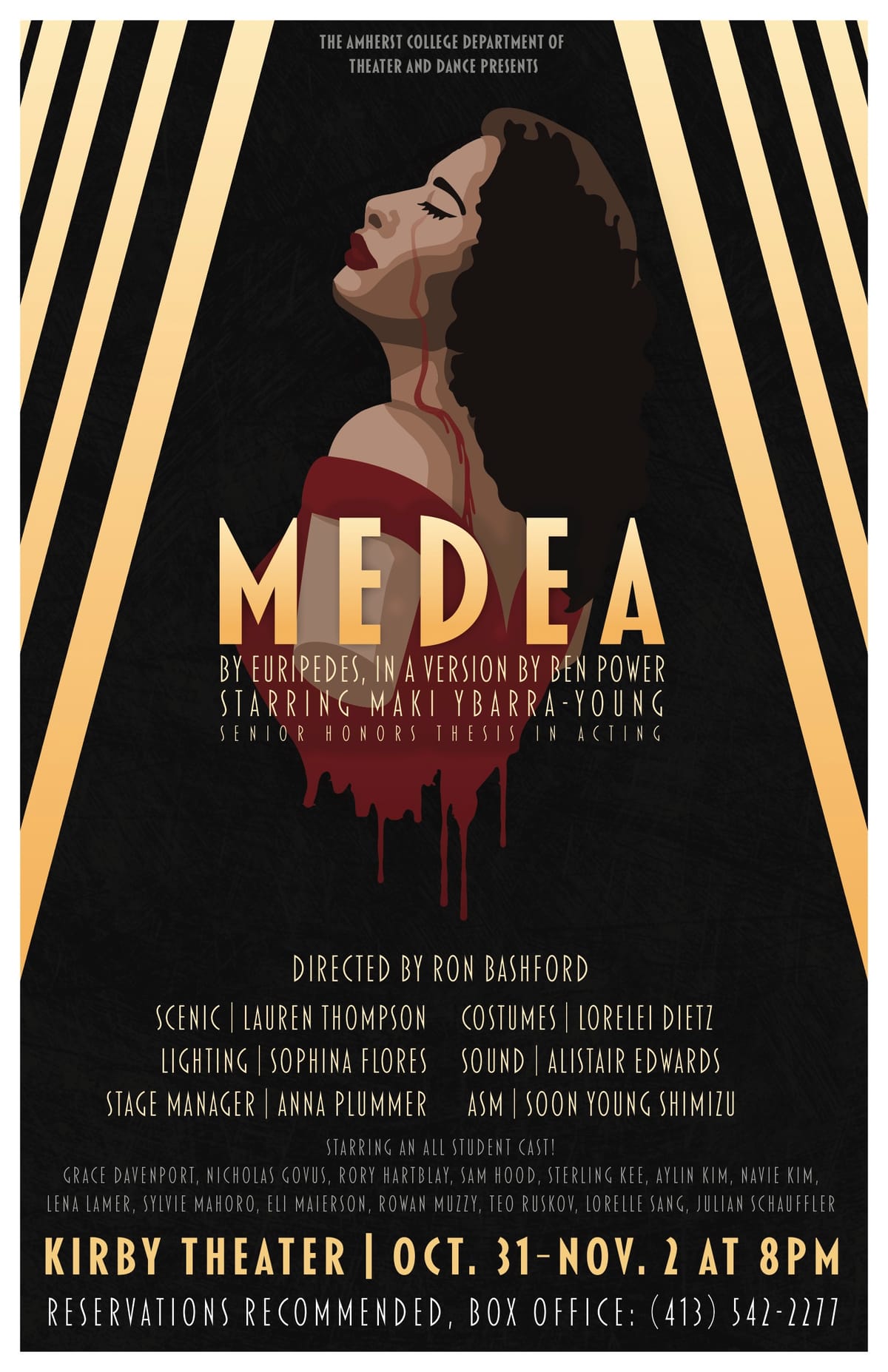 As the lights illuminate the stage in Kirby Theater, they reveal an Old Hollywood dressing room with a rack of vintage dresses, a vanity and a chaise lounge that sit alongside a director's chair. The opening lines of the play, which command the audience to "Listen. There's a story that has to be told," immediately send a chill over the glitzy scene. No matter how deceiving the set may be, this is a Greek tragedy, and the wheels turning toward the show's tragic end are already in motion.
This production of "Medea" is the product of Maki Ybarra-Young's '20 senior honors thesis in the theater and dance department. It also marks show number 12 in her acting career at Amherst. When asked why she chose to perform in "Medea," she confessed to a life-long love of Greek mythology, which was only solidified when she studied abroad in Athens last fall. While she was initially debating between "Medea" and "Lysistrata," an ancient Greek comedy, she said that she decided on "Medea" because of the challenge she knew portraying the titular character would provide.
Along with the complexity of the character, Ybarra-Young discussed the pressure and expectations that come with taking on such an iconic and complex role and trying to make it her own. "I'm still learning that I need to let go of my expectations … I came into the show thinking I knew the character, but you really have to work to tease out who they are," she said. "It's important to be able to tether them to aspects of myself and connect the character to things I have gone through … it brings a more personal element to the work."
"For example, I can relate to [the fact] that Medea is a hot mess and so am I," she added, laughing.
Her thesis advisor, and director of the play, Professor of Theater and Dance Ron Bashford expanded on the importance of nuance in the role, explaining over email that, "I've seen a number of productions of the play in which Medea is presented as more of a villain, or more neurotic, or more 'tough,' while Maki's Medea is definitely a woman of glamour who presents a strong exterior, while being broken inside."
He described her character as a modern American interpretation of the classic Greek tragic figure. "We are concerned with public appearances, with social 'fronting' quite a bit these days, even when we acknowledge inner pain. It's also American in the way Maki's performance reflects her understanding of being an insider-outsider in several ways in a majority culture, as a woman, as mixed race."
The most unique decision Ybarra-Young made in her interpretation of the classic tragedy was to place the play within the context of an Old Hollywood movie set. "I've always loved Old Hollywood, ever since I was little, and I was really inspired by Sunset Boulevard and how grand everything was," she said. As she began to do more research into how this setting could relate to Medea, she saw similarities between the treatment of the titular character and how female actors were treated in Hollywood in the 1930s and the lack of autonomy that both had.
Bashford cautioned that the set dressing and costumes are not supposed to be interpreted entirely literally. Rather than describing the play as being set in Old Hollywood, he wrote, "It's a reference, a feeling, a way of mapping one world onto another to see what the tensions and interactions might be for an audience." He also elaborated on the relationship he saw between Old Hollywood film stars and Medea, stating, "we talked a lot about other presentations of 'strong women' in movies of the time — [and] of the difference between performing power and actually having power."
For those involved in "Medea," performing a tragedy does not come without its own bits of melancholy. As Lorelle Sang '21, who portrays Medea's nurse in the show, wrote over email "'Medea' is really bittersweet for me. Maki has been a huge part of my experience doing theater at Amherst — I've never actually been in a show without her, and I've learned so much from acting alongside her. As sad as I am that this will be our last time acting together, I'm so excited for people to see how much she, and everyone in the cast for that matter, has devoted herself to this role. I think everyone involved has done an amazing job bringing this story to life," she said.
Ybarra-Young also stressed the collaborative nature of the show, which stars an all-student cast and also features costume, lighting and sound design by students. On opening night she's most looking forward to hearing, "how the audience will react to the cast and crew and what the genius designers have come up with." She noted that support for the production did not only come from those working alongside her — some encouragement came from all the way across the country. "Whenever I struggled with Medea I would look back at the thank you card that Wes [Wesley Guimarães '19] gave me for acting in 'Faustus, [his senior honors thesis].'" She added that he was also the one who inspired her to take on the role, telling her not to miss out on what performing in a thesis provides: "an opportunity to challenge [your]self and grow."
At a recent rehearsal for the show, before the actors took their places on stage in a dress rehearsal last Saturday, Bashford reminded them, "You're not doing this for the people up here," as he pointed to the stage, "you're doing it for everyone who will be sitting where you are now."
Ybarra-Young agreed that although it's easy to lose sight of the reason for all of her effort while immersing herself in the details of memorizing lines or blocking scenes, once the curtain closes and she hears that first smattering of applause, she remembers, "This is why I do this."
Anna Plummer '20, who serves as stage manager for the show, also enthused about her excitement for the audience to see the show. She wrote over email, "I finally got to experience the show in all its bold visual and sonic vibrancy in tech, and all I can say is 'wow!'" Fitting with the show's Halloween opening night, Plummer concluded that from the curtain rising to Medea's final wail, the cast was only "growing brighter (and bloodier)."
"Medea" will be performed in Kirby Theater, from Oct. 31 to Nov. 2 at 8 p.m. The show is open to the public; tickets are free. Reservations for tickets can be made by calling 413-542-2277.