News
Students Contemplate Progress at Annual Speaking Competition
Eleven students delivered persuasive speeches on the theme of progress in this year's annual student speaking competition. They contemplated progress from the Amherst campus to the world as a whole, citing the importance of collective activism, storytelling, and risk taking, among many other topics.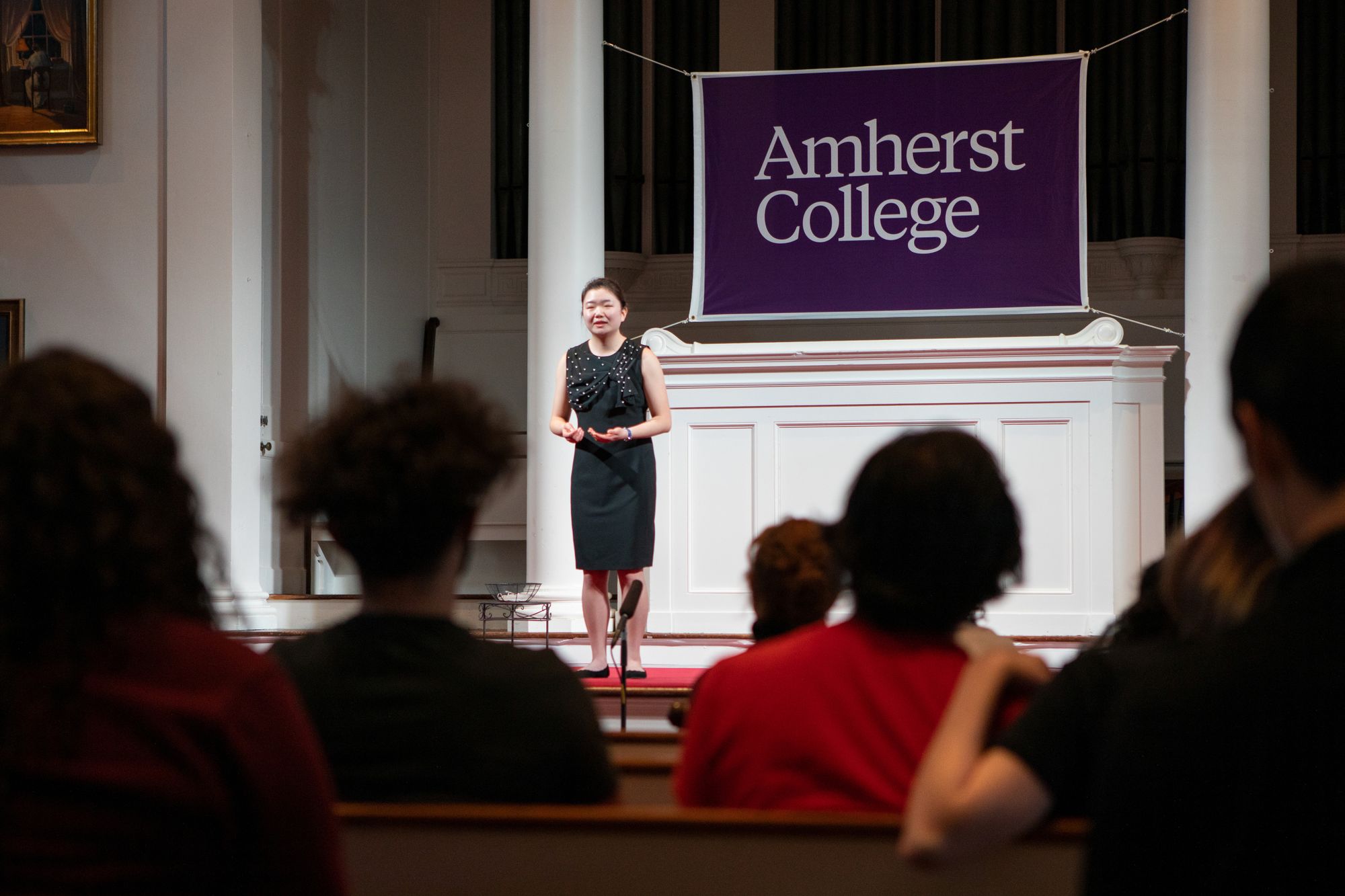 On Feb. 23, the college held its annual persuasive speaking competition in Johnson Chapel. The event, sponsored by the Writing Center, featured 11 students, each of whom wrote and delivered speeches based on the year's theme of "Progress."
After a preliminary round on Feb. 2-4, the 11 finalists were chosen to participate in the competition. All speeches related to the theme "Progress" in some fashion, but the speakers discussed numerous topics that they believed to be important to the theme, ranging from issues prevalent at Amherst College to society as a whole.
The competition was hosted and organized by Susan Daniels, the college's Associate in Public Speaking. The participants included Siri Palreddy '24, Daniyal Ahmad Khan '22, Sidnie Kulik '25, Sike Ogieva '25, Tristan Moore '24, Karen Lee '25, Kobe Thompson '24, Caelen McQuilkin '24E, Charlie Sutherby '23E, Mia Griffin '24, and Ryan Kyle '23. The speeches were judged by Professor of Black Studies and History Stefan Bradley, Poler Family Professor of Psychology Catherine Sanderson, and Program Director of Careers in Education Profession Robert Siudzinski.
Kulik discussed the student mental health patterns seen at elite colleges like Amherst. Highlighting the term "hyper-achievement," she discussed the expectation many students feel to excel at everything they do. Kulik argued that the mental health resources provided at Amherst are not enough. She advocated for long-term solutions instead, such as mental health training that is reinforced throughout all four years of the college experience, and better communication from the administration toward students in advertising the mental health services offered.
"Progress never stops, but we will know valuable change is made when students will be able to say more than a simple, 'I'm fine,'" Kulik said.
Griffin discussed a phenomenon known as "the glass cliff," when women are likely to be promoted to high leadership positions when companies are on the verge of failure. She explained that there is more pressure for women to accept these higher positions because they are rarely offered — only contributing to the unfair treatment women receive.
"The glass cliff worsens the way we think about women in charge and only closes more doors for women," said Griffin.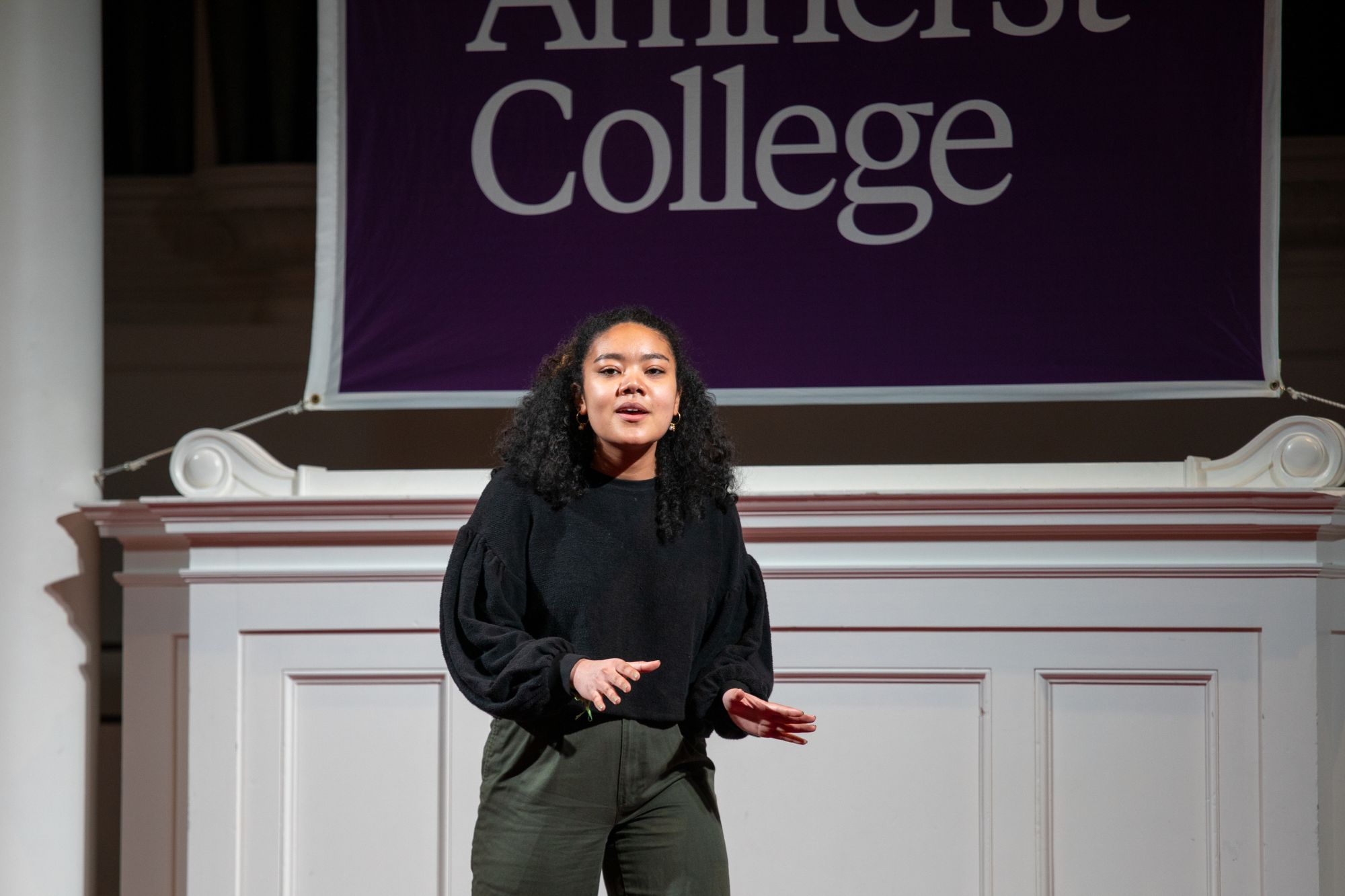 Moore spoke of performative activism and the way in which Amherst neglects minorities. Moore referred to other institutions, such as Disney, that attempt to reinvent themselves as progressive, but refuse to actually take substantive action. Even though these institutions claim to care for minorities, they only do so as a marketing tool. To determine whether an institution truly cares about minorities, Moore looks at whether the institution takes risks, if they acknowledge past mistakes and oppression, and how they treat employees with marginalized identities.
Moore concluded his speech by asserting that "real progress is not promotion — it's protection for the oppressed."
About halfway through the event, Thompson, the reigning champion took the stage. Thompson spoke about how the desire for profit hinders true progress. "We need to ask ourselves: do we make progress because of profits or in spite of it?" He answered this question through several examples, including healthcare — "Because of progress people aren't dying of disease, because of profit they're dying of debt" — and climate change — "Clean drinking water and breathable air are tempting, but some prefer their profit margins." Thompsonthen argued that only through collective action can we truly move forward. "At our expense, institutions make a profit, hand over fist. But if we work hand in hand, then, with a raised fist, we will make progress," Thompson concluded.
Kyle talked about the importance of speaking with others and sharing opinions. Kyle stated that we lose meaningful conversations when we stop talking to others who do not share the same political viewpoints.
Kyle urged others to start conversations that will yield differing opinions because "conversation can create change, especially when it occurs among people who already respect or love each other." She mentioned that many people actively reject progress by ignoring the viewpoints of others and remarked, "to start making progress, we have to start talking again."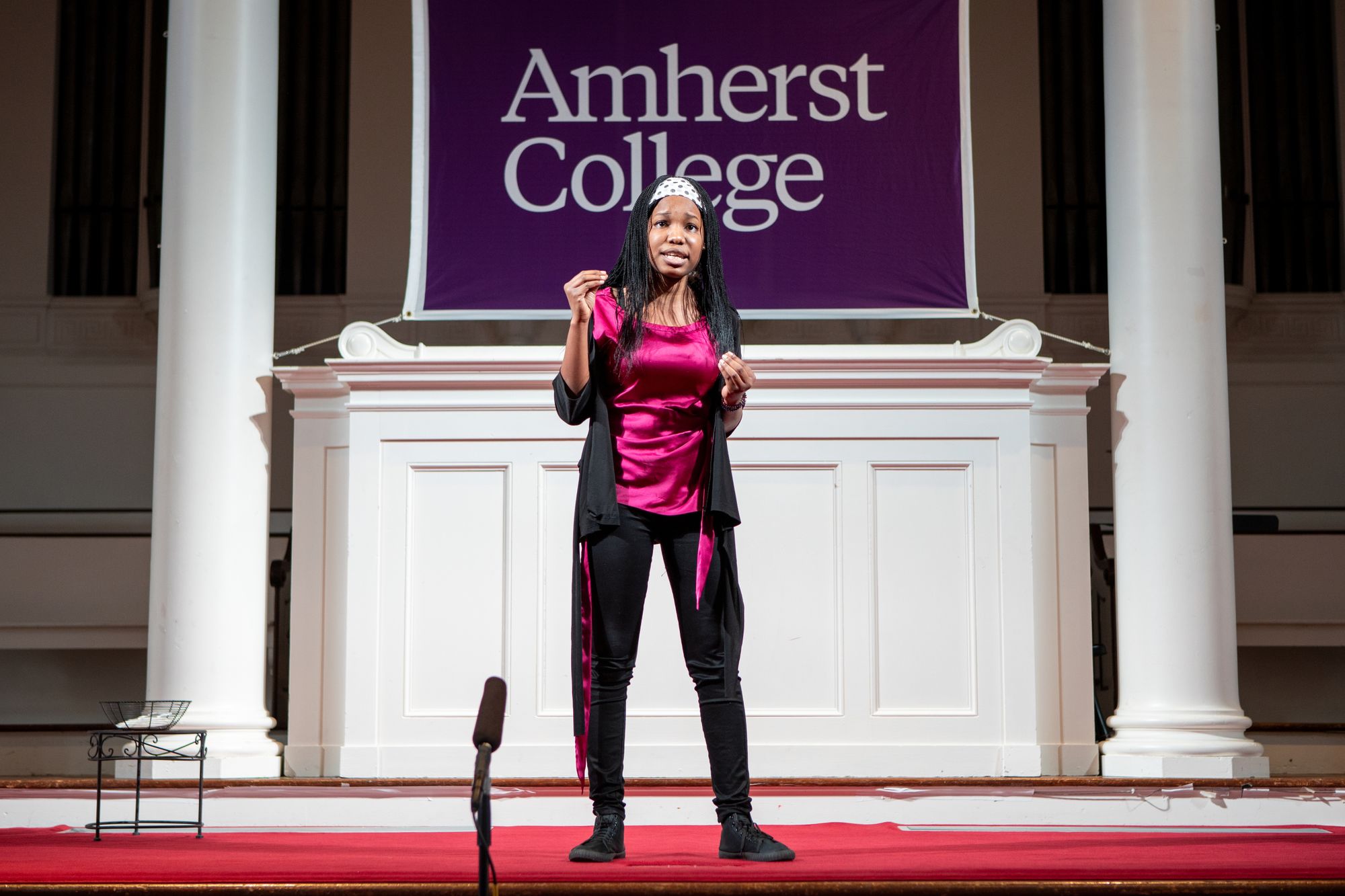 All speakers had been developing their speeches several weeks prior to the competition. When coming up with his speech, Moore noted, "the number-one thing [I considered] was my audience. What do people at Amherst College don't know about? What is something that isn't well known? … But the number one thing is that I wanted to relate it to Amherst and bring light to some important shortcomings."
The speaking competition received positive feedback from attendees. Channing Knox '24, a student who attended the event, said, "I thought [the speakers] were so impressive. Not only were they talking about pressing issues, but they were also brave enough to talk about issues pertaining to the college. I thought that finding ways to address issues that could improve our college experience was very moving and inspirational."
Knox also mentioned, "I think I've learned that progress comes in very different shapes and sizes and that it can also be ugly, but ugly doesn't mean it's unsuccessful. I feel that in order to actually get towards the root of these issues, we have to address the ugliness of the situation."
Speakers were evaluated based on their content, organization, delivery, and overall impression by three judges. Out of the 11 speakers, the top three were awarded for their performances. Kyle received third place, Griffin received second place, and Thompson received first place — his second win in a row.
Recordings of each of the speeches have been uploaded to the Amherst College website for public viewing.