AAS
Students Walk Out in Protest After Police Killing of Daunte Wright; AAS and BSU Demand Abolition of ACPD
At 10 a.m. on Tuesday, April 13, hundreds of students, dressed in black, left their classes to gather on the First-Year Quad and participate in a #BlackMindsMatter walkout coordinated by the Black Students Union (BSU). They were spurred by the recent killing of Daunte Wright, a 20-year-old Black man who was shot by a Minnesota police officer on Sunday, April 11 — the latest of a series of national incidents highlighting the often fatal consequences of police brutality and anti-Black racism.
Remote students participated by tuning into a live-stream of the event on the BSU Instagram page. At 12 p.m., nearing the end of the protest, Professor of Environmental Studies Ashwin Ravikumar led a Zoom teach-in on the history of policing. Following the walkout, the Association of Amherst Students (AAS) updated its position on campus public safety and demanded that the college abolish the Amherst College Police Department (ACPD).
The walkout comes amid a rise in tensions over the state of policing nationally, especially as the death of Wright has reignited protests while the trial of Derek Chauvin, the Minneapolis police officer charged with murdering George Floyd, enters its third week. Locally, it also comes at a charged moment, with the ACPD's recently announced plan to "reimagine policing" running against student and faculty calls to disarm the department.
Ayodele Lewis '21, president of the BSU and one of the lead organizers of #BlackMindsMatter, was the first of many to speak at the protest. Regarding the purpose of the walkout, she explained, "We can't be expected to attend class any longer as our brothers and sisters are slaughtered in the streets by designated state violence across the country, across the globe."
Lewis later noted, "This is not meant to be trauma porn … this is meant to be a platform for Black students." That platform included providing an open microphone for Black students to share their perspectives and experiences at and outside of Amherst. The protest also was used to place added emphasis on earlier demands that the BSU has been advocating for, including an expansion of the counseling center staff and disarmament and/or abolition of ACPD.
Bella Edo, president of the Council of Amherst College Student-Athletes of Color (CACSAC), spoke next. She noted that her brother is 20 years old, the same age as Wright. "When I heard the police shot and killed [Wright] for no reason other than his Blackness … I thought of myself as a sister losing my brother," Edo said. "We live every day with anger and devastation Our own people being killed while negotiating with the fear that we might be next."
In addition to student speakers, the BSU led several exercises to engage the crowd in protest. Lewis conducted libations for Black people who had been victims of police brutality or other systems of injustice. Each time Lewis said a name (or a name was called from the crowd), a drink of water was poured and a pause was taken for a brief moment of silence. As Lewis progressed through the list of names — which she noted was not exhaustive — she ran low on her drink, asking "Does anyone have more water?"
Following the libations, the floor was then left open for Black students to approach the microphone and share their stories and thoughts. Joelle Crichlow '22 cited the series of racist incidents that have taken place at Amherst over the years she has been at Amherst so far. In particular, she noted the swastika that was found carved into a table at Book and Plow Farm in October 2020 and the racist speech chanted by men's lacrosse members last spring. "It's easy for us all to show up today, and sit here in solidarity with one another. But in three weeks, something else may have happened on this campus."
Lewis then informed the crowd that Wright's body was left sprawled on the street untended for more than six hours after he was shot, just like that of Michael Brown, an 18-year-old Black man who was shot and killed by a police officer in 2014. She then asked for the crowd to lie or sit on the ground in silence for six minutes and dwell on the injustice of such treatment.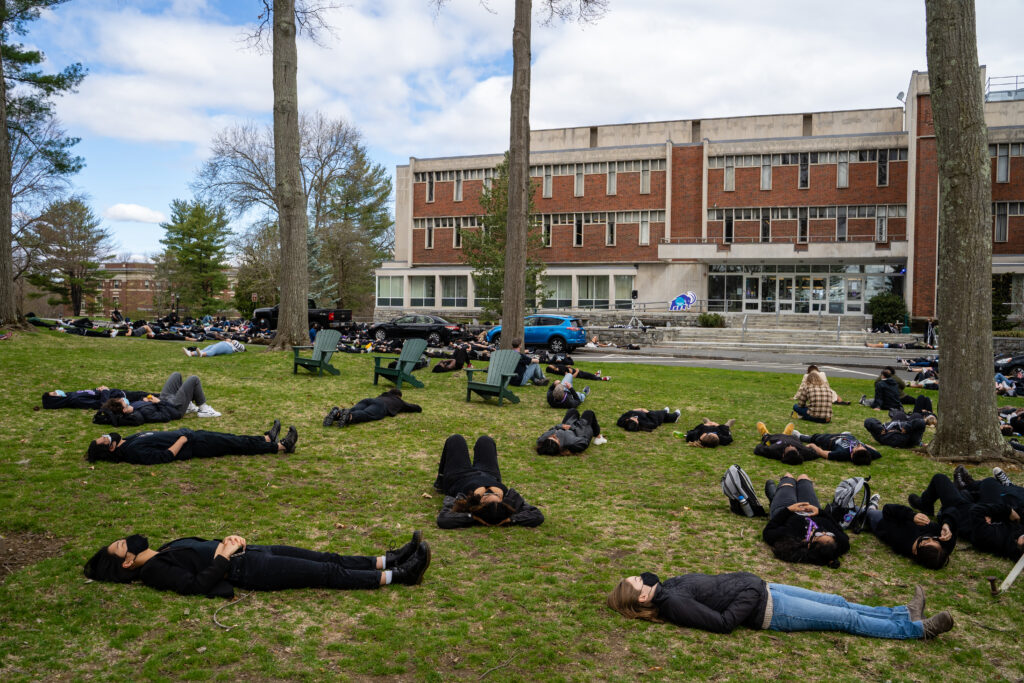 Twenty minutes after the walkout began, the AAS announced that it supports abolishing the ACPD. Last week, The Student published a letter from the AAS in which it recommended that the college disarm and reduce the size of the ACPD.
At the walkout, Eve De Muheto '21 spoke at the microphone on the general topic of policing in the U.S.: "From this country's beginning, society has determined that Black citizens need to be controlled and white citizens need to be protected. The police are instrumental in enforcing this racial hierarchy."
Conversations about disarming ACPD were reinvigorated by a town hall hosted by ACPD on Monday, April 5 to address their plans to evolve — plans that left students dissatisfied. Specifically, students were left with questions of accountability. For instance, AAS Senator Jerome Raymond '24 asked, "What is accountability going to look like in the future? Who will the ACPD be answering to?"
In an email sent to all students after the start of the walkout, the AAS wrote that it "demands institutional change" and supports the BSU's demands for the college.
"In accordance with the Campaign to Reclaim Amherst, we update our position on campus public safety, call for preventive action, not delayed reaction and fully support the Black Student Union's demands," the AAS wrote.
The BSU demand that the college abolish ACPD is the first such demand made by a registered student organization, though not the first by students. On June 9, Aniah Washington '22, Diana Tiburcio '22 and Zan Rozen '21E advocated for ACPD to be abolished, writing a petition explaining their position and garnered almost 200 signatures of students and alumni. 
In response to these demands, Chief of Police and Director of Public Safety John Carter told The Student, "We look forward to continuing dialogue with interested members of the campus community on the best way forward."
Both the BSU and the AAS also demand reforms in policies regarding extensions and class absences and doubling the Counseling Center's number of counselors by the next fiscal year. The basis of the former demand comes from the elevated levels of academic dismissal rates among Black students and students of color that have been documented by the college. Provost and Dean of the Faculty Catherine Epstein said that the disparities in dismissal rates are "statistically small," but that "the administration and the Committee on Student Learning need to understand better why these differences have occurred."
As for the Counseling Center demand, speakers at the walkout noted that nearby Williams College has five more counselors and that ACPD has around twice the staffing power of the Counseling Center.
The AAS's demand to abolish ACPD is a major shift from its earlier recommendations. During the virtual Town Hall with AAS and ACPD on March 29, AAS President and former BSU President Jeremy Thomas '21 gave AAS's recommendation that the college disarm and reduce the size of the campus police department.
The AAS expedited the process of deciding to support the abolishment of ACPD. Thomas texted the proposed decision to the Senate on the morning of April 13, and asked for those who opposed it to make their dissent known. Because the only responses were affirmations, the decision was confirmed by the AAS.
The untypical confirmation process was "a matter of the circumstances and the fact that the chance is consistent with our previous position," Thomas said. The expedited process is also consistent with a new AAS Value Statement that was passed the night before and aims to guide AAS's decision making. On April 12, the Senate approved the value statement that "ought to direct our Amherst experience."
"It was designed with moments like this in mind. Sometimes things move more quickly than our traditional procedures," Thomas said.
Referring to why the AAS changed its position, Thomas said that the call to abolish ACPD is not so different from AAS's recommendations, as it represents a better way to support Black students on campus.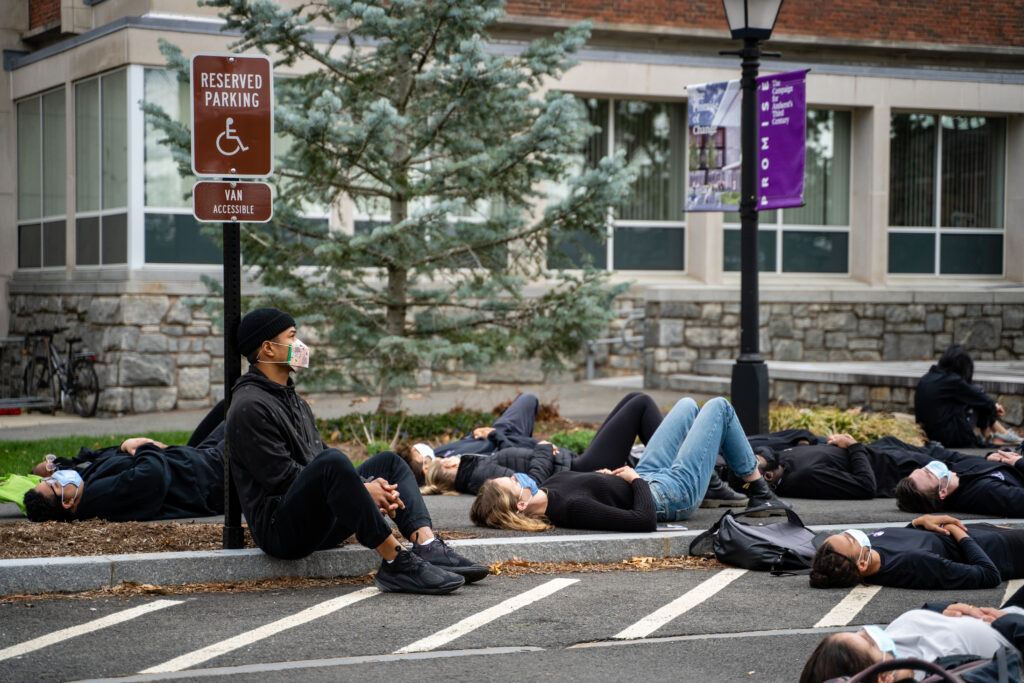 "First, we have an obligation to listen to and stand behind Black students. Second, nothing [Chief of Police and Director of Public Safety] said [at the Town Hall] was sufficient justification for a police department at Amherst. For example, he presented a chart showing that the majority of ACPD's functions are bureaucratic and thus likely able to be handled by Student Affairs," Thomas said. "The few things, campus and student security might suggest a need for a campus safety department, but that department, based on the available evidence, does not need to be a full-fledged, 24-person police department with armed, sworn officers — which nationally serve as a source of violence against Black — and all people."
"Amherst — and the country — are changing. As many folks have said, we should not be waiting for someone to be traumatized, be severely injured, or be killed before we are able to do anything about it. That's what leadership is. Making bold, principled choices," he added.
Some members of the college administration were present at the rally, including Dean of Students Liz Agosto. "As a person that identifies as Afro-Latina, I saw and heard some of my own stories and the lived experiences of many loved ones reflected in the voices of those who spoke," said Agosto. "I was moved today into further professional and personal reflection about how I do the work of student support."
Still, the administration is not ready to make any immediate changes following the rally. In a statement to The Student, President Biddy Martin wrote that "The news of yet another police killing of a young, unarmed Black man, Daunte Wright, adds yet more stress, anxiety and fatigue to what our students, faculty and staff of color already feel in the wake of too many such incidents."
"Black students acted today on their need to pause, to take stock, and rest from the barrage. They challenged the community to place a higher priority on mental health and well being and they gathered in solidarity with one another. Many of those who spoke called on their peers, on the college as a whole, and, at times, on one another, to confront racism and other forms of prejudice and discrimination in order to create more change," she added. "The college will continue to work hard on the commitments outlined in the anti-racism plan and in two quarterly updates, placing particular emphasis on mental health and well-being, and changes to ACPD. Both of these critical pieces of work require more study and more dialogue before final decisions can be made."
Some students raised reservations about the impromptu call to skip class and protest, to which the BSU responded with an email template for students to explain their class absence to professors, as well as a list of resources for professors to support Black students. Zoe Akoto '21, junior chair of the BSU, noted in the on-campus group chat that "while protest against inequity and injustice doesn't require full explanation or warning to be justified, hopefully this can help some folks join us in walking out today and provide some other resources to support."
Sophia Friedman '21, a member of Student Health Educators, attended the walkout because she wanted to stand in solidarity with the Black Amherst community and recognize the toll that state violence and systemic racism takes on the mental health of Black students on campus. "I wanted to support the demands of the BSU in calls to the administration to reform policies around absences and extensions, to double the number of counselors at the Counseling Center, and to abolish ACPD," she said.
Friedman also noted, "I want to acknowledge what many people said today during the walkout; that it is easy to show up when people are watching, but when we are behind closed doors and no one's looking, what are we doing, what am I doing as a white person in those spaces? And that is something that I need to continue to work on and prioritize in the spaces I am in both on and off campus."
Mia Rahn '23, a student studying remotely this spring, attended the virtual walkout. She noted a particularly striking moment was when students shared personal anecdotes. "The most memorable moment for me was when a student shared a really personal anecdote about their experience with the Health Center. I would have never thought that there could be a discrepancy in treatment, but his story made me realize otherwise," she said.
Margot Lurie ' 21, who attended the rally in person, is one of the lead organizers of Sunrise Amherst, a student group that has been pushing the college to divest its finances from fossil fuel companies (which the college recently committed to doing) and the prison-industrial complex. For Lurie, "a key element of divestment is reinvestment," which means "investing in Black and Native communities, specifically" and "investing in the well-being of current and future BIPOC students" through actions like abolishing ACPD and expanding the Counseling Center.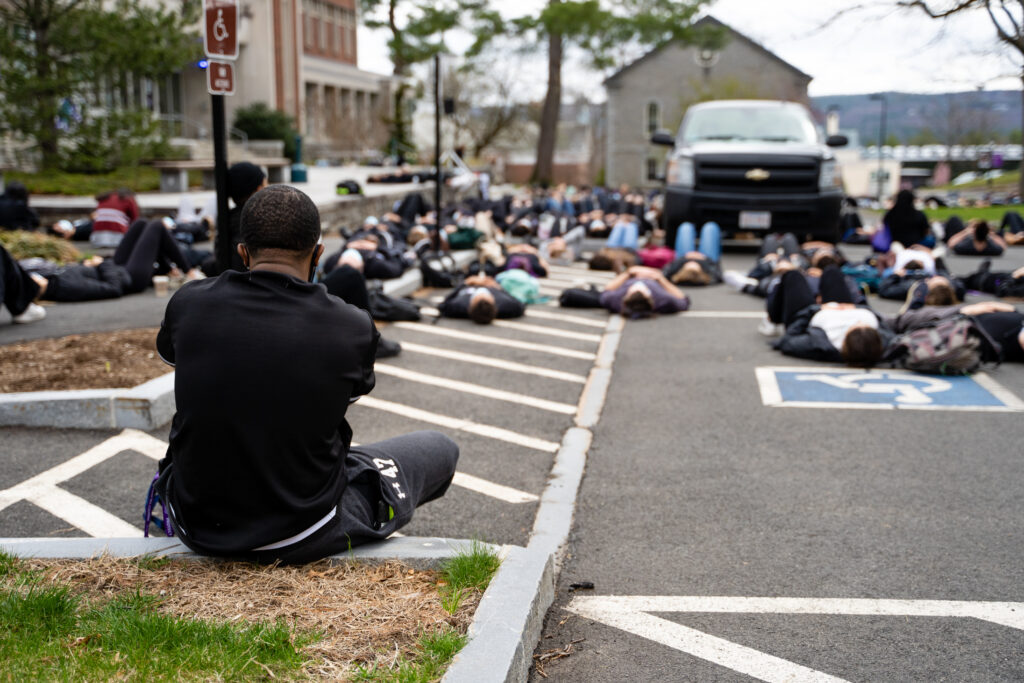 Provost and Dean of the Faculty Catherine Epstein sent an email to professors on how to handle academic leniency in light of the walkout. She wrote, "If you would like to cancel your class(es), please arrange for students to have a way to make up the class(es). For students involved in the walk-out, please decide how you will work with them as concerns missed or late work."
Though many professors still held class, many excused students from classes and expressed their solidarity with students attending the event. Professor of Philosophy Rafeeq Hasan, for instance, tied in the theme of the walkout into his class discussion, and gave the option of students participating in class. He noted that many of his students had written to let him know that they were participating in the #BlackMindsMatter Walkout. Hasan said that he stands in solidarity with his students. "You are of course excused from any work related to class today," he said.
Chair of Environmental Studies and Professor of Biology Jill Miller canceled her class later that day to support students as well. While at the walkout, Miller heard a young woman ask for "space." Miller thought it was something to which she could contribute. "Listening to students just now," Miller wrote in an email to the class, "and sending a quick note to say no class today."
"I am taking this moment to reflect on policing and systematic racism in our country," Associate Professor of Physics Ashley Carter wrote to students in an email making her class optional for that day. "I will note that as scientists we are called on by society to find the truth … Just know that as scientists we have an increased responsibility to our fellow citizens. We can not separate ourselves from real life or the events around us."