News
Supporting Patients, Supporting Students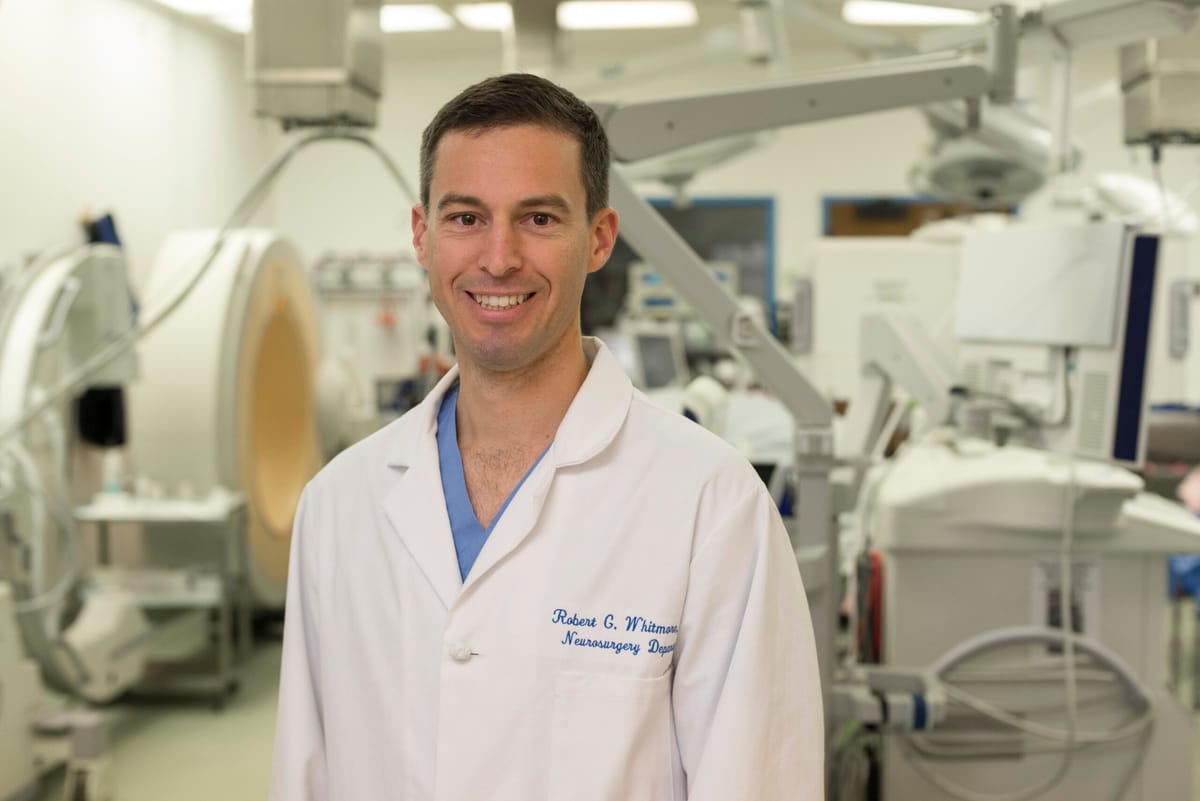 When it comes to defining Robert Whitmore's '00 career path, one word comes to mind: exploration. A neurosurgeon and assistant professor at Tufts University who currently works at the Lahey Hospital and Medical Center in Burlington, Massachusetts, Whitmore did his fair share of exploring during his time at Amherst and has continued to do so throughout his career.
Finding His Path
As a child, Whitmore frequently moved between the cities of Philadelphia and Los Angeles for his father's job as a lawyer for ARCO, an oil and gas company headquartered in California.
Despite the frequent moves, Whitmore quickly concentrated his studies on the sciences, in part due to the Pennsylvania Governor's School for the Sciences, a summer program he was invited to attend as a high school student. The program targeted students interested in the sciences and provided opportunities for experiencing the science, technology, engineering and mathematics (STEM) field.
It was during this summer program that Whitmore was first exposed to neuroscience through a presentation project on the neuron activity of snails. "We were trying to use a computer program to map the flux of various types of ions in a snail's neurological system. It was the first time that I thought much about the brain and how things worked," Whitmore said.
Along with this program, Whitmore credits his high school teachers with cultivating his early love for the sciences. "I had some great biology teachers who encouraged me to pursue science fairs and other extracurricular activities in the realm of science. So, at that point, I was looking at colleges with an eye towards the sciences," he said.
During the college application process, Amherst stood out to Whitmore, as it was one of the few liberal arts colleges that offered a comprehensive neuroscience major for its students. Whitmore was also attracted to the college's open curriculum, which would allow him to pursue courses outside of the discipline.
After a visit to the area, Whitmore settled on the college: "I had a good feeling about Amherst from the general feel of the campus. I saw that the students were happy and very engaged," he said. "As a student, I knew I'd be really happy from the beginning."
Despite his early interest in the field, his ultimate decision to major in neuroscience did not come easily. "I didn't go into Amherst knowing what I would major in. It was still an ongoing process," he said.
He knew that he wanted to major in a science, and medical school was always in the back of his mind — the neuroscience major checked off both of these boxes. Professors like Steven George in life sciences and Sarah Turgeon in neuroscience mentored and pushed him to succeed through the difficulties of the major.
"He was, as one would expect given his trajectory since Amherst, a very strong student in that class," Turgeon wrote in an email, recalling the physiological psychology course Whitmore took with her.
Whitmore also enjoyed courses outside of neuroscience, wanting to take advantage of the open curriculum. One class, Introduction to Philosophy with Rachel and Michael Deutch Professor of Philosophy Alexander George, stood out to Whitmore. "[George] was such an interesting person and a great professor. What stood out to me about that class was that it made philosophy into a tangible subject for those of use who are science-minded and not really used to other disciplines," he said.
Outside of the classroom, Whitmore played lacrosse for the club team at the University of Massachusetts at Amherst, which exposed him to the five-college community. He also joined the ski team on campus and a few other club sports. "Club sports allowed me to maintain the flexibility I wanted in my schedule and allowed me to pursue activities where I could foster my competitive spirit," he said.
Despite the competition in his athletics activities, Whitmore associates Amherst with a collaborative spirit. As a member of the Amherst College Emergency Medical Services (ACEMS), he worked with his peers to meet the challenges of the job.
Even as a student on the academically-rigorous pre-med track, he was able to foster long-lasting relationships. "You get to know the different students that are going through your classes, especially the pre-med students. Some of the greatest relationships I have are with people from college … We still keep in contact with each other," he said.
From Research to Surgery A few months after graduating from Amherst, Whitmore worked as a research associate in an immunology laboratory with a professor at the University of California, San Francisco. His lab head, Jay Levy, had served as a guest lecturer in Whitmore's immunology class at Amherst so Whitmore took advantage of his network to attain his first full-time position.
As a research associate, Whitmore worked alongside postdoctoral researchers and fellows to assist with lab experiments, which focused on everything from improving the immune system to treatments for the HIV virus. Though Whitmore had previously worked as a laboratory research intern for a pharmaceutical research company — Glaxosmithkline — in a laboratory that focused on stroke treatment, the idea of a career in research did not appeal to him.
"I learned all about the nitty gritty of running the experiments, collecting the results and interpreting them for my supervisor. But I missed the interactions with people as an associate," he said.
After two years, Whitmore began his medical studies at the University of Pennsylvania Medical School, which he chose in part due to his childhood experiences in Philadelphia. Although he had a sense of what he wanted to do as a doctor, it was his experience at UPenn that cemented his decision to become a neurosurgeon. "I realized that I was passionate about performing surgery and being in the operating room. I wanted a job where I could work with my hands," he said.
Medical school proved to be a very rigorous experience for Whitmore, but his time at Amherst allowed him to navigate it with more comfort than he had expected. "Amherst really laid a solid foundation for me by preparing me to digest the large volume of material that I needed to know in medical school. I didn't find medical school overly challenging, and I believe that Amherst had a lot to do with that positive experience," he told me.
During medical school, Whitmore's personality and perseverance made lasting impressions on his peers and others in the community at the University of Pennsylvania. "He was a loyal friend and an impressively diligent student. One funny thing about Rob was the way he prepared for exams — he would fill a single sheet of paper with vast and intricate note-taking in tiny print, and then memorize the entire sheet. It was impressive," said Gabriel Brooks, a classmate of Whitmore's during medical school and a current oncologist at the Dartmouth-Hitchcock Medical Center.
As a UPenn student, Whitmore was also able to take courses at the Wharton School, UPenn's business school, where he focused on the economics of health care and health care entrepreneurship. "I do a lot of cost-effectiveness research in my work. I study a lot about spine surgery and the outcomes from spine surgery. Oftentimes there [is] more than one procedure that a surgeon can do, and I need to decide which one of those procedures is most cost-effective and beneficial for the patient. These classes helped with my current analysis," he said.
In his current roles at Lahey Hospital and Tufts, Whitmore takes pride in his efforts to assist patients with their spinal treatment and his ability to teach medical students about careers in neuroscience. "My work is about moving the field forward in terms of medical advances and increasing knowledge. I love that I can teach the next generation of neurosurgical residents in both surgery and operational techniques," he said.
But Whitmore's work in neurosurgery goes beyond that of a physician. As a professor, he is responsible for a variety of projects with his medical residents, including one that involves a large trial on cervical myelopathy, a condition in which the spinal cord presses on the neck. Using the cost-effectiveness analysis he learned in medical school, Whitmore hopes to analyze the data and work with his students to determine the treatment most beneficial for patients. "I really hope to publish this work soon," he added. Outside of the classroom and operating room, Whitmore, who lives in Concord, Massachusetts, continues to ski and bicycle in his free time. He lives with his wife, a lawyer who specializes in post-conviction exoneration work, and his three children, Charlie, Jane and Cece. Despite the difficult schedules that can come with being a professor and a neurosurgeon, Whitmore most values spending his time with family.
At the Lahey hospital, Whitmore (above) operates on a patient with one of his medical fellows, using a drill to place pedicile screws, to support the spine. As a professor, Whitmore works on a variety of tasks with his students, including research and treatment.
Looking Back
In many ways, Whitmore's life and career reflect his Amherst experience — especially in the aspect of community. "The community at Amherst — the students, professors and the staff — has a real spirit of giving back that I continue to feel as a physician even now. As someone who helps patients with their treatment and whatever else they might need, you feel this passion for helping others and of community service. Those are the things you learn at Amherst," he noted.
Indeed, whether through his work with ACEMS, his treatment for patients or even simply his assistance to his peers, Whitmore's dedication to service encapsulates the essence of being a good physician. When asked about the most rewarding part of his career path, only one thing came to mind: helping patients thrive. "The most rewarding part for me is having a patient with an excellent outcome after treatment and surgery. It's my job to work diligently to make sure that happens for them," he said. "That sense of accomplishment — that your work is really helping others — is really a big reason why I love doing what I do." To current students considering a career in medicine, Whitmore says, "Keep an open mind as much as you can." He added, "Don't be afraid of trying new avenues or pursuits."
Although it may seem as though Whitmore's path was straightforward from the beginning — from his high school summer science program to the neuroscience major to lab research to surgery — he continually returns to the moments he re-evaluated his path and changed course. Throughout his internship with Glaxosmithkline and his research work in immunology at the University of California, San Francisco, Whitmore was ambivalent about his future career path. "Even at Amherst, I still wasn't sure about what I wanted to do. I wasn't even sure if I wanted to go to medical school," he admitted.
Despite his experiences in research and the warnings he received about the perceived difficulties of a career in medicine, Whitmore still decided on medicine after years of deliberation. "People told me to not become a neurosurgeon, saying that it was tough work and that my lifestyle would be terrible," he said. "But I realized I wanted a job where I could be interacting with patients and while lab work was rewarding; I really valued a career where I could really help others," he reflected.
Whitmore's success throughout his career is a testament to the benefits that an Amherst education can provide for its students. Although Whitmore did not come into Amherst knowing about his future career prospects in neurosurgery, he was able to gain strong skills and experiences at Amherst that provided him with the ability to succeed, regardless of the career he had in mind. Through Amherst's unique academic and social environment as well as its community, Whitmore was able to find a space where he could thrive and develop the foundations for his future career in medicine. "Being at Amherst, in that close-knit community, was a really valuable experience," he said. "My career has been a really long road, but in the end, at least in my case, it was all worth it. The experience that Amherst has given me has been really meaningful."