News
Taming the Field: A Compassionate Pursuit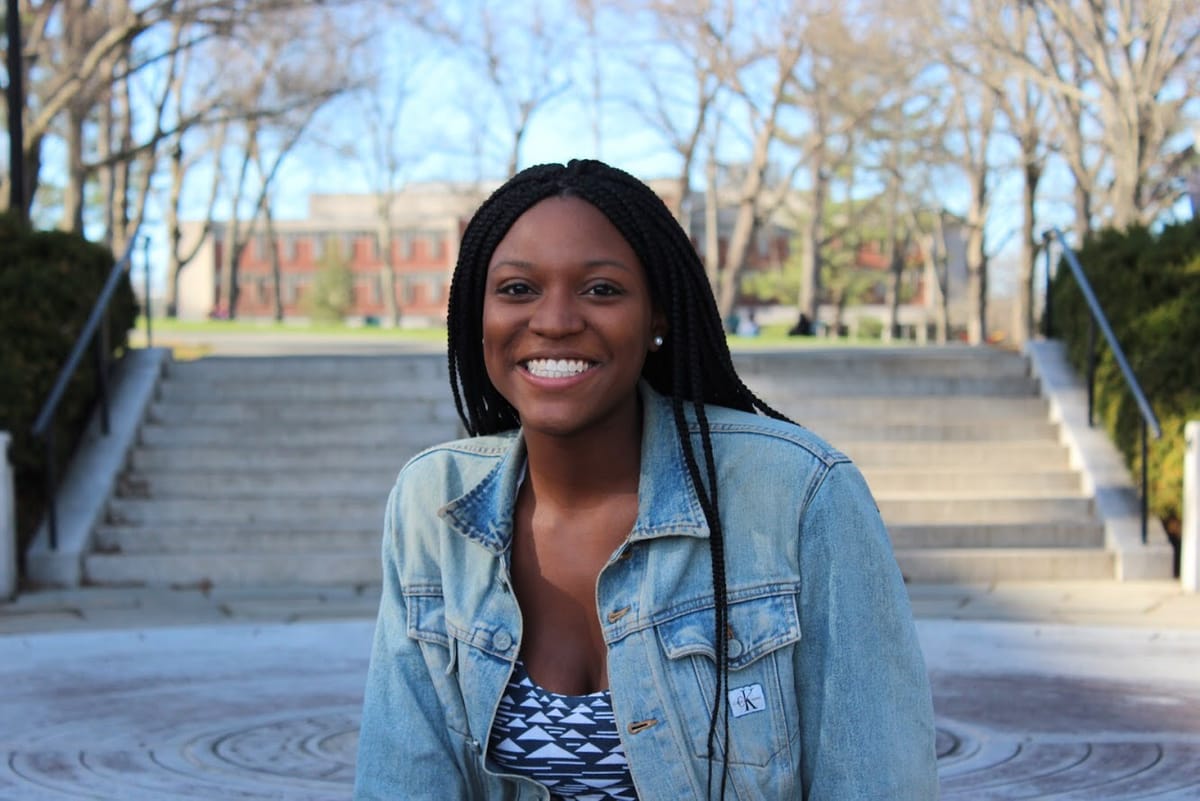 Rubii Tamen '19 did not originally want to attend Amherst. At first, she considered larger schools and Division I soccer programs, and ultimately stumbled onto Amherst by chance. She had a friend who played soccer here, and when she visited, the combination of competitive athletics and rigorous academics enticed her to enroll. Four years later, she has made an indelible mark on and off the field and realizes she made the right decision in the end.
Tamen was captain of the women's soccer team, a member of the women's track and field team, communications director of the Council of Amherst College Student Athletes of Color (CACSAC) and a volunteer with both Project Sunshine and Girls, Inc. Her time at Amherst can be characterized by her tendency to give back to the people and communities that have made an impact on her.
In fact, her instinct to give back becomes especially important when considering her academic trajectory. Originally from Washington D.C., Tamen is a French major with a Five College Certificate in Culture, Health and Science. During her time here, she also completed the pre-med track. Her French major comes from a personal desire to study francophone culture and learn more about the Cameroonian side of her family. Her Five College Certificate, though, arose due to an interest in public health, an interest that would ultimately become the inspiration for Tamen's intended career path: medicine.
A True All-American Tamen was introduced to soccer at an early age. She grew up with siblings who played soccer, and her brother went on to compete at the DI level. In high school, she played club soccer and always knew she wanted to continue competing in college. During her first year of college, she relied on the structure of the sport and the support network of the team.
"I cannot stress enough how lucky I was to come in with eight other women in my year on the women's soccer team. Having that sense of support from the first day was huge," Tamen said.
Compared to her first year, her sophomore year was a standout season. The team focused on what it meant to be part of the soccer team, which helped them play well overall. As a result, the team won the NESCAC championship for the first time since 2008. That same year the team went to the NCAA tournament and made it to the Sweet Sixteen. Tamen looks back on that season with fondness.
"That was the best feeling in the world: not only just winning, but being able to play for our seniors and give that to them in a way," Tamen remembers.
Her junior year season was extremely difficult according to Tamen, but the team learned how to combat loss. This past year, her senior season, the team made a turnaround, going to the NCAA Sweet Sixteen but losing to the same team they lost to her sophomore year.
"As a player on the team, I felt honored to play so much and for my team. With every game, I knew it was maybe my last game ever playing soccer. I love my entire team. I love them to death," Tamen said.
Tamen competed on the women's soccer team throughout her time at Amherst. After Amherst Uprising, she joined other student-athletes of color to found the Council of Amherst College Student Athletes of Color. Photo courtesy of Rubii Tamen '19.
Tamen was elected captain at the beginning of the season and was awarded All-American Honors at the end of it. The honor is determined by her team schedule and her individual number of assists and goals from the season. It was only awarded to 10 other DIII soccer players in the entire country.
"Getting All-American Honors was special for my family and I felt proud to represent Amherst," Tamen said.
Launching Community for Athletes of Color As a black woman on the soccer team, Tamen quickly understood the need for an organization like CACSAC, which advocates and provides a space of community for student-athletes of color. The student group was formed in the wake of Amherst Uprising, a student-led sit-in protesting the treatment of marginalized people and occurred during Tamen's first fall semester at Amherst.
"It was very interesting to hear testimonials from people I knew and to feel that those experiences were ahead of me for my time at Amherst," Tamen said. "The day that it all came to a head, I had soccer practice and went to my captain who was also a woman of color, and I just started crying. I never realized how much a group like that was necessary because being a black woman student-athlete is very ostracizing in a way that most students don't understand."
That same night she received a text from Myles Gaines '17 to show up to the gym; it was the beginnings of CACSAC. The first meeting was just four people in a circle talking about issues that were brought up during the Uprising, according to Tamen.
Since then, CACSAC has taken off. During her junior year, Tamen was part of the executive board (E-board) that pushed to register the group as a Registered Student Organization. The E-board met with President Biddy Martin, Athletic Director Don Faulstick and Assistant Athletic Director Billy McBride to share the mission of the organization and get the message across.
The NESCAC recently recognized the groundbreaking efforts of CACSAC, holding a conference hosted at Amherst this past April about the lack of diversity and representation on their teams.
"I feel proud to have been part of the formation of CACSAC. To see the growth of a space where student athletes of color can share their experiences, and especially in a club where women of color hold leadership. A lot of my close friends are in CACSAC just because we need it," Tamen said. "Just by us existing we have sparked change in the NESCAC."
A Heart for Giving Back Starting from her first year, Tamen volunteered with organizations such as Girls, Inc. and Project Sunshine, which takes patients to Ronald McDonald House in Holyoke.
"I have always loved working with kids, and I thought I wanted to be a teacher. But, something about being in a position where you can help children stay healthy, specifically low-income children of color being healthy, is special," Tamen said.
In her sophomore year, she took "Introductory Chemistry" and realized that she wanted to pursue the pre-med track more seriously.
Through her Five College Certificate in Culture, Health and Science, she learned more about medicine and completed a final project called "Cultural Competency in the Hospital." Like her discovery of Amherst, though, she stumbled onto her certificate serendipitously. She was searching online for various Five College courses about public health and randomly found the certificate page.
The Amherst course "Culture, Race and Reproductive Health" with Professor of Anthropology Haile Cole also confirmed her interest in public health and changed her perspective on it for the long term.
"'Culture Race, and Reproductive Health' affirmed how important it is for someone who looks like me or has a background similar to mine go into medicine. We learned so much about the history of doctors practicing harmful treatments and drugs on African Americans," Tamen said. "It reaffirmed for me that this all could have been different if there were more people of color in medicine. I just realized with the privilege I have to go to medical school that I need to target people of color who lack accessibility and resources to adequate health care resources."
Framing the Future Next year, Tamen will work in Boston at the Dana Farber Cancer Institute as a research data specialist in the thoracic cancer unit doing thoracic oncology research for two years. At that point, she will decide whether to go to medical school or to pursue a master's degree in public health. Two of her close friends from Amherst are also working at hospitals near her.
"People get sad about leaving Amherst. I am exhausted from taking classes and tired from the rigor of Amherst, but what I will miss the most about Amherst is my friends," Tamen said. "People do not understand how lucky we are until it is time to go."
As Tamen reflected on the closing of this chapter, she shared some parting advice for current and future students.
"Who I was as a freshman is so different than who I am now. People that I have met this year alone are some of my closest friends," Tamen said. "My advice is to stop being afraid to be vulnerable forming relationships with new people. Also, challenge everything you hear. At Amherst, everyone is so intelligent that you have to be able to speak up for yourself and share your own opinions."
After all, speaking up for herself — and on others' behalf — defined her time at Amherst, and the college community is better for it.