News
The Beating Heart Behind All the Newsprint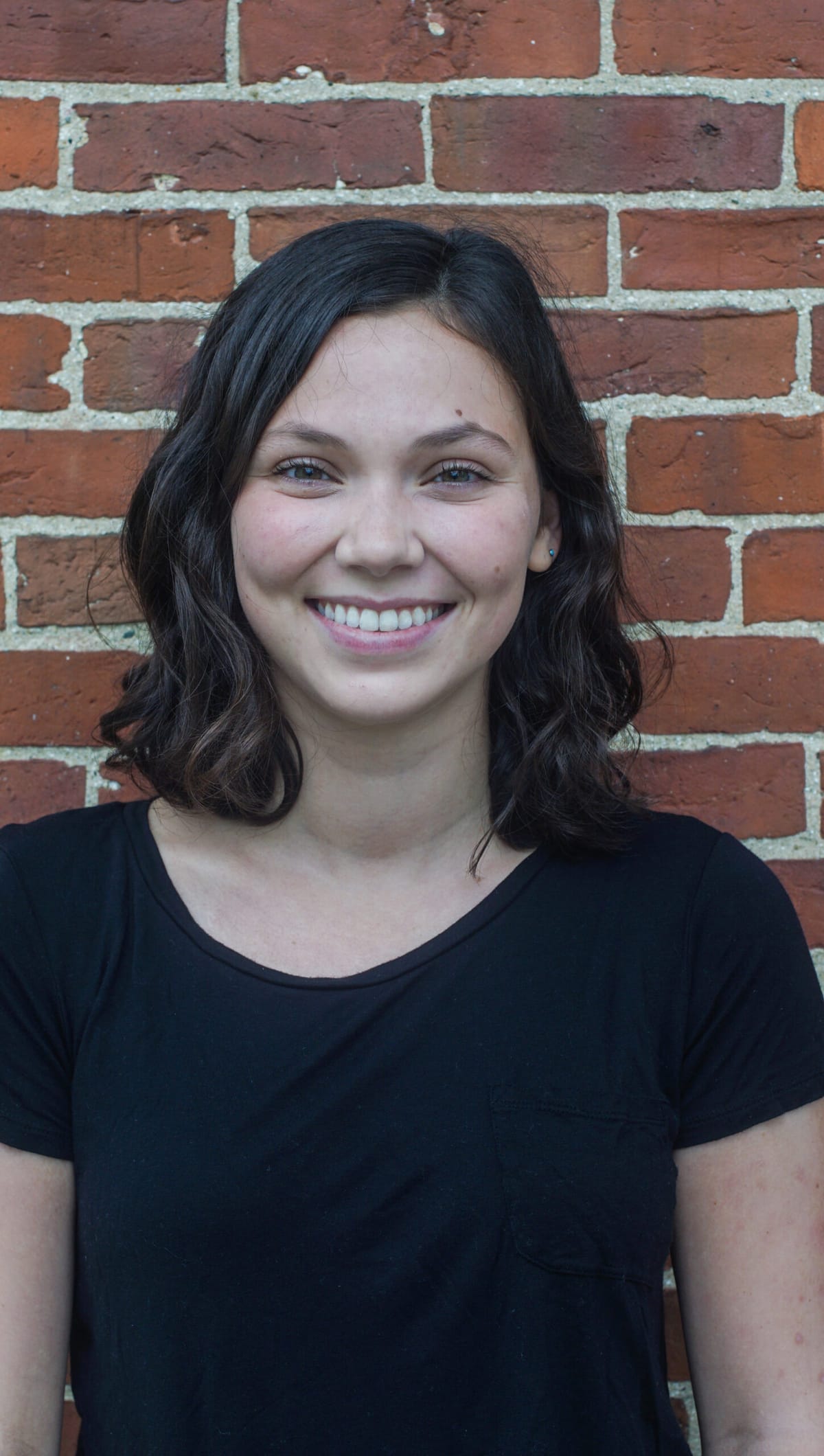 "I'm a little nervous," Isabel Tessier '19 says as she sits down across from me. "I'm not used to being interviewed; I'm usually the one on the other side of the table."
Tessier is five foot eight inches tall. But when she stands with her left leg crossed over her right, slouching down into her stance, she is more like five foot five inches tall. If she's deep in thought about something serious or distressing, you'll look at her and only see her large, uncertain puppy eyes. She wears mom jeans and flannels, still doesn't have her driver's license and dreads editing my 1,000-words-over-the-word-count stories. If you are lucky enough to make her laugh, it feels like your whole world lights up.
I have had the privilege of knowing Tessier since my very first year in college. I have watched her grow into a steadfast, assertive leader who makes the tough decisions and carefully considers every facet of every issue. But above all, I have witnessed Tessier's profound dedication to service and social justice, even and especially when she was not always readily recognized. As she said herself, she is not used to being in the spotlight — more often than not, she is behind the scenes, calling the shots, uplifting other people, effecting change for the better. Now, for maybe the first time, we peel back the layers to her story.
"Being on the Subway" Tessier grew up in Brooklyn, New York City. A lot of her early memories are of being on the subway.
In high school, mentors and teachers began sparking her curiosity in what would eventually become her primary academic interests in college — history, research and social justice. She attended a prep school in Brooklyn that gave her the opportunity to meet "a lot more different people than if I'd just gone to a neighborhood school."
She also joined the high school newspaper, an "informal, eight- or 12-page paper that we published." During her senior year, she served as editor-in-chief with another student; for half the year, they ran the paper without a newspaper adviser. "Neither of us had been trained in journalism before, so we had no idea what we were doing," Tessier said, shaking her head in mirth. "But I really loved it, and we dedicated a lot of our time to it."
Little did she know she would return to these explorations in greater depth and intensity in college.
Grounding Herself Interestingly, Tessier says she didn't choose Amherst for the right reasons. In her senior year, she was terrified of going to college. Not wanting high school to end, she went through the application process somewhat panicked. She knew that she wanted to attend a small liberal arts college and stay on the East Coast — and like that, Amherst became her early-decision school.
When she arrived at Amherst for the first time, she "felt way in over my head and had no idea what I was doing." She decided to give herself a year to reset.
In her period of adjustment, she branched out, trying different classes — including "Introduction to Sociology" with Professor Ron Lembo. The class was "incredible," she said. Two weeks into the semester, she decided she needed to be a sociology major.
"The thing that really attracted me, it contextualized a lot of things about your life … that you don't think about in your daily life if you don't have that training," she said. She was particularly taken with readings on higher education. "Those sorts of articles and books that looked at institutions of higher education critically and sort of examined the culture and how it came out, its history of being a white institution, not being accepting of women and people of color — that was really interesting to have in my first semester at Amherst."
The class also gave her better language for understanding and talking about her white privilege; she ultimately declared majors in history and sociology.
In later classes, she produced research on migrant Mexican workers in the U.S. and the colonizing effects of Amherst alums who traveled to Hawaii in the 1800s as missionaries.
She also had the opportunity to explore a different aspect of her identity involving her mother's roots in Ecuador. "I took a class with Professor [Leah] Schmalzbauer about Latinx migration, and that was really cool for me to take, because in history I'd never taken any courses about Latinx history," she said. "That was not a part of my identity that I'd seen in a classroom before."
Longer, Deeper Roots The year-long break from extracurriculars was good for Tessier, but at the beginning of her sophomore year, she realized she felt bored. "Even though I was finding classes I really loved, I wanted more," she said. "I wanted something that I felt passionate about in a more direct way, that didn't have to do with grades or examinations."
Tessier also wanted to feel more connected to the Amherst community and, having previous experience with a newspaper's role in community-building and service, decided to join The Amherst Student.
That is how Tessier and I first met. At the time, Jingwen Zhang '18 was managing news editor. After a few weeks, Zhang held a meeting for staff writers interested in pursuing investigative reporting. My first impression of Tessier was that of a tall, long-legged woman. She was quiet and pensive as Zhang and then-executive adviser Sophie Murguia '17 explained their vision for the team. At the end of the meeting, a couple of topics were listed, including gender in athletics, and Tessier readily volunteered to take it on.
The investigation ended up spanning six months. With Murguia and another former editor, Tessier dove into the research, looking up different Title IX reports and government forms on gender and athletics, interviewing an incredible range of people and digging into Amherst's practices. Her report came out the following spring semester and detailed disparities in fundraising, resources and recruiting money between men's and women's teams.
"It really threw me in full force to what the best of reporting can be," she said. "Also the feeling that you were getting at the story, and you were starting to understand how it works. Understanding how it works at Amherst is not clear at the surface level. Little things like that where I felt like things were clicking — it's such an amazing feeling."
Other notable stories with her byline include recognition of the Latinx and Latin American Studies major and analyses of additional athletics reports. The athletics reports were especially noteworthy to Tessier, who picked up on the pervasiveness of the athlete/non-athlete divide as soon as she arrived at the college. Looking at it from a journalistic angle and broadening the scope to include issues of gender, race and class helped her understand problems at Amherst: "who has been accepted here for their identity historically at Amherst and who has not been and how is that still playing out on campus today."
Her attentiveness to these sociocultural dynamics is emblematic of her as a person, said Linh Le '19, a friend of Tessier's. "Isabel is very humble," she said. "She values public service and what she wants to do in life is public-oriented, and she doesn't care about honors or the things that don't matter that much."
In October of her sophomore year — only two months after she joined The Student as staff writer — Tessier and I became managing news editors. Zhang trained us for a few months and helped us navigate the process of Tuesday night productions. "I was a good editor and a good writer, but I didn't know all the processes and the language and the ideas behind why a news article should look the way it is," she said, laughing. "I have a very distinct memory of you saying 'nut graph' to me for the first time and I was like, 'What the hell is a nut graph?'"
After Zhang became editor-in-chief, it was just the two of us, "doing our thing, managing the news section," as Tessier said. Tuesday nights became simultaneously the best and worst parts about newspaper. We would edit news articles throughout Monday and Tuesday, meet with staff writers to discuss next week's stories over Tuesday dinner, spend our Tuesday afternoon and evening in the office laying out pages on InDesign and make edits from our editors-in-chief before uploading the stories onto the website.
Most Tuesdays, we got out after midnight and made the trek back to our dorms. Many Tuesdays, we took BuzzFeed quizzes as we waited for edits, guessing what kind of fruit we'd be or which Chris we'd fall in love with. When the staff talked about getting newspaper sweatshirts, she and I decided we would inscribe "Big Nooz" (her) and "Little Nooz" (me) on the back.
One Tuesday, her partner texted her at 8 p.m. that he was in her room. "Are we going to get out in time?" I looked at her doubtfully. "I can finish up here."
"Probably not, but it's okay," she shrugged. "He'll just stay there."
At 1 a.m., we left the office — her partner having fallen asleep. It was one of the many moments I witnessed Tessier's complete dedication to the newspaper and to me, her partner in the newsroom. She never let me take on anything without her; we always worked as a two-woman team, no matter what else happened.
Widening Her World During spring break of her sophomore year, she applied to a program allowing a group of Amherst students to travel to Zion National Park. It was something Tessier never could've imagined possible for her to do.
The trip, which demanded 10 to 12 miles of hiking per day, ended up being transformative, allowing Tessier to connect with students she never would've otherwise met.
"I remember the first time, I think the second or third day, where you're in backcountry where you do the big hike and you do 12 miles," she said. "Knowing that I had walked that many miles and survived and done it — we were all doing it together at the end of the day."
She did add that after exiting backcountry, the group "pigged out" at the first restaurant they found. The trip was so meaningful she became a trip leader the following year.
Tessier embarked on a student trip to Zion National Park during her sophomore year spring break. There, they hiked 10 to 12 miles per day carrying gear and equipment. Photo courtesy of Isabel Tessier '19.
In the fall of her junior year, she continued her ventures beyond Amherst, studying abroad in Seville, Spain. Life in the beautiful city, she said, moved at a different pace. "People will just sit out in the streets and chill out with their friends until 2 a.m.," she said. "Amherst can be very much work work work until you go to the other extreme of the spectrum and binge. There's not much in between, which Seville had a lot of."
Leaving Large Shoes to Fill When Tessier was offered the position of editor-in-chief, to begin spring semester of her junior year, I wasn't surprised.
Becoming editor-in-chief meant that the newspaper took precedent to all of her academic classes. "It's insane how it does that to you, but you care about it so much," she said.
But the position did allow her and co-editor-in-chief Nate Quigley '19 to plan for and envision the future of the paper. Right off the bat, they knew they wanted to overhaul the website. The Student's previous website had been designed by a student who graduated in 2011, and the functionality of the platform was in many ways outdated. Tessier and Quigley discussed reaching out to the computer science department, but before they had the chance to even send an email, they received an offer from Dylan Momplaisir '21 to code and help design a new website.
Over the summer after her junior year, she, Quigley and Momplaisir remained in regular communication, brainstorming big-picture ideas, website functionality and brand. In the fall of her senior year, the new website debuted to much acclaim from the college community. It was more modern, more accessible and more user-friendly than ever before, and people noticed. "That was something I'm most proud of from our time as EIC," she said.
Professor of History Jen Manion, Tessier's advisor, recalled many moments in which Tessier sought out Manion for advice related to the newspaper. "She worked with me on some of my research, but the interactions that were both fun and made me so proud were [when we discussed] the ethical decisions that come with managing the paper and how committed she was to trying to understand someone else's point of view," Manion said.
At the end of fall semester her senior year, Tessier hung up her editing pens after two years on the paper. The following spring, Emma Swislow '20 and I took on her role. "It felt good to not be EIC — you're pretty tired by the end of it," she said. "But it obviously felt weird because newspaper had been such a big part of my life since the beginning of sophomore year. It suddenly felt very strange to not be going into the office on Tuesday nights."
Tessier's commitment to the paper did not go unnoticed. At Senior Assembly, after the dean of faculty announced the Samuel Bowles Prize — "awarded to a student who has demonstrated proficiency in journalism" according to the college website — Tessier was called to the stage, recognized at the culmination of her four years for the efforts of her passion and continual devotion to the small newspaper that could.
Carving Out Her Future After graduation, Tessier will move to D.C. to begin work as a paralegal at a prominent civil rights organization. While she is considering law school and more generally a career in public interest legal work, she wanted some formal exposure to the kinds of work and expectations demanded of legal work.
Is she ready to leave? She isn't quite sure. It's more a mix of nostalgic and ready, she said. "The spring at Amherst, when it actually turns warm and beautiful — I always get nostalgic … because you just realize the year is coming to an end," she said. "Now it's my college time coming to an end."
Longtime friend Gaby Doran '19 called Tessier "someone that others may try to emulate when they want to seem like a good person. But that's just who Isabel is — she's amazing."
As Le said, Tessier will be remembered for her thoughtfulness and her contributions to The Student. But she will be even more so remembered for the attention and care she gave to her friends, intellectual thought and larger community.
Already, I know that I will miss her presence in my life more than I'd like to admit. We started together, and we went through it together. To be editor without my Big Nooz is a daunting thought. But I also know — without a doubt — that the world will be a better place with her out there fighting for what's right.